Do you have a garden that is full to the brim with goodies and you want something to do with them? Garden Harvest soup will help you out!! Here is a gorgeous soup designed by Amber our daughter, who is 13 years old and Alton Brown to get that harvest onto the table!!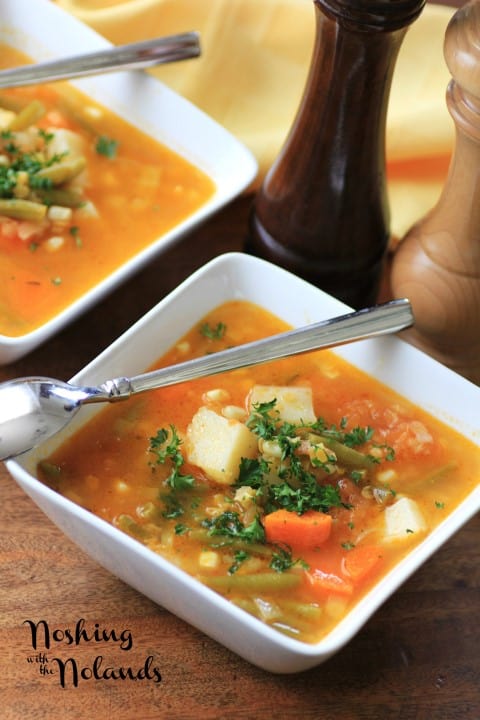 It is choked-full of delicious veggies and vegan!! This soup has a whollop of flavor too!! Just because something is vegan don't think that it is bland, that is far from the truth. With lots of vegetables and seasonings to add flavor you will never miss the meat in this soup at all. We have vegan or vegetarian at least once a week and love it. Everything in moderation, right?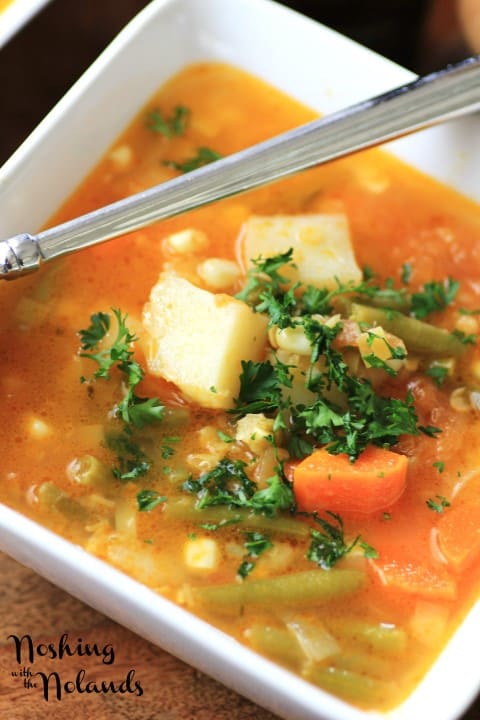 Amber did want to have some protein in the soup and she loves lentils. It was the perfect addition to give that added boost of thickness and flavor!!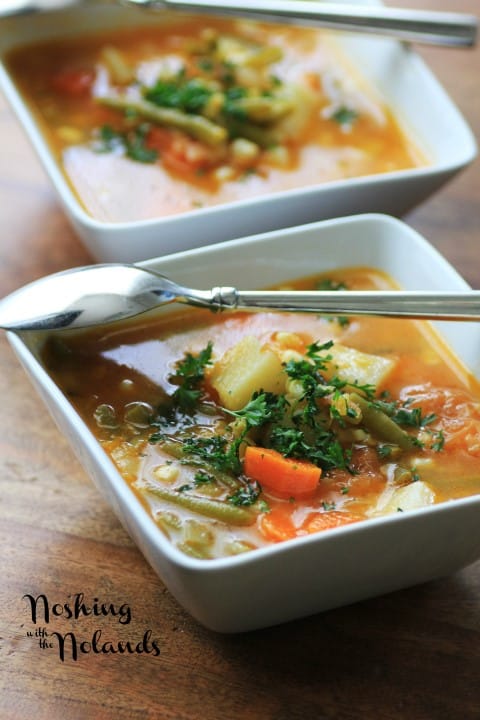 Garden Harvest Soup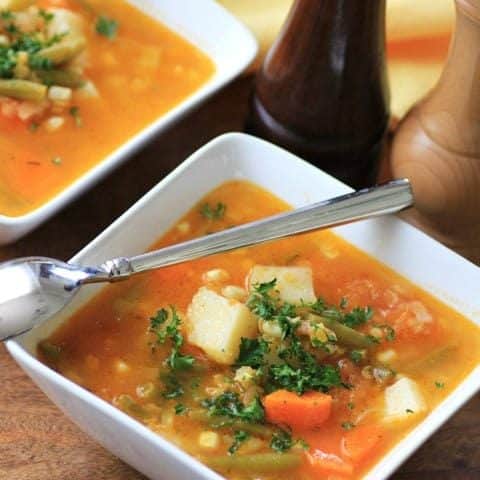 Garden Harvest Soup
A delicious vegan harvest soup!!
Ingredients
2 Tbsp. olive oil
2 large leeks, white only, chopped
2 Tbsp. fresh garlic or equivalent in garlic paste
Kosher salt and fresh ground pepper
2 cups carrots, peeled and chopped into rounds
2 cups peeled and diced potatoes
2 cups fresh green beans, chopped into 3/4" pieces
2 x 900 ml or approx. 2 quarts of vegetable broth
4 cups, seeded, peeled and chopped tomatoes
2 cups fresh corn for the cob
2 tsp. fresh thyme
3/4 cup red lentils, washed
2 tsp. lemon juice
Parsley, chopped, for garnish
Instructions
Heat the olive oil in a large heavy bottomed pot over medium low heat. Saute the leeks and garlic. Season with salt. Cook until translucent. Add the carrots, potatoes and green beans, cooking for another 4-5 min.
Pour in the stock and bring to a boil. Then add the tomatoes, corn, Thyme and season again with salt and pepper. Reduce heat to simmer and cook for 20 min. Add in lentils and cook for 18-20 min. don't let them go to a mush. Add the lemon juice before serving and adjust seasoning if necessary. Garnish with parsley.
Recipe adapted from Alton Brown
Garden Vegetable Soup