These Red Wine Poached Pears are a very elegant but simple French dessert recipe. Serve them with a dollop of mascarpone cheese, and they are out of this world good. The red wine enhances the sweetness and flavor of the pear, and the spices round off the dish. This dessert is perfectly suited for any special night but works great for Valentine's Day or over the holidays too.
Our daughter was a little freaked out about them, as they were cooked in red wine, but she had one taste and then gobbled it down!!
Looking for other fantastic dessert ideas? Try our White Wine Poached Pears with Cinnamon Mascarpone. How about trying this amazing Lemon Lush Dessert or maybe this super-rich and moist Ferrero Rocher Chocolate Poke Cake! I know you will love every one of these!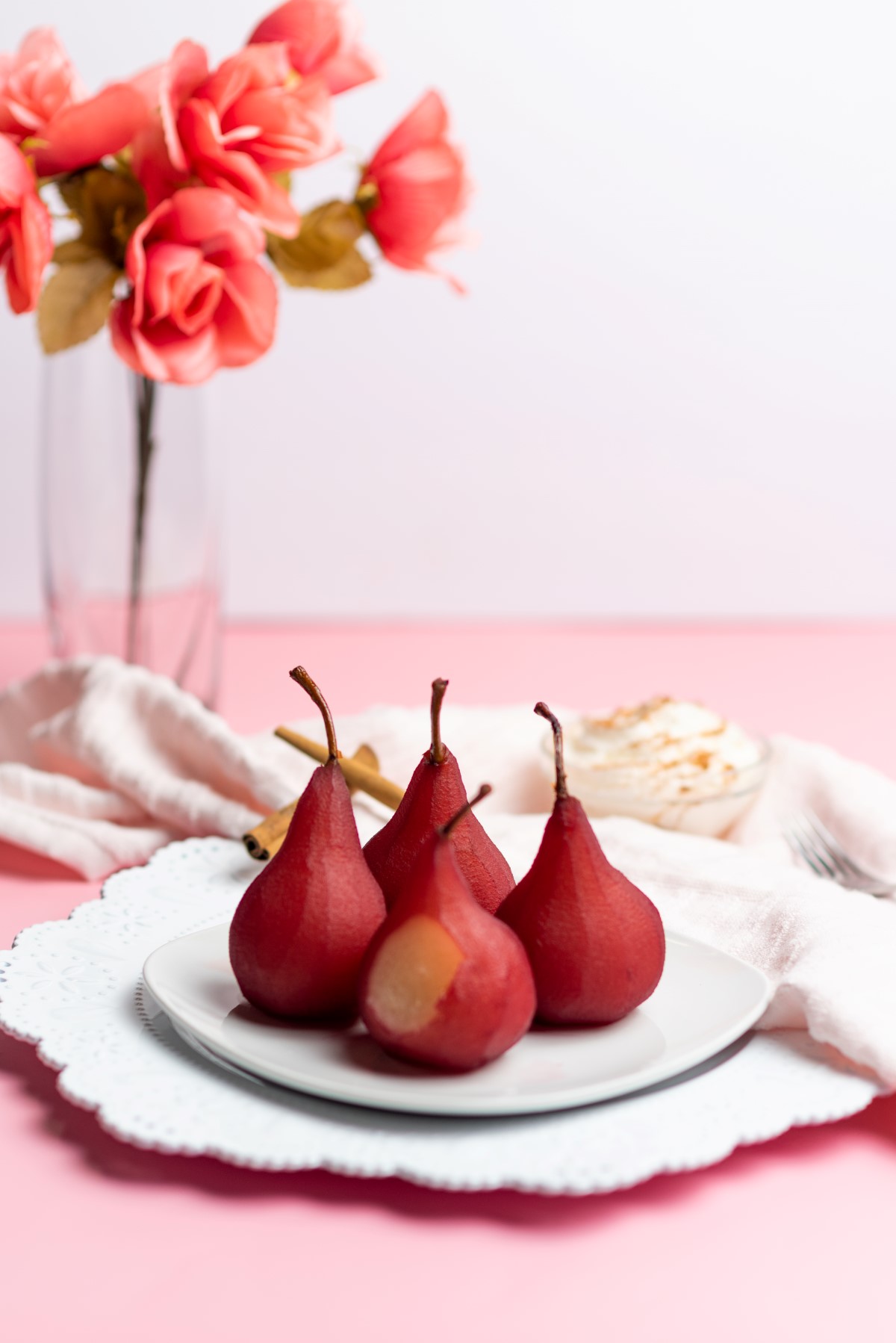 After poaching the pears they still hold their shape but become soft and easily can be sliced through with a spoon.
Helpful Items For This Recipe
This post contains affiliate links. As an Amazon Associate, I earn a small portion from qualifying purchases at no extra charge for you.
Organic Ceylon Cinnamon Sticks
What is Poaching?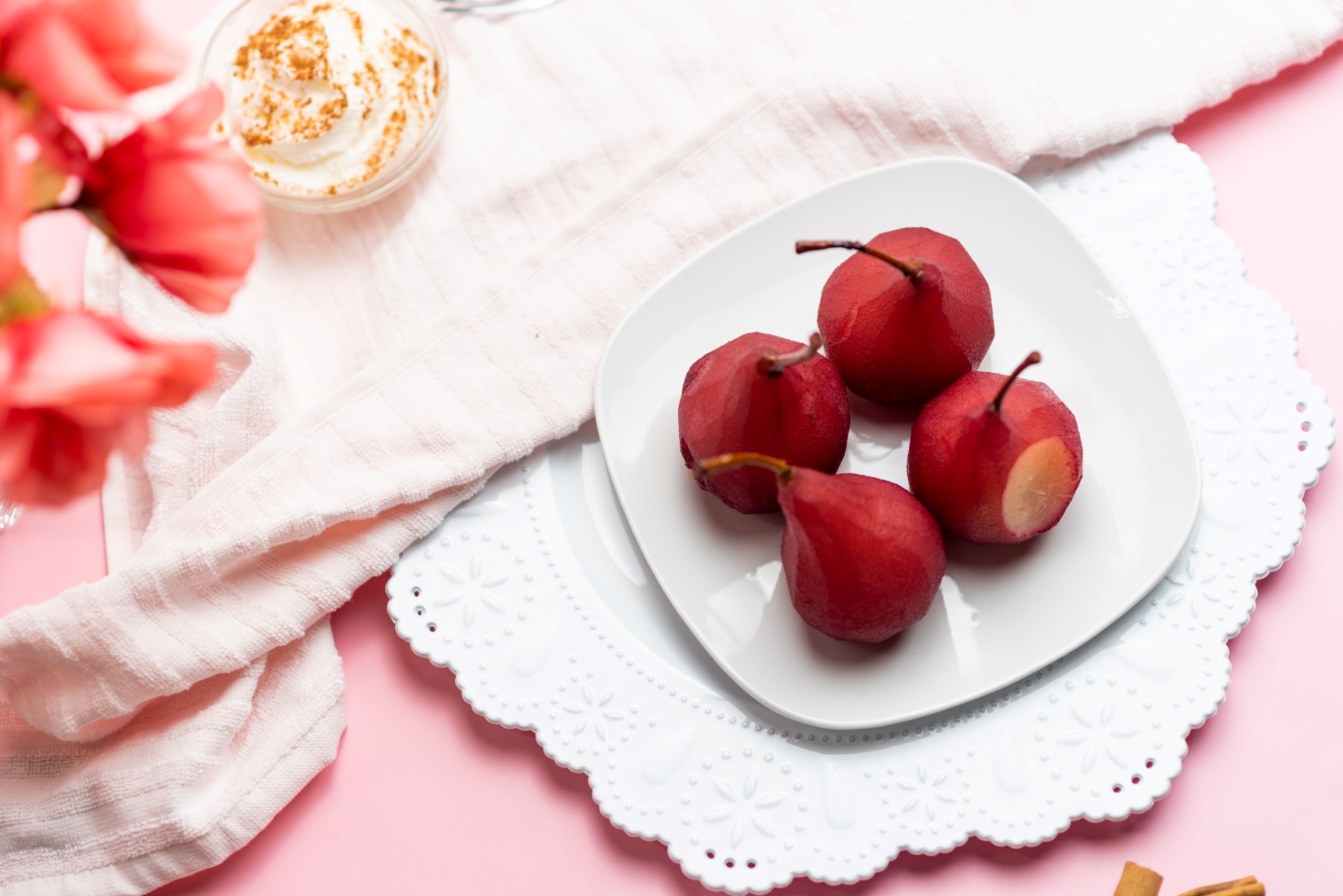 These are so simple to make but turn out to be such an elegant dessert. Your family and guests will be wowed by this excellent recipe and how wonderful the pears taste in the end.
So what is poaching, you ask? It is essentially simply simmering food in a liquid. This is very helpful with unripened food and was first used in France to enjoy more of the fruit of the season.
What Do You Need To Make Red Wine Poached Pears?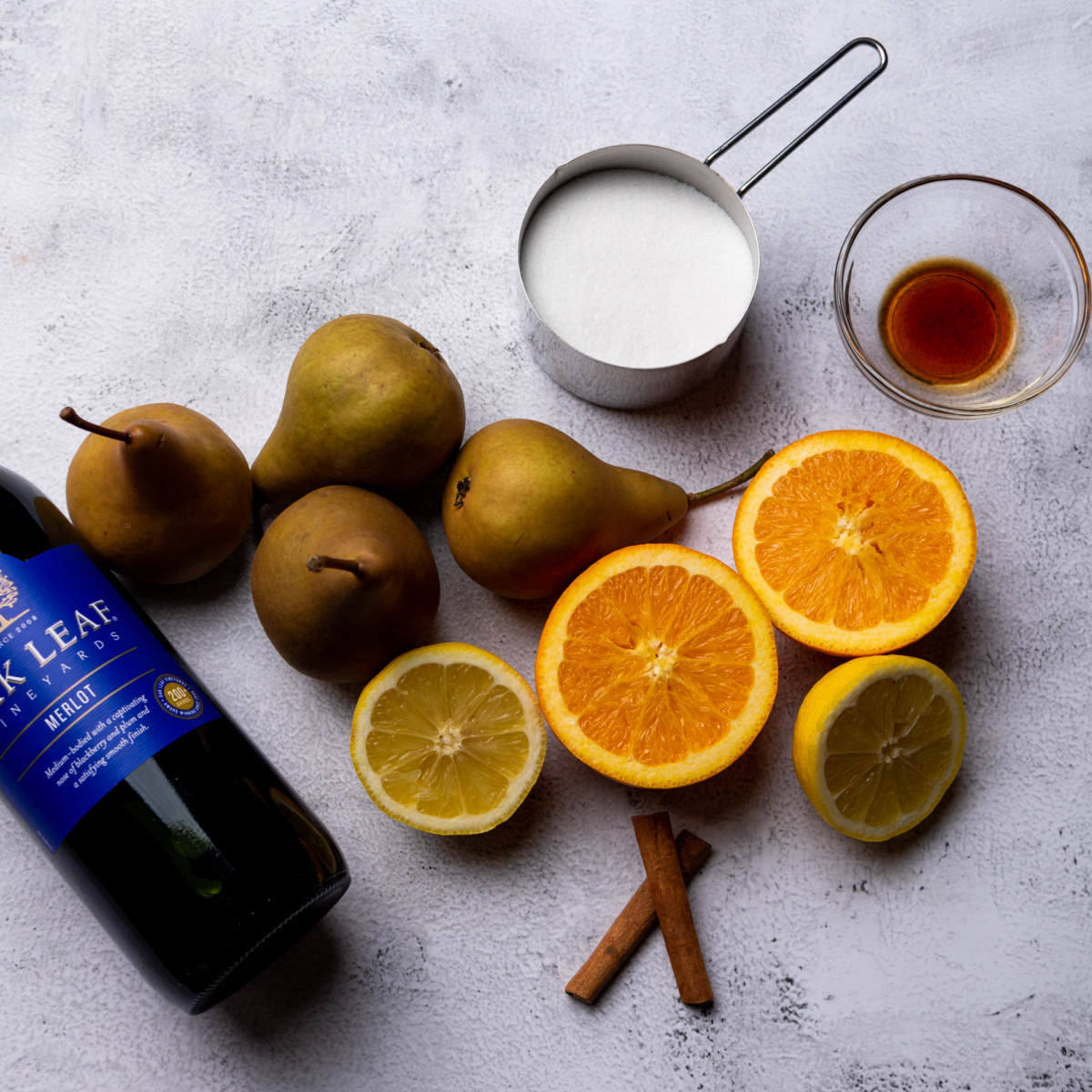 As you can probably tell, you need red wine and pears, but really you only need a couple more ingredients to create this wonderful poached pear recipe!
Look further down in the post to see what to serve these gorgeous pears with.
Ingredients
Firm Pears, Bosc pears, or Bartlett pears work great
Red Wine, a cabernet or merlot that is nice and big and bold will work great
Sugar
Orange
Lemon
Vanilla
Cinnamon sticks
Whipped cream
Ground cinnamon
How To Make Red Wine Poached Pears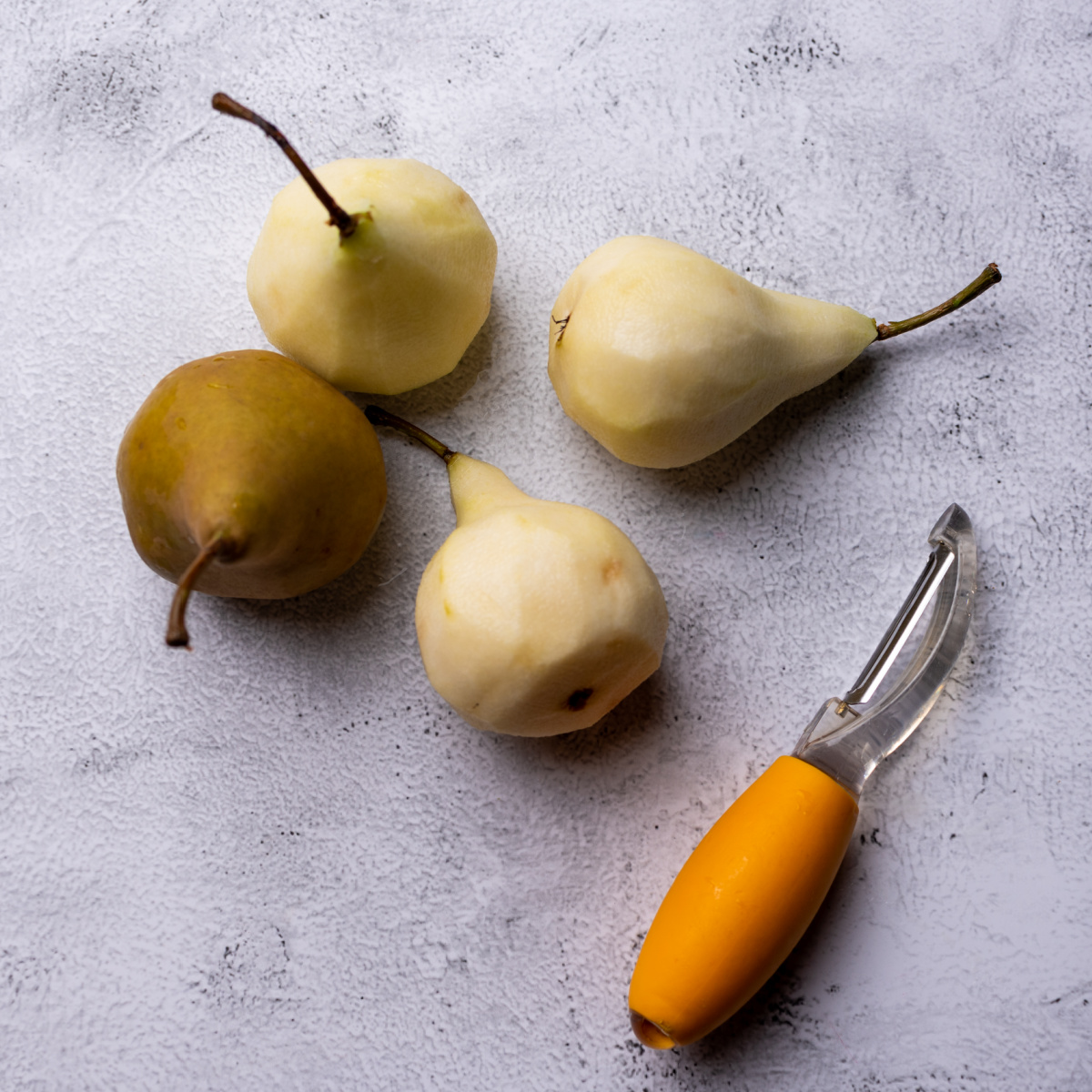 Okay, let's jump in to make these simple pears. I grew up with 9 pear trees on our property, so we were well versed in doing all the many pear dishes that are out there. This is one my mom loved to make.
Do you need to peel the pears for poaching? The answer is yes; then the flavor will be able to permeate into the pear and also allow it to change into a pretty deep red color. That color makes them perfect then for Valentine's Day and Christmas.
Start by peeling your pears; make sure you choose nice, firm pears to poach. If your pears are too ripe, they will turn out mushy after you poach them.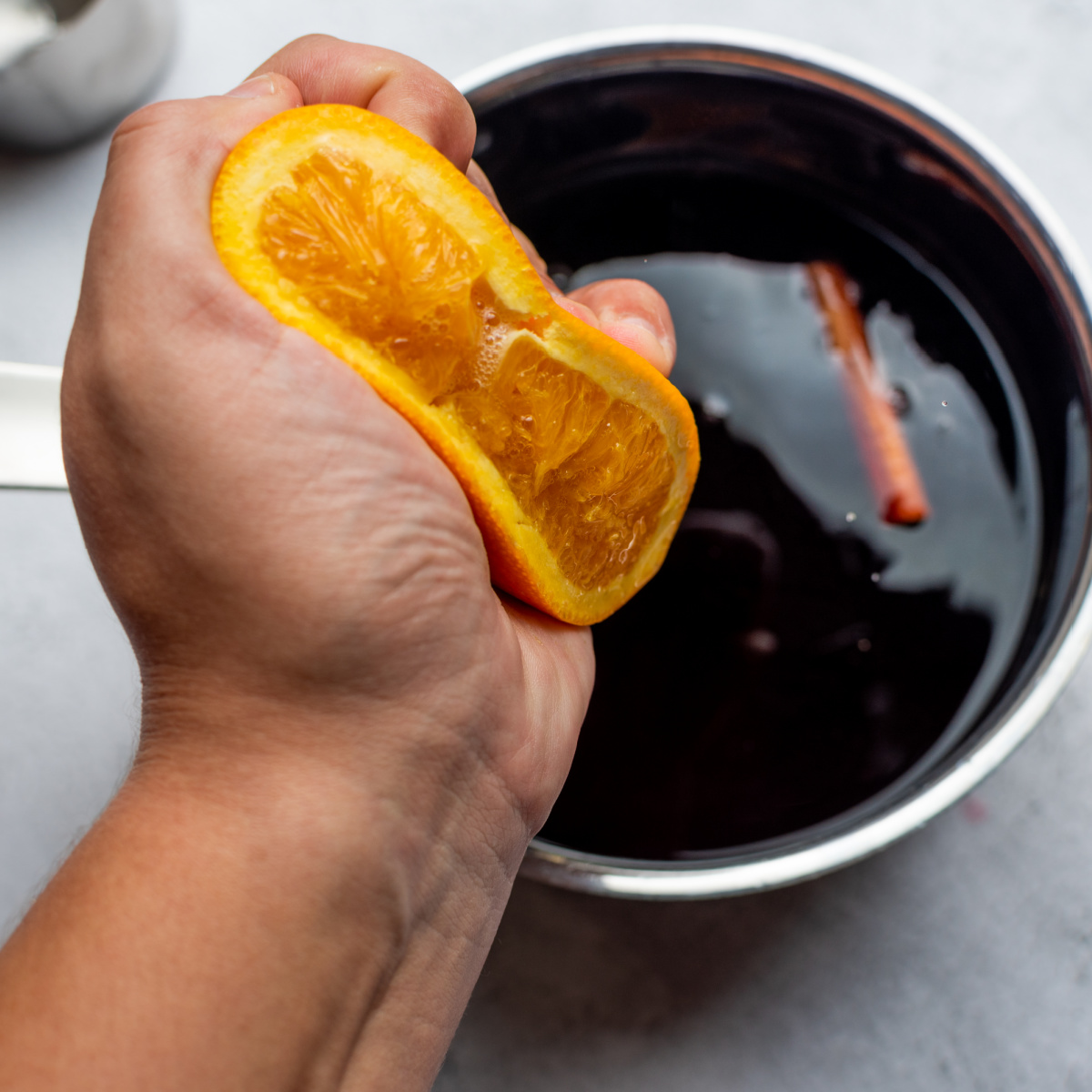 In a medium pot, combine the red wine (use good red wine), sugar, orange juice, lemon juice, vanilla, and cinnamon sticks. Heat over medium heat and bring to a boil to dissolve the sugar.
Once the wine poaching liquid is ready, add the pears to the poaching liquid. Reduce the heat to low and cover. Allow to cook, simmer gently for about 30 minutes or until the pears are fork-tender.
Remove the pears from the poaching liquid and allow them to cool completely before serving. You can serve them with a dollop of whipped cream and a sprinkling of ground cinnamon. Or, if you like, a scoop of good vanilla ice cream pairs very well too!
I hope you try these as they are fabulous and so easy and make such an elegant dessert!! Enjoy!!
What to Serve With Red Wine Poached Pears?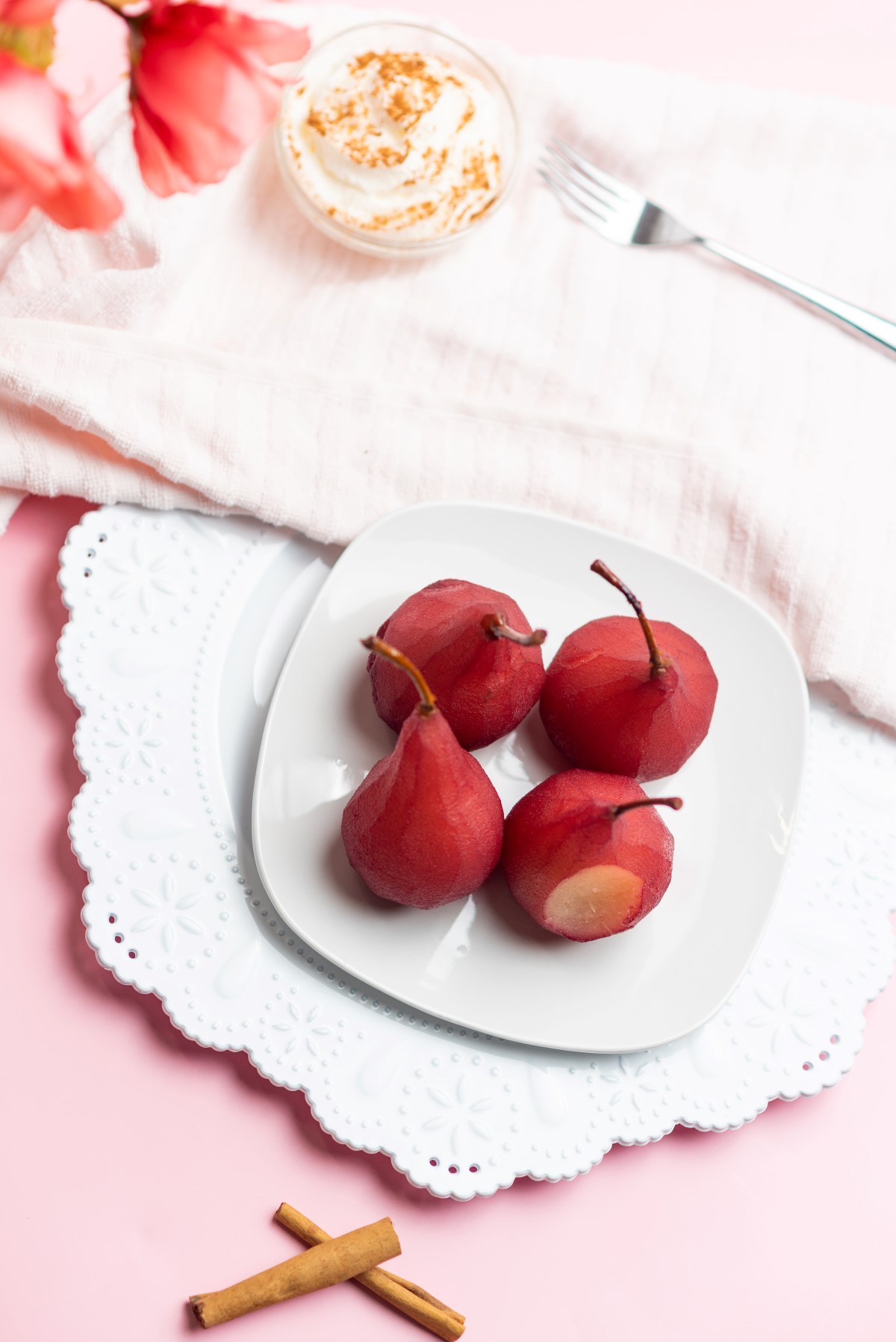 The pears are now poached in the wine, citrus, and spices, so what to serve them with? First off, you can have a lovely dessert, wine or sherry, or port. You can also serve a sweeter Prosecco or Champagne with this dessert.
As for food pairing, some whipped mascarpone cheese or whipped cream, both slightly sweetened, go so lovely with these pears.
A scoop of good quality vanilla bean ice cream would also pair perfectly with the pears.
Pin it HERE!!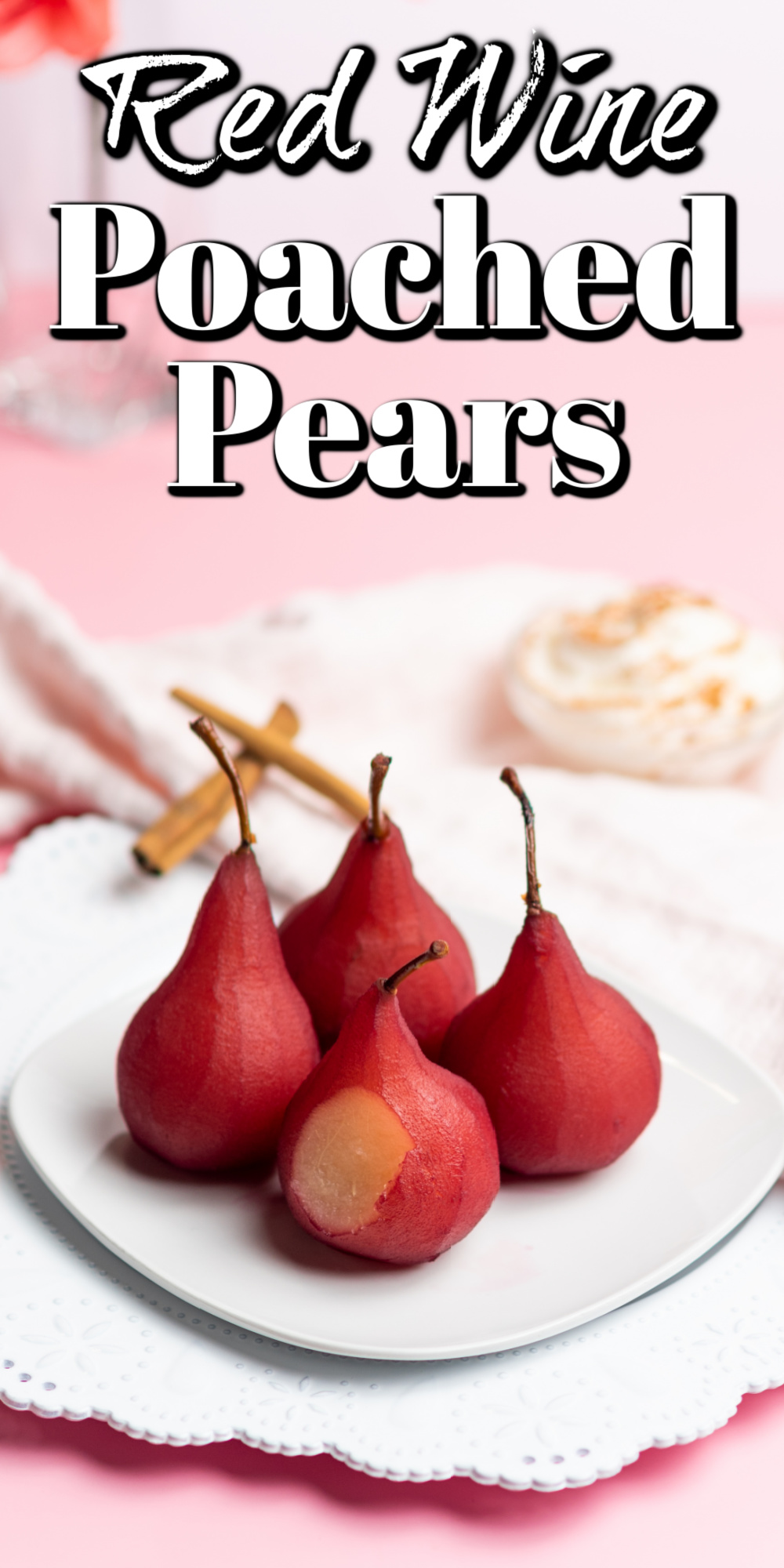 Pin it HERE!!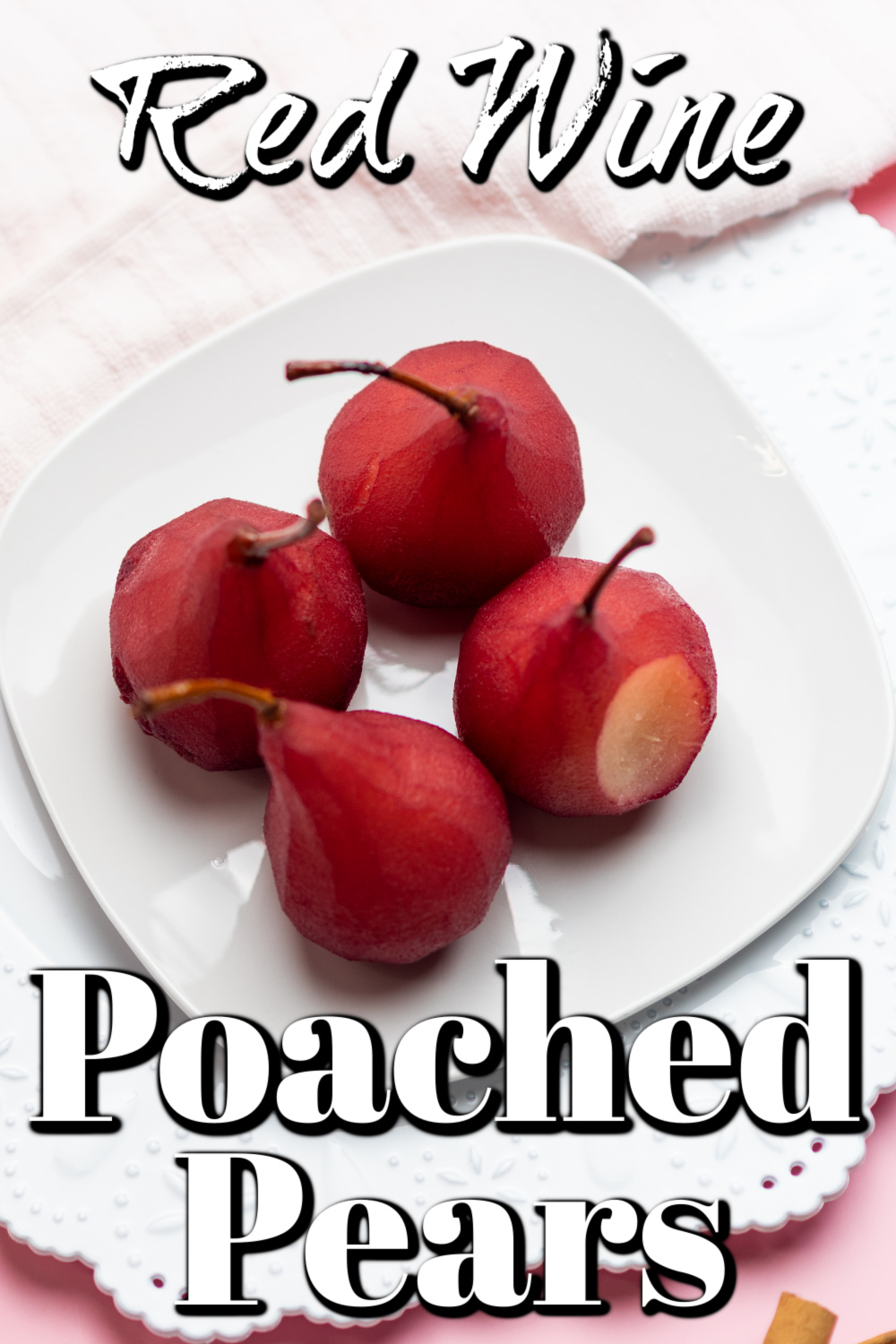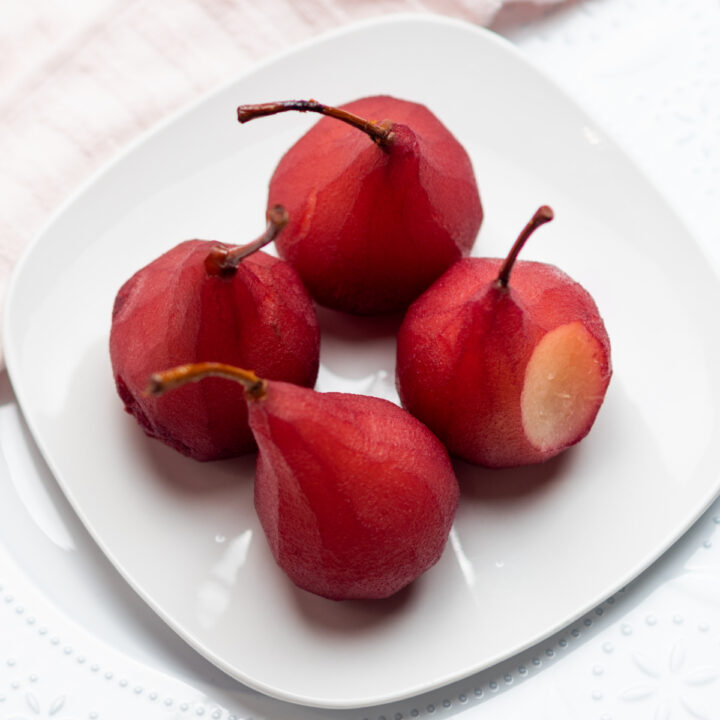 Red Wine Poached Pears
Yield: 4 Servings
Prep Time: 10 minutes
Cook Time: 30 minutes
Total Time: 40 minutes
An elegant pear dessert that is very simple to make. It pairs easily with mascarpone, whipped cream, or vanilla ice cream. A sweet dessert wine, sherry, or port would also be lovely with these pears. Sweet champagne or prosecco would work too.
Ingredients
4 firm pears (I used Bosc pears)
1 bottle of red dry wine (750ml) (I used Merlot)
¾ cup granulated sugar
Juice of 1 orange
Juice of ½ lemon
1 tsp vanilla essence
2 cinnamon sticks
Whipped cream, optional
Ground cinnamon, optional
Instructions
Start by peeling your pears. Make sure to leave the stalk on the pears.
In a medium-size pot, add the red wine, sugar, orange juice, lemon juice, vanilla essence, and cinnamon sticks and bring to a boil. Make sure to stir occasionally, so the sugar dissolves.
Once the wine cooks, add your pears, bring the heat down to low, and cover. Cook for about 30 minutes or until the pears are tender.
Let the pears cool off completely before serving. You can serve it with whipped cream and cinnamon or vanilla ice cream. Enjoy!
Notes
Please read the blog post for more information on poaching pears in wine.
Nutrition Information:
Yield: 4
Serving Size: 1
Amount Per Serving:
Calories: 355
Total Fat: 3g
Saturated Fat: 2g
Trans Fat: 0g
Unsaturated Fat: 1g
Cholesterol: 10mg
Sodium: 38mg
Carbohydrates: 64g
Fiber: 5g
Sugar: 53g
Protein: 1g
Recipe calculation was provided by Nutritionix and is estimation only. If you need nutritional calculations for medical reasons, please use a source that you trust.