I love beets every which way but my family is not crazy about them unless they are Roasted Beets and how easy is that. There are new varieties popping up in our grocery store and farmer's market. I think the beet is a little forgotten vegetable that when roasted turns out sweet and crisp. You can now get beets bagged in a variety. The smaller ones don't even need peeling.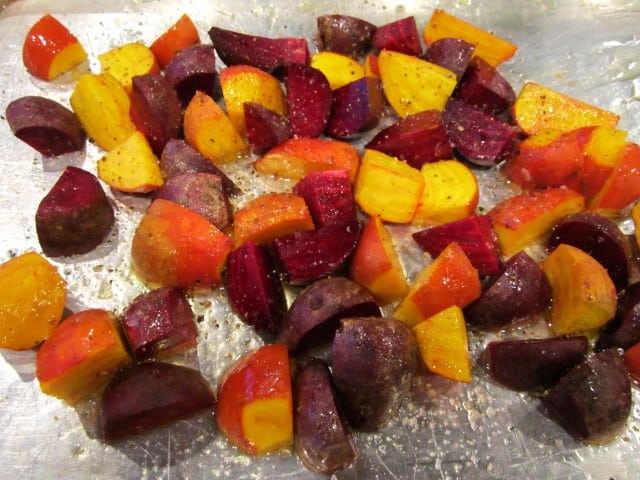 One bag of beets in a variety, about 12 beets
3 Tbsp. good olive oil
Fresh thyme, minced, optional
Kosher or large grain sea salt
Freshly ground pepper
Preheat oven to 400F. Scrub beets and cut off top and bottom. Cut into small chunks, the small ones can be cut in quarters and the larger can be in sixths. Place on a rimmed baking sheet and sprinkle with olive oil, salt, and pepper to taste. Toss well to coat evenly. Roast for 35-45 min. turning once or twice. I like to wait until they are starting to brown before turning probably at 20 min. mark or longer. Remove from oven and season further with salt and pepper if you like. Serve hot.