Orange Chicken by Crazy Foodie Stunts
We have DB with Orange Chicken by Crazy Foodie Stunts to entertain you today. I met DB through a Food Blogging Network that we both belong to. A place where you can freely ask any questions and receive tons of help and support. DB and I chat on there regularly and I appreciate his friendship and opinions on so many of the topics that have been brought up.DB challenges himself on his site and you can follow along with all his great recipes on Facebook, Twitter Pinterest and Google+!! I now give you DB and a wonderful Orange Chicken!!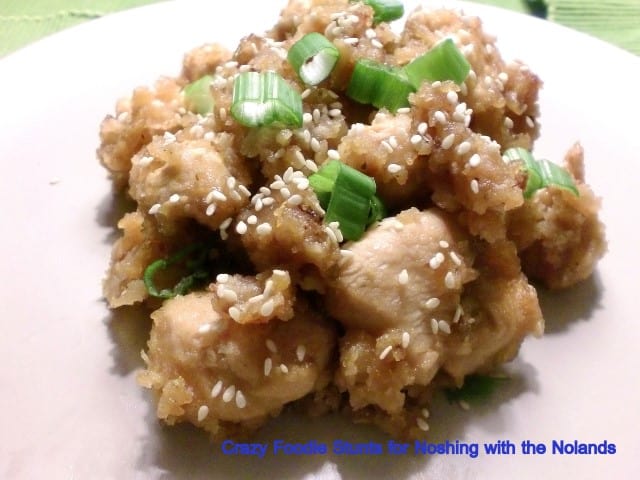 Hello Noshing with the Nolands readers!
My name is DB and I call myself the Foodie Stuntman. I write the blog Crazy Foodie Stunts where I make food from scratch that can easily be bought at a local supermarket and is often taken for granted, unusual cooking methods, and dishes with challenging food preparation for the home cook. I'm also known for my disdain for chain restaurant food. Examples include homemade ricotta, flour tortillas, deep frying my own potato chips, making a gelato without an ice cream machine and boiling pasta in red wine for a provacative visual appeal.
It's safe to say that "quick and easy" is not my style. I do this primarily because I have found that homemade food is better than many store bought versions because you can prepare it to suit your own personal tastes and can do so sans the unhealthy amounts of salt and/or sugar in prepared foods (both in the supermarket and in restaurants).
Inspiration can come from strange places and this a great example. There are three of us in my immediate family (me, my wife and my toddler daughter) and one week last month, my wife took my daughter to southern California for a week to help my sister-in-law move, so I was a bachelor for that week. I admit, I was lazy and didn't want to cook from scratch just for one serving so I committed a blasphemous act and, on one evening, I subjected myself to what amounted to an expensive TV dinner.
In this case, it was P.F.Chang's Home Menu Meals for 2. Their orange chicken meal is described as battered white meat chicken with a spicy orange sauce, carrots, water chestnuts and edamame. I knew I could do better so I went looking and found a recipe on food.com that I adapted.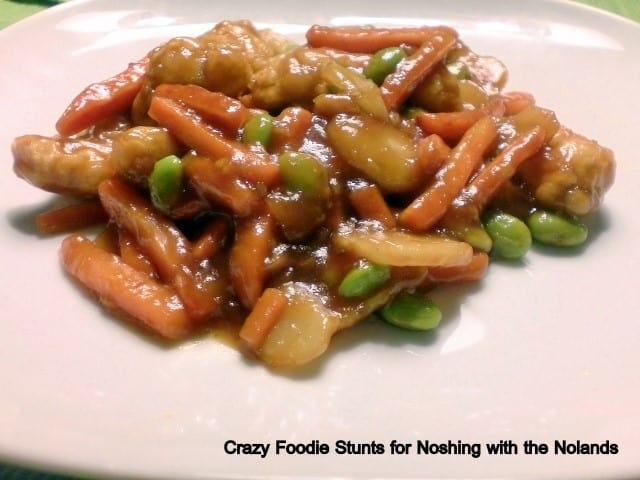 Ingredients
For the sauce:
1 cup plus 2 tablespoons water, divided
1/2 cup orange juice, fresh squeezed
1/4 cup lemon juice, fresh squeezed
1/3 cup rice vinegar
2 1/2 tablespoons soy sauce
1 tablespoon orange zest, grated
1 cup packed brown sugar
1/2 teaspoon fresh gingerroot, minced
1/2 teaspoon garlic, minced
2 tablespoons green onions, chopped
1/4 teaspoon red pepper flakes
3 tablespoons cornstarch
For the chicken:
2 lbs boneless skinless chicken breasts, cut into 1/2 inch pieces
1 cup all-purpose flour
kosher salt and freshly ground black pepper
3 tablespoons olive oil
Method
1. Make the sauce: Combine 1 cup water, orange juice, lemon juice, rice vinegar, and soy sauce into a saucepan over medium-high heat. Stir in orange zest, brown sugar, ginger, garlic, red pepper, and chopped onion. Once the mixture has reached a boil, remove from heat and let cool 10 to 15 minutes.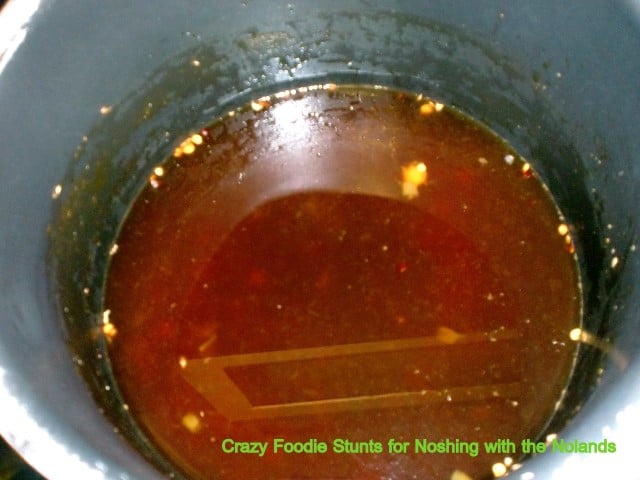 2. Prepare the chicken: Combine 1 cup of the cooled mixture and chicken pieces into a resealable plastic bag (reserving the remaining sauce) and marinate for at least 2 hours in the refrigerator. Once marinated, combine the flour, salt, and pepper in a second resealable bag. Remove the chicken from the first bag and add to the second, then shake to coat.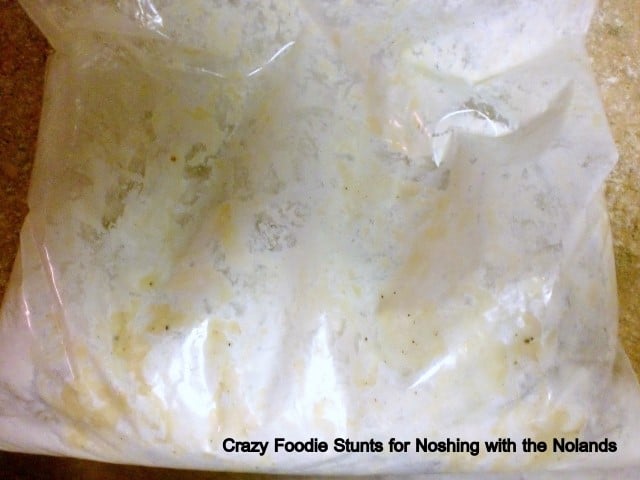 3. Cook the chicken: Heat the oil in a large skillet over medium heat. Place chicken in skillet, and brown on both sides. Remove to a paper towel-lined plate and cover with aluminum foil. Wipe out the skillet, and add the sauce. Bring to a boil over medium-high heat. Mix together cornstarch and 2 tablespoons water, and stir into sauce. Reduce heat to medium low; stir in chicken pieces, and simmer, about 5 minutes, stirring occasionally.
NOTE: As I added the cornstarch and water mixture, the sauce started to seize on me to the point that it was difficult to coat all of my chicken pieces. I recommend reducing the amounts to teaspoons and use a 3-to-2 water-to-starch ratio.
Lastly, I'd like to thank Tara for hosting me today. It was a pleasure to be here and I hope you enjoyed my dish!