I have been asked to participate in a Unique Sweets Dessert Challenge. This challenge is being run by Julie from White Lights on Wednesday and Sophie from My Happy Place. They want something fancy schmancy that takes some skill to assemble. Ken and I immediately went to Julia's Gateau in a Cage. We watched Julia go to a Patisserie in France to watch a professional baker make this cake. This is not for the faint of heart. We have tried this cage many times and it is not easy to get it #1 off the bowl and #2 onto the cake in one piece. We had made it back in 2010 for Ken's cousin Aaron and his lovely wife Cheyenne but that was the only time we had success until yesterday again. If you don't want to make the cage you still have a very beautiful cake!!!
Yellow cake made from a cake mix and in an 8″ pan
Kirsch Syrup
1/2 cup hot water
1/4 cup sugar
2 Tbsp. Kirsch
1/2 tsp. vanilla
Mix water and sugar together in a small saucepan and over medium low heat stir until sugar is dissolved. Add Kirsch and vanilla. Set aside.
Whipped Cream
2 cups whipped cream
1/2 cup icing sugar
1/2 tsp. vanilla
Whip cream using a cold bowl and whisk on a electric mixer until soft peaks form. Add sugar and vanilla, continue to whip until stiff peaks form. Place into a large piping back with a star tip.
Cake Assembly
1/2 250 ml jar of seedless raspberry jam
1 1/2 lbs. sliced strawberries
Kirsch syrup
Whipped Cream
Slice the cake into 3 slabs. Place bottom slice on serving plate. Brush with Kirsh syrup. Spread on a thin layer of raspberry jam. Pipe on the whipped cream starting in the middle and working your way to the outside. Place the strawberries on the cake by starting in the middle and working your way outwards. Repeat with remaining layers and finish with the strawberries. I save the pretty outside slices for the top. Pipe the rest of the whipped cream in between the strawberries. Refrigerate until ready to serve. Don't leave the cake for more than 2-3 hours before serving.
Cage
1 cup sugar
1/3 cup hot water
1/4 cup  white corn syrup
Prep a large 12″ bowl by spraying it with Pam and set aside. In a saucepan add the ingredients and stir over medium low heat until sugar is dissolved. Increase the heat and boil for about 5 min. (until steam stops coming out of the pot). It should be fairly light in colour still as it will continue to cook. Hold bowl inverted with one hand and drizzle the syrup around the top of the bowl coming down the sides to as large as your cake is. Continue until all the syrup has been used. Let cool for 5 min. Carefully work the candy cage off the bowl by easing it from all sides. Place the bowl onto the cake. When serving crack the candy cage and slice the cake.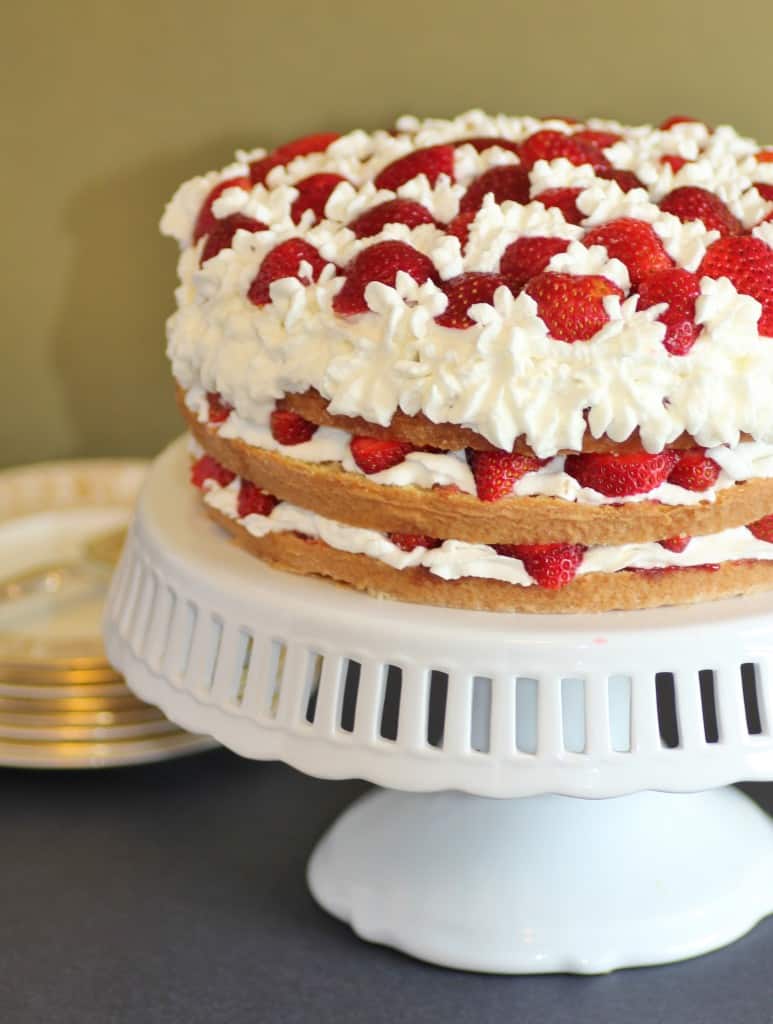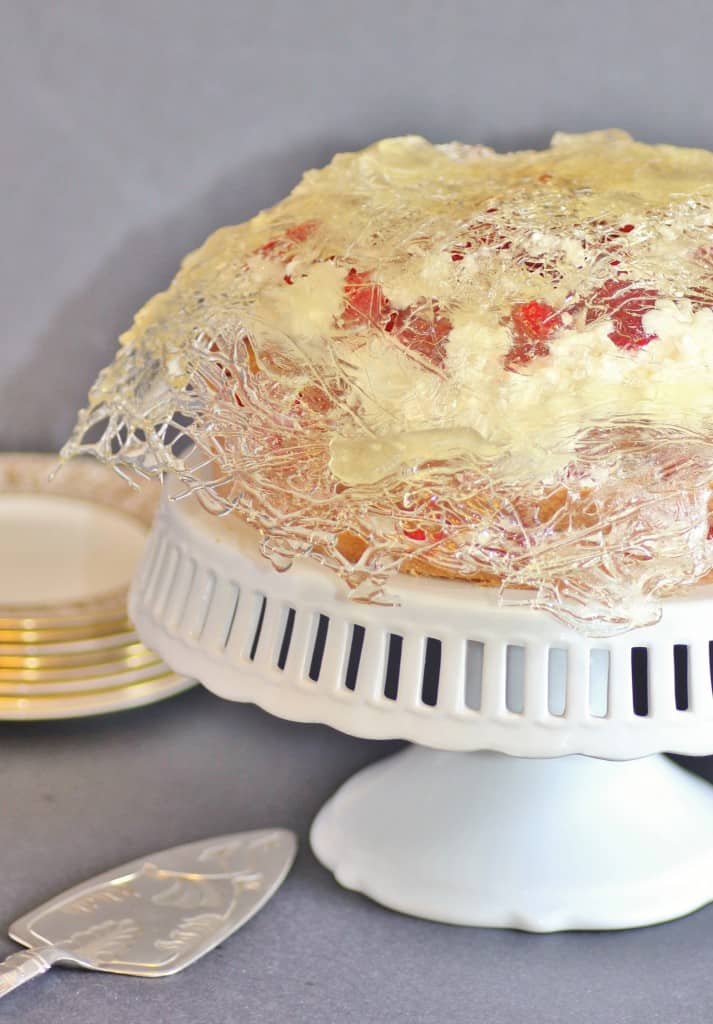 Recipe adapted from Julia Child