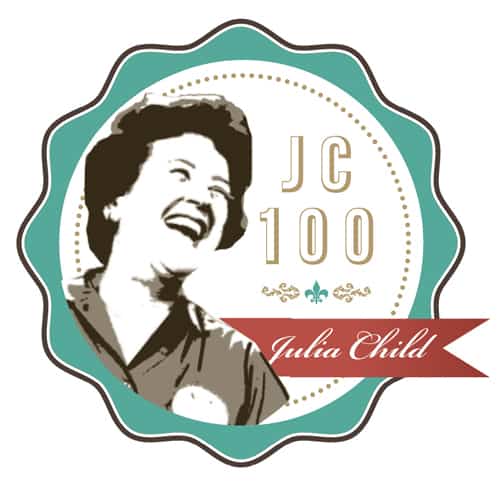 Julia Child's Bouillabaisse – We are on week 10 now. Getting close to Julia's 100th birthday celebration!! Only 5 more weeks to go. Her birthday is on August 15 and she would have turned 100 then if she was still with us. She had such great wit, talent, and knowledge.
Very quick on her feet since she did not have all the editing and technology of today for her cooking shows. Again I enjoyed watching Bouillabaisse a la Marseillaise on my DVDs. She just loves hacking at a fish with a big knife.
Amazing!! Anyway, we and I mean we all made this Bouillabaisse the other night. I was busy trying to set up a few other things and Ken and Amber jumped in for me and I thank them very much!!! It turned out fabulous!! I had the advantage of some purchased fish stock that I had in the freezer.
Keep your eye open for it at your local fish market. You just might luck out. Easier than trying to find the fish carcasses I would think. She recommends using a portion of gelatinous fish such as halibut, eel, and some of the firmer fleshed flounder.
You can add a variety of fish and I have included a list below, some I have never heard of!! You can also add things like lobster and crab but Julia does say that this was a fisherman's stew made from the unsaleable fish of the day.
It does not need to be fancy. With watching, reading, and learning this is what I have come up with for Julia's Bouillabaisse.
Alternative fish you can use are:
Rock, Calico, or Sea Bass
Cod or Lingcod
Flounder
Grouper
Grunt
Haddock
Hake or Whiting
Halibut
Lemon Sole
Perch
Pollock or Boston Bluefish
Porgy or Scup
Redfish or Red Drum
Scrod
Freshwater trout; Sea Trout or Weakfish
Shellfish-clams, mussels, crab, or lobster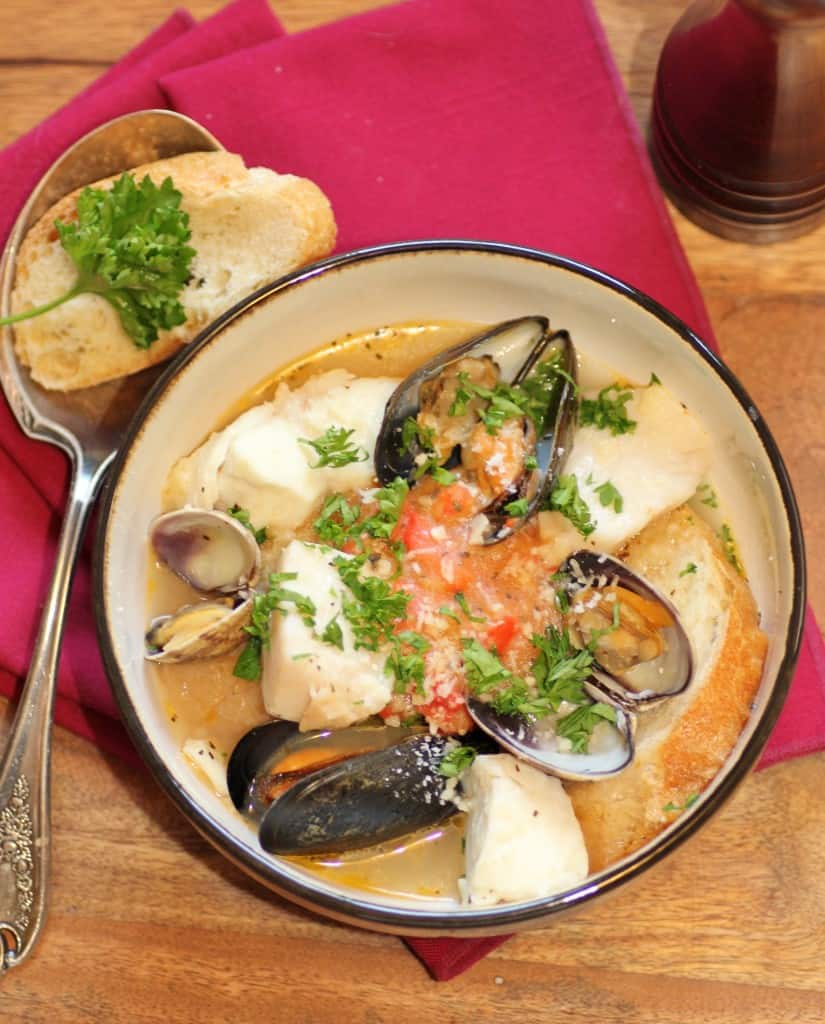 Julia Child's Bouillabaisse
Yield: 4 Servings
Prep Time: 20 minutes
Cook Time: 1 hour 10 minutes
Total Time: 1 hour 30 minutes
we all made this Bouillabaisse the other night. I was busy trying to set up a few other things and Ken and Amber jumped in for me and I thank them very much!!! It turned out fabulous!!
Ingredients
1.5 L fish stock
500 ml. water
1 cup minced onion
1/3 cup olive oil
4 cloves mashed garlic
1 large ripe red tomato
6 parsley sprigs
1/8 tsp. fennel
A 2-inch piece of dried orange peel or 1/2 tsp. dried orange peel
1 bay leaf
1 tsp. basil
2 big pinches of saffron
Freshly ground pepper
1 Tbsp. Kosher salt
1 halibut steak
1 large fillet of red snapper, cut into manageable pieces
3 large scallops, sliced in half
12 mussels
12 clams
Rounds of hard French Bread toasted
1/2 cup Parmesan cheese, finely grated
Parsely, chopped for garnish
Rouille
1/4 cup chopped red bell pepper
1 small Serrano pepper, seeded
1 medium peeled potato, cooked in the soup
4 cloves mashed garlic
1 tsp. basil or thyme
4 Tbsp. fruity olive oil
Salt and pepper
Instructions
Simmer the red pepper for several minutes in salted water and drain. Simmer the Serrano in boiled water until tender. Now place the red pepper, Serrano pepper, potato, garlic, and basil in a bowl or mortar and pound for several minutes until you form a paste.
Drop by drop add in the olive oil for making mayonnaise and beat. Season to taste with salt and pepper. Just before serving loosen up the sauce with 2-3 Tbsp. of hot soup.

Saute the onion in the olive oil until tender in a large saucepan.

Stir in the garlic and tomatoes. Raise the heat to moderate and cook for 5 min. more.

Add the fish stock and water. Then add the parsley sprigs, bay leaf, basil, saffron, pepper, and salt. Simmer for 30-40 min. Strain the soup, pressing out the juices from the ingredients. Correct seasoning.

Drain the soup now back into the pot and place in your larger pieces of fish like the halibut steak. Simmer for 5 min.

Now add the red snapper, scallops, clams, and mussels and cook another 5-7 min. until the mussels and clams open.

Place rounds of the toasted bread in the bottom of each soup bowl. Pour the soup into each soup bowl dividing the fish and shellfish amongst the bowls.

Pass around the rouille, cheese, and parsley.
Nutrition Information:
Yield: 4
Serving Size: 1
Amount Per Serving:
Calories: 1564
Total Fat: 67g
Saturated Fat: 14g
Trans Fat: 0g
Unsaturated Fat: 42g
Cholesterol: 422mg
Sodium: 7034mg
Carbohydrates: 59g
Fiber: 4g
Sugar: 5g
Protein: 174g
Recipe calculation was provided by Nutritionix and is estimation only. If you need nutritional calculations for medical reasons, please use a source that you trust.
Excerpted from Mastering the Art of French Cooking by Julia Child. Copyright © 1961 by Alfred A. Knopf. Reprinted with permission from the publisher Alfred A. Knopf, a division of Random House, Inc.