This is for sure one of my all time favourite soups. I remember ordering this so many years ago so many times. I have also made this many many times. I prefer it cold like is it suppose to be served but Ken is not a fan, so he will have it hot. I will see which way Amber would like later on today, I can't remember if she has had it cold. Hot or cold it is fabulous!! Even though it sounds so elegant it is so very easy to make. Four main ingredients and that is all. Served cold it is a great summertime soup. If you have never had it you must try and make it!!!
3 cups peeled, sliced potatoes
3 cups sliced white of leek, washed very well
1 1/2 quarts of lower sodium chicken broth
Simmer the vegetables in the broth until very tender about 40-50 min. Puree the soup in a blender or through a food mill and then a fine sieve.
1/2 – 1 cup whipping cream
Salt and white pepper to taste
2 -3 Tbsp. minced chives
Stir in the cream and season to taste, oversalting very slightly as salt loses savor in a cold dish. Chill. Serve in chilled soup cups and decorate with chives.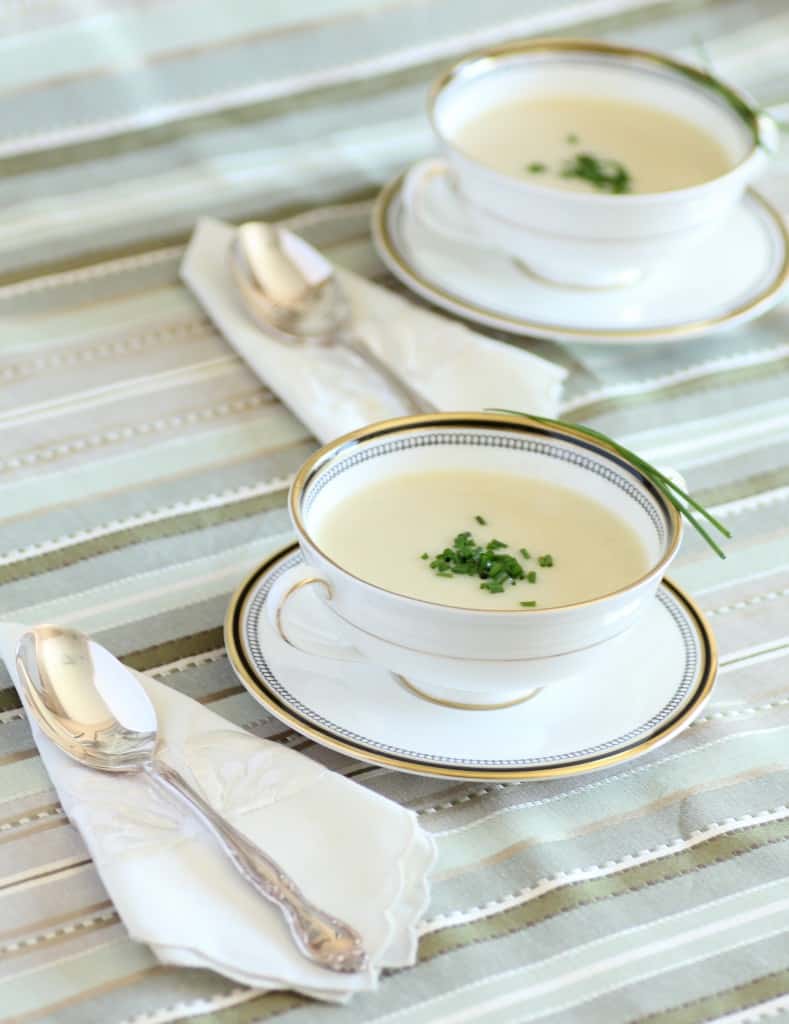 Excerpted from Mastering the Art of French Cooking by Julia Child. Copyright © 1961 by Alfred A. Knopf. Reprinted with permission from the publisher Alfred A. Knopf, a division of Random House, Inc.
This has been included in The Soup Kitchen – Bloggers Event