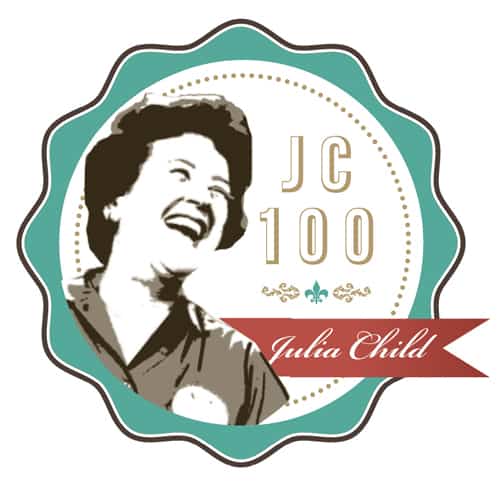 We are getting closer and closer to Julia's birthday which is on August 15 and she would have been 100. Soon 100 restaurants will be joining in. Go to JC100 on Facebook to see who is all participating.
We are now in week 12 of our celebration and for our assignment this week we have been given three different vegetables to make. I decided to do all three of course. Today I am doing Julia Child's Asparagus with Hollandaise Sauce.
I haven't missed a recipe since we started. Instead of doing one massive post with all three recipes, I will be doing it over three days.
We were given 17 pages of recipes to go through so even if I wanted to do this over one day I would never be able to type that much. I started with the asparagus with Hollandaise sauce. I first watched her TV program that I have on DVD and then kind of incorporated both the recipes together.
Wow, was this good and really very easy? No double boiler involved.
It is all technique. This is the best Hollandaise sauce I have ever had. Can't wait to try it on eggs benny and other dishes!! Ken thought it was a little too lemony but the rest of us thought it was perfect. For the asparagus, Julia suggests to peel it, tie it in bundles, plunge it in boiling water and cook it until it is just tender.
I used my method that I have done forever and you can see the asparagus is a gorgeous green. Trying to peel asparagus with a knife seemed to me to be too much work.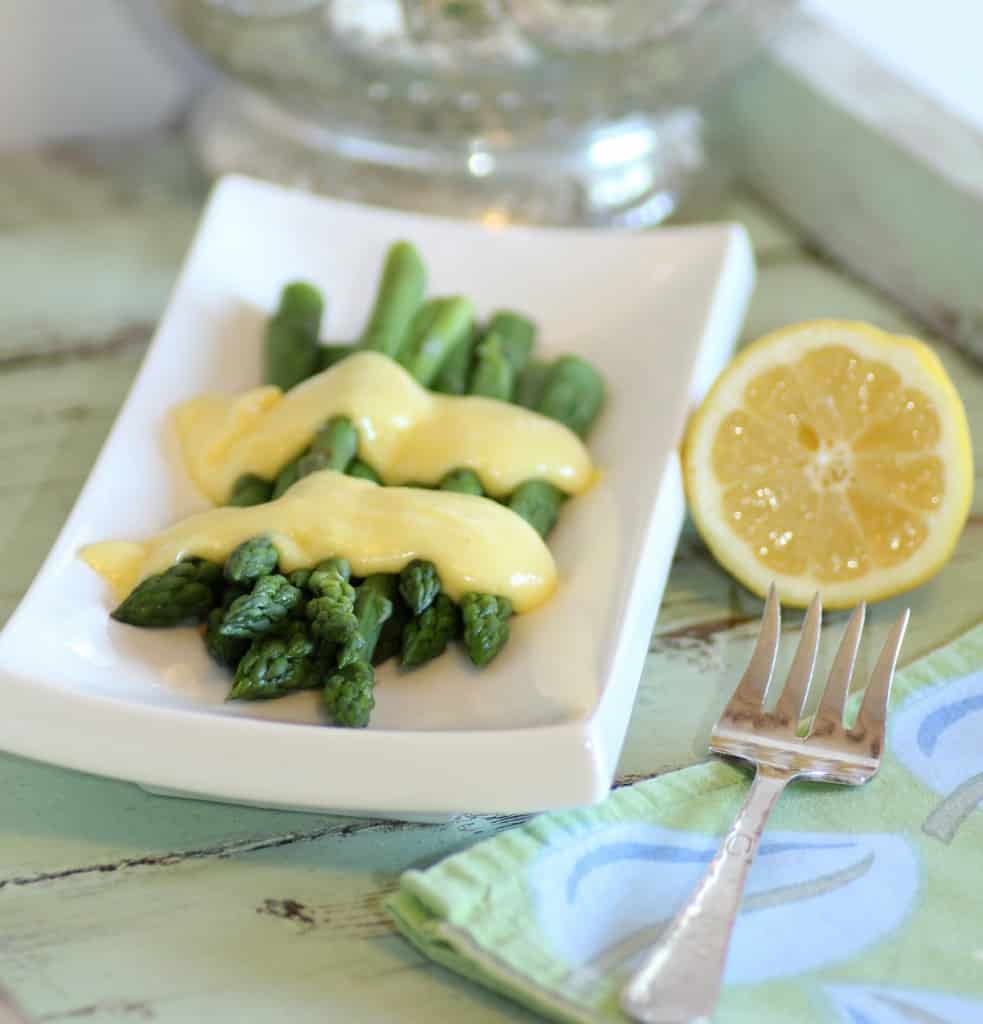 Julia Child's Asparagus with Hollandaise Sauce
Yield: 4 Servings
Prep Time: 5 minutes
Cook Time: 20 minutes
Total Time: 25 minutes
Julia Child's Asparagus with Hollandaise Sauce is wonderfully creamy and lemony!
Ingredients
1 or 2 bunches of asparagus, firm, crisp stalks
3/4 cup butter, 1 Tbsp. cold the rest softened
3 eggs yolks
1 Tbsp. cold water
1 Tbsp. fresh lemon juice
Salt and white pepper
Instructions
Beat the egg yolks in a small saucepan until they become thick and sticky. Add the water, lemon juice, and salt and beat for half a minute more.
Add a Tbsp. of cold butter but don't incorporate it in the eggs yet. Place the saucepan now over low heat.
Now stir the egg yolk with a wire whisk until they slowly thicken into a smooth cream. If they thicken too much or become lumpy immediately plunge the bottom of the pan in cold water, beating the eggs to cool them.
Continue on the heat again beating until you can begin to see the bottom of the pan between strokes.
Now start to incorporate the softened butter in dollops continuing to whisk constantly and moving the pan off and on the heat. When all the butter is incorporated season to taste with salt and white pepper.
Remember that the Hollandaise sauce is served warm not hot. The saucepan can be kept in lukewarm water for about an hour. Whisking occasionally.
Break the end off the asparagus by bending them and letting them snap off where they are more tender. Discard ends.
Wash well. In a large saute pan heat add water and salt and heat. Bring to a boil. Add asparagus and simmer covered for 4-5 min. until just tender.
Immediately remove and serve with the Hollandaise sauce.
Nutrition Information:
Yield: 4
Serving Size: 1
Amount Per Serving:
Calories: 134
Total Fat: 10g
Saturated Fat: 4g
Trans Fat: 0g
Unsaturated Fat: 6g
Cholesterol: 193mg
Sodium: 262mg
Carbohydrates: 5g
Fiber: 1g
Sugar: 0g
Protein: 6g
Recipe calculation was provided by Nutritionix and is estimation only. If you need nutritional calculations for medical reasons, please use a source that you trust.
Excerpted from Mastering the Art of French Cooking by Julia Child. Copyright © 1961 by Alfred A. Knopf. Reprinted with permission from the publisher Alfred A. Knopf, a division of Random House, Inc.