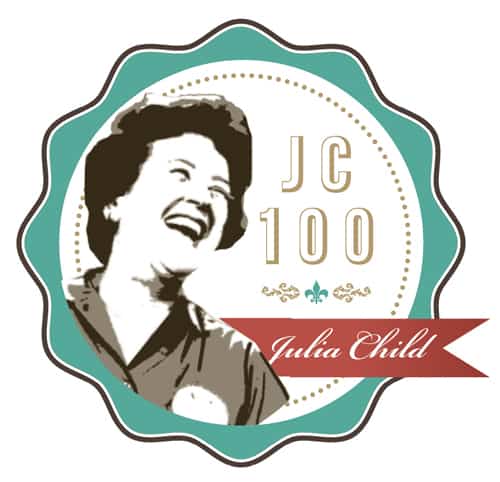 Julia Child's Lobster Cheese Souffle
We are in week 13 now, only two more weeks to go and I am definitely going to have a void in my life when this is all over. I have so enjoyed doing our assignments. This week is the infamous Julia Child's Lobster Cheese Souffle. Julia says, "the souffle is undoubtedly the egg at it's most magnificent, the egg in it's puffing power." It surely is, what a magnificent thing to behold.
You have only a few minutes to observe the souffle in its heights as when it starts to cool it starts to deflate. So this is something that needs to go from oven to table immediately.
Julia uses a technique, that I watched on her DVD, using two spoons plunged into the middle, and then you pull the souffle apart and serve.
You can add many things to a souffle, like spinach, broccoli, seafood, and salmon. We decided on lobster cheese souffle, it seemed to be worthy of this seafood.
It was out of this world fantastic!!!! We were all in epicurean heaven!!! This was a very memorable experience. Light and creamy and melting in your mouth. Come with us to explore this magical recipe, you will not be disappointed!!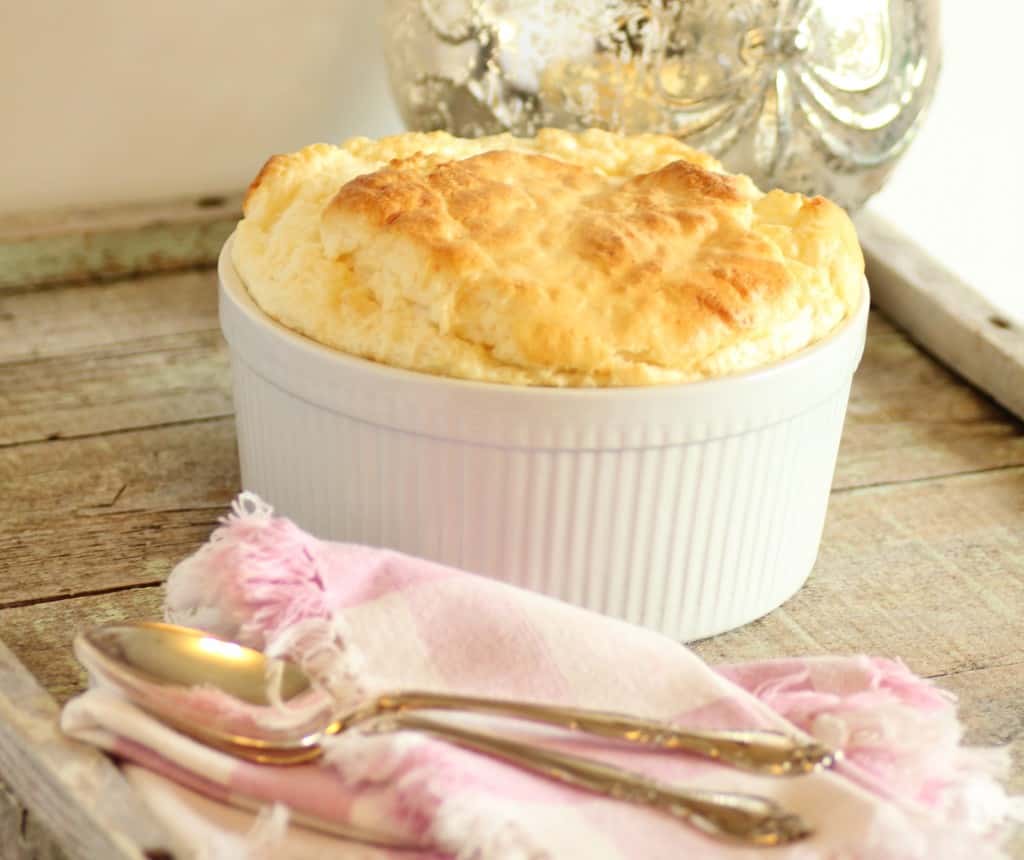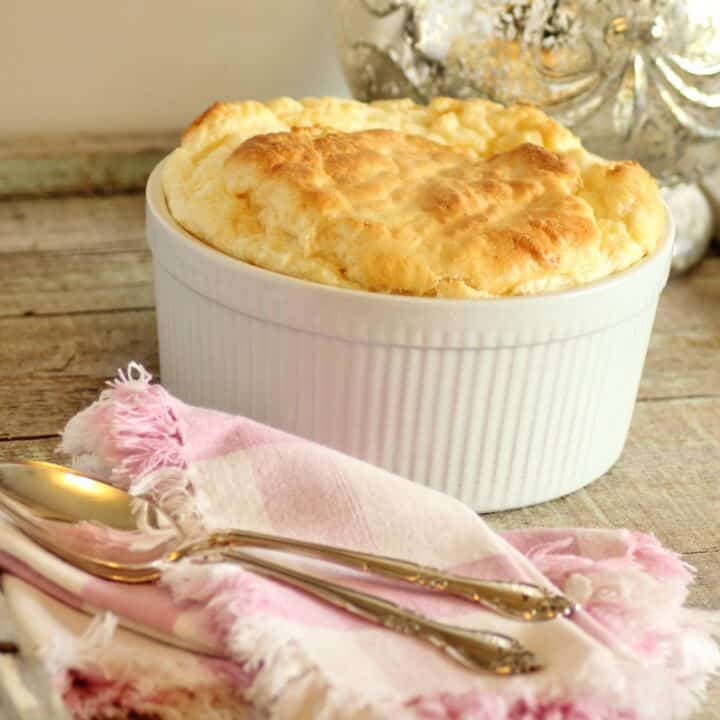 Julia Child's Lobster Cheese Souffle
Yield: 4 Servings
Prep Time: 20 minutes
Cook Time: 55 minutes
Total Time: 1 hour 15 minutes
This is the infamous Julia Child's Lobster Cheese Souffle. Julia says, "the souffle is undoubtedly the egg at it's most magnificent
Ingredients
2 Tbsp. finely grated Parmesan or other hard cheese
2 1/2 Tbsp. butter
3 Tbsp. flour
1 cup hot milk
1/2 tsp. paprika
fresh grating of nutmeg
1/2 tsp. salt
3 grinds of white pepper
4 egg yolks
5 egg whites
Pinch of cream of tartar
1/2 cup grated Gruyere cheese
Lobster tail
1/2 cup white wine
Instructions
Butter a 7 1/2″ -8″ round souffle dish. Roll the grated Parmesan around the sides and bottom of the dish. Have ready an aluminum collar that is 3″ above the dish and a straight pin to secure.
Preheat the oven to 400F and set the rack to the lower third level.
Pour white wine into a small saucepan and bring to boiling. Place lobster tail in and poach for approximately 8 min. Let cool and remove meat and chop finely.
Melt the butter in a medium-sized saucepan and add the flour. Cook stirring constantly for 2 minutes. Do not brown.
Remove from the heat and cool slightly. Pour in all the hot milk at once and whisk vigorously to blend. Return the saucepan to the heat and with a wooden spoon stir and let boil slowly for 3 min. The sauce will turn very thick. Remove from heat and whisk in the paprika, nutmeg, salt, and pepper. One by one whisk in the egg yolks. Add cooked lobster.
In a separate bowl beat the egg whites to stiff shiny peaks. Scoop a quarter of the egg whites and stir into the egg yolk mixture. Turn the rest of the egg whites on top and gently fold in with a wooden spoon alternately adding sprinkles of the grated Gruyere cheese. Spoon mixture into the prepared dish and place the aluminum collar on and secure with the pin.
Place in the oven. Reduce heat to 375F bake for 30-35 minutes or until the souffle has puffed 2-3 inches and the top is nicely browned. You can slide a cake tester into the outer edge to make sure it is done.
Remove from the oven and carefully remove the collar. Bring to the table immediately and plunge two spoons into the center and pull the souffle apart. Serve onto individual plates. Lovely with a salad.
Nutrition Information:
Yield: 4
Serving Size: 1
Amount Per Serving:
Calories: 381
Total Fat: 24g
Saturated Fat: 13g
Trans Fat: 0g
Unsaturated Fat: 9g
Cholesterol: 259mg
Sodium: 744mg
Carbohydrates: 12g
Fiber: 1g
Sugar: 1g
Protein: 24g
Recipe calculation was provided by Nutritionix and is estimation only. If you need nutritional calculations for medical reasons, please use a source that you trust.