Rhubarb Mandarin Skillet Upside Down Cake – I have a crush on ChinDeep, the site that I follow religiously. I see all of Melissa's amazing recipes on Facebook and I comment, like, share and drool over all of them on a regular basis.
Sometimes a recipe just catches you right, for me, it is having an ingredient on hand that I have mulled over in my mind and not settled on what to do with it yet. This is the case here.
Our neighbor Kari graciously came over with a large bag of rhubarb. I had already made strawberry rhubarb compote that Amber loves so much and still had more in the fridge.
My eyes landed on Melissa's mouth-watering Peach Rhubarb Skillet Upside Down Cake and I knew I had to make it. The one thing with being a food blogger is you have to try to use what you have on hand rather than continuously running to the grocery store.
If you don't it can be very expensive and wasteful. So I had to change Melissa's recipe up a bit to use what I had at the ready. The results were magnificent.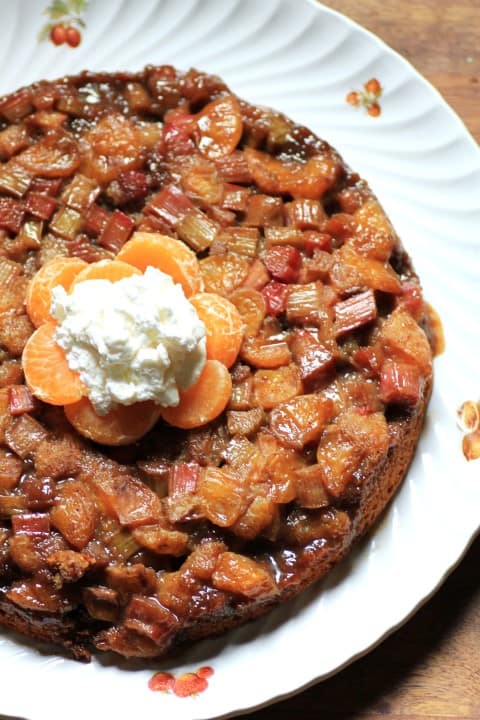 Changing it up!
The one thing that I did and I hadn't tried before was making buttermilk. I had half of a large cream leftover from hosting the church refreshments so I made my own buttermilk.
I put one tablespoon of lemon juice in a 1 cup measure and filled it with half and half cream. Let it stand for 5 min. and viola, it curdles and turns to buttermilk. Awesome, another use for my leftover cream.
Peaches looked gorgeous in ChinDeep's cake but I didn't have any. Ken had bought a huge bag of mandarin though and I decided to try those instead. It was a great result.
Get jiggy with recipes, change them up, have fun, use what is on hand. Don't be afraid!! Just don't mess with the exact measurements of the cake, the dry and wet elements but interchange the other ingredients. I also used Poudre Douce from Epicure which is a blend of spices, perfect for a cake like this.
So in saying all this try my version or visit ChinDeep for the original recipe or make one of your own with what you have on hand.
You will love this cake hot out of the oven with ice cream or whipped cream. ENJOY!!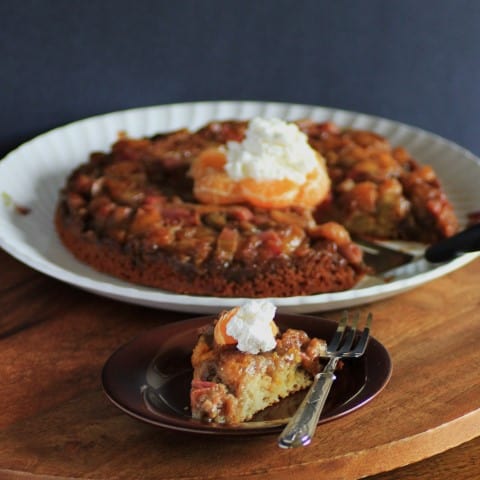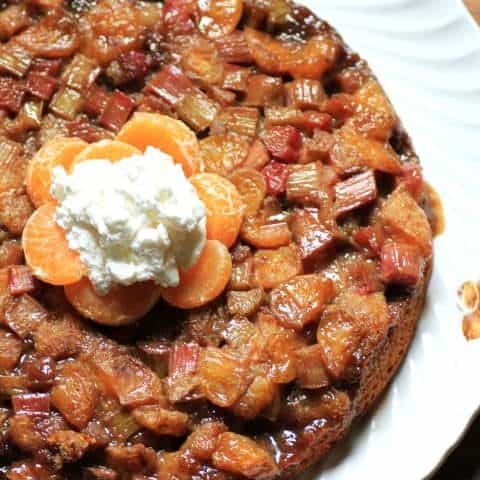 Rhubarb Mandarin Skillet Upside Down Cake
Yield: 8 Servings
Prep Time: 15 minutes
Cook Time: 35 minutes
Total Time: 50 minutes
A gorgeous easy upside down cake that you can whip up in no time.
Ingredients
8 Tbsp. butter, divided
3/4 cup brown sugar
3 mandarins, peeled and cut in half through the sections so that each orange slice is cut in half
1 cup rhubarb, cut into chunks
1 1/4 cup flour
1 1/2 tsp. Epicure Poudre Douce (or a blend of 1/2 tsp. cinnamon, 1/4 tsp cloves, and 2 tsp. ginger)
2 tsp. baking soda
1/2 tsp. salt
1 cup buttermilk (or as I did 1 Tbsp. lemon juice added to a cup measure and then filled with half and half cream, let stand for 5 min. until curdled)
1 tsp. pure vanilla extract
Instructions
Preheat oven to 350F. Melt the butter and set aside 2 Tbsp. Place 6 Tbsp. in a 10" skillet.
Toss together the mandarins, rhubarb, and Poudre douce and place over the butter in the skillet.
Cover the fruit with the brown sugar, set aside.
With a whisk mix the flour, sugar, soda, and salt together. With a wooden spoon stir in the remaining 2 Tbsp. butter, buttermilk, and vanilla.
Mix well until combined. Pour the batter over the fruit.
Bake for 25 to 35 min. until set and golden brown on top and completely set.
Cool in the skillet for 5 min. and then invert onto a serving plate. Serve with ice cream or fresh whipped cream.
Recipe adapted from ChinDeep
Nutrition Information:
Yield: 8
Serving Size: 1
Amount Per Serving:
Calories: 276
Total Fat: 12g
Saturated Fat: 8g
Trans Fat: 0g
Unsaturated Fat: 4g
Cholesterol: 32mg
Sodium: 616mg
Carbohydrates: 39g
Fiber: 2g
Sugar: 22g
Protein: 4g
Recipe calculation was provided by Nutritionix and is estimation only. If you need nutritional calculations for medical reasons, please use a source that you trust.
Thanks, Melissa from ChinDeep for such a great recipe!!!