I loved making our Energy Balls and my family and Amber's friends loved eating them so I decided to make Chocolate Coconut Protein Balls as well. These are a fantastic healthy snack too!
The Energy Balls are a very popular recipe on our site right now. This is one of those great recipes that you will want to have on hand. They take no time to roll into balls and have ready for future nibbling. Want another great healthy recipe try our Sesame Tahini Cookies.
Helpful Items for This Recipe
This post contains affiliate links.
How to Make Protein Balls?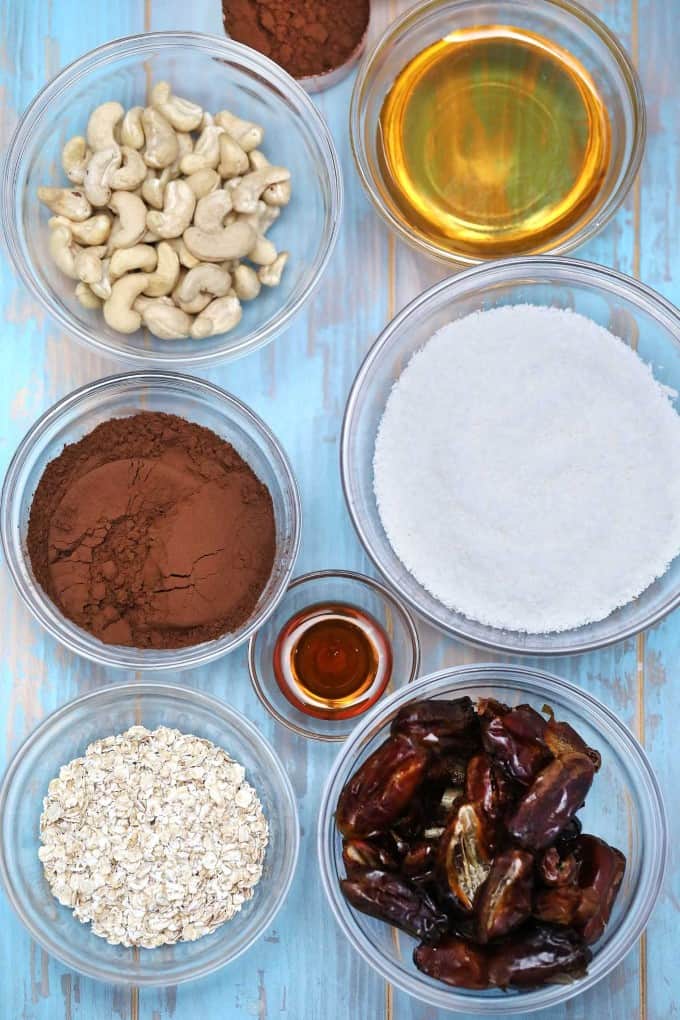 Protein balls are very easy to make with only a few ingredients that you can find in any grocery store that like Medjool dates, cocoa powder, honey, unsweetened coconut, rolled oats, vanilla and unsalted cashews.
Dates are one ingredient that I don't use enough of. They make a great substitute for sugar as they have a natural sweetness and are a good binder for this recipe.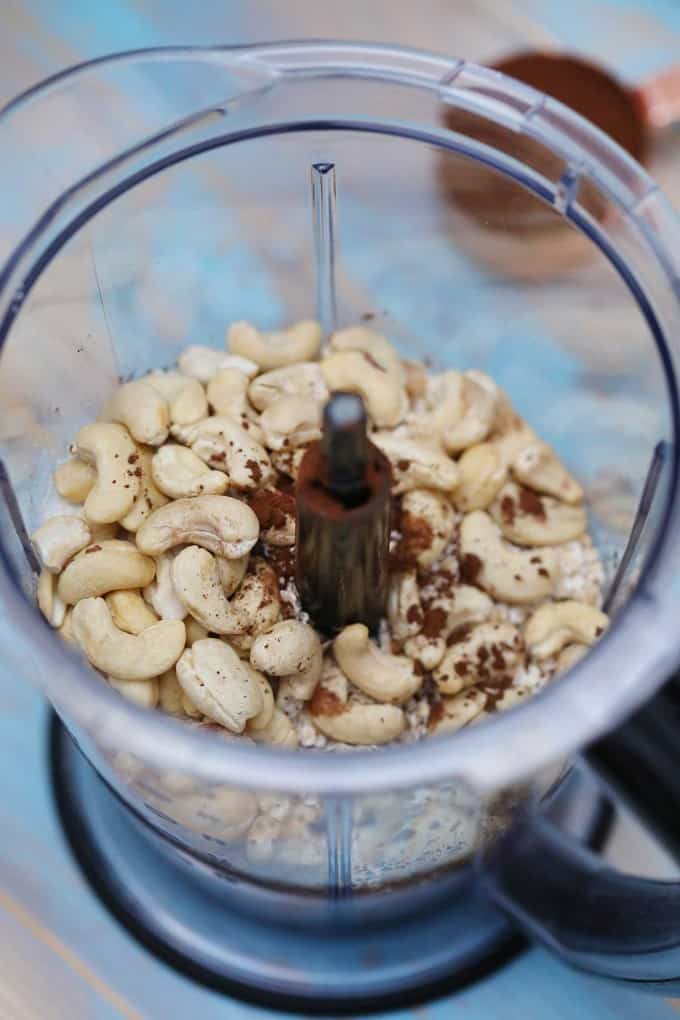 All the ingredients are whirled up in a food processor which makes the work very easy for you!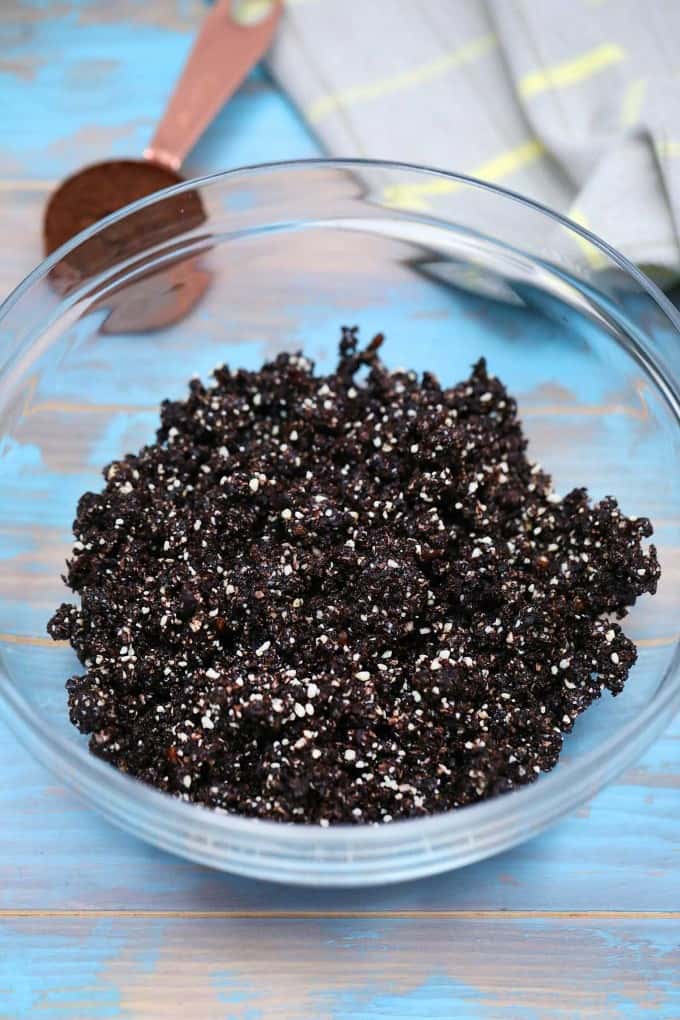 After they are whirled in the food processor they are an instant chocolatey goodness and now are so easy to work with.
When Should You Eat Protein Balls?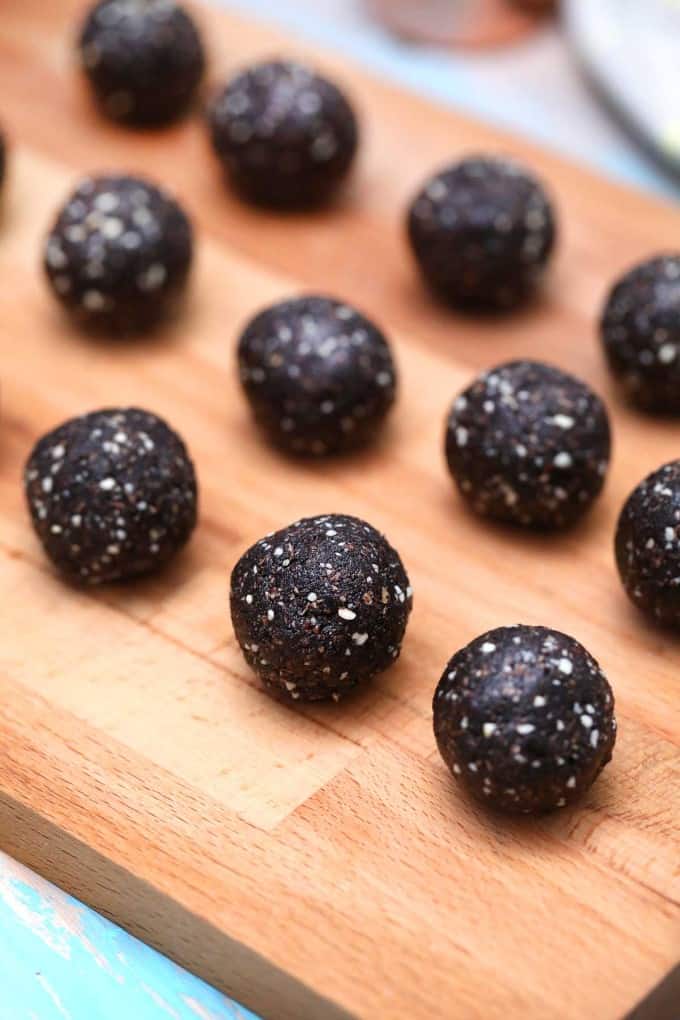 Literally any time would be great for these protein balls. They would be great in a lunch box, after a workout or for an afternoon pick me up. Store some in the freezer for later or tuck them all in the fridge to eat up now!
Simple ingredients go into them. If you want them gluten-free just make sure your oats aren't contaminated. A lot of companies that make oats also make other products that contain wheat.
If you want to take these to school and have nut allergy issues just omit the nuts!
I love dates, and they are full of protein, even more than an avocado. In this recipe, though, you taste mainly chocolate.
Rich, dark, delicious chocolate but the dates and honey add the sweetness. Look how chocolatey and fudgy they are. I want to pop one right away, they are so good.
I love it when something healthy tastes this good! If you are hankering for a chocolate fix these are just perfect.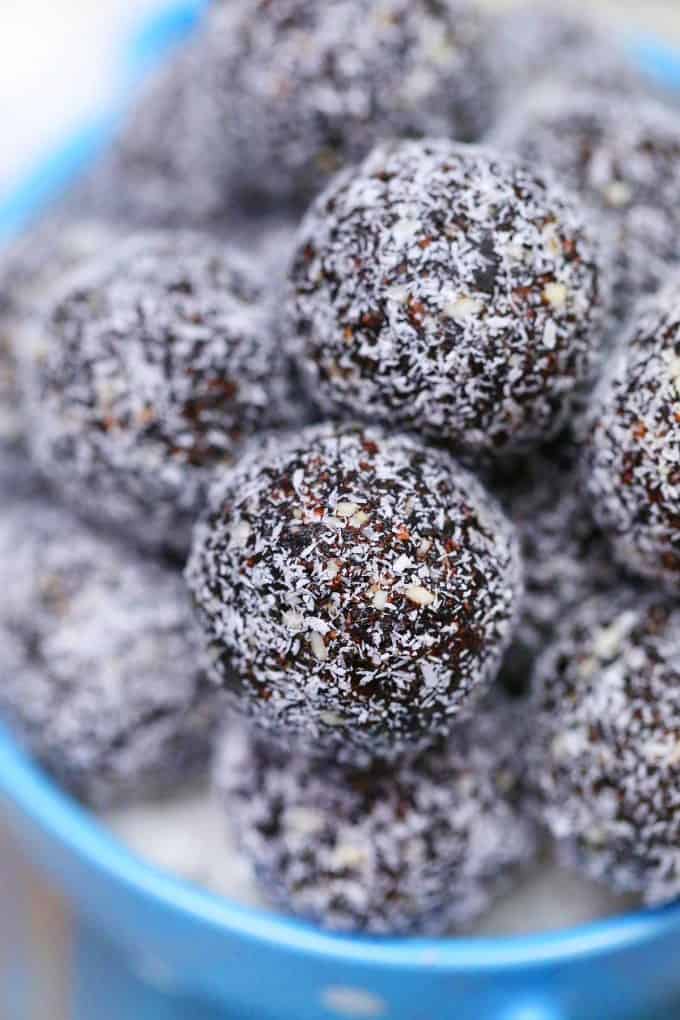 These could be added to a plate full of decadent treats too and offer up a little healthier choice. They don't contain any peanut products, almond butter or other nut butter or natural peanut butter but they do have cashews. If that is an allergy issue then just remove those from the mix.
This is also very easy to make as all the ingredients go into a large bowl of a food processor, you whirl them up and then you roll in coconut. I also love that they are a no-bake recipe!
What is a Healthy Chocolate Snack?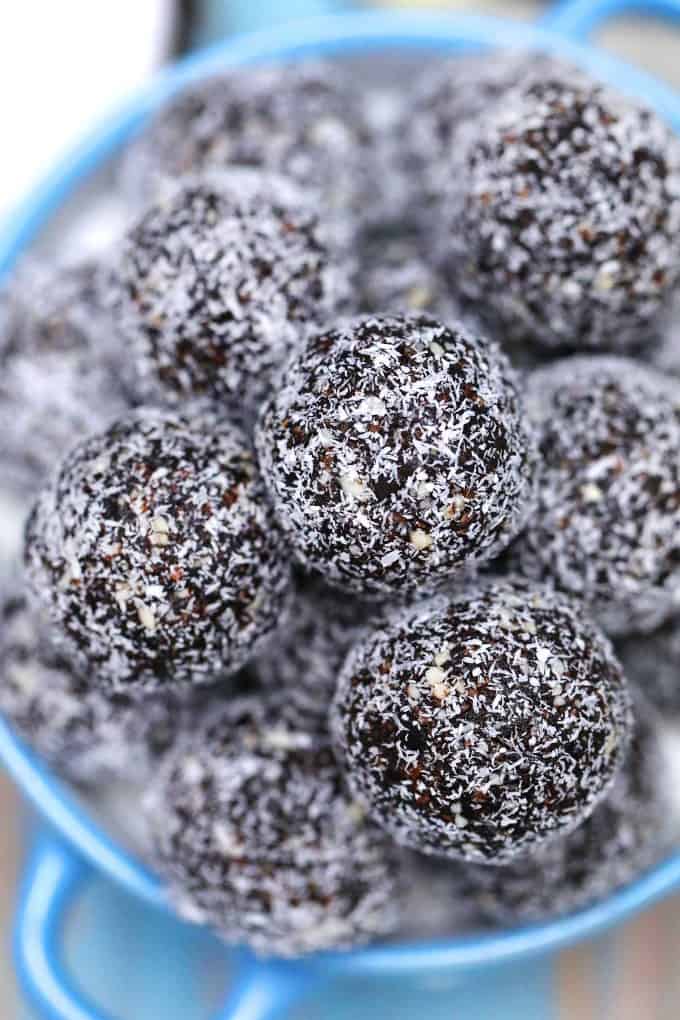 A healthy chocolate snack is these delicious protein balls. These balls don't have a lot of crazy ingredients that you may never use again. Everything in them is pretty common and your pantry may have all the items you need already!!
With ingredients like Medjool dates, cocoa powder, honey, shredded coconut, rolled oats, vanilla extract and cashew nuts these energy bites make for healthy snacking. You could even add flax seeds to the mix.
You could sub in maple syrup or agave syrup for the honey if you want to change that up.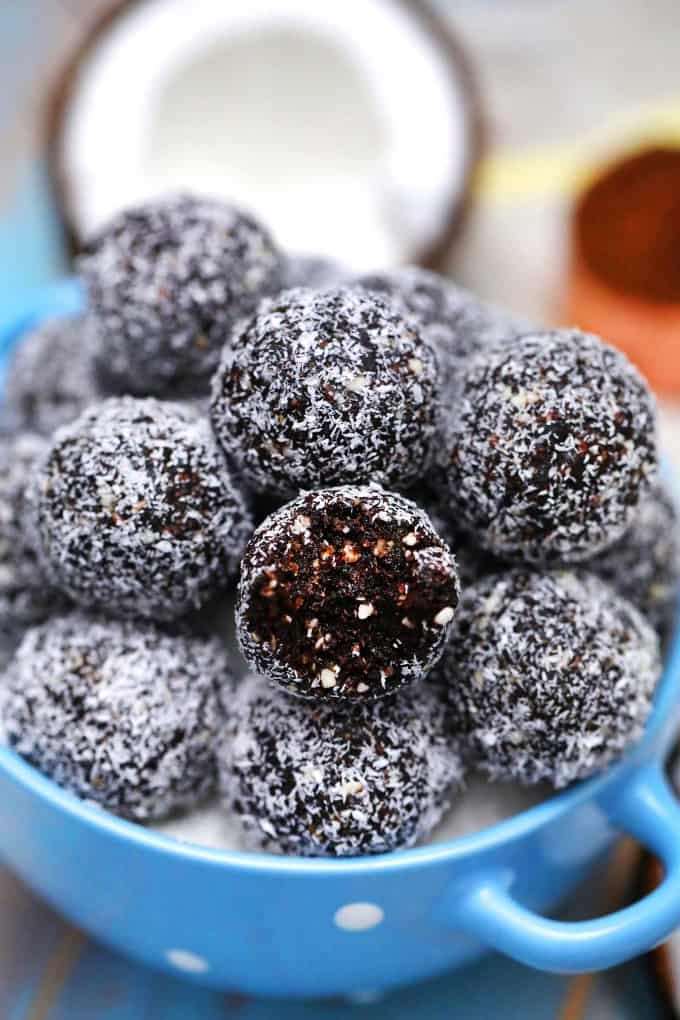 Are Energy Balls Good for You?
Energy balls are usually filled with healthy fats, fiber, and protein, making them an excellent, healthy on-the-go snack! To get an even higher protein from these little balls you can also add in a protein powder.
They have chocolate protein powders now. You may have to add less cocoa powder to get the right consistency.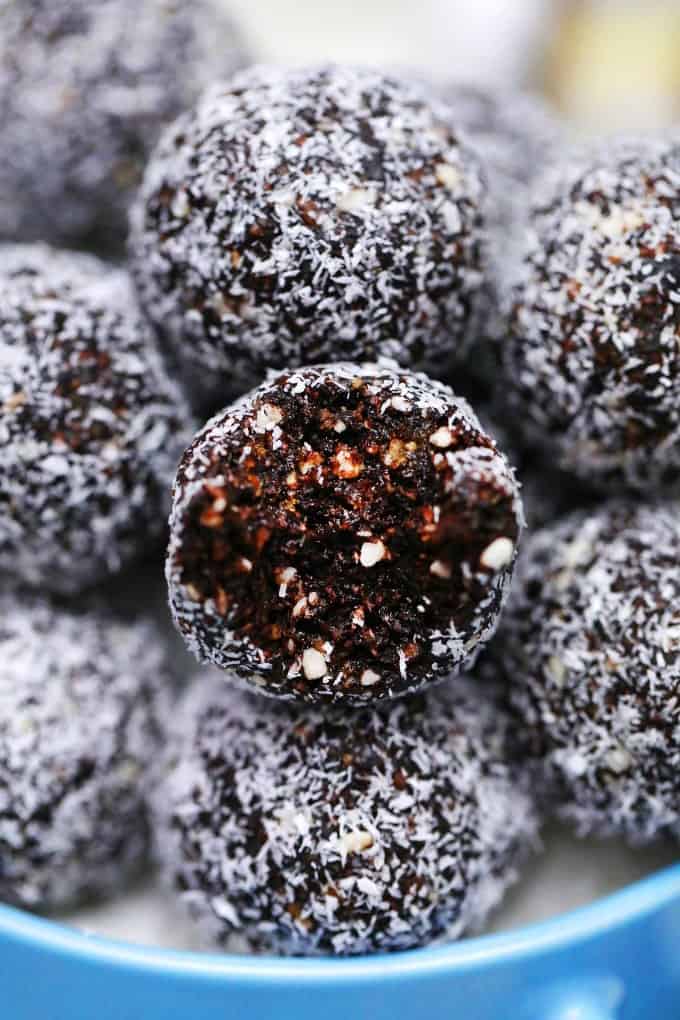 How Can I Satisfy My Sweet Tooth Without Sugar?
This treat is a great way to get that sweet tooth satisfied. The sweetness in this recipe is from the dates plus the honey; there is no added sugar.
You could also use a stevia-like sweetener if you want to reduce the calories but keep it natural instead of the honey.
For this recipe though I would avoid white or brown sugar completely. I am craving one of these again just from looking at the pictures!! Enjoy!!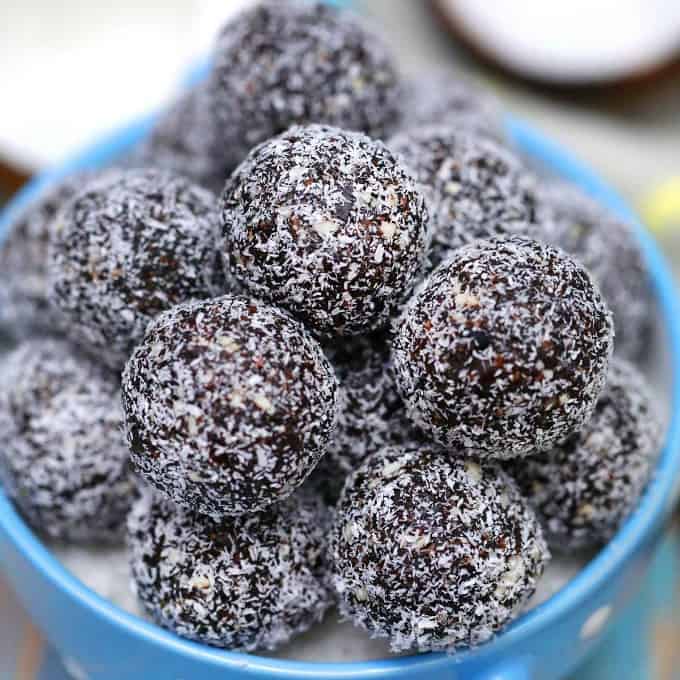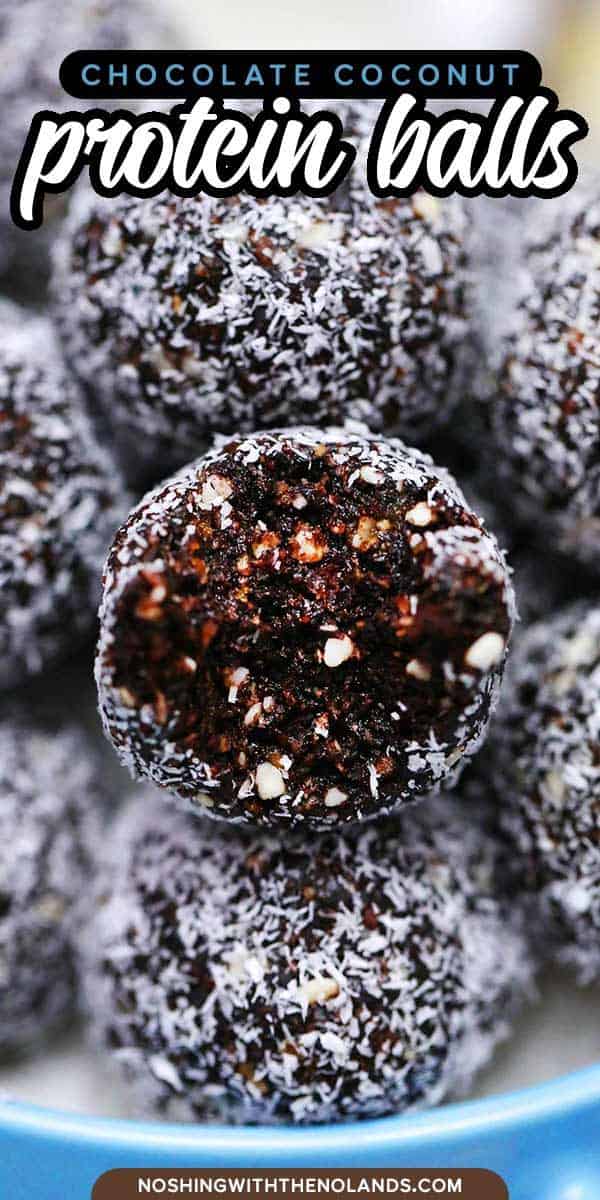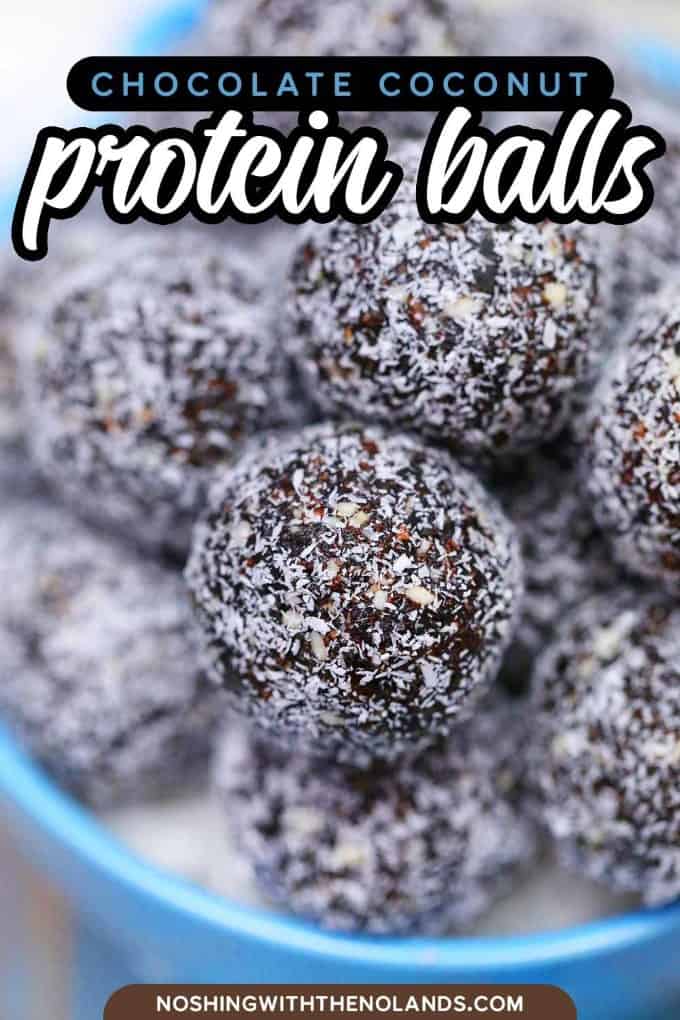 Coconut Chocolate Protein Balls Recipe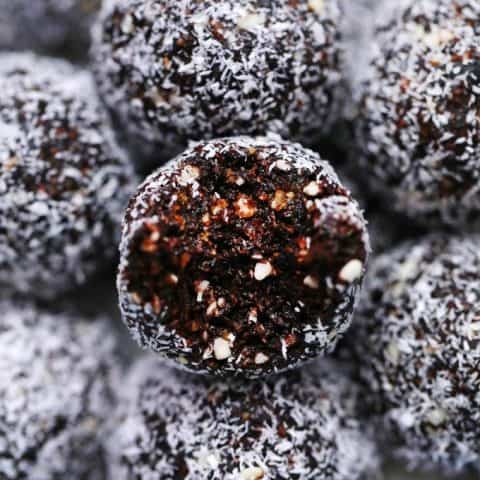 Chocolate Coconut Protein Balls
Yield: 24
Prep Time: 15 minutes
Total Time: 15 minutes
Chocolate Coconut Protein Balls are not only healthy but delicious too!
Ingredients
1 cup Medjool dates, pitted (about 10 large)
1/2 cup cocoa powder
1/4 cup honey
1 cup medium desiccated unsweetened coconut plus more for rolling
1/4 cup quick cooking rolled oats
1 tsp. pure vanilla extract
1/2 cup unsalted cashews
Instructions
Place all ingredients in a food processor and whirl until the mixture starts to pull together. Roll into balls and roll in additional coconut. Store in a tight sealed container in the fridge or freezer.
Recommended Products
As an Amazon Associate and member of other affiliate programs, I earn from qualifying purchases.
Nutrition Information:
Yield: 24
Serving Size: 1
Amount Per Serving:
Calories: 87
Total Fat: 4g
Saturated Fat: 2g
Trans Fat: 0g
Unsaturated Fat: 1g
Cholesterol: 0mg
Sodium: 2mg
Carbohydrates: 13g
Fiber: 2g
Sugar: 10g
Protein: 1g
Recipe calculation was provided by Nutritionix and is an estimation only. If you need nutritional calculations for medical reasons, please use a source that you trust.