Celebrating HAPPY BIRTHDAY #SUNDAYSUPPER with Pepperoni and Mozzarella Pull Apart! YOU ARE ONE YEAR OLD!!! Congratulations to Isabel for creating such a wonderful group that is now celebrating a little milestone, it's first birthday celebration!!
This is a wonderful group of people who are so strongly supportive and generous. A group that I am proud to be part of. A group that has the mission to bring families and friends together again around the supper table, something that so many have lost in our fast-paced crazy lives.
This mission is being seen, sought after, and recognized for its significance in bringing us together again. It is making a positive impact on people's lives. It starts off as one day a week and soon becomes a way of life. We have now started to do #WeekDay Suppers also and you will see that from time to time on here also.
It's a Birthday Celebration!
To celebrate this birthday we were asked to pick one recipe from another of the #SundaySupper participants that have inspired us. Well, that list is a long one and I only started a few short months ago. So many wonderful contributors and only one to pick!! The one I picked was fairly simple.
I wanted something that brings you together to share, like a family around the table or watching a big game on TV!! Something fun that everyone really enjoys, the flavors of pizza are found in this easy pull-apart bread. Something that I have never made before.
I chose this recipe Pepperoni and Mozzarella Pull Apart from Karen's site, In The Kitchen With KP. A great site filled with wonderful ideas and recipes. We are actually doing her 52 Week Money Saving Challenge, but in 52 Days to save for a vacation. Now that will be challenging!!!
Inspiration!
Karen inspires me as she is a very busy gal with work, two kids, and a blog. Not quite sure how she does it all!! She has great recipes like Meatloaf Muffins Equal Fun Sized Dinners. She has wonderful informative posts like How your Smartphone Can Save You Money. All in all a fabulous family site that you will love to poke around on.
I have been laid up as of late, finding it hard to walk with my arthritis so Ken went into the kitchen for me and made this wonderful pull-apart bread. We all loved it and devoured it over lunch and dinner. Yummy!!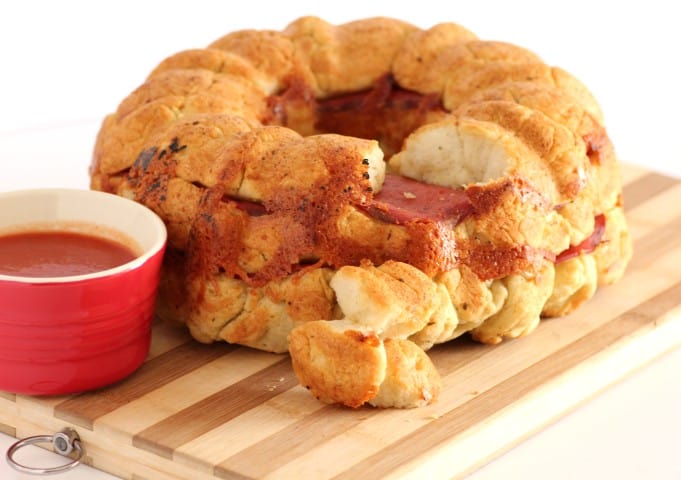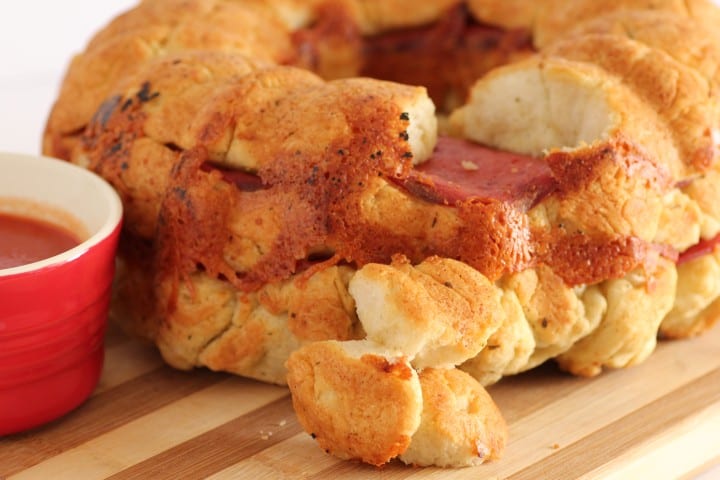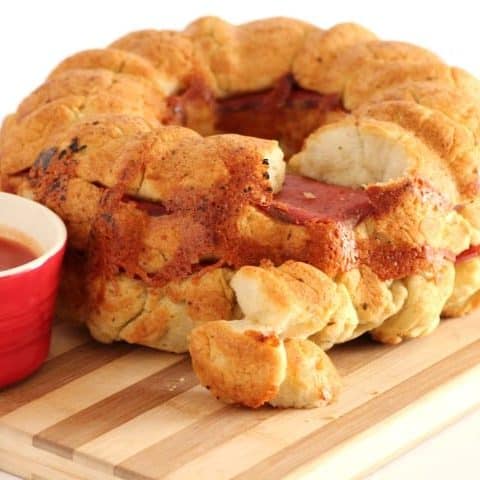 Pepperoni and Mozzarella Pull Apart by Noshing With The Nolands inspired by In the Kitchen with KP #SundaySupper
Yield: 8 servings
Prep Time: 35 minutes
Cook Time: 40 minutes
Total Time: 1 hour 15 minutes
A great pull apart bread for the whole family.
Ingredients
Dough
2 (.5 ounce) packages active dry yeast
2 teaspoon white sugar
2 cup warm water (110 degrees F/45 degrees C)
5 cups flour
4 tablespoons olive oil
2 teaspoon salt
Other Ingredients
1/3 cup flavored dipping oil (I mixed 1/3 olive oil with 3 tsp. oil dipping seasoning)
2 tsp. garlic powder
8 oz. pepperoni
4 oz. mozzarella cheese, grated
4 oz. parmesan cheese, grated
Instructions
For the dough, in a medium bowl, dissolve yeast and sugar in warm water. Mix well and then stand for about 10 min. until it is creamy. Stir in the flour, salt, and oil. Beat until smooth then let it rest for 5 minutes.
Preheat oven to 375F. Separate pizza dough into small bite-sized pieces. Toss the dough in the flavored oil to lightly coat.
Layer the dough into a bundt pan sprayed with cooking spray. Next layer in half the pepperoni, shredded cheese, and garlic powder. Repeat layers again and end with dough pieces.
Bake for 30-40 min. until golden brown. Remove from oven and invert onto a cutting board. Serve with your favorite pizza or marinara sauce for dipping.
Nutrition Information:
Yield: 8
Serving Size: 1
Amount Per Serving:
Calories: 612
Total Fat: 29g
Saturated Fat: 10g
Trans Fat: 1g
Unsaturated Fat: 17g
Cholesterol: 51mg
Sodium: 1324mg
Carbohydrates: 64g
Fiber: 2g
Sugar: 1g
Protein: 21g
Recipe calculation was provided by Nutritionix and is estimation only. If you need nutritional calculations for medical reasons, please use a source that you trust.
Join us in our celebration!
Visit these blogs and see how each one is celebrating Sunday Supper's birthday:
Sunday Supper Appetizers:
Sunday Supper Soups and Bread:
Sunday Supper Main Dishes:
Sunday Supper Veggies:
Sunday Supper Desserts and Snacks:
And a few more!!
Sunday Supper Breakfast Faves:
What a fun event filled with such good food! I only wish I could actually taste each one. Oh, wait! I can. I have the recipes. Time to get cooking…
Join the #SundaySupper conversation on twitter each Sunday. We tweet throughout the day and share recipes from all over the world. Our weekly chat starts at 7:00 pm ET and you do not want to miss out on the fun. Follow the #SundaySupper hashtag and remember to include it in your tweets to join in the chat. Check out our #SundaySupper Pinterest board for more fabulous recipes and food photos.
Would you like to join the Sunday Supper Movement? It's easy. You can sign up by clicking here → Sunday Supper Movement.