These Appetizer Tortellini Skewers are the ultimate party finger food! They're everything you love about an Italian antipasto platter but on a stick. Served with toasted crusty bread and delicious pesto for dipping. This recipe will be a hit at any gathering!
Want more finger food recipes? Try our easy Bruschetta Caprese or these sweet and salty Watermelon Feta Skewers.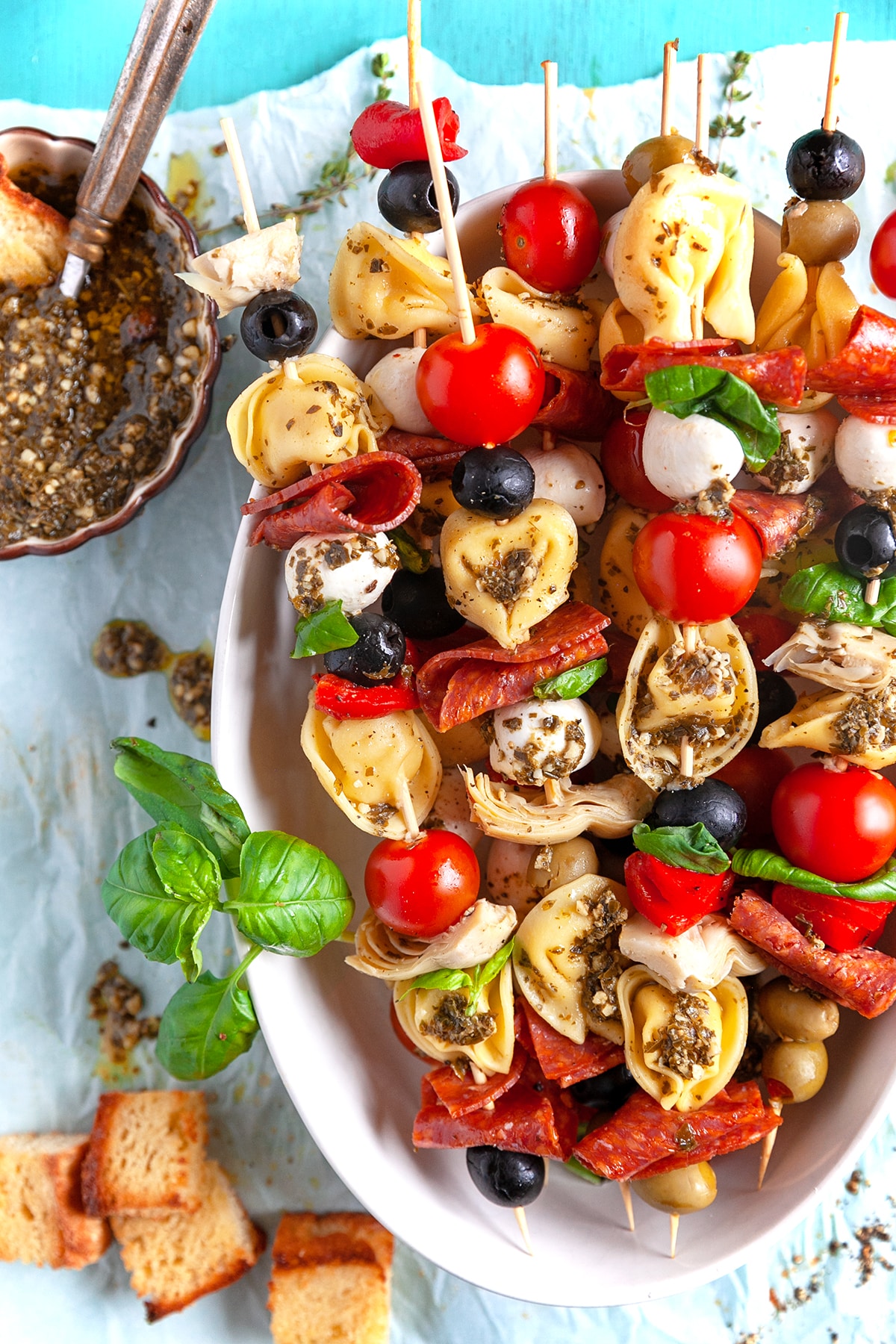 When I'm entertaining, I always want recipes with low effort and high return. These delectable tortellini skewers always fit the bill! They're super easy to make, but they look gorgeous on a platter and are satisfyingly delicious.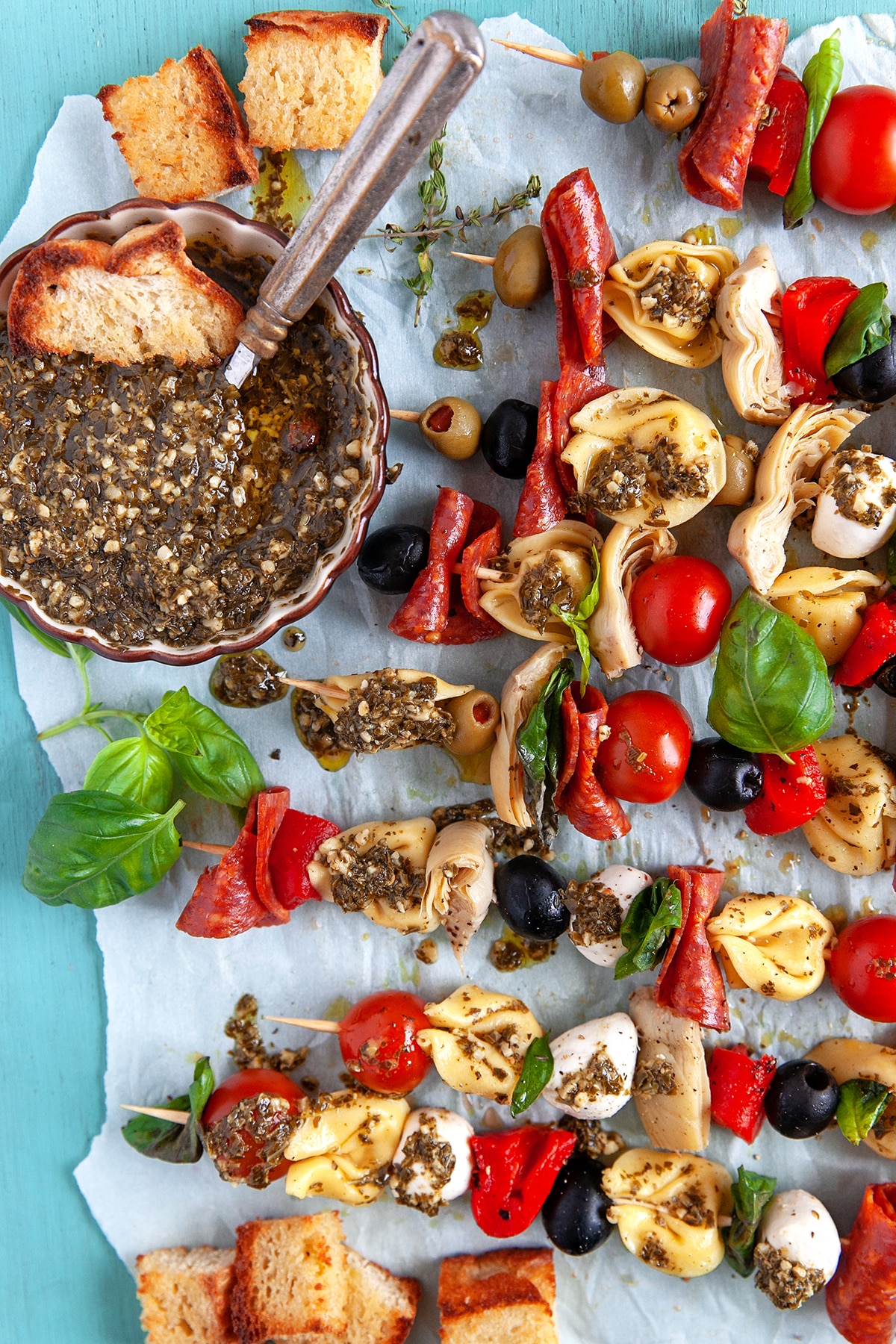 What are Tortellini Skewers?
These Tortellini Skewers are a spin-off of traditional Italian Antipasto. Antipasto means "before the meal" in Italian and refers to bite-size portions of food served as a first course or appetizer before a meal. Typical Italian Antipasto consists of cheese, cured meats, pickled vegetables, and bread.
These Tortellini Skewers take antipasto to the next level by also adding finger-food pasta to the mix and serving it all on a stick! It's fun, a little bit different, and a really delicious appetizer to serve before a meal or as a party finger food.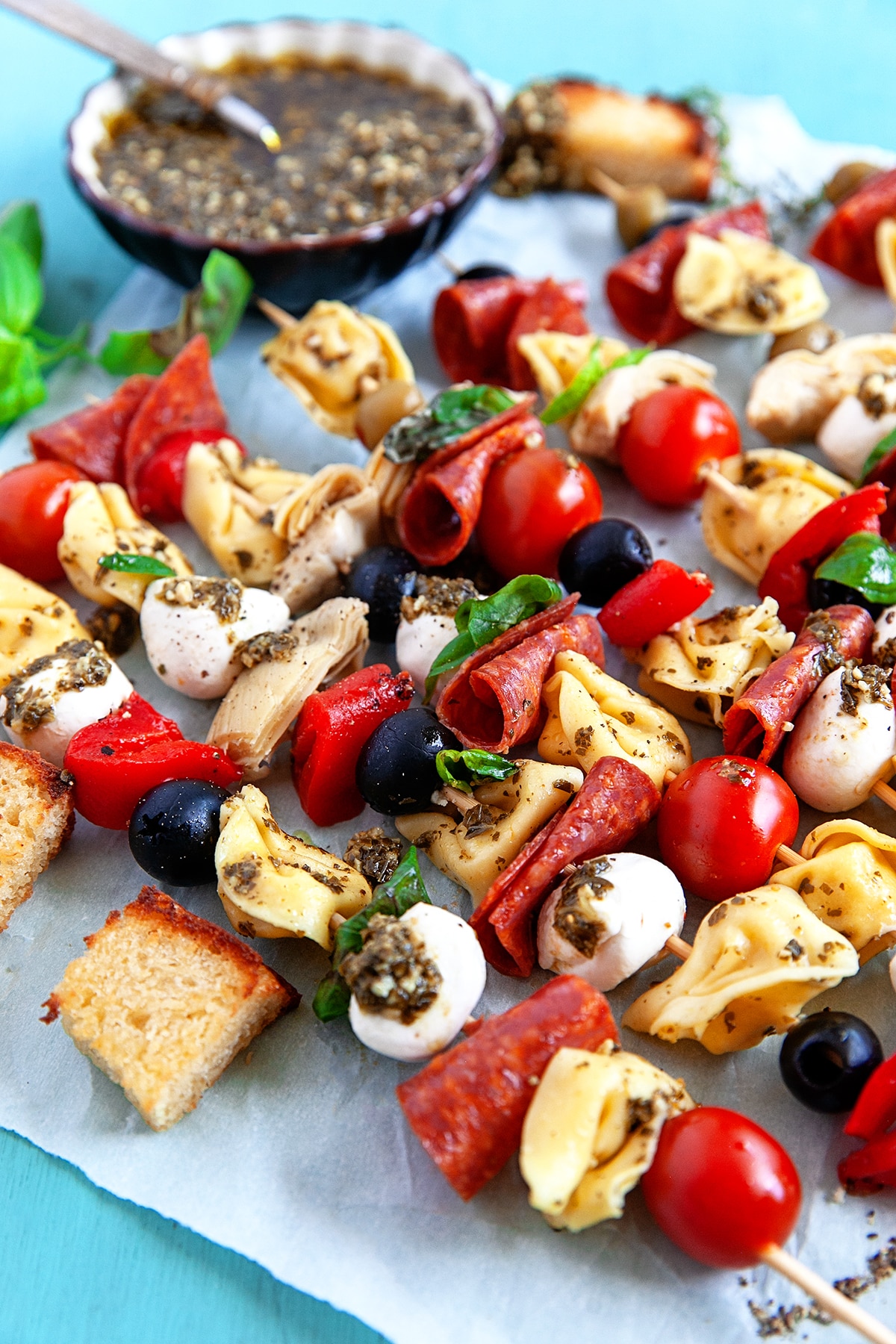 What are in Appetizer Tortellini Skewers?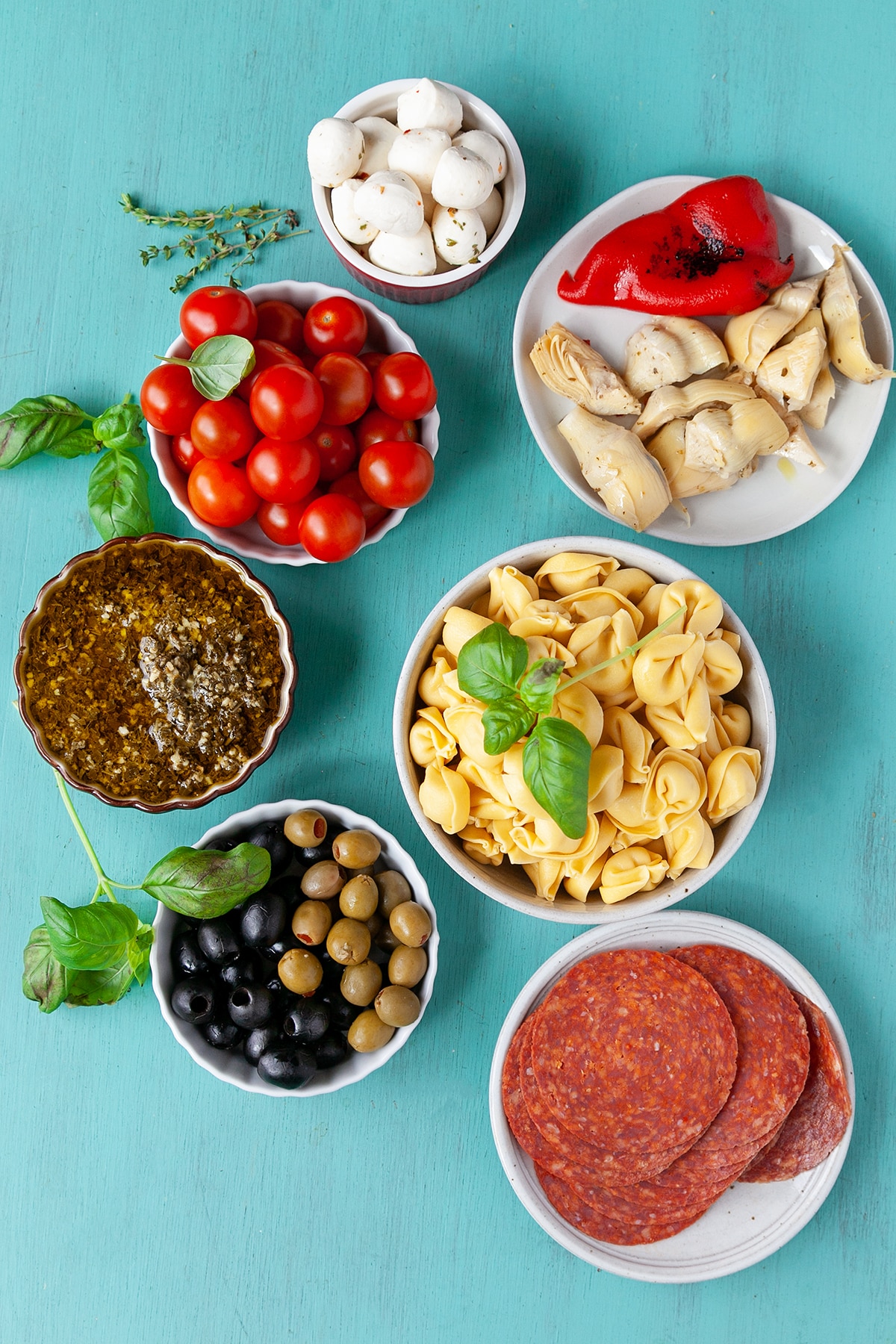 When making your own Tortellini Skewers, you can mix and match them with your own favorite antipasto ingredients. Here's what we like to use to build our appetizer skewers:
Ingredients
Cheese Tortellini – Use fresh, refrigerated tortellini (not dried pasta). Tortellini isn't part of a traditional antipasto, but it's a really delicious addition to the skewers and makes them a bit heartier.
Cherry Tomatoes – In season cherry tomatoes add the biggest burst of flavor to the skewers! Look for larger cherry tomatoes so they can hang on to the skewer.
Mixed Olives – You can use whatever olives you like best! I chose black olives and pimento-stuffed green olives. Their salty, tangy flavor is perfectly paired with the cheese and meats.
Marinated Artichoke Hearts – You can normally find these in jars in the grocery store near pesto and pasta. Their pickled flavor is delicious on the tortellini skewers.
Roasted Red Pepper – You can certainly roast your own, but I normally take a shortcut and buy a jarred roasted red pepper and just cut it up into bite-size pieces.
Cured Meat – Use salami, pepperoni, or even prosciutto. Just choose thinly sliced cured meats so they fold and fit well onto the skewer. You could even use shrimp as another choice too.
Fresh Mozzarella Balls – This fresh cheese, mild in flavor, pairs well with some of the more intense flavors on the skewer, but you can substitute your favorite cubed cheese as well.
Pesto – You can make your own, but jarred pesto works just as well. This adds a lot of flavor, helps keep the tortellini from drying out, and also serves as a tasty dipping sauce.
Crusty Bread – A few slices of day-old bread is fine, or crusty bread to toast and serve alongside the skewers for dipping.
Fresh Basil – Use it as a garnish on your serving platter as well as tuck some of the leaves onto the skewers for a burst of fresh herb goodness!
How to Make Tortellini Skewers?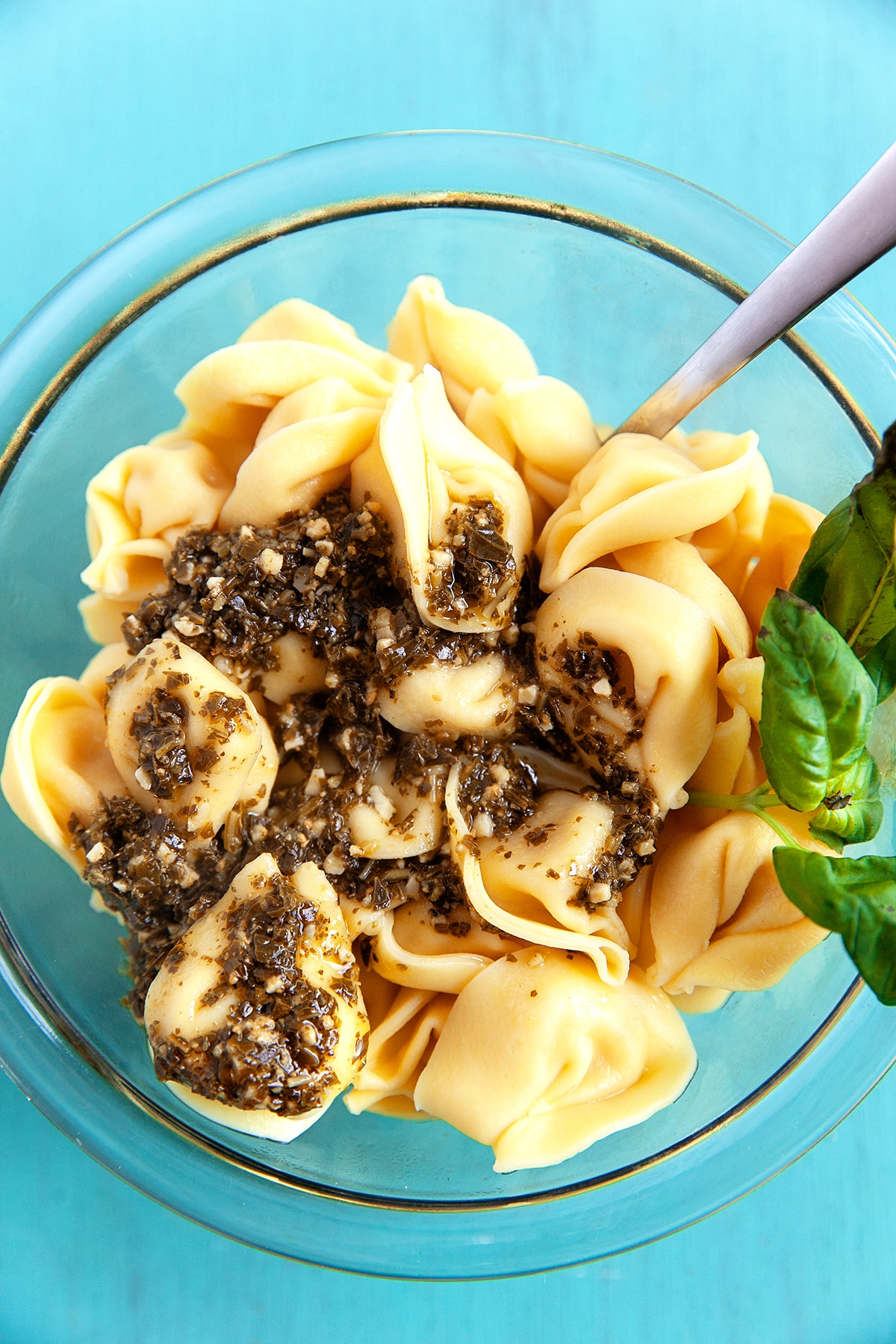 First, prepare the fresh tortellini according to the package instructions. After it is cooked, toss the tortellini with a generous tablespoon of pesto (this not only adds flavor but it keeps the pasta from drying out).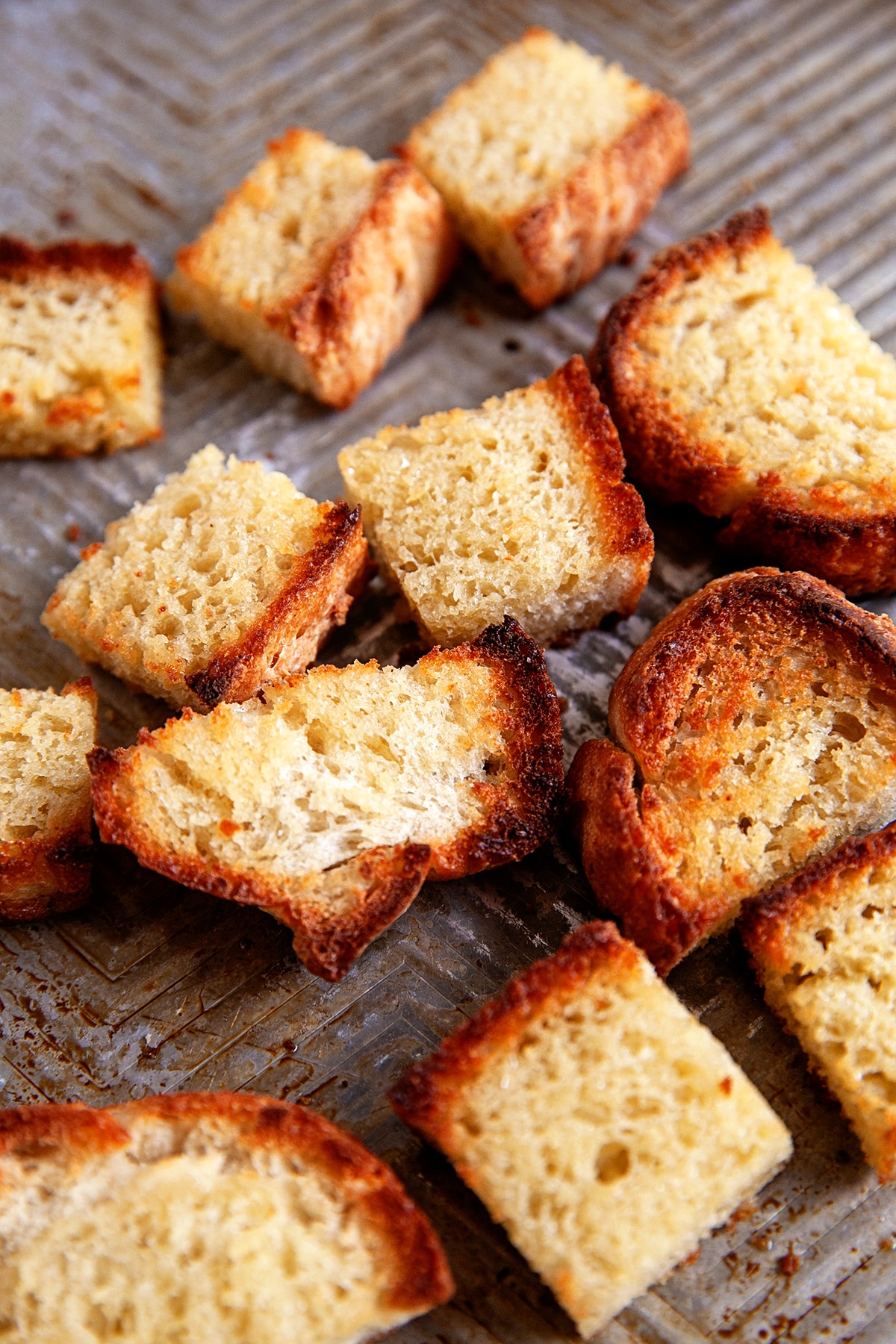 While the tortellini is cooking, preheat your oven to 375 degrees Fahrenheit. Cut a few slices of crusty bread into large chunks and arrange them on a small sheet pan. Toss the bread chunks with a drizzle of olive oil and sprinkle with a pinch of salt. Bake for 7 or 8 minutes or until the bread is golden.
Once the tortellini is ready and has been tossed with pesto sauce, you can begin assembling the skewers. Thread the tortellini, tomatoes, salami, cheese, olives, peppers, and basil leaves onto the skewers. They don't need to be in any particular order, and they don't all need to be the same.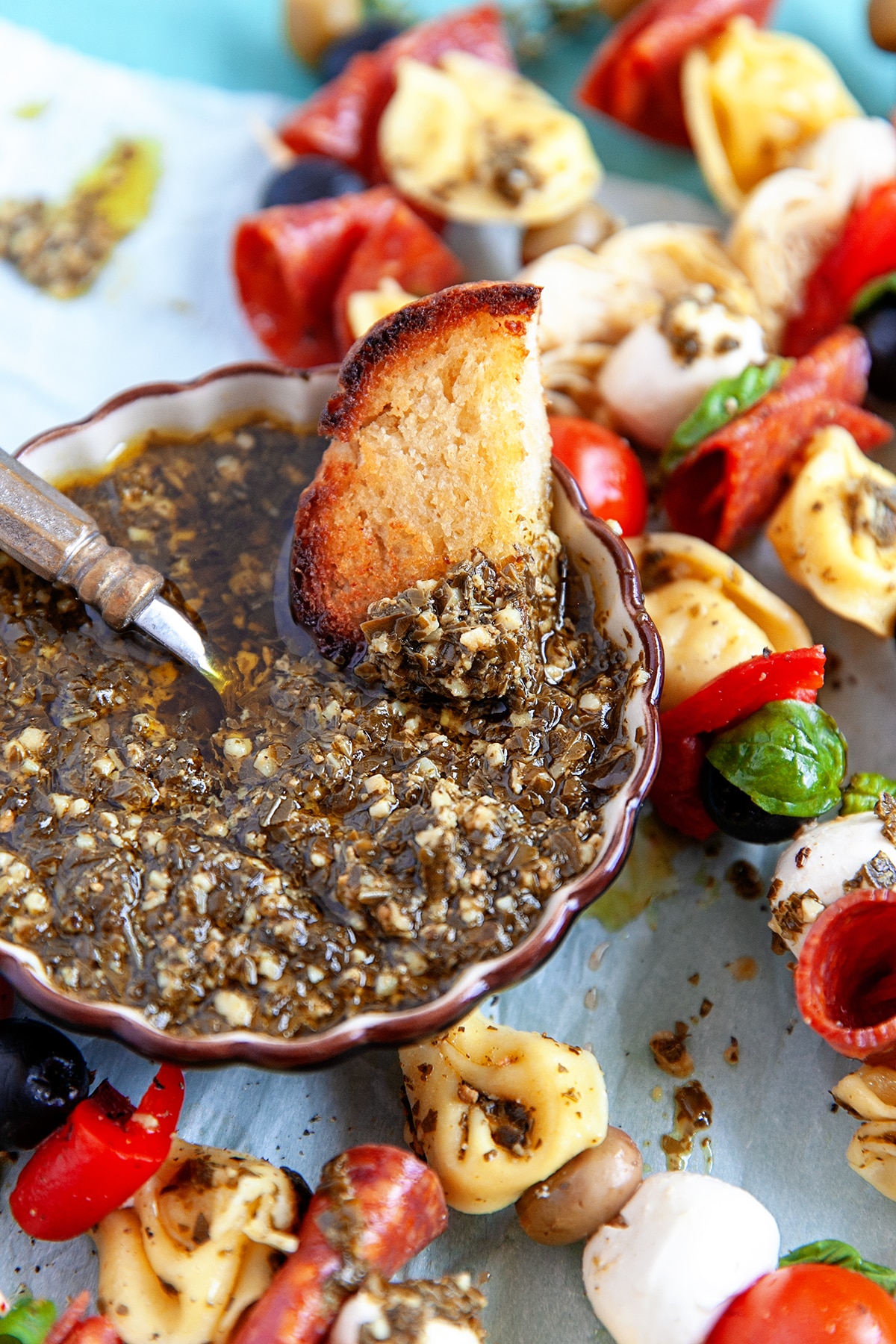 Before serving, drizzle them with a couple of spoonfuls of pesto and serve them with the toasted bread and leftover pesto for dipping. Garnish the platter with more fresh basil leaves.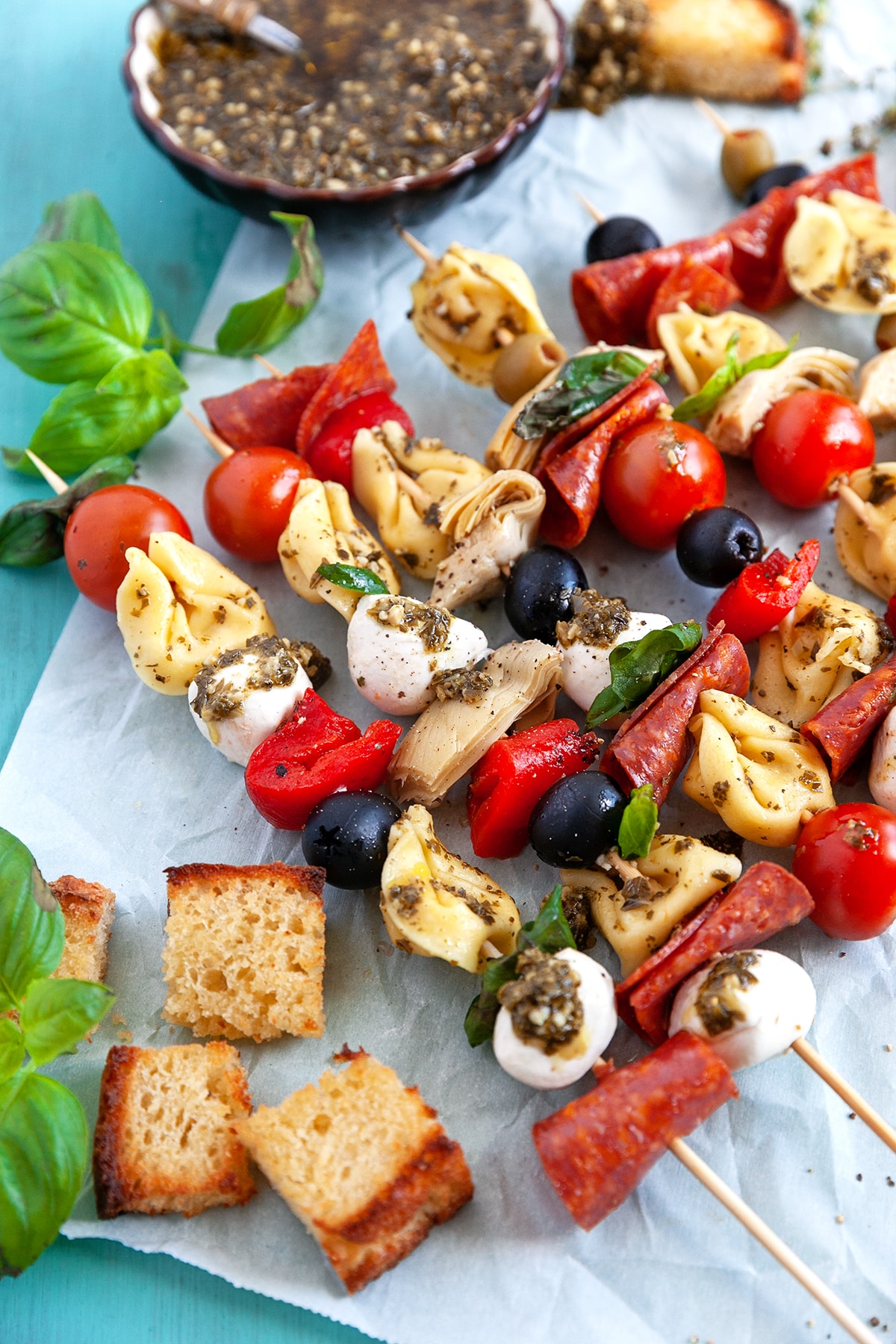 Recipe Pro Tips!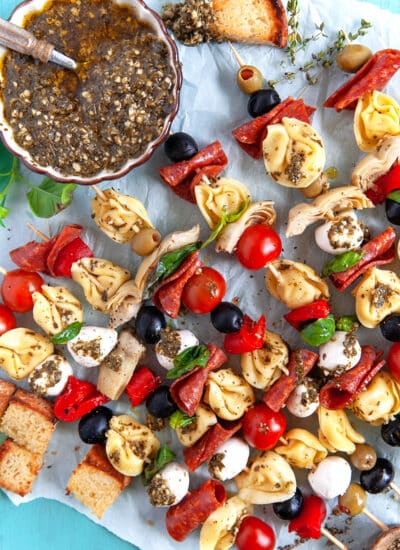 Can You Make These Skewers Ahead of Time?
You can also make these Tortellini Skewers ahead of time and keep them covered in the fridge until you're ready to serve them. The bread is best if you toast it on the same day you want to serve it.
How Can I Store These?
These have to be refrigerated and stored in an air-tight container. This appetizer will not freeze well and therefore is not recommended.
Variations for the Holidays
These make perfect holiday appetizers, too, and are easily transformed into just red, white, and green. Think of the colors of your ingredients and have fun creating them for Christmas and New Year's too.
Homemade Pesto
If you would like to make your own pesto, here are two recipes to choose from, Deliciously Easy Kale Pesto or Sundried Tomato Red Pesto.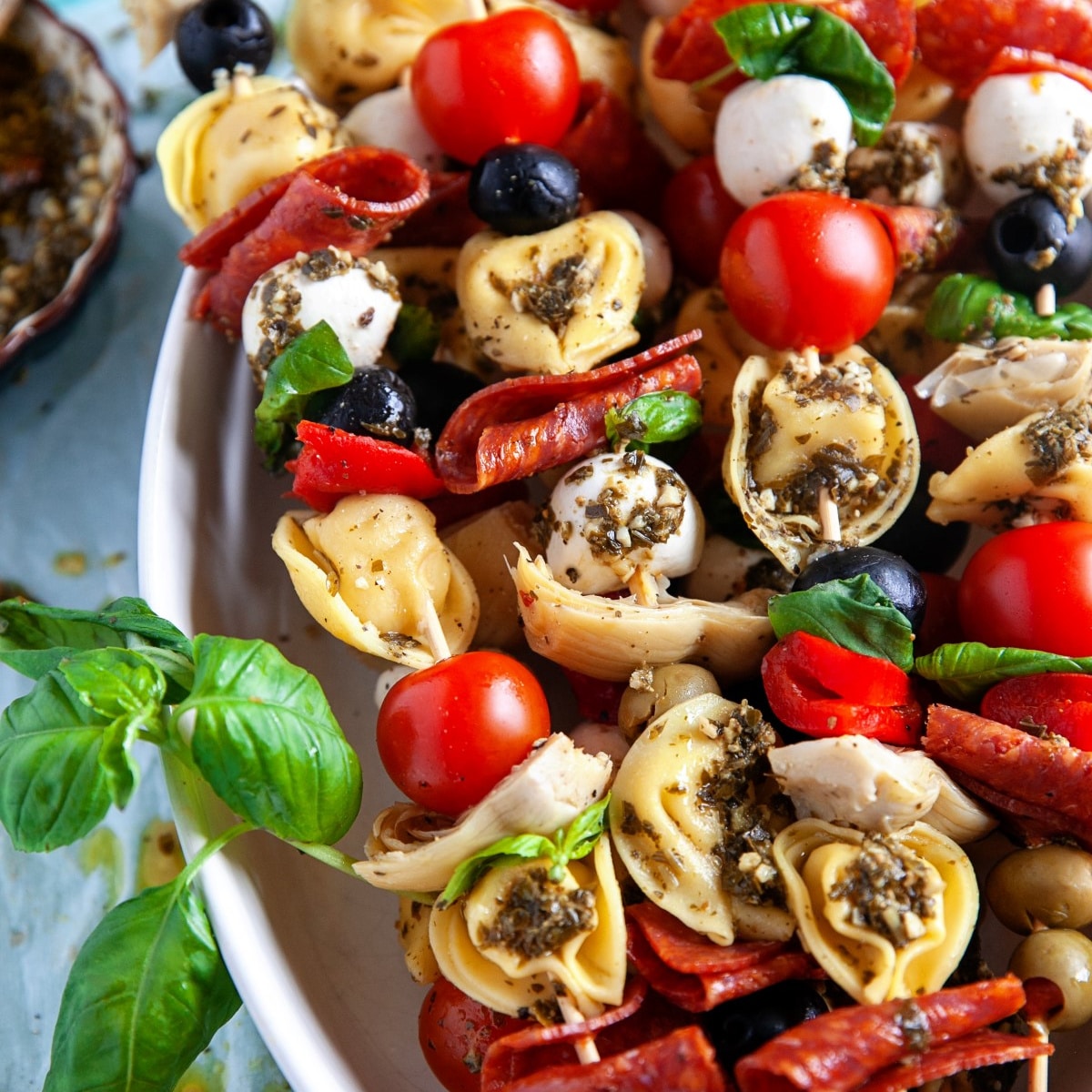 WANT MORE MOUTHWATERING APPETIZERS?
Here are some of our favorite appetizers. They are all real crowd-pleasers and ones that you will get rave reviews on.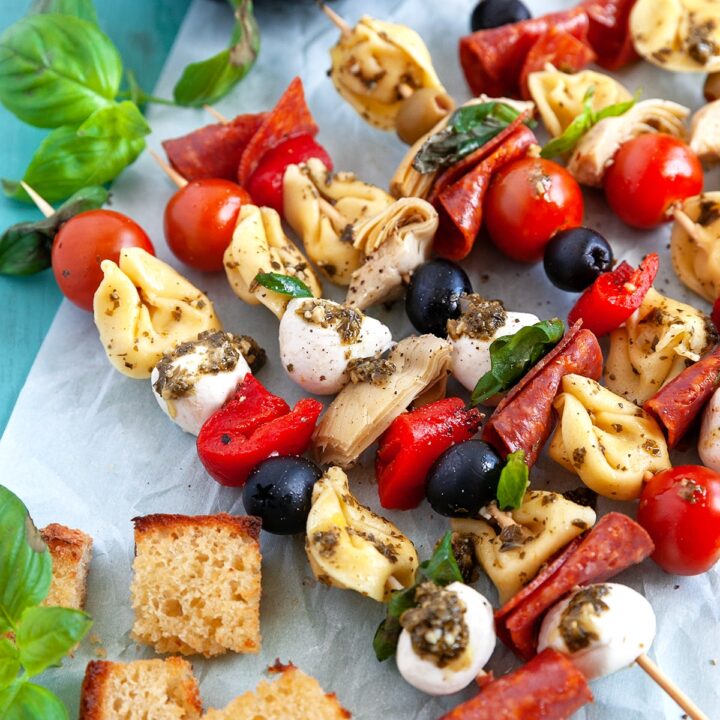 Appetizer Tortellini Skewers
Yield: 20 skewers
Prep Time: 20 minutes
Cook Time: 10 minutes
Total Time: 30 minutes
Everything you love about Italian Antipasto but on a skewer! These Appetizer Tortellini Skewers will be a hit at any party. They are like a mini meal on a stick.
Ingredients
2 to 3 slices crusty bread
olive oil to drizzle
1 pound fresh cheese tortellini
cherry tomatoes
1 cup mixed olives
1 cup marinated artichoke hearts, quartered
1 roasted red pepper, cut into bite size chunks (jarred is fine)
6 ounces thinly sliced cured meat, like salami, pepperoni, or prosciutto
1 cup fresh mozzarella balls
1 (8oz) jar basil parmesan pesto
1 bunch fresh basil
Instructions
Prepare the fresh cheese tortellini according to package instructions. After draining the pasta, toss it with 1 generous tablespoon of the pesto sauce.
Preheat oven to 375 degrees Fahrenheit. Cut the bread slices into large chunks and arrange on a sheet pan. Toss with a drizzle of olive oil and pinch of salt. Bake for 7 to 8 minutes or until the bread is golden and toasted.
Assemble the skewers by threading the cooked tortellini, tomatoes, salami, cheese, olives, peppers, and fresh basil leaves. You can do this in any order, and they don't all need to be the same.
Just before serving, drizzle with a spoonful or two of pesto sauce. Garnish with fresh basil and serve with toasted bread and remaining pesto for dipping.
Notes
You can prepare the skewers ahead of time. Just refrigerate until ready to serve. The bread is best toasted just before serving.
Recommended Products
As an Amazon Associate and member of other affiliate programs, I earn from qualifying purchases.
Nutrition Information:
Yield: 20
Serving Size: 1
Amount Per Serving:
Calories: 184
Total Fat: 10g
Saturated Fat: 4g
Trans Fat: 0g
Unsaturated Fat: 6g
Cholesterol: 27mg
Sodium: 506mg
Carbohydrates: 15g
Fiber: 1g
Sugar: 1g
Protein: 9g
Recipe calculation was provided by Nutritionix and is an estimation only. If you need nutritional calculations for medical reasons, please use a source that you trust.