Ken and I love bagels anytime!! Amber is a big fan of cream cheese and smoked salmon. My favorite ones of all are Homemade Everything Bagels. Warm out of the oven, there is nothing better!! I love the salty, flavorful topping. Wow, just thinking of these again has my mouth watering!!
Bagels are traditionally Jewish bread that is shaped into a ring. They are first boiled and then baked. This is not hard to do but quite simple really. They have been around for hundreds of years!
Join in the bagel craze and make some yourself. You don't have to travel to New York to get a great bagel, although they are pretty darn fabulous there! You will become a master at them in no time.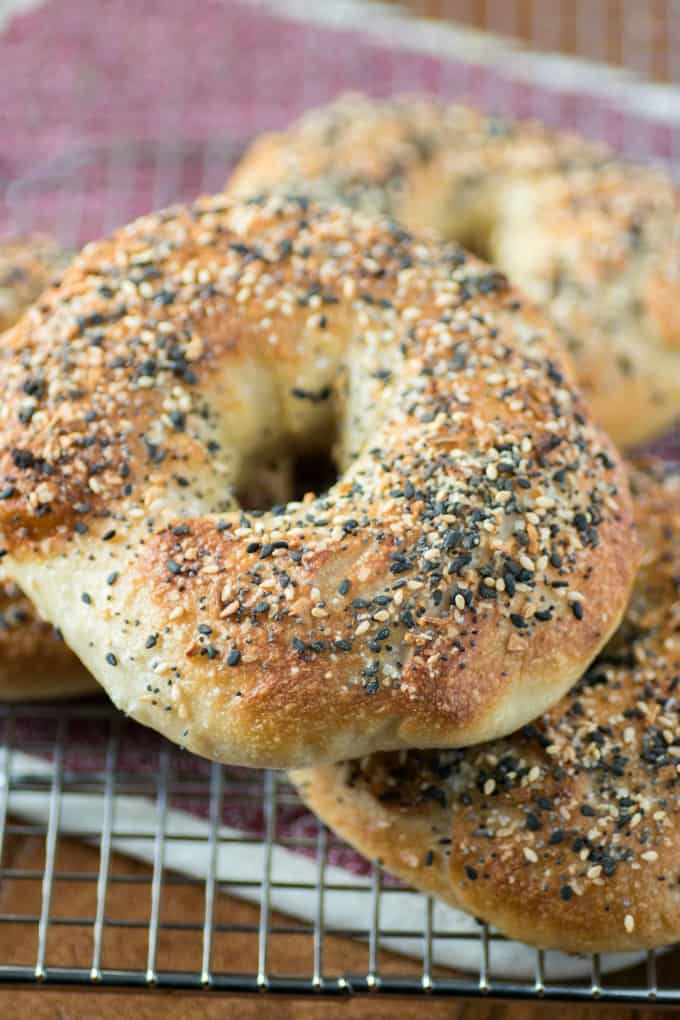 How To Make Bagels
Ken has made bagels a few times using the same recipe from Epicurious. It is a great bagel recipe and we love to try different things with this fabulous standard bagel. Ken has made Sundried Tomato Asiago Bagels and also Homemade Truffle Salt Bagels.
As I speak for Ken but I know I am right, they are not difficult to make. Just need some forward-thinking and planning that is all.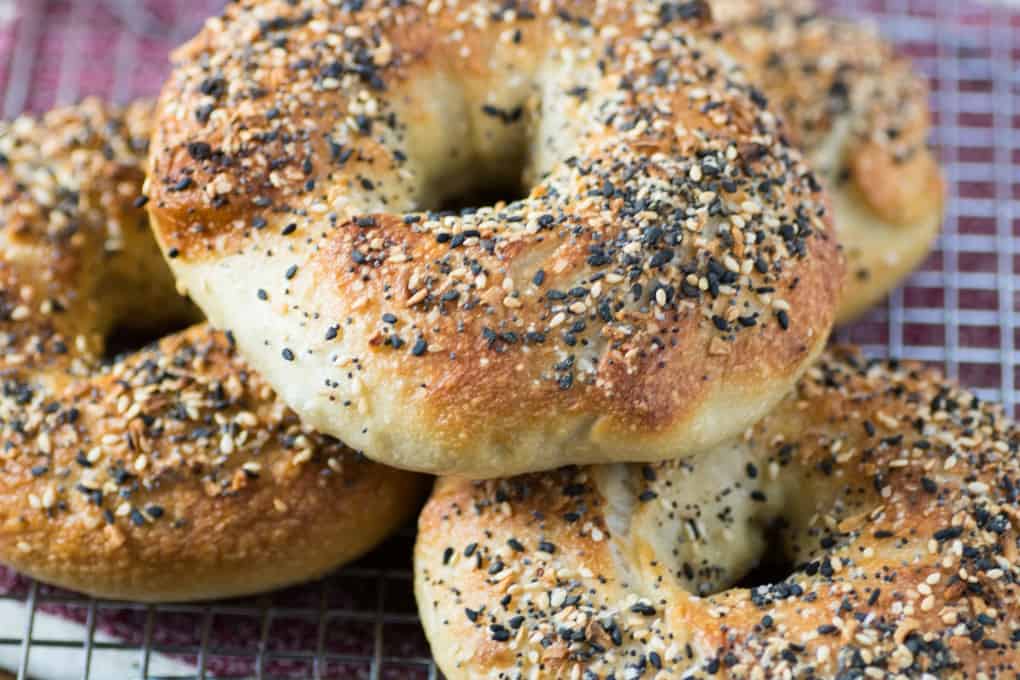 Have you ever had a really good bagel? I don't mean grocery store bagels but ones that are made right. They should be firm, dense, but yet spongy with a chewy texture and the flavor should take you to another place.
This is what I am talking about with this bagel. Put some love into them as Ken does and you will so be rewarded!!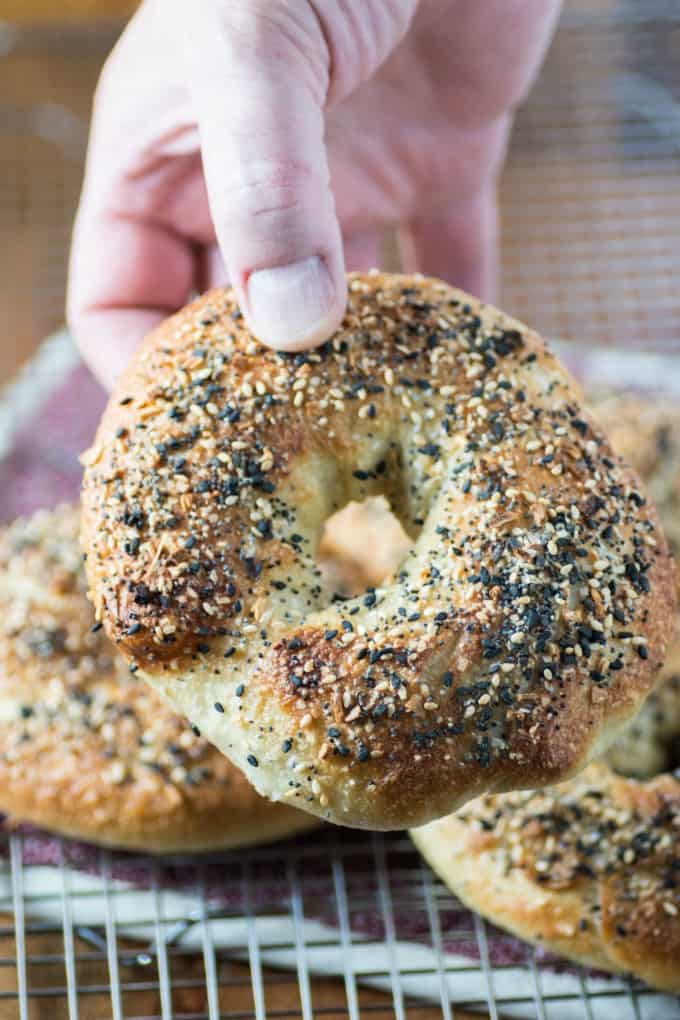 Look at how stunning this bagel is!! Slightly misshapen but that gives it that homemade artisanal look. I personally want to reach through and grab one again. I will have to get Ken on making me some very soon. Oh, how I love these bagels!
The Recipe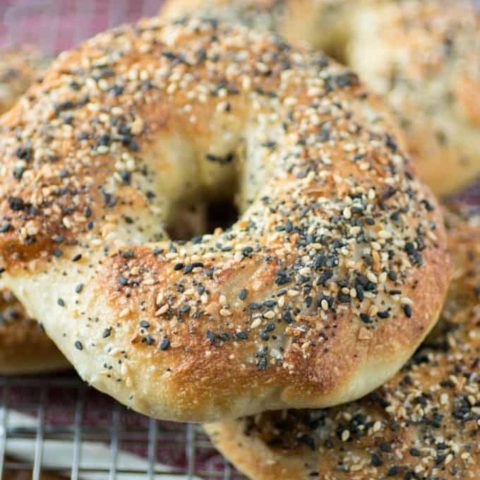 Homemade Everything Bagels
This Homemade Everything Bagel has all the flavor you will want and that lovely chewy texture you have with a really good bagel!!
Ingredients
1 Tbsp. honey
1 tsp. instant yeast
1½ tsp. salt
1 cup plus 2 Tbsp. lukewarm water (about 95F or 35C)
3½ cups unbleached flour
2-2½ Tbsp. sundried tomatoes, chopped
⅓ cup Asiago, grated
Poaching Liquid
2-3 quarts of water
1½ Tbsp. honey
1 Tbsp. baking soda
1 tsp. salt
Topping
1 Tbsp. poppy seeds
2 Tbsp. toasted sesame seeds (you can buy these already toasted)
1/2 Tbsp. dried onion flakes
1 Tbsp. dried garlic flakes or 1/2 Tbsp. garlic powder
1 tsp Kosher salt, or to taste
1 tsp. black pepper
Egg Wash, one egg with 1 tsp. water
Instructions
Go to Epicurious for their bagel recipe for the instructions on how to make the bagels.
Mix the topping together and just before baking, egg wash the bagels and sprinkle on the topping generously.
Again follow the instructions at Epicurious.
Nutrition Information:
Yield: 8
Serving Size: 1
Amount Per Serving:
Calories: 279
Total Fat: 4g
Saturated Fat: 1g
Trans Fat: 0g
Unsaturated Fat: 2g
Cholesterol: 49mg
Sodium: 1517mg
Carbohydrates: 51g
Fiber: 3g
Sugar: 7g
Protein: 10g
Recipe calculation was provided by Nutritionix and is estimation only. If you need nutritional calculations for medical reasons, please use a source that you trust.