Shrimp and Feta Pasta
I needed to whip up a quick meal with ingredients I had around the house so I created Shrimp and Feta Pasta. I had shrimp in the freezer, canned tomatoes and pasta in the pantry and a little bit of feta left in the fridge and this is what I whipped up. It turned out so good I had to share it with you. My family loved it!! A weekday meal that can be made in no time that looks and tastes like you stressed for hours. I had the whole thing from conception to photos done in 50 min. and of course not everyone takes pictures of their food. LOL Enjoy this all!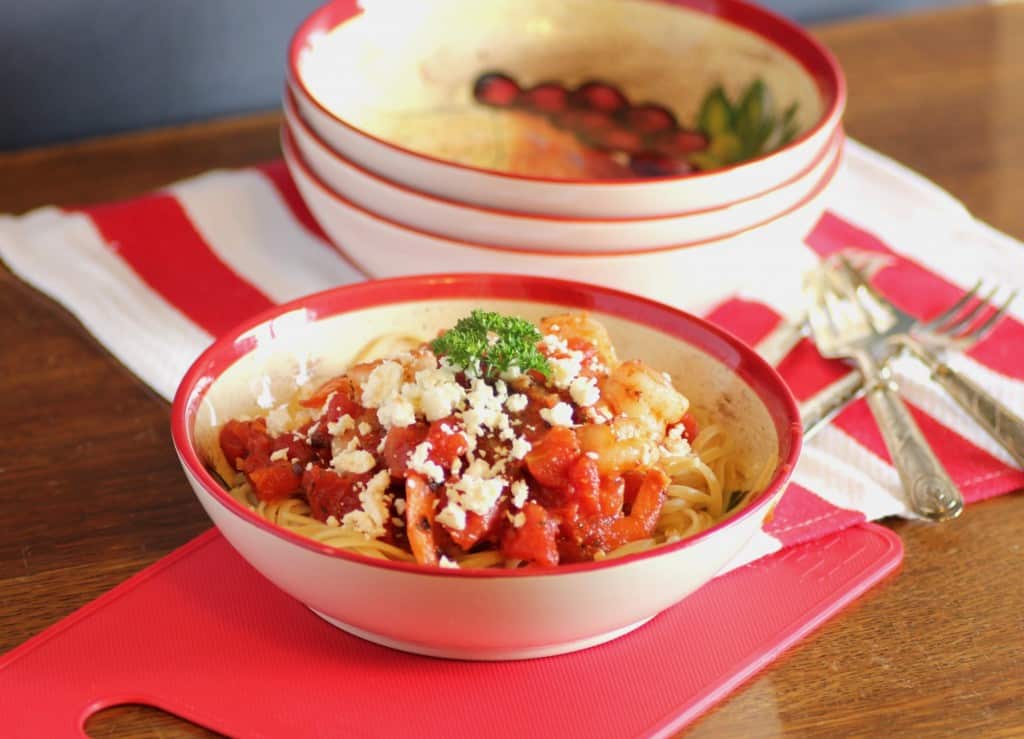 Recipe
A quick and easy yet divine meal for a weekday.
Ingredients
2 Tbsp. olive oil, divided
340 gms shrimp, defrosted, veined and shelled
1 shallot, minced
Salt and pepper to taste
½ cup of white wine
4 garlic cloves, minced
28 oz. can of diced tomatoes
1 tsp. oregano
1 tsp. basil
¼ tsp. crushed red pepper flakes
300 gms linguini
½ cup feta, crumbled
Instructions
Saute the garlic in 1 Tbsp. olive oil for 1 min. on medium heat in a medium saucepan. Add the white wine and simmer reducing by half.
Meanwhile, heat salted water for pasta. Saute the shallots in the remaining olive oil on medium heat in a medium saute pan and when translucent turn up to medium high heat and add the shrimp. Season with salt and pepper and cook until just cooked through stirring frequently. Take off the heat and set aside.
Add the diced tomatoes to the white wine mixture along with the oregano, basil, crushed red pepper flakes and salt and pepper. Let simmer for 10 min.
When pasta water is boiling add your linguini and cook as per package to al dente. Add the shrimp and shallots to the tomato sauce and cook until just heated through.
Serve pasta with the shrimp tomato sauce and feta. Yummy!!