We were having a gorgeous steak the other night and I wanted a really nice side to go with it. Also, I wanted something that was easy to do. These glorious Garlic Butter Roasted Mushrooms came to me while I was thinking. Let the oven do the work for you so you don't have to stand there sauteeing. Plus, you can leave them whole, so no slicing and you also have lovely garlic butter for dipping in a slice of bread. This recipe is win, win, win!! I also love that you only have one dish to clean up afterwards, not even a knife and cutting board are used.
This recipe would also make a gorgeous appetizer hot out of the oven for everyone to enjoy!! Dunk, dunk, dip, nom, nom, nom!! They will be gone in a flash!!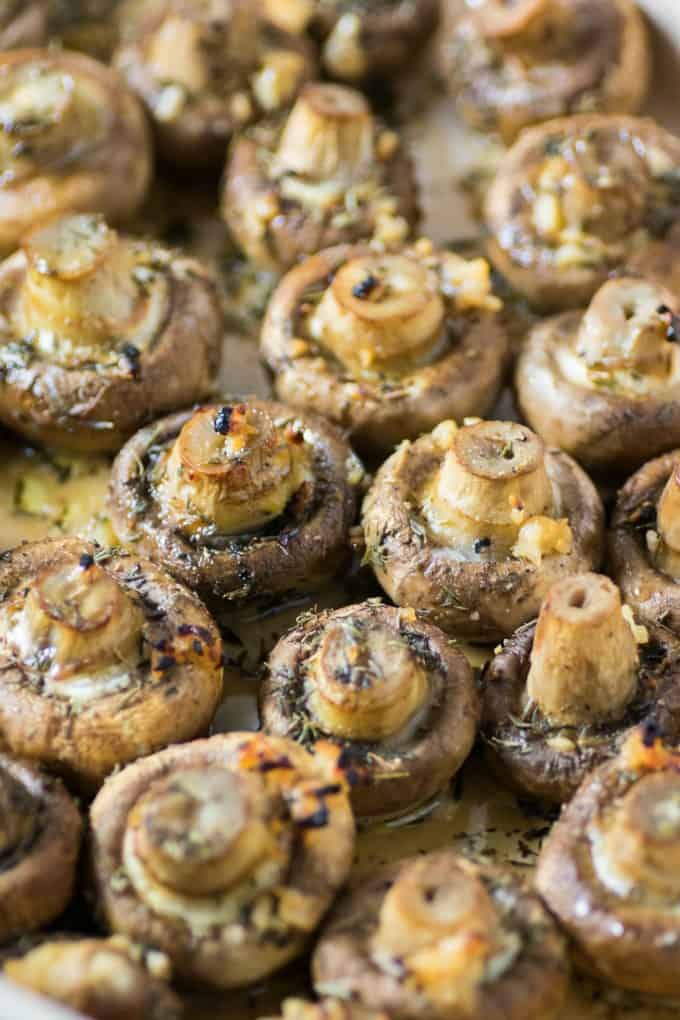 These are so easy to make as you don't even have to slice up the mushrooms!! Place them in your casserole dish. Toss with olive oil, garlic, salt, pepper and thyme. Turn them stem side up and dot the mushrooms with butter. Pop them in the oven until they are bubbling, tender and golden.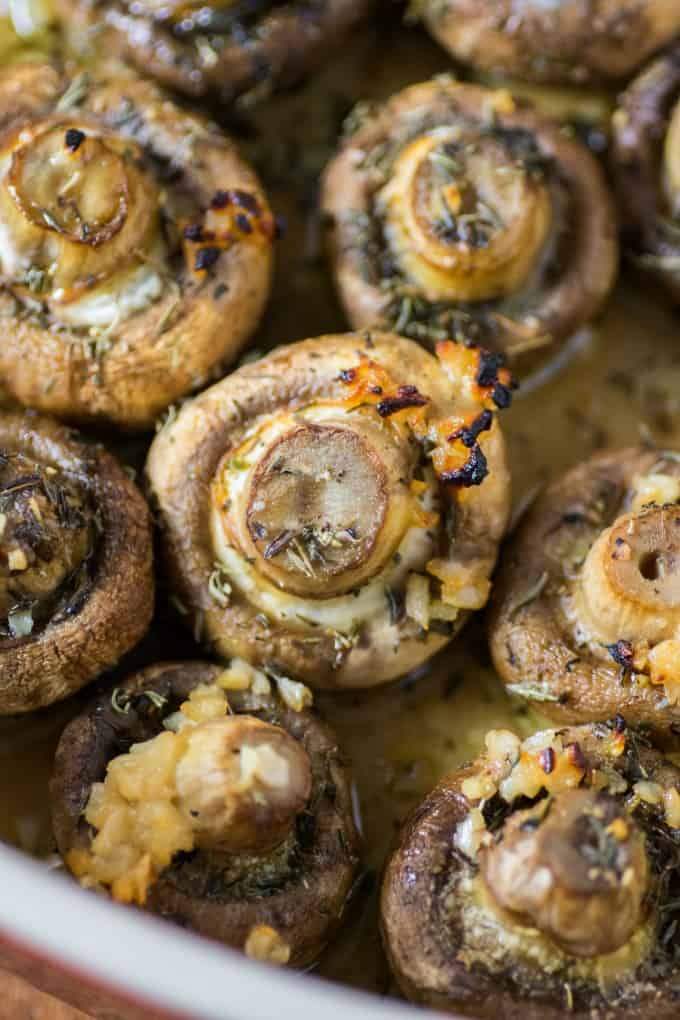 Serve these with a great steak, beef or other protein or as an appetizer by themselves but don't forget the bread for dipping!! I really liked the addition of thyme in this recipe, it marries so nicely with the mushrooms and garlic. Spoon some of that garlic butter onto your steak too! So delish!!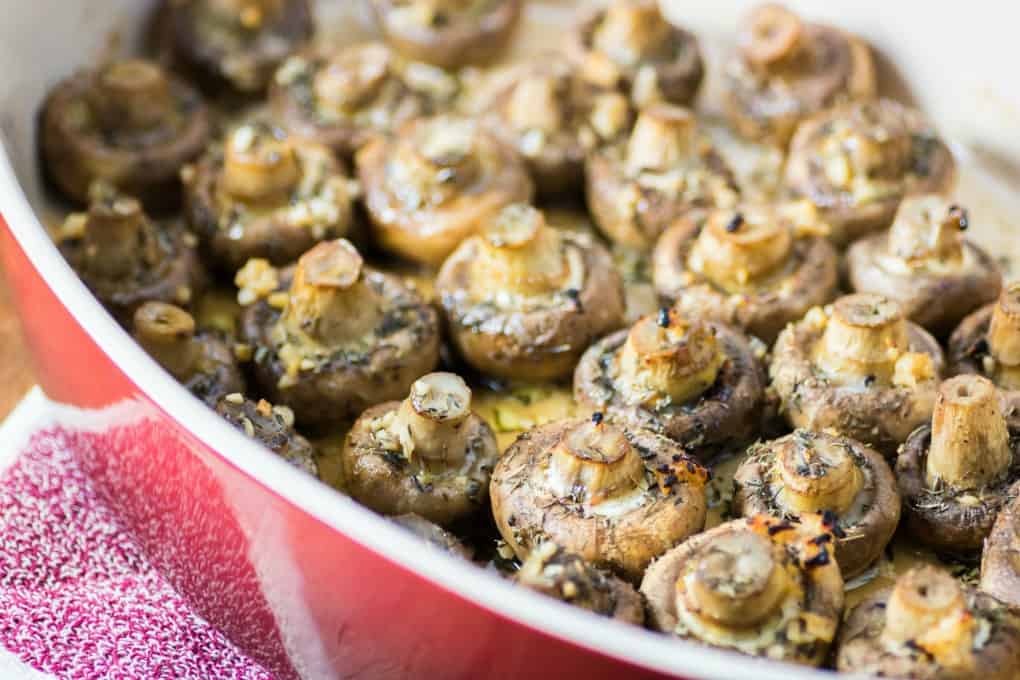 We will be enjoying these again very soon as they were so easy to make and are an excellent side dish for any night or when company come. This is a very simple dish yet it is elegant too! I love roasting veggies, check out these recipes also!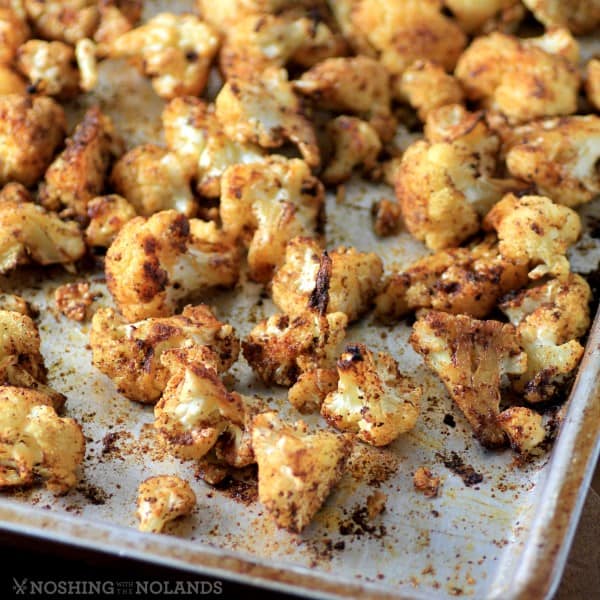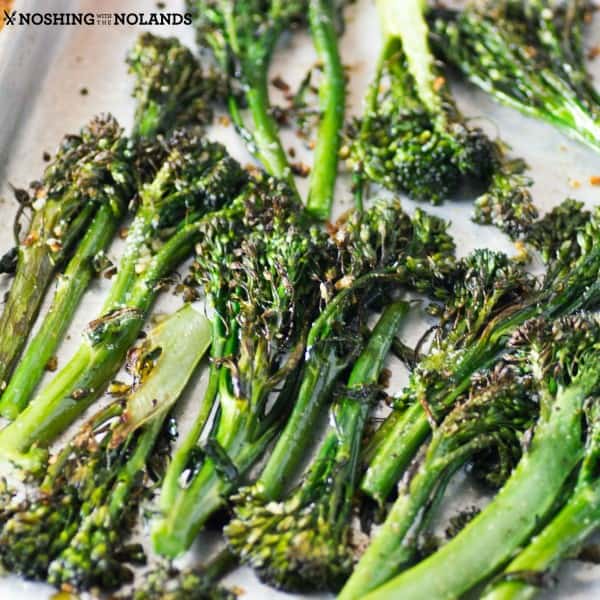 32 Amazing Roasted Vegetable Recipes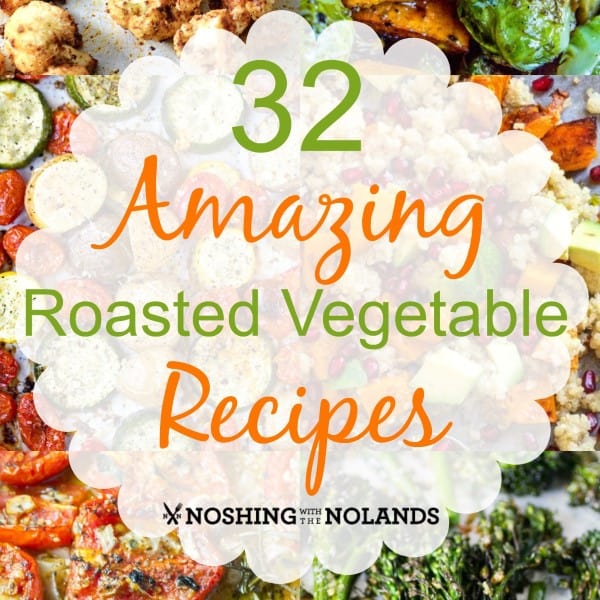 The Recipe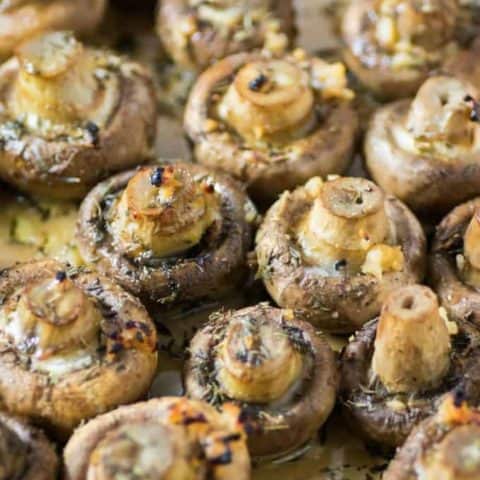 Garlic Butter Roasted Mushrooms
Prep Time: 5 minutes
Cook Time: 20 minutes
Total Time: 25 minutes
These stunning Garlic Butter Roasted Mushrooms go fantastic as a side to beef and steak but can also stand alone as an amazing appetizer!!
Ingredients
35-40 medium mushrooms, washed
2-3 tsp. jarred minced garlic
2 Tbsp. olive oil
4 Tbsp. butter, cut into pieces
1 tsp. thyme
Salt and pepper to taste
Instructions
Preheat oven to 450F. Place mushrooms in a large 9x13' pan or big enough to fit them all in one layer. Toss with olive oil and garlic. Turn the mushrooms stem side up. Season with salt and pepper and the thyme. Dot the tops with butter.
Bake for 18-20 min. or until golden and bubbly. Serve hot with steak or alone with bread for dipping.