Asian Fish Wrap
Moms love a quick and easy dinner but families want something that is absolutely delicious. This Asian Fish Wrap covers all the bases!! Janes ultimates Fish Products come in a great variety and make dinner so much easier. For this recipe I chose the perfectly crispy Janes Fillet of Sole. Their sole comes in a light panko breading that, when baked, comes out crispy on the outside with light and flaky fish on the inside. This fish would be perfect to stand alone but I added it to a gorgeous Asian Fish Wrap.
While the fish bakes to perfection, you just need to make a quick Sriracha mayonnaise and a light Asian slaw. The combination of the flavors are like an explosion of taste in your mouth! The stunning crispy fish marries perfectly within this wrap.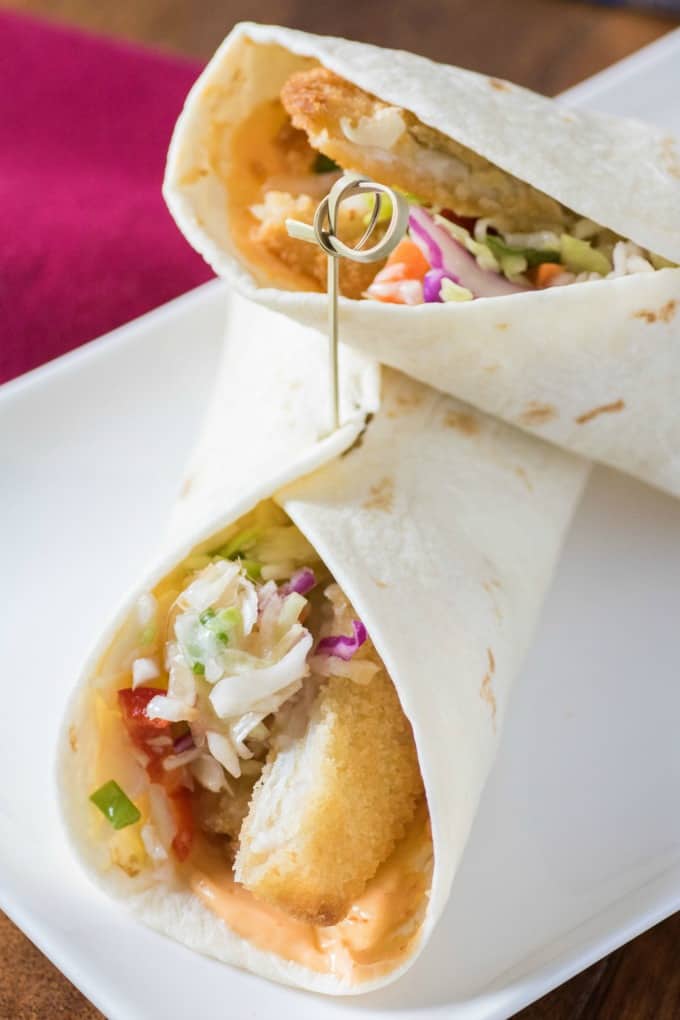 One bite and Ken exploded with rave reviews on this recipe. He loved the little heat from the Sriracha. If your family likes it hotter you can add more or if they like it milder you can add less. That is the beauty of making your own condiment.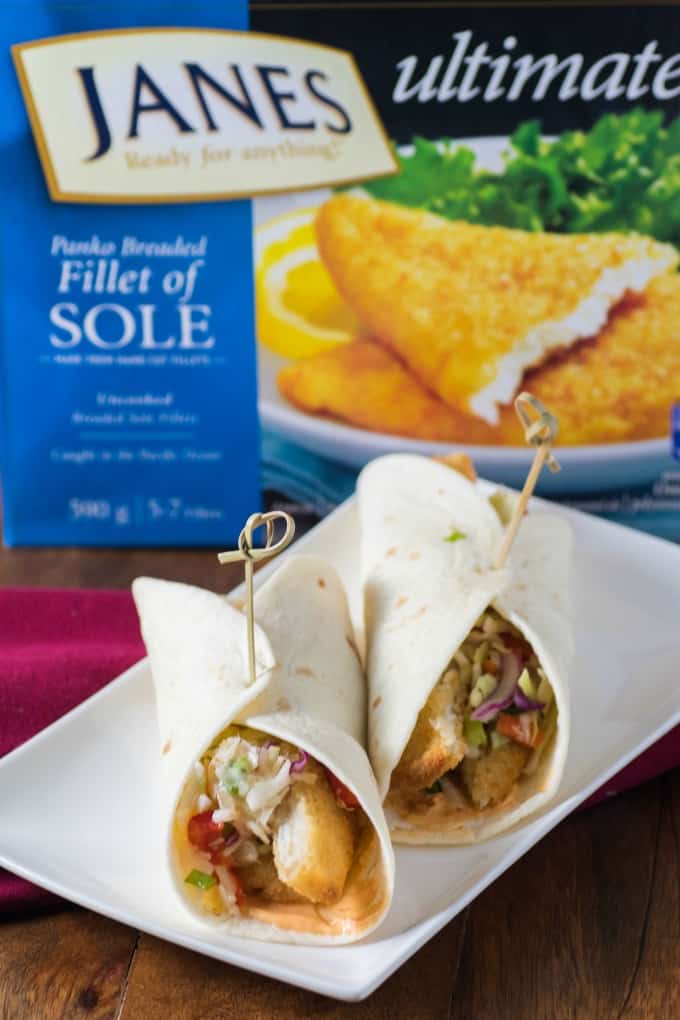 Nothing can be simpler than to use Janes fish and chicken products in a wrap like this. Be prepared, as your family will be asking for this again and again and you can happily provide as it is so easy to make.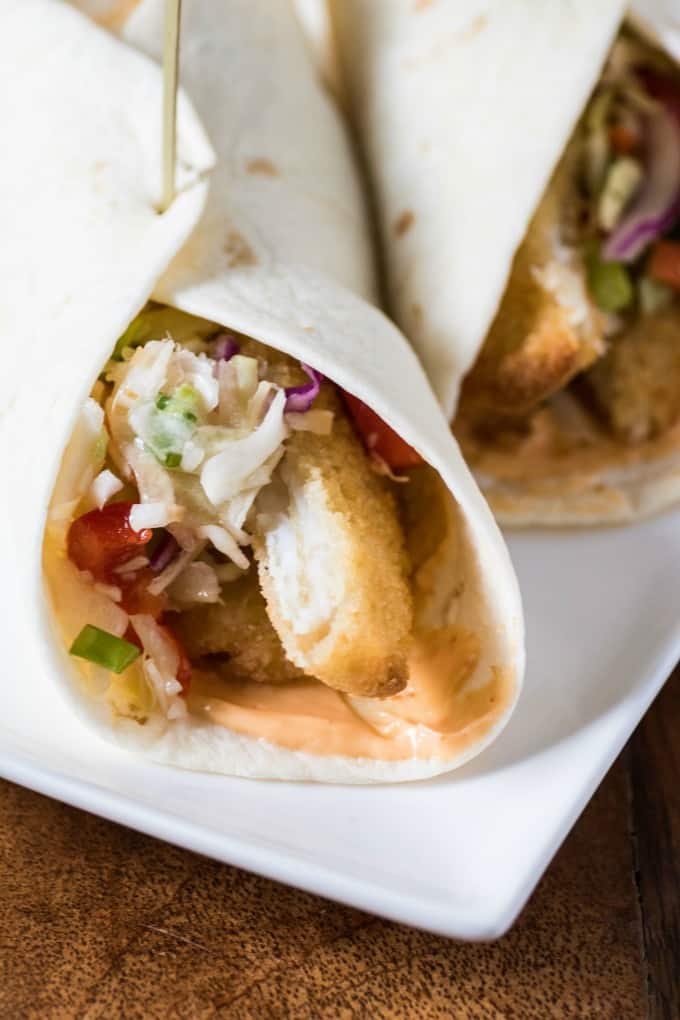 I will be making these again very soon for when Amber has her friends over. I know they will be a huge hit with the teenage crowd too! Plus it is so easy for me to whip up. In the fast 20 min. for the fish to bake, I can have dinner on the table!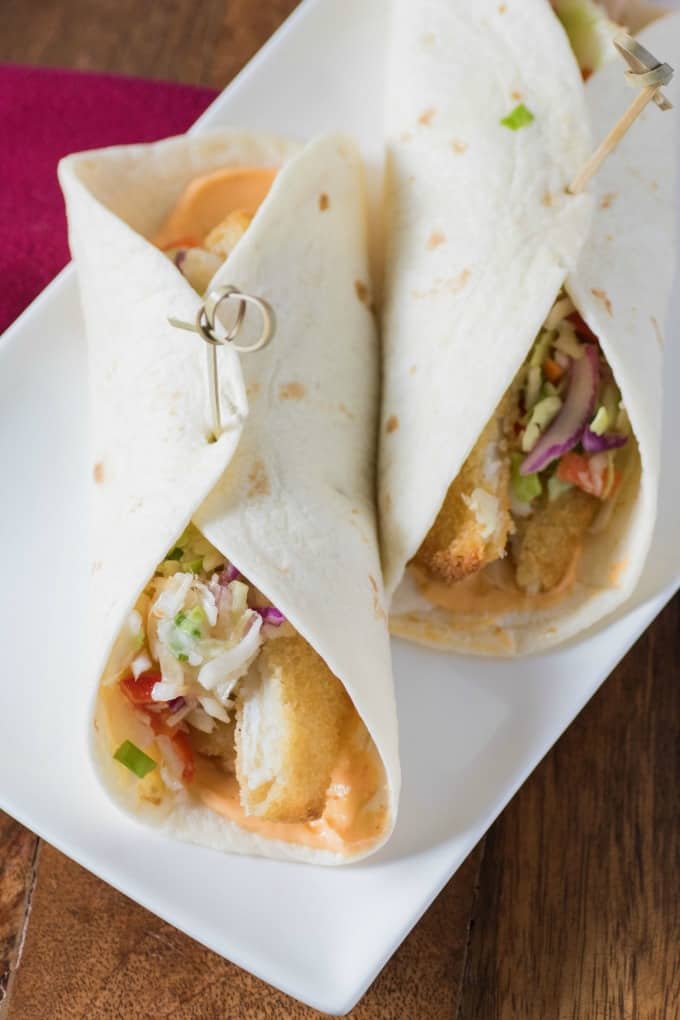 With added company over the holidays you need quick and easy meals for lunch and dinner. Let Janes help you out! You will have a scrumptious meal that everyone will love! I used Janes Cracked Black Pepper Whole Chicken Fillets to make a delicious Cobb Salad Recipe also that garnished me with rave reviews. Again so easy with Janes doing most of the work!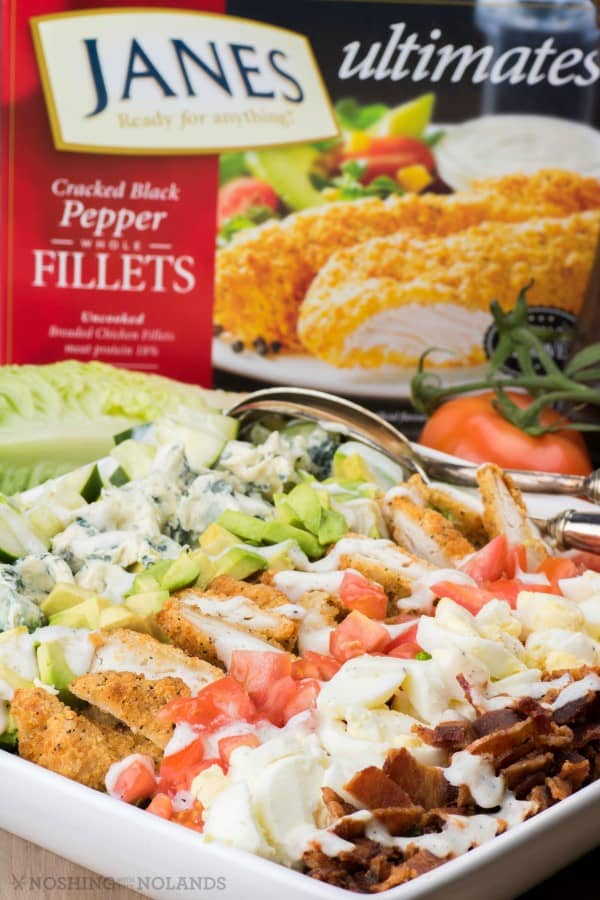 The Recipe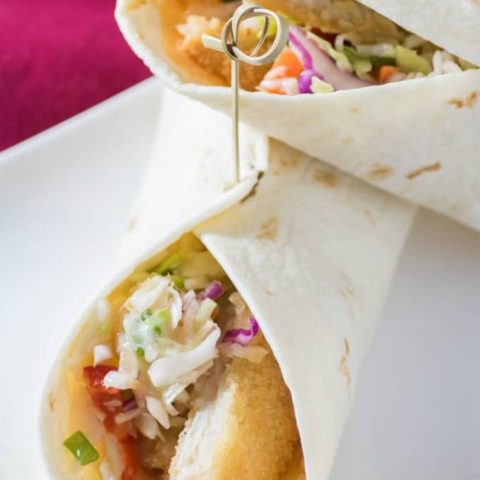 Asian Fish Wrap
Yield: 6 servings
Prep Time: 10 minutes
Cook Time: 20 minutes
Total Time: 30 minutes
This Asian Fish Wrap is made easy using Janes ultimates Fish Products and their deliciously crispy Panko Breaded Fillet of Sole. The punch of flavor comes from a Sriracha mayo and Asian slaw.
Ingredients
● 1 pkg. Janes ulitmates Panko Breaded Fillet of Sole
● 6-8" flour tortillas
● Sriracha mayonnaise
● 1/3 cup mayonnaise
● 2-3 tsp. Sriracha or to taste
● Slaw
● 1/4 cup canola oil
● 1 tbsp. minced ginger
● 1 tsp. minced garlic
● 2 tbsp. white sugar
● 1 tsp. sesame oil
● 1/4 cup rice wine vinegar
● 1/2 tsp. salt
● 1-14 oz. bag of coleslaw
● 1 red pepper, sliced
● 5 green onions, chopped
● Toothpicks, optional
Instructions
Bake Janes ultimates Panko Breaded Fillet of Sole according to package directions.
Meanwhile whisk canola, ginger, garlic, sugar, sesame oil, vinegar and salt together in a small bowl.
In a larger bowl, add in coleslaw, red pepper and green onion and toss with dressing.
Mix the mayonnaise with the Sriracha.
When the fish is baked, slice in half lengthwise. Spread on some of the Sriracha mayo on each tortilla and top with the fish and then the slaw. Wrap up with a toothpick and serve immediately.