Milk and Cookies Cake
Disclosure: I was compensated for this post. All opinions and experiences are my own.
Milk and cookies are an endearing tradition in our house. When I was growing up, I was allowed to have a bedtime snack of a couple of cookies and a big glass of cold milk – it's delicious and refreshing. I could dunk, savour, crunch, drink to my heart's content at the kitchen table, so milk and cookies around the holidays are a must!
At our house, we have a plate and mug set out for Santa each year because we know how much he loves it! He is a tired and thirsty elf by the time he makes it here!
I have carried on the milk and cookies tradition with a twist and am sharing my recipe with you for Milk and Cookies Cake. Holiday baking is a must during the holiday season, so try this recipe and pair with milk for a delicious and refreshing holiday treat!
The kids eyes popped when they saw this cake for the first time! They devoured a piece of this cake with great enthusiasm and have since asked me to make it again!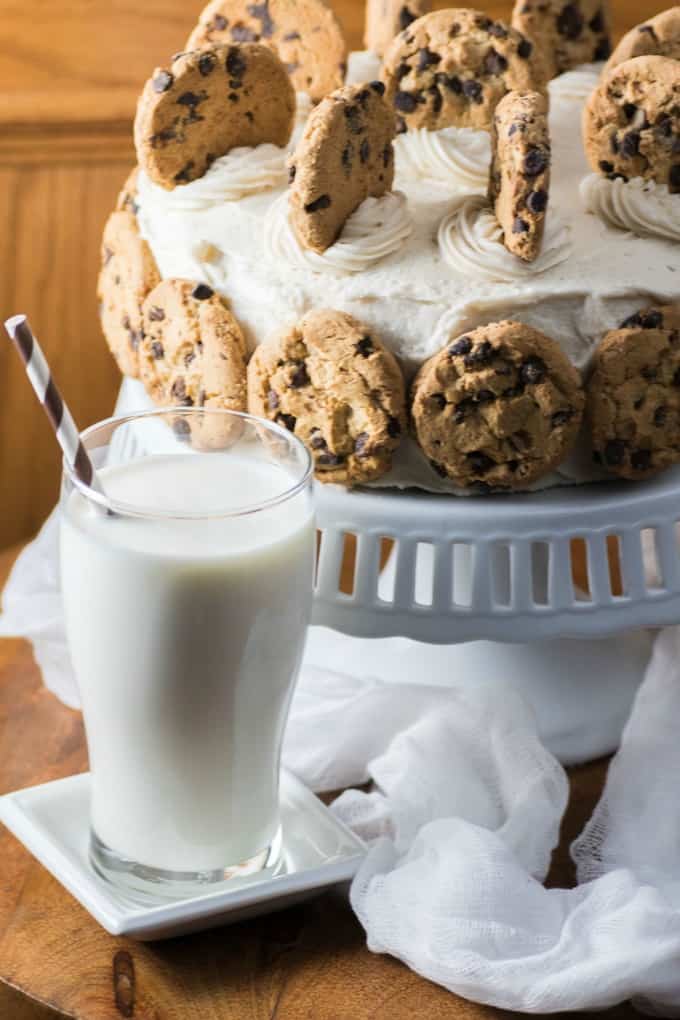 Milk and Cookies Cake is really not that difficult to make and I am in no way a professional baker, just a home cook like you. It is just two cakes baked and then simply decorated. The cookies make the cake look special without a lot of hassle.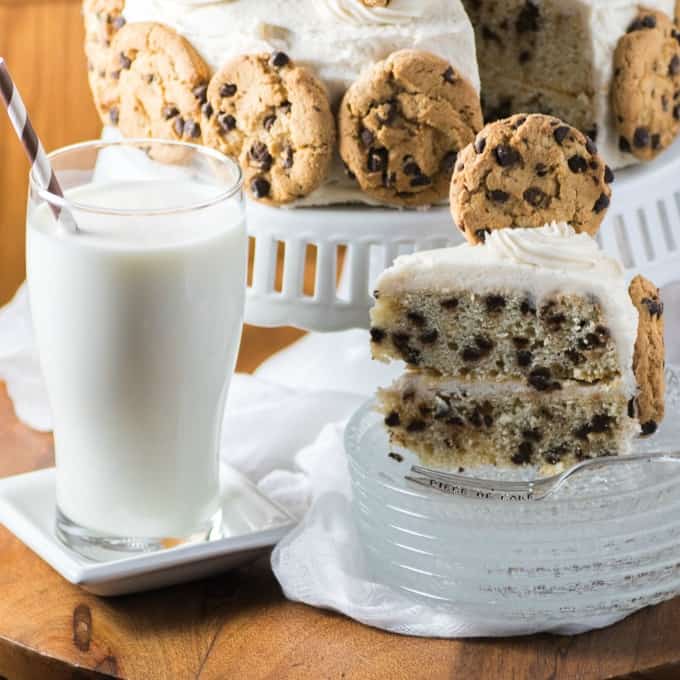 The recipe is simple enough that your kids can jump right into help! They will love putting the cookies around on the outside for Santa! I love having my family bake with me in the kitchen for the holidays!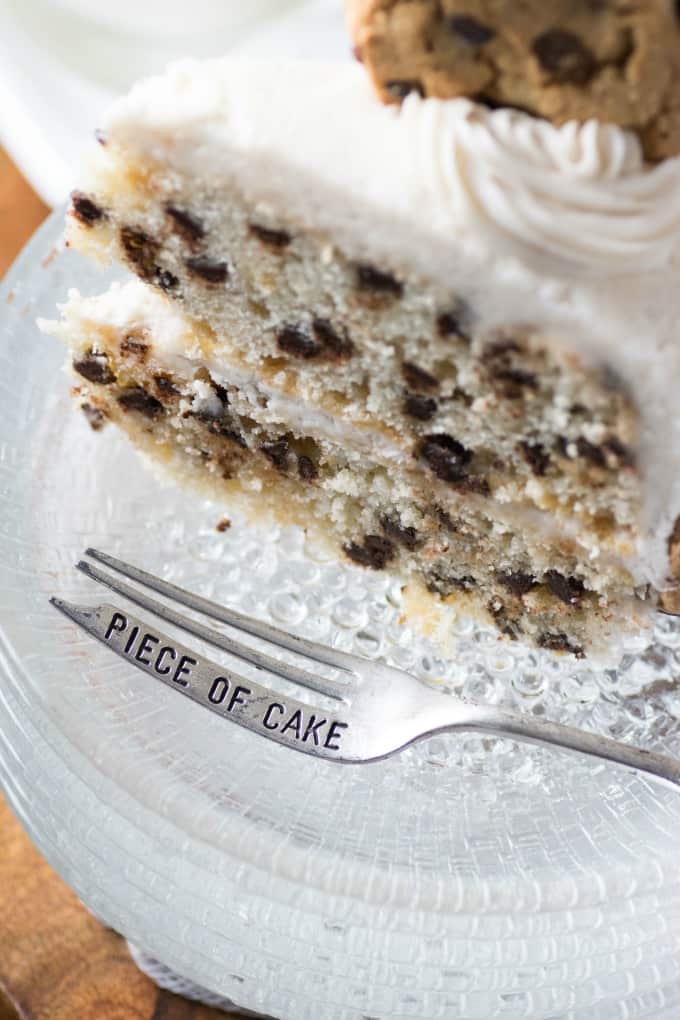 From leaving a glass of cold milk for Santa, to using milk as a staple ingredient in holiday baking, Canadian Quality Milk plays a meaningful role for many Canadians throughout the holiday season. Check out this video from Dairy Farmers of Canada while eating your Milk and Cookies Cake.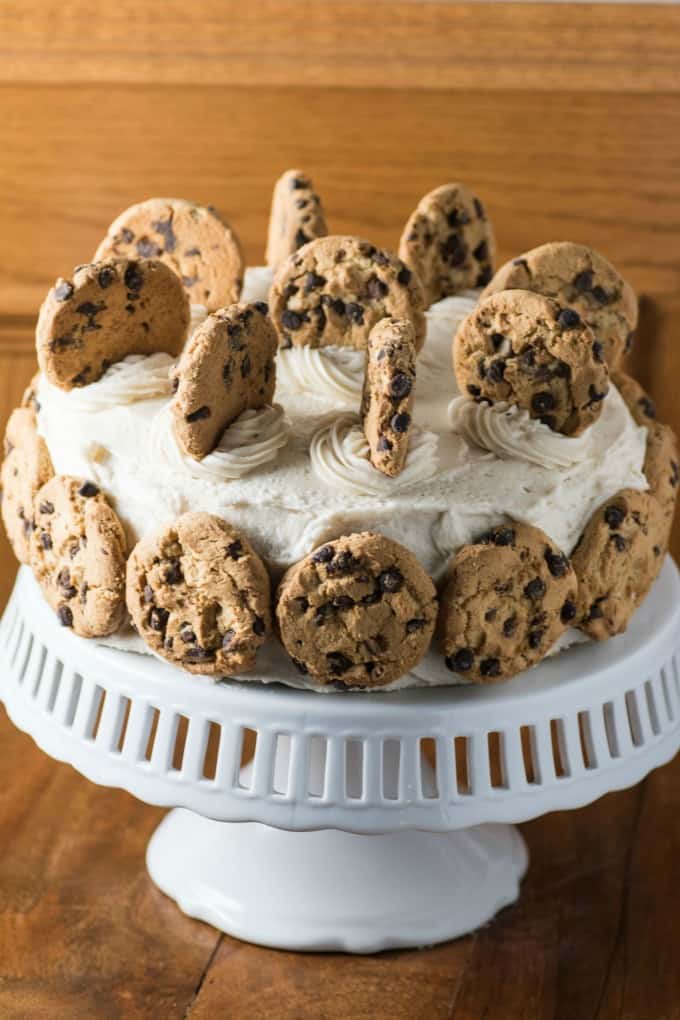 The Recipe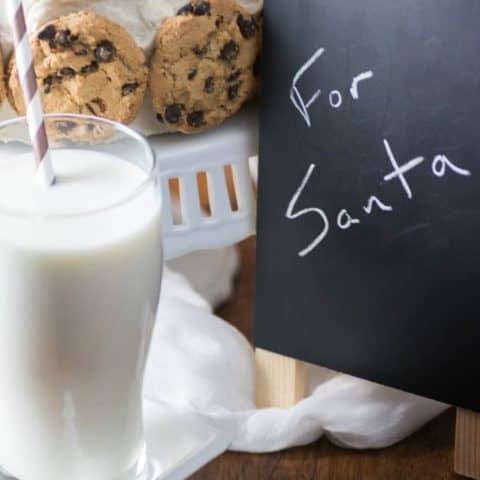 Milk and Cookies Cake
Yield: 1-8" cake
Prep Time: 1 hour
Cook Time: 35 minutes
Total Time: 1 hour 35 minutes
This Milk and Cookies Cake is perfect for Santa to give him something just a little more special. Serve this up with a refreshing and delicious glass of cold milk.
Ingredients
Cake
2 1/4 cup all-purpose flour plus more for chocolate chips
2 tsp. baking powder
1/2 tsp. salt
1 1/4 cups sugar
3/4 cup butter
3 large eggs
1 tbsp. vanilla
1 cup milk
1/3 cup sour cream
1 1/4 cup semi-sweet mini chocolate chips
Buttercream Icing
2/3 cup butter
6 cups icing sugar
5-6 tbsp. milk (or to desired texture)
1 tbsp. vanilla
Regular sized chocolate chip cookies for decorating
Instructions
Preheat oven to 350F. In a medium bowl, whisk the flour, baking powder and salt together and set aside. Prepare two 8" round cake pans with cooking spray. For flat top cakes follow these instructions.
In a bowl of a stand-up mixer cream together the flour and sugar until fluffy. Add the eggs one at a time and mix well after each addition. Add the vanilla and mix well.
Alternate adding in the flour, milk and sour cream, starting and ending with the flour in a few additions. Toss chocolate chips in a small amount of extra flour to coat and then shake off excess. Add them to the batter.
Bake for 30-35 minutes or until cake tester comes out clean.
Let cakes cool in the pan on cooling racks.
Make the icing. In a bowl of a stand-up mixer cream the butter and icing sugar together adding in the vanilla and then the milk to the consistency you like for icing.
When cooled remove one cake to a platter. Ice the top and then place the second cake on top. Do a crumb coat of a thin amount of icing and let set. Then do a decorative layer. Pipe 8 rounds on the top with a star tip and then one in the center. Place cookies around the outside and then in the piped spots. Refrigerate until ready to eat, let stand at room temperature for 20 minutes before serving.