Individual Chicken Pot Pies
for Comfort Foods at #SundaySupper
Here we are with our next #SundaySupper and Individual Chicken Pot Pies. Comfort foods, yummy, my favorite. It conjures up images of cold nights and warm steaming dishes with rich flavors and smells that fill the home. It also makes you feel like you have gained 10 lbs. after eating one!!
So that made me think of lightening up a chicken pot pie. I still want the wonderful crispy crust, that is the best part but I took away the bottom crust and lightened up the interior, although you would never know it. My family loved my little pot pies and I hope you do too. Full of flavor and much fewer calories. A perfect comfort food.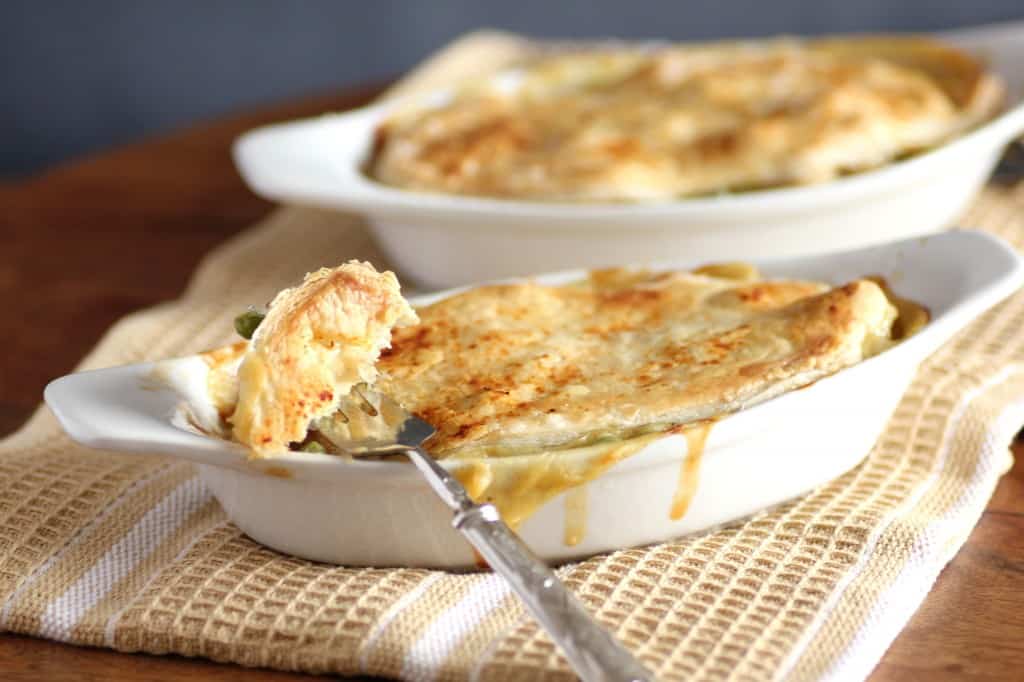 Recipe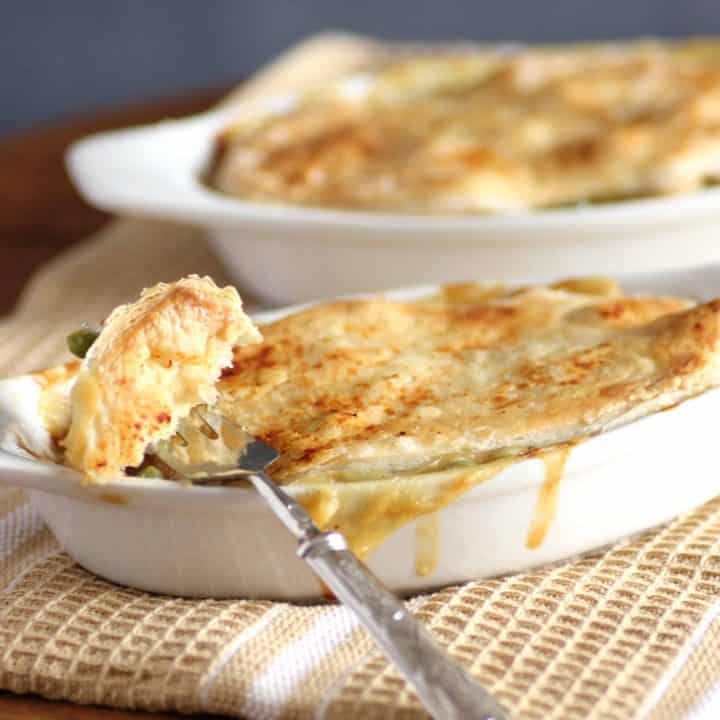 Individual Chicken Pot Pies for Comfort Foods at #SundaySupper
A lightened up version of a classic comfort food!
Ingredients
1 lb. boneless, skinless chicken thighs
1 cup carrots, sliced
2 cups low sodium chicken broth
1 cup frozen peas
2 stalks celery, sliced
1/2 sweet medium onion, diced
1 Tbsp. butter
1 tsp. thyme
Salt and pepper
1/3 cup flour
2/3 cup skim milk
1 package puff pastry
Small amount half and half cream for the pastry
Paprika
Instructions
Preheat oven to 425F. Chop chicken into bite sized pieces and remove any visible fat. Bring the chicken stock to a boil and place in chicken and carrots. Simmer for 15 min.
Meanwhile in a large saucepan melt the butter and cook the celery and onion. Add the thyme, salt and pepper. Cook until the celery is soft and the onions are translucent. Stir in the flour and let cook for 1-2 min. Don't brown. Slowly add the milk and whisk well. When the chicken is done add the frozen peas and stir to defrost and reheat slightly. Add some of the broth to loosen up the flour mixture and then slowly incorporate the rest of the chicken, peas and carrots, stirring well not to get lumps. Simmer over low heat until thickened stirring occasionally. Adjust seasoning if necessary.
Place the chicken mixture into four baking dishes or ramekins. Roll out puff pastry to 1/8" and cut out ovals or circles to fit just inside your baking dish. Place on top of your baking dishes and brush with a light coating of the half and half cream and sprinkle with paprika.
Place dishes on a rimmed baking sheet and bake for 35-40 min. until the pastry is lightly browned and the filling is bubbling. Let cool for 5-10 min. before serving.
Special Guest
How exciting to have a special guest with us this week, Lee Woodruff!! Plus look, we have over 50 recipes to share with you too!! Don't you just love #SundaySupper!
Are you ready for another amazing Sunday Supper event? I am very excited about this week's event. We have a special guest and it's all about comfort food. Our guest is an amazing woman who has inspired me for a long time. Lee Woodruff is a wife, mother of four, author, CBS This Morning contributor and founder of ReMIND.org. I was so honored when she contacted me and expressed how much she loves our Sunday Supper Movement. You have no idea how thrilled I am that she is a guest this week during #SundaySupper.
Latest Book!
Lee Woodruff's latest book, Those We Love Most, is about family, love, tragedy, coming together and healing. In short, it holds a reflection of all of our lives. So this week's Sunday Supper theme was born…. Comfort Food Recipes. When we think of comfort food, it immediately evokes so many memories deep within us. Lee is a foodie at heart and has a section of her blog devoted to Food for Thought. I am honored to be featured in this section with my favorite comfort food recipes this month…. I bet you can guess, it may have something to do with Portuguese Recipes from Vo-Vo's Cozinha.
We would love to have you join Lee and our Sunday Supper Team during our chat on Sunday at 7pm Eastern Time. Wait till you see the comfort food recipes our talented Sunday Supper Contributors will be featuring. Something tells me, not only will we be surrounded by love and comfort, we will all be drooling. Just look at the gorgeous recipes!
If that wasn't enough, we will also be giving away 5 signed copies of Those We Love Most, all you have to do is share your most memorable comfort food recipes.
This Week's Sunday Supper Recipes:
#SundaySupper Comfort Food |Soups
#SundaySupper Comfort Food | Main Dish
#SundaySupper Comfort Food | Desserts
Pairing Wine with Sunday Supper Comfort Food Favorites! by ENOFYLZ Wine Blog
We would be honored to have you join us on Twitter throughout the day during #SundaySupper and have you share your favorite Comfort Food Recipes. We'll be meeting up at 7:00 pm(Eastern) for our weekly #SundaySupper live chat where we'll talk about our favorite Comfort Food Recipes. All you have to do is follow the #SundaySupper hashtag or you can follow us through TweetChat. We'd also love to feature your easy go to recipes on our #SundaySupper Pinterest board and share them
We'd also love to feature your easy go to recipes on our #SundaySupper Pinterest board and share them with all of our followers, too.