This is the best Instant Pot Beef Stew Recipe around! It's easy, healthy, and exceptionally delicious. With tender beef, a flavorful broth, and hearty veggies like carrots and potatoes, it's going to be a family favorite!
Beef Stew is a classic recipe that everyone needs in their back pocket. With just a handful of simple ingredients, you can put a big satisfying pot of hearty, healthy stew on the table for dinner tonight. Best of all, it fits in nicely with Keto and Paleo meal plans too.
If you're looking for more delicious soup and stew recipes, be sure to try this Ham Bone Soup (in the slow cooker), amazing Beer Cheese Soup, and this tasty Butternut Squash Soup made in an Instant Pot. Maybe you want an amazing dessert in your pressure cooker like this Instant Pot Cheesecake or a delicious dinner Instant Pot Jerk Chicken and Little Potatoes or Instant Pot Chicken Cacciatore. All of these recipes are amazing and must tries!!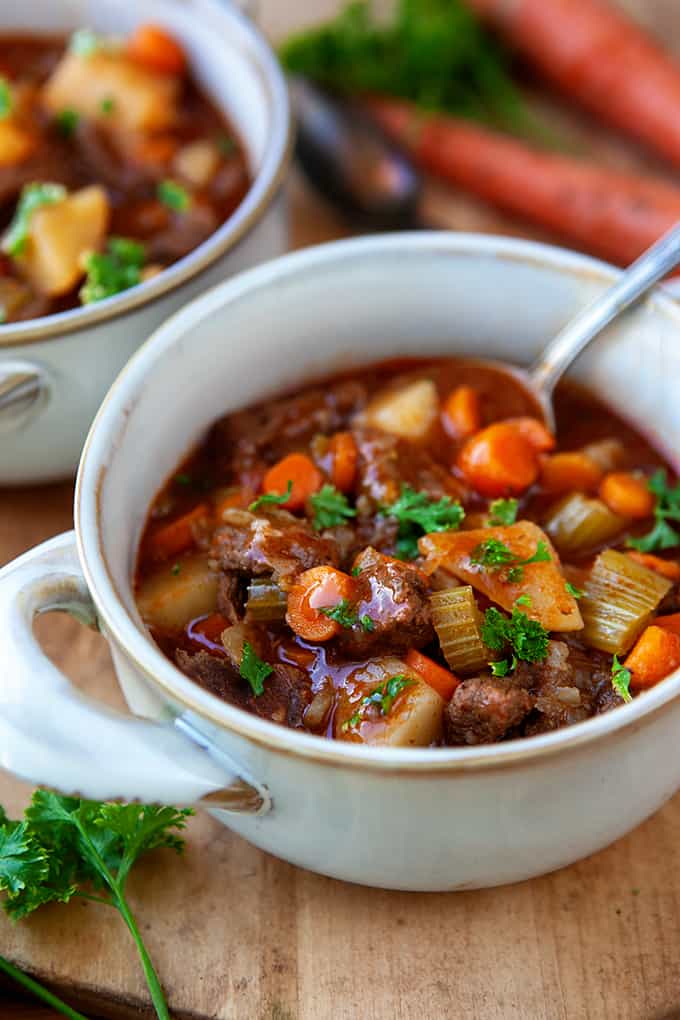 Hi there again, it's Allison from Some the Wiser. We had a cold front move into my corner of the world this week and I'm so happy to be making all my favorite soups and stews again.
On the menu this week is my best ever Cream of Zucchini Soup and my kids' favorite Chicken Soup with Rice.
Helpful Items For This Recipe
This post contains affiliate links. As an Amazon Associate, I earn a small portion from qualifying purchases at no extra charge for you.
Ingredients For The Best Beef Stew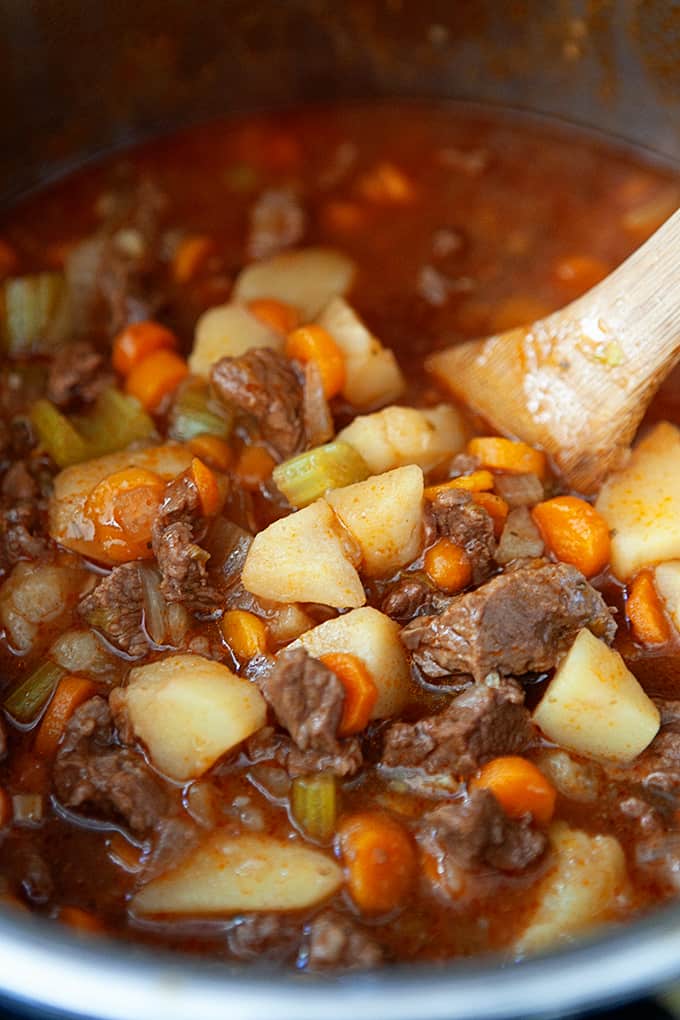 Ingredients
Olive oil
Beef stew meat (chuck roast)
Salt
Pepper
Italian seasoning
Worcestershire sauce
Red wine
Garlic
Onion
Carrots
Celery
Potatoes
Beef broth
Tomato juice
Cornstarch
Water
Fresh parsley
How Do You Make Instant Pot Beef Stew?
This super easy Instant Pot Beef Stew Recipe is hearty and delicious comfort food to enjoy as the weather turns cooler.
While there is no denying the wonderous smells of a beef stew cooking slowly on the stovetop, slow cooker, or oven, sometimes there is no time for that. This is where your pressure cooker can come in very handy. It really is as simple as throwing everything into the instant pot and letting it work its magic!
It's really a cinch to make Beef Stew with a pressure cooker. The Instant Pot does all the heavy lifting for you! While traditional beef stew needs to cook for 2+ hours, this Instant Pot Beef Stew Recipe pressure-cooks your meal, so it only needs to cook for 45 minutes (plus a little extra time to build pressure).
The first thing you'll do to make Instant Pot Beef Stew is chop up your meat and veggies. Once that's done, you're already almost there!
Note: If you want to make it even easier, just buy beef stew meat that is already cut into pieces – this is easy to find at most grocery stores. I always go over the package of meat to weed out any fat, gristle, or odd shapes. You want your pieces of beef to be as uniformly cut in size and shape so that they cook evenly. This is also very true for vegetables too.
The Best Beef Stew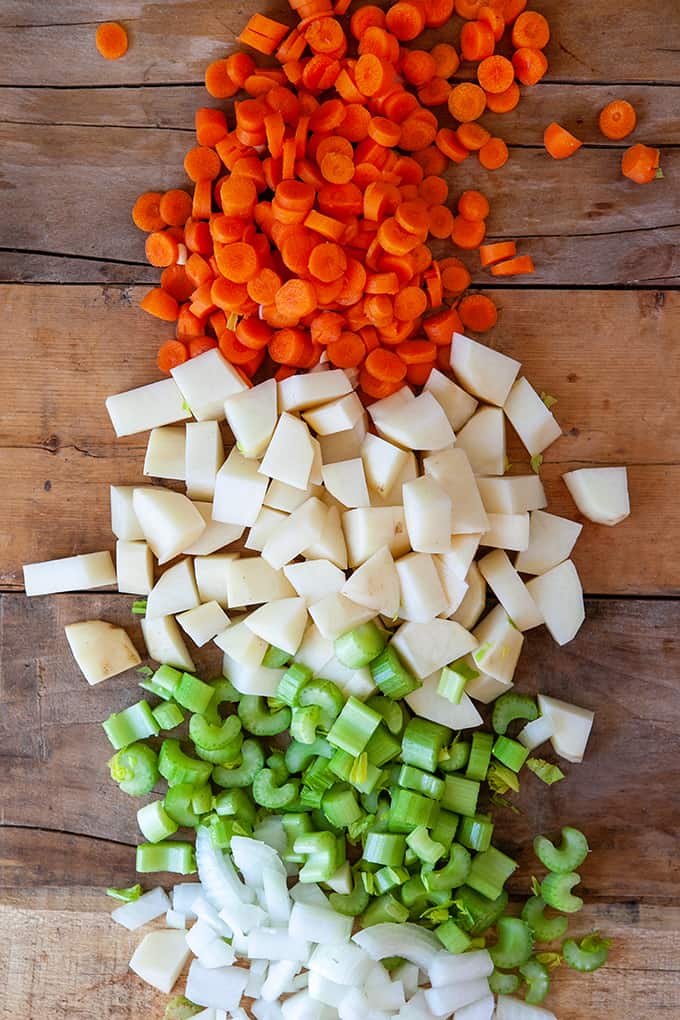 For extra flavor, you can brown the meat in the instant pot, using the saute function, for about 5 to 7 minutes. Don't forget to scrap up those brown bits for extra flavor!
After that, it's all just smooth sailing. You can pretty much dump everything into the pot and turn the lid to secure. It really is that simple!
After the stew has cooked for 35 minutes at high pressure, plus 10 minutes of natural pressure release, then you can quick release and open it up.
To thicken the stew, you'll mix together 2 tablespoons of cornstarch and 2 tablespoons of cold water. Stir this mixture into the hot beef stew, let it bubble a bit to thicken, and voila, you're all ready to go.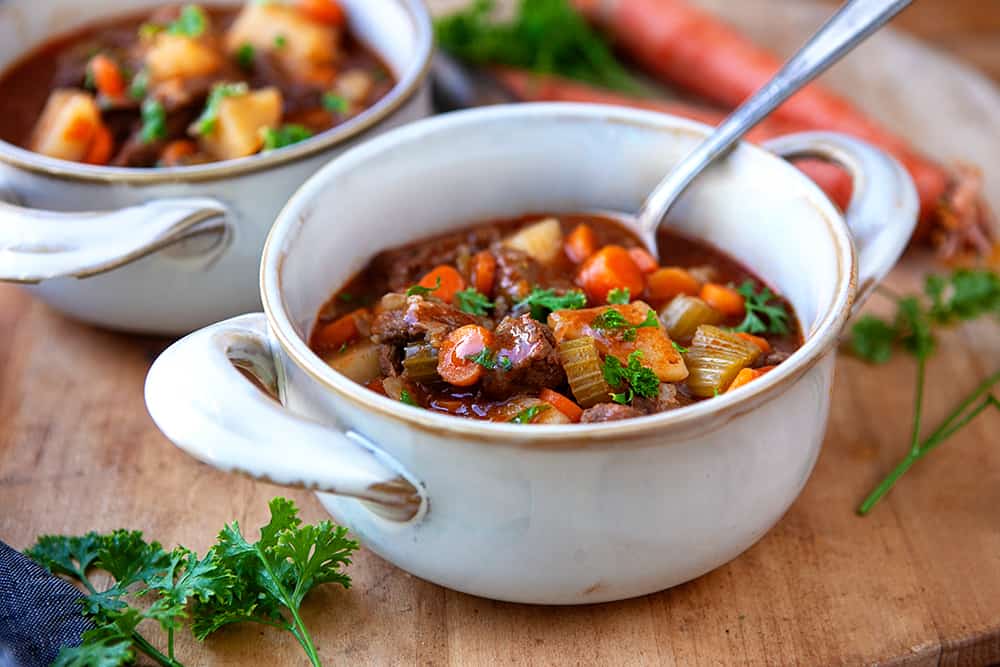 What is The Stew Setting on the Instant Pot?
Most instant pots now come with preset buttons that are programmed to cook for specific times. The stew setting on the instant pot is designed to cook stew meat for the perfect amount of time, which is 35 minutes at high pressure with 10 minutes of natural pressure release.
If you don't have a stew setting on your instant pot, you can simply use the manual programming buttons for the same result. The preset buttons are just a little short cut.
As a side note, to make this in a slow cooker, cook on high heat for 4 hours or low heat for 7 to 8 hours.
What Can I Add to Beef Stew for Flavor?
This Instant Pot Beef Stew Recipe is bursting with flavor! Here are the best things to use in Beef Stew for exceptional flavor:
Red Wine – just 2 tablespoons of a good red wine add heaps of flavor to the finished stew.
Worcestershire Sauce – this condiment is a malt and spirit vinegar that is often added to beef for a deeper flavor.
Aromatics – onions, carrots, and celery are the holy trinity of aromatics in cooking. Adding these three things to your stew ensures a rich flavor.
Fresh Garlic – this is another essential aromatic and I highly recommend the use of fresh minced garlic.
Tomato Juice – the acidity in tomato juice adds another level of flavor to a beef stew that really takes it up a notch.
Italian Seasoning – this is my secret weapon. A teaspoon of Italian seasoning added in while you brown the meat makes for a really tasty stew.
Fresh Parsley – last but not least, a garnish of chopped parsley in each bowl when you serve the stew really goes a long way towards adding fresh flavor to the stew.
Other Additions – can be spices and herbs like a bay leaf, oregano, basil, rosemary, cayenne, paprika, celery seed, onion powder, garlic powder. The choice is yours!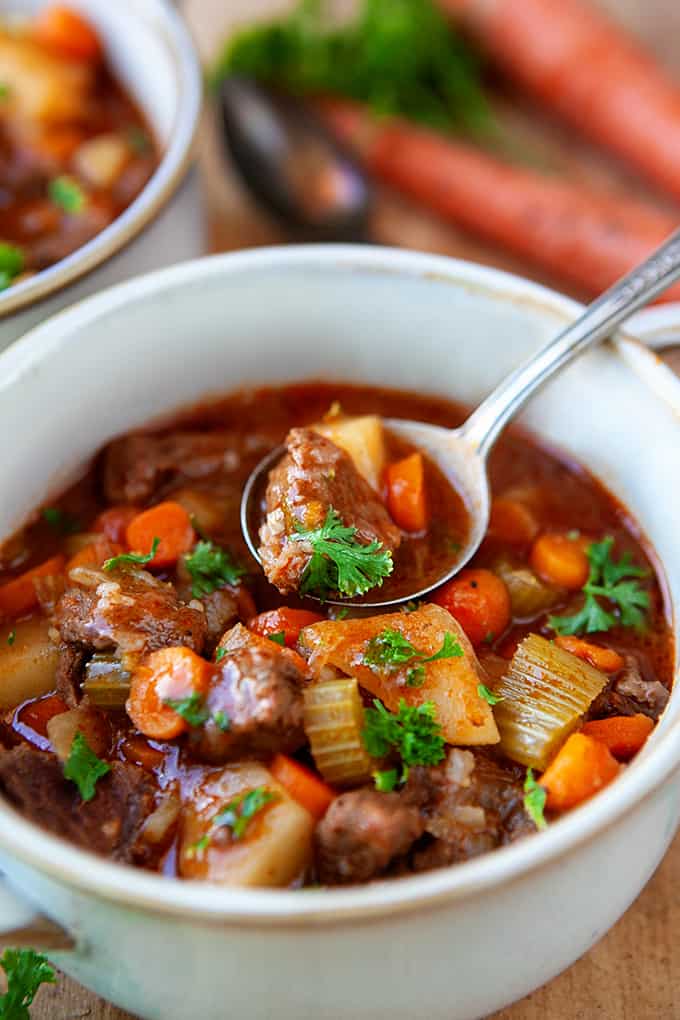 How Can I Make Beef Stew Without a Pressure Cooker?
While an instant pot does dramatically cut down the cooking time for beef stew, it's definitely possible to make a great stew without a pressure cooker. In fact, you have a couple of options. Just allow yourself more time, like a full afternoon or day.
First, you can follow the recipe below, but instead of using a pressure cooker, you can use a slow cooker instead. You'll cook it on low heat for 7 hours, or high heat for 4 hours.
Alternatively, you can do it in a heavy pot or dutch oven on the stovetop. After browning the beef, add the wine, Worcestershire sauce, tomato juice, and beef broth and simmer covered for about an hour and a half, or until the beef is very tender. Add the onions, carrots, celery, and simmer covered for another 10 minutes. Then, add the potatoes and simmer covered for another 30 minutes, or until veggies are tender.
Lastly, you can use an oven method. Do as above for the stovetop method but place the meat into a 350 F oven to braise for about 2 hours. Then add your vegetables and return to the oven covered and cook for at least one hour more or until vegetables and meat are fork tender.
It's definitely more of a time commitment without the pressure cooker, but you'll still have a tasty stew and more of the wonderous aromas will fill your home with longer cooking methods.
A stew like this is a great make-ahead dinner for company or families. It only improves with age, so make your stew the day before serving, refrigerate and reheat. This allows the flavors to meld, deepen and taste so much better.
Other Instant Pot Favorites
Using the Instant Pot or pressure cooker can be so easy to get dinner on the table quickly. Here a few more recipes for you to enjoy!
Buffalo Chicken Sliders (Instant Pot)
Peanut Butter Chicken Curry (Instant Pot)
Instant Pot Risotto (Ham and Asparagus)
Slow Cooker Favorites
The Slow Cooker has been around for years and we have thoroughly loved using ours to make these fantastic recipes. Here are a few of them for you to enjoy! These ones are our favorites!!
Healthy Slow Cooker Butter Chicken
Pin it HERE!!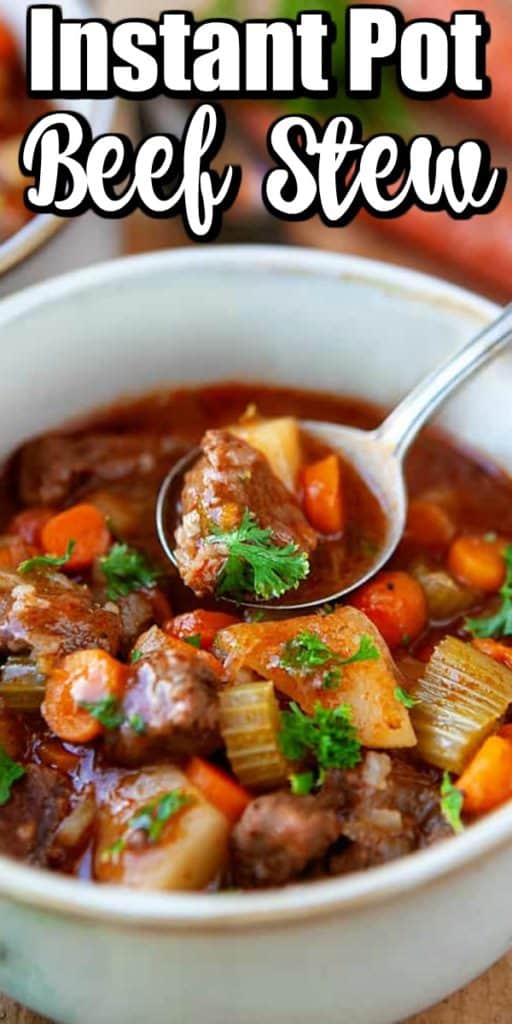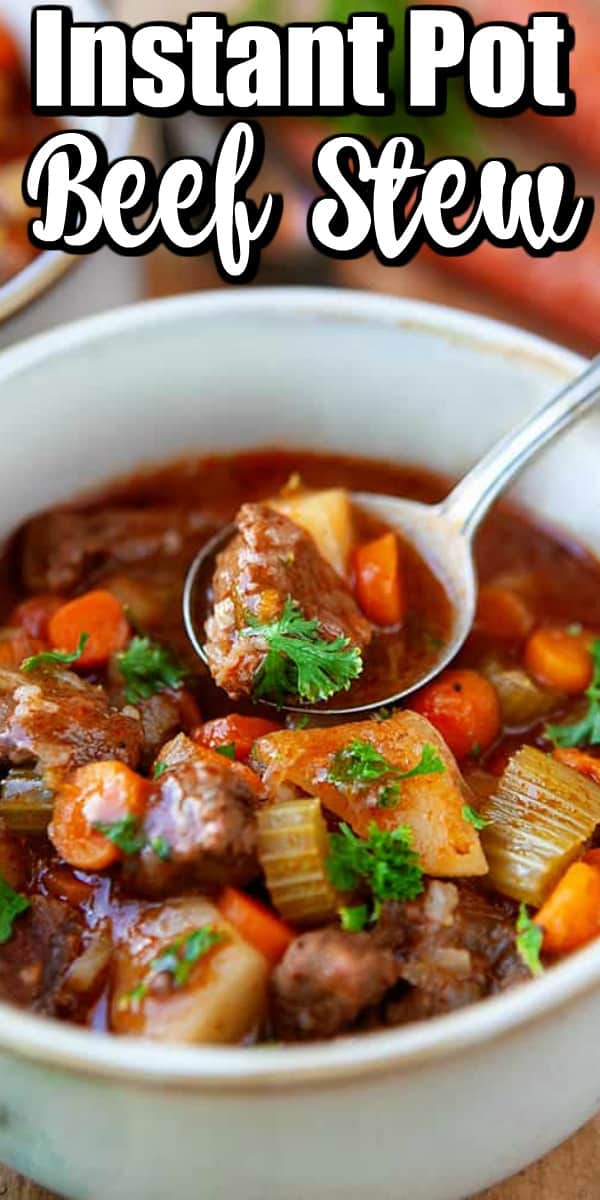 Pin it HERE!!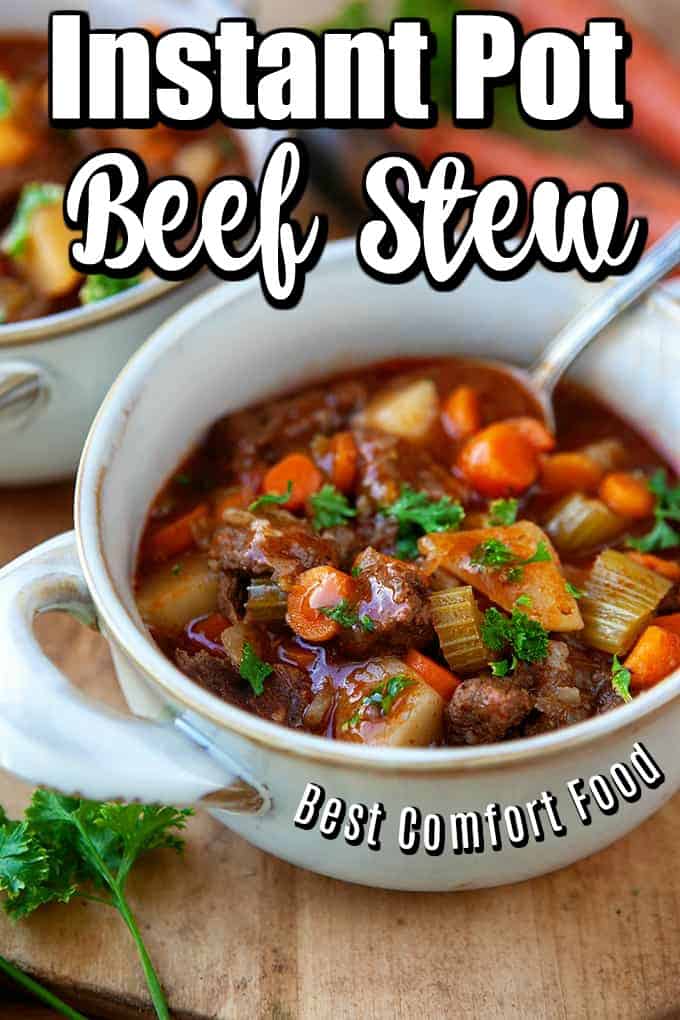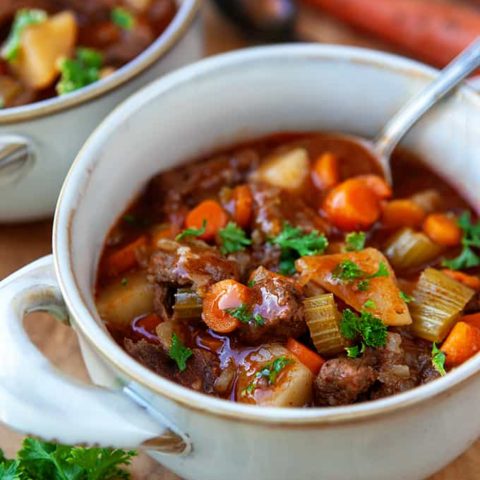 Instant Pot Beef Stew Recipe
Yield: 6 Servings
Prep Time: 15 minutes
Cook Time: 45 minutes
Additional Time: 15 minutes
Total Time: 1 hour 15 minutes
This is the best Instant Pot Beef Stew Recipe around! It's easy, healthy, and exceptionally delicious. With tender beef, a flavorful broth, and hearty veggies and potatoes, it's going to be a family favorite!
Ingredients
1 tablespoon olive oil
2 lbs beef stew meat (chuck roast) in bite size pieces
1 teaspoon salt
1 teaspoon pepper
1 teaspoon Italian seasoning
2 tablespoons Worcestershire Sauce
2 tablespoons red wine
3 cloves garlic, minced
1 large onion, chopped
6 carrots, peeled and chopped
6 stalks celery, chopped
1 lb potatoes, peeled and cubed
2 1/2 cups beef broth
2 cans tomato juice (10 ounces)
2 tablespoons cornstarch
2 tablespoons water
fresh parsley for serving
Instructions
Set the instant pot to saute and add the olive oil. When the oil is hot, add the meat and season with salt, pepper, and Italian seasoning. Cook the meat until browned on all sides.
Stir in the red wine and Worcestershire sauce, scraping the bottom to loosen any brown bits. Add the garlic, onion, celery, carrots and potatoes, broth, and tomato juice.
Secure lid and steam valve. Cook on high pressure for 35 minutes, then allow 10 minutes of natural pressure release before doing a quick release.
Whisk together the water and cornstarch. Stir mixture into hot stew until it thickens slightly. Serve with fresh parsley.
Notes
To make this in a slow cooker, cook on high heat for 4 hours or low heat for 7 to 8 hours.
Nutrition Information:
Yield: 6
Serving Size: 1
Amount Per Serving:
Calories: 326
Total Fat: 8g
Saturated Fat: 3g
Trans Fat: 0g
Unsaturated Fat: 5g
Cholesterol: 51mg
Sodium: 1155mg
Carbohydrates: 43g
Fiber: 6g
Sugar: 10g
Protein: 22g
Recipe calculation was provided by Nutritionix and is an estimation only. If you need nutritional calculations for medical reasons, please use a source that you trust.