Canadian Beer Cheese Soup
I am guest posting my Canadian Beer Cheese Soup on an amazing site called Cooking Around The World. I met Chris through a Facebook group that is so very helpful for bloggers like us to communicate and support one another. Chris lives in Germany, how exciting to be writing a post for him!! When Chris asked me if I could guest post and to do something Canadian I wasn't sure what to do.
There are a few Canadian recipes but not like other countries that have a huge cuisine attached to them. We are a melting pot here so our cuisine is very diverse, in my opinion. We have a lot of French Canadian recipes but not much out west where I live. We are influenced more by Texas as we have loads of cowboys and The Greatest Outdoor Show on Earth, the Calgary Stampede.
Well I didn't want to go there as that is not what you really think of when you think of Canadian food. The Caesar cocktail was invented here in Calgary but I had done a lot on that subject already.
Hmmm, where else to go??? I wasn't quite sure then I thought of something I have never made before and thought I would give it a whirl, Canadian Beer Cheese Soup. I selected a lovely red amber ale from a brewery called Alexander Keith's. We do have a great selection of beer up here in Canada. I think beer is pretty Canadian!! It goes nicely with our sports of hockey and football watching!!
I have to say this soup turned out so magnificent, thick and creamy with an incredible taste. We all loved it!! And I sure hope you enjoy it too!!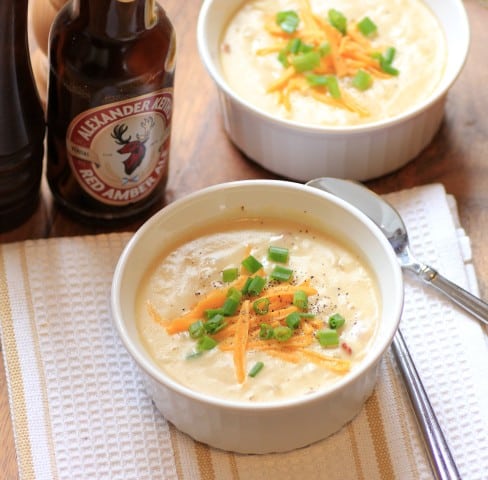 For this amazing soup recipe come on over to Cooking Around the World.
Thanks again Chris for allowing me to be there. Cheers, Tara