We are at bread baking again, or should I say Ken is. He is the bread guy. Is it a manly thing? I think so. He loves getting in there and creating gorgeous bread from a lump of flour and water. It is rewarding. I chose Parker House Rolls for him to do. He always wants to get too adventurous, which is fine but the theme this week is Thanksgiving Dinner Bread. Do you really have time to do an elaborate bread for Thanksgiving, I think not. So a simple yet delicious pan of Parker House Rolls fits the bill for me. You can have these made and in the fridge up to 6 hours before serving. When the turkey comes out to rest, in goes the rolls to bake. Couldn't be easier.
Today's host is Holly from A Baker's House and a big thank you goes out to her for all her hard work!!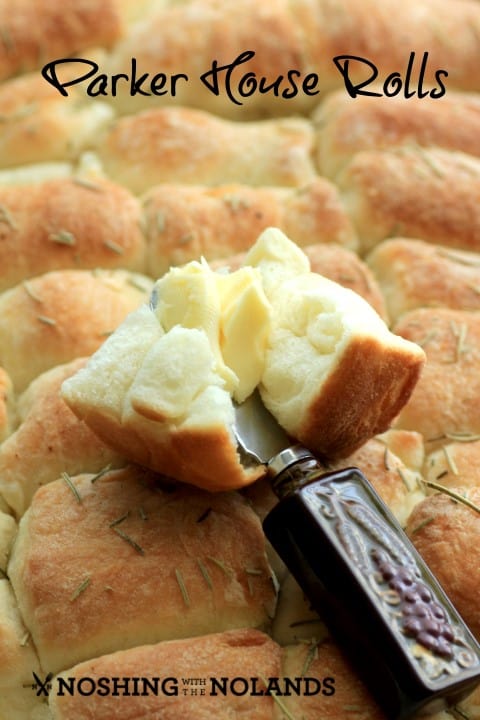 I love fresh bread, there is nothing homier than seeing it rising and then the aroma filling the house when it is baking. We did a little twist on traditional Parker House Rolls by adding just a bit more flavor. Instead of just plain milk, Ken used buttermilk.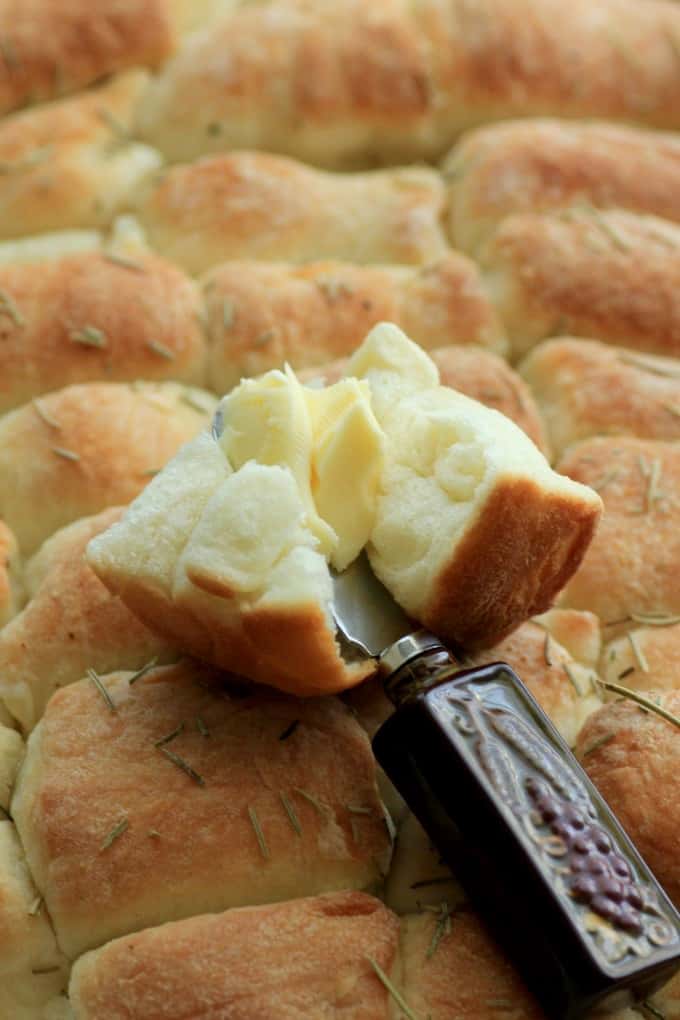 Also after buttering the tops we added a sprinkling of garlic salt and rosemary. This pan of buns you would be proud to present to your family and friends at the Thanksgiving table.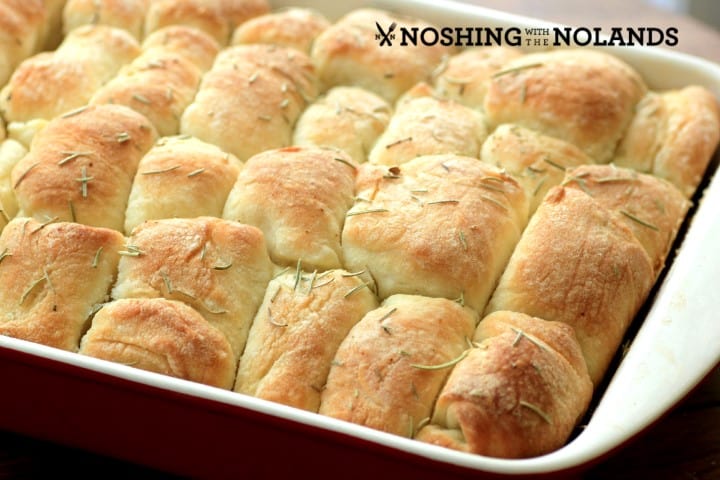 Where did Parker House Rolls come from? Well, according to Wikipedia they were invented at the Parker House Hotel in Boston and are still made there to this day. An angry chef, during the 1870s, threw unfinished dough in the oven giving it a dented look and that is where they were born. They are made by flattening an oval piece of dough and folding it in half. They are usually quite soft and buttery and I thought would be perfect for Thanksgiving.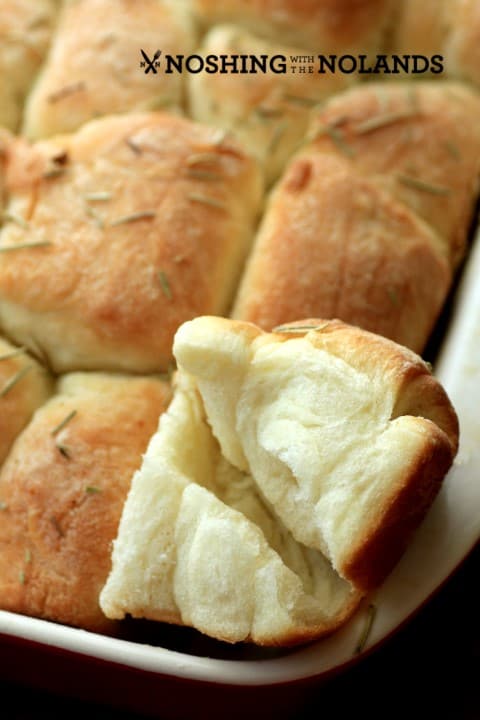 Yield: 36
Parker House Rolls #BreadBakers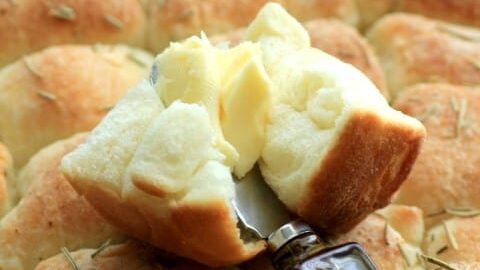 A buttery Parker House roll with a twist of buttermilk, garlic salt and rosemary.
Ingredients
1 envelope active dry yeast
1 cup buttermilk
1/4 cup vegetable shortening
3 Tbsp. sugar
1 1/2 tsp. Kosher salt
2 large eggs, room temperature
4 1/2 cups flour
1/4 cup unsalted butter or more for topping
Garlic salt
Rosemary, crushed slightly
Instructions
Whisk together the yeast and a 1/4 cup of warm water in a small bowl. Set aside to stand for 5 min.
Heat the buttermilk in a small pan until warm. Mix together the shortening, sugar and salt in a bowl of a standup mixer. Add the warm milk. Whisk together breaking up the shortening if it is not melting. Whisk in the yeast and the eggs.
Change the attachment to a dough hook and start to add the flour. Continue until a dough forms. Continue to rotate dough for one minute making sure all the flour is incorporated. Remove dough to a floured surface and knead for 4-5 min. Place dough in a oiled bowl and turn to coat all sides. Cover loosely with plastic wrap and allow to rise until doubled in a warm place.
Melt the butter and brush some of it into a 9x13" pan. Punch dough down. Divide dough into four equal portions. Working with one portion at a time on a lightly floured surface, roll out to 12x6 inches. Cut into 3, 2" strips and then each strip into 3, 4x2" rectangles. Brush half the rectangle with butter and fold the unbuttered side over. Allow it to overhang a 1/4". Place the rolls in the prepared baking dish, side by each creating a long row. Continue with the remaining dough creating four rows of rolls.
Brush the tops with the butter. Cover loosely with plastic wrap and refrigerate for 30 min. or as long as 6 hours. Bake the rolls in a preheated 350F oven for 25-35 min. Remove from oven and brush the tops again with butter, sprinkle on garlic salt and rosemary. Serve warm.
The recipe adapted from Bon Appetit.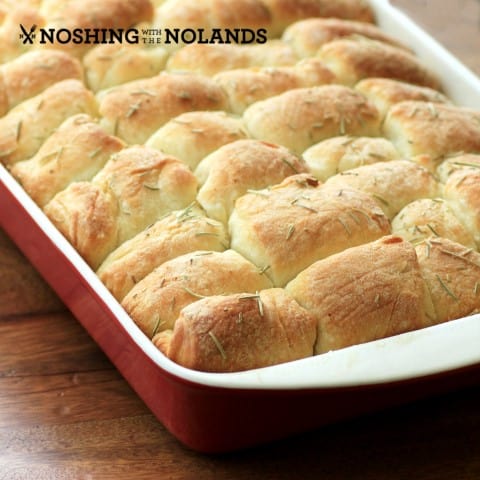 Look at all the wonderful bread for everyone for the holidays, enjoy!!
We take turns hosting each month and choosing the theme/ingredient.
If you are a food blogger and would like to join us, just send Stacy an email with your blog URL to foodlustpeoplelove@gmail.com.