I adore a great meal with the family. Something special to bring everyone together. This Rosemary Mustard Loin of Pork is something very divine. It is also quite easy to make, don't be intimidated by pork and don't overcook it. Buy a good thermometer and cook to 145F, even to 140F, this will get you a slightly pink roast and that is fine too. The key though is that you have to let it rest 10-15 min.afterwards. It will continue to cook and also keep the juices in the roast. Giving you a succulent piece of meat and never a dry, unpalatable finished product.
The sauce with this roast is wonderful too, not only is the roast generously rubbed with mustard and rosemary but those ingredients are also included in the sauce. This gives you an abundance of flavors. Another pork dinner show stopper is our Pork Tenderloin in Puff Pastry, a must-try.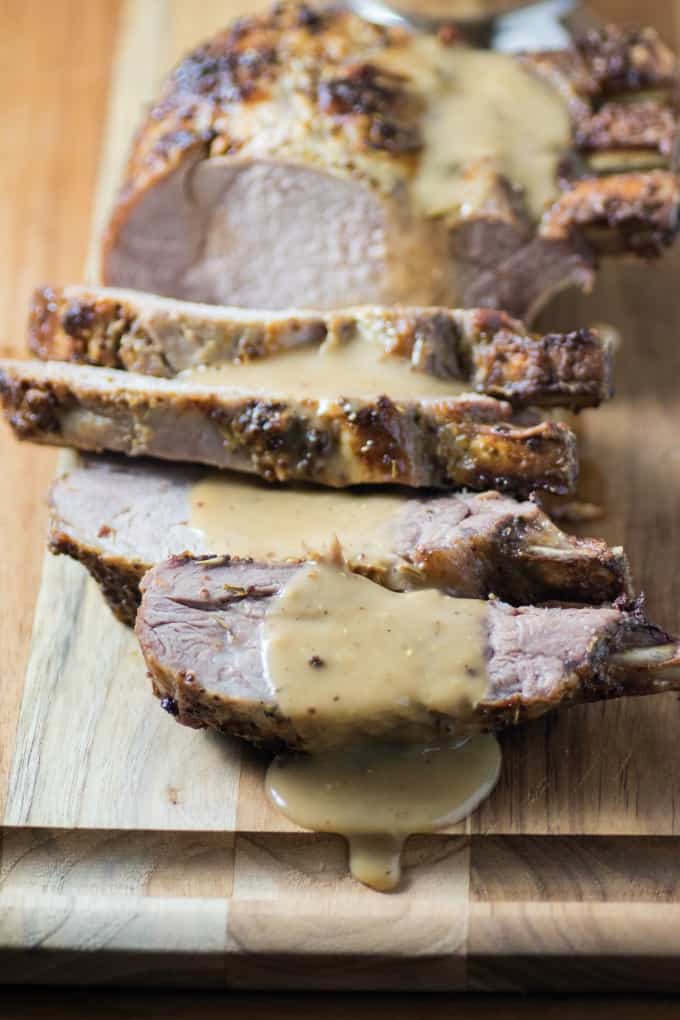 Are you afraid to cook pork? Find it dry and not enjoyable, then you are probably over cooking it. Plus a roast with the bones left in I find cooks so much nicer and has more flavor too. If you don't readily see a roast like this in your grocery store ask the butcher. They are there to help you.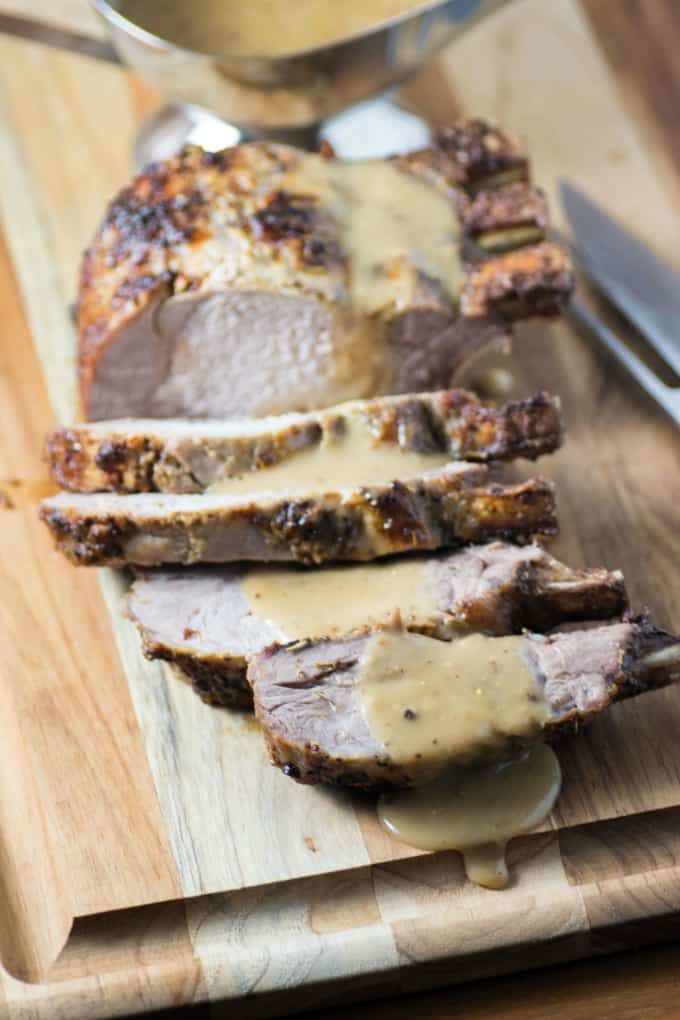 For me this screams the best family dinner or one that you would be proud to serve to company. Serving this up with some garlic mashed potatoes and gorgeous roasted veggies would round out the meal perfectly.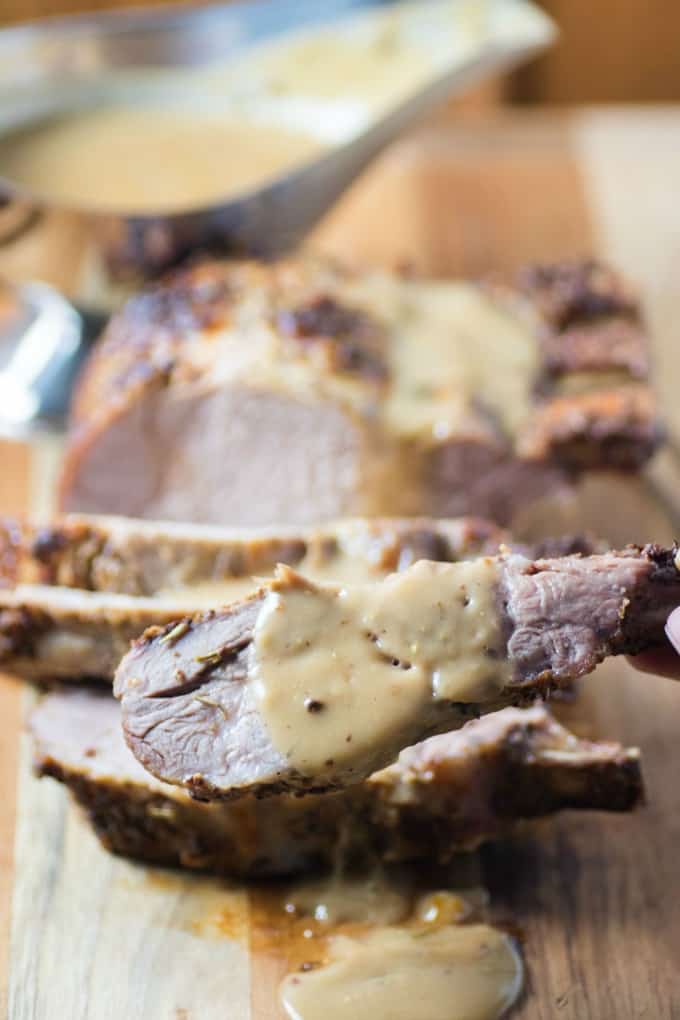 See how juicy that is, it is making me drool thinking back to how good this roast was. I will have to make it again soon and I hope you buy the ingredients and try it and tell me what you think.
The Recipe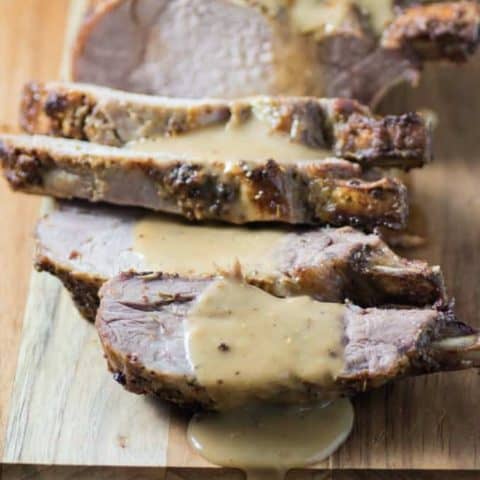 Rosemary Mustard Loin of Pork
Yield: 4-6 servings
Prep Time: 20 minutes
Cook Time: 1 hour
Total Time: 1 hour 20 minutes
This gorgeous Rosemary Mustard Loin of Pork is company worthy but easy enough for your family to enjoy too.
Ingredients
3 lbs. loin of pork, frenched
1 1/2 Tbsp. olive oil
3 tsp. Dijon mustard
3 tsp. whole grain mustard
1 tsp. rosemary, crushed
1 1/2 tsp. Kosher salt
1/2 tsp. ground black pepper
Sauce
5 Tbsp. flour
1 cup white wine
2-3 cups chicken stock
2 tsp. Dijon mustard
2 tsp. grainy mustard
1 tsp. rosemary, crushed
Instructions
Preheat oven to 400F. Let pork stand at room temperature for 30 minutes.
Mix together the olive oil, mustards, rosemary, salt and pepper. Rub onto the pork and then place in a cast iron pan. Roast for 60 minutes or until thermometer reads 145F. Remove from the pan and let rest on a cutting board for 10-15 in. tented with foil. While the roast is resting make the sauce. In the cast iron pan remove all but 1/4 cup of drippings. Over medium heat whisk in the flour and let cook for 1 minute. Add in the white wine and let cook and bubble. Add a little bit of the chicken stock and then transfer to a larger pot if needed to add 2 cups of the chicken stock. Whisk in the mustards and rosemary. Adjust seasoning if needed. Let simmer for 5 min. until reduced and thickened. Add in more chicken stock if you would like it thinner than a gravy.
Carve the pork loin in between the bones and serve with the sauce.