Slow Roasted Potatoes Turnips & Apples
Fall and winter is upon us soon and with that some wonderful homey recipes are what you find comforting. These Slow Roasted Potatoes Turnips & Apples are perfect with a pork roast or poultry. While slowly roasting in the oven they fill the house with wonderful aromas of cinnamon, fruits and veggies. Using Little Potato Company Creamers can't be easier as they come pre-washed and ready to go. I just sliced the large ones in half and tossed them in. I love using these little potatoes all the time for many of my dishes.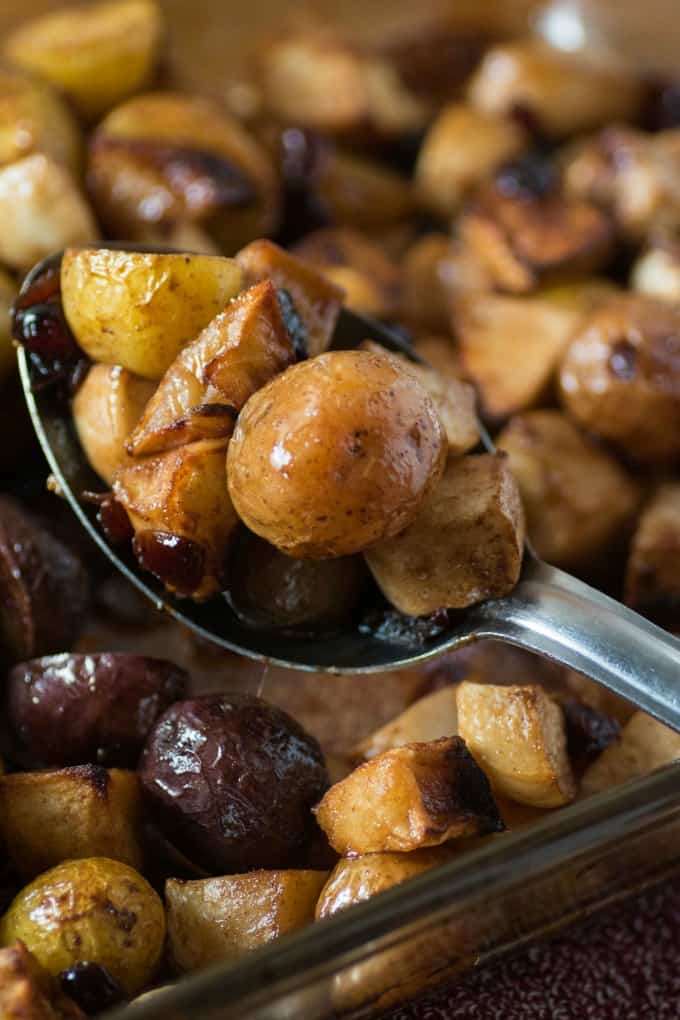 This recipe has butter and brown sugar to sweeten everything up, along with the lovely cinnamon to give it extra warmth. Little potatoes, turnips, apples and cranberries all go so well together.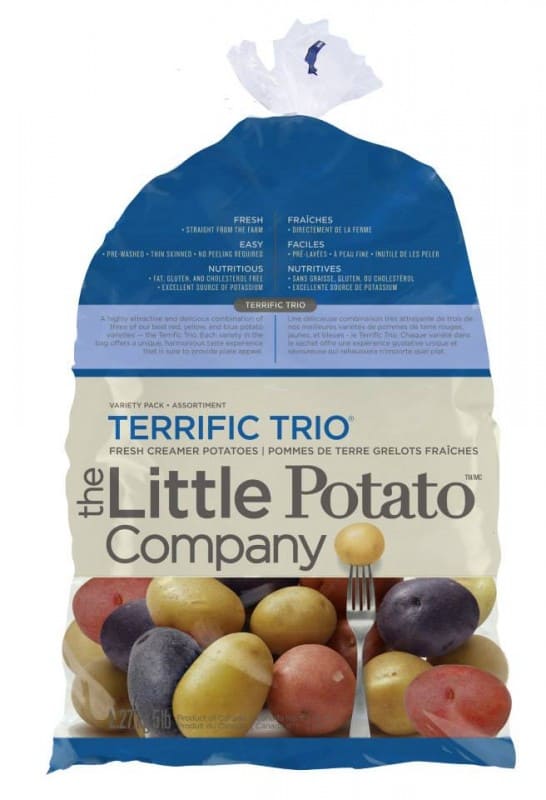 For this recipe I used Terrific Trio which adds some lovely variations of colours. This recipe and many others would be fantastic with any of the Little Potato Company's varietals. Like Baby Boomers, Blushing Belles, Little Charmers, Fingerlings, Something Blue, Dynamic Duo, Chilean Splash and the Terrific Trio. Each one having their own wonderful plate appeal. Also, giving you a blast of 19% potassium per serving!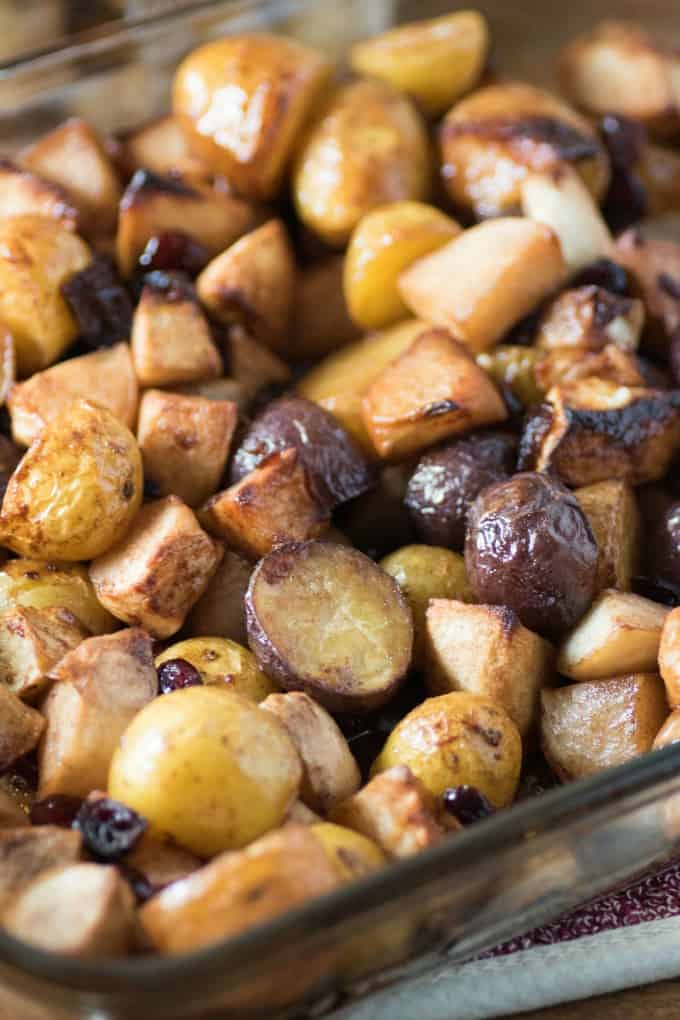 You will be happy to know that little potatoes are naturally fat-free, sodium-free, cholesterol-free, gluten-free and only 120 calories per serving. Plus, the added bonus of essential vitamins and minerals like potassium, iron, vitamin C and also fiber.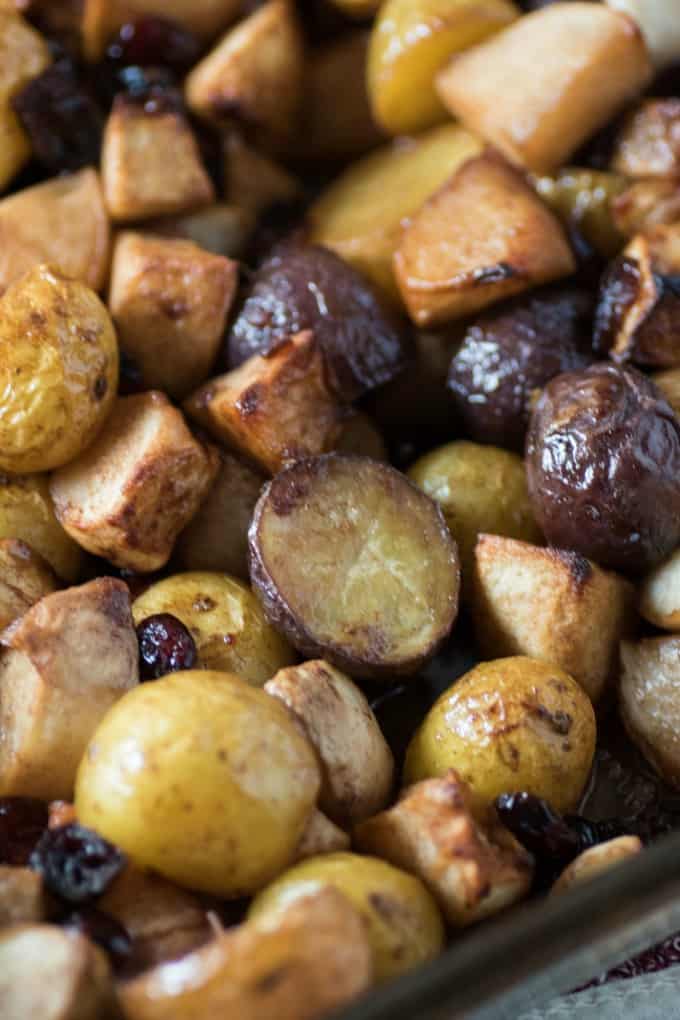 The medley of vegetables and fruit in this recipe is delicious. Drizzle on a bit of gravy and this would be even more heavenly. This dish is completely vegetarian and an entree onto itself.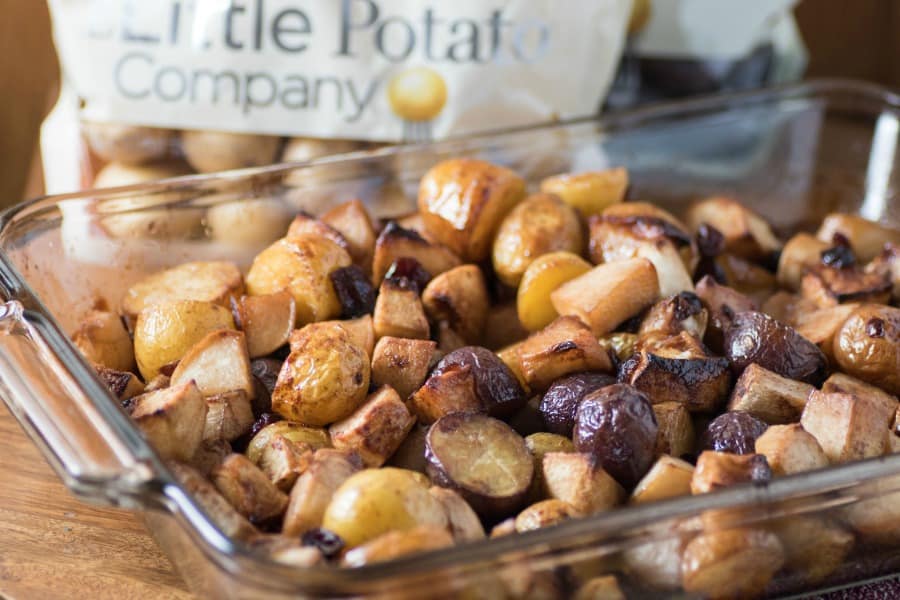 The first 45 min. they are roasted slow and low at 350F and then I increased the oven to 400F for the final 45 min. so that they would get that lovely caramelization.
The Recipe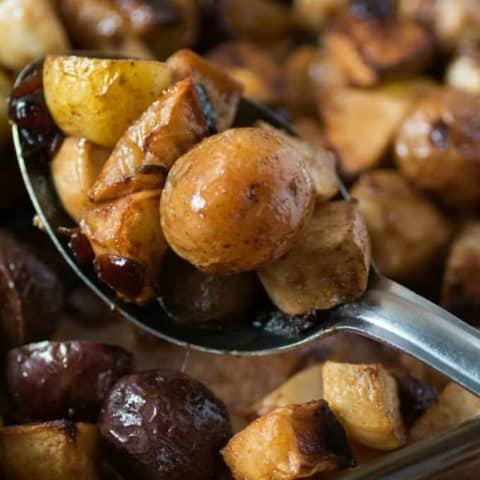 Slow Roasted Potatoes Turnips & Apples
Yield: 6-7 servings
Prep Time: 20 minutes
Cook Time: 1 hour 30 minutes
Total Time: 1 hour 50 minutes
This medley of vegetables and fruit is perfect for your fall and winter menus. The Slow Roasted Potatoes Turnip and Apples fill your home with wonderful aromas.
Ingredients
3 1/2 cups peeled turnips, large diced
1 1/2 lbs. Terrific Trio Little Potato Company potatoes, large ones cut in half
2 cups peeled Granny Smith apples, large diced
1 Tbsp. lemon juice
3/4 cup dried cranberries
Salt to taste
1/2 cup dark brown sugar
1 tsp. cinnamon
4 Tbsp. butter
Cooking spray
Instructions
Preheat oven to 350F. Spray a 9x13" casserole dish with cooking spray and set aside. Mix the brown sugar with the cinnamon and set aside.
Toss the cut and peeled apples with the lemon juice. Add them along with the potatoes, turnip and cranberries to the prepared dish. Salt to taste.
Sprinkle the top with the brown sugar mixture and dot on the butter. Roast uncovered in the oven for 45 min. and then stir.
Increase temperature to 400F and roast another 45 min. stirring every 15 min. until lovely and caramelized and veggies are tender.
Recipe adapted from
My Recipes
.