Ken and Amber came through for me on this recipe, Vanilla Bean Creme Brulee. I have been fighting a cold for the past few days and have been a bit under the weather. Ken is the master Creme Brulee maker anyway, he has always made it. This is Amber's favorite dessert! If it is on a menu she orders it 100% of the time. So when Ken was making this wonderful dessert, Amber happily jumped in to help.
The theme this week for #SundaySupper is Beantastic and hosted by the lovely Tammi of Momma's Meals. We love beans here but the second I saw that you could use Vanilla Bean as one of the options I went to the sweet side and landed on this Vanilla Bean Creme Brulee. Rich, creamy, decadent, with that over the top crunchy sugar topping. It looks so difficult to make, but is it?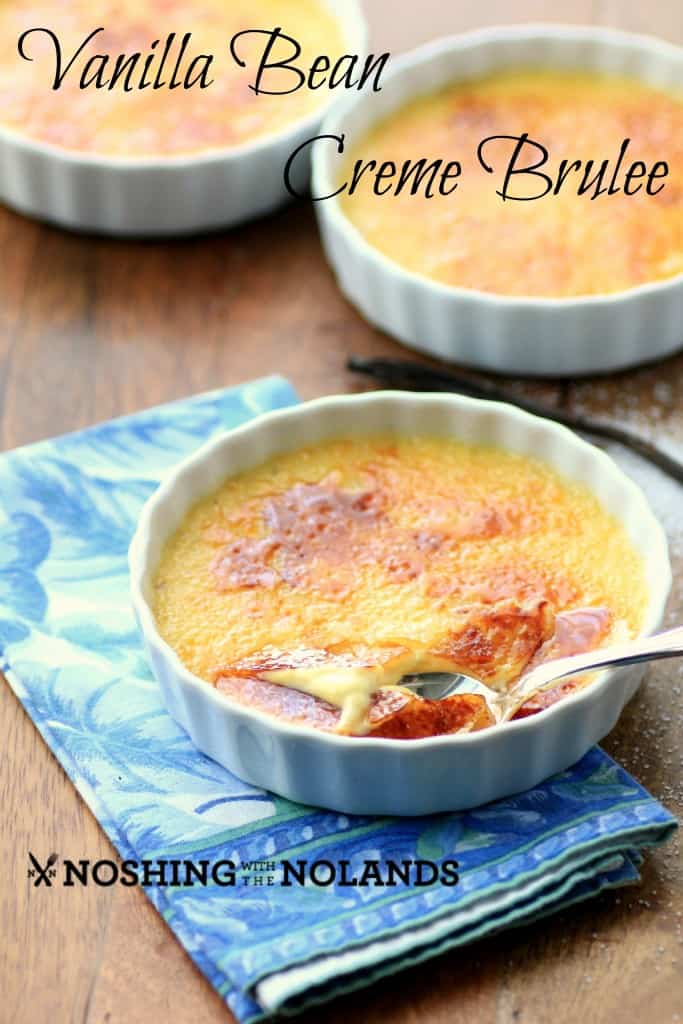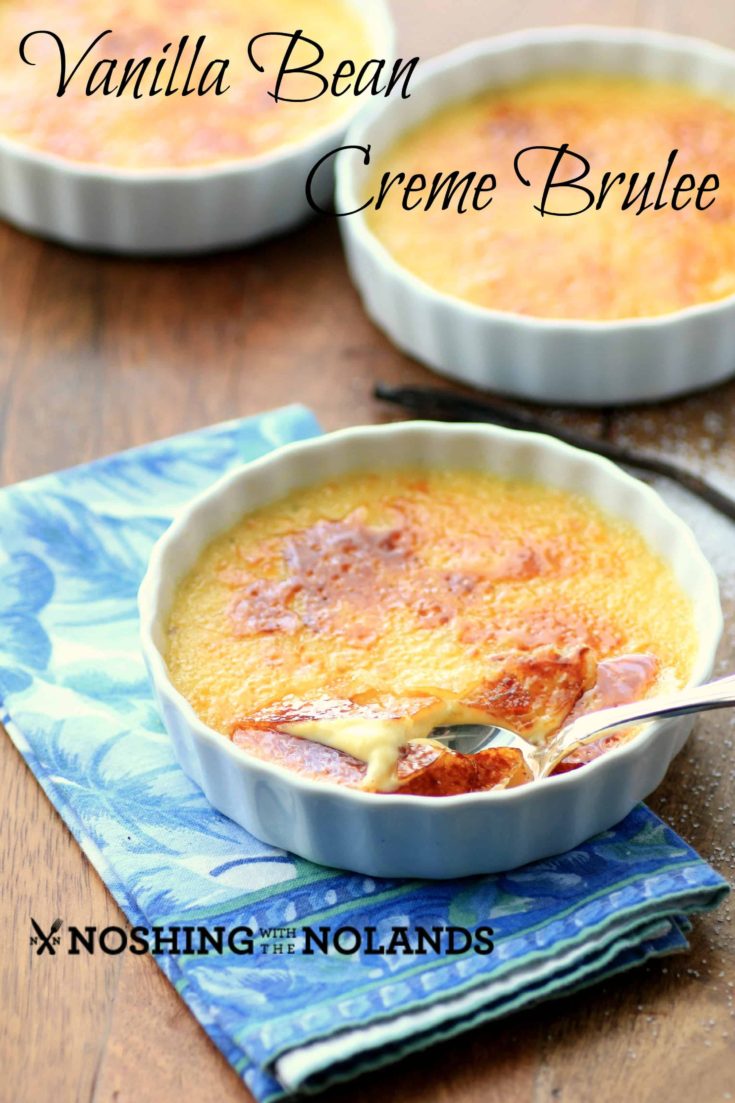 No, it is very simple to make and just requires the right tools and something that you may not be familiar with, a hot water bath. Which is just water surrounding the containers while it cooks in the oven. The creamy filling is simple to make, it basically is a pudding which cooks in the oven.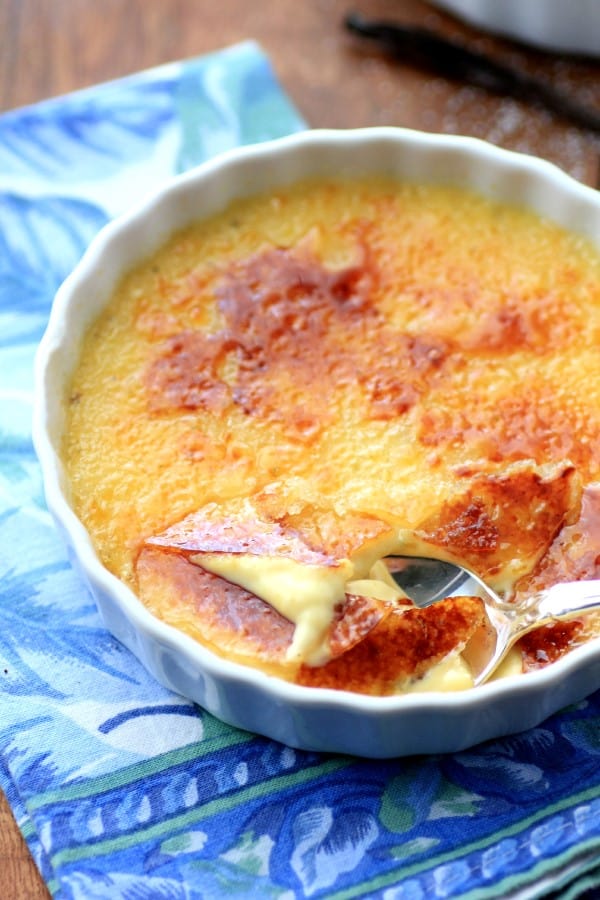 The sugary topping is simple also, you just need a blow torch, grill lighter or a broiler. The Kitchn explains all three methods. The one that has been used in our home has been the blow torch exclusively. Alton Brown in his recipe, gives some very wise Propane Gas Torch Safety HERE! This was the recipe we also adapted from.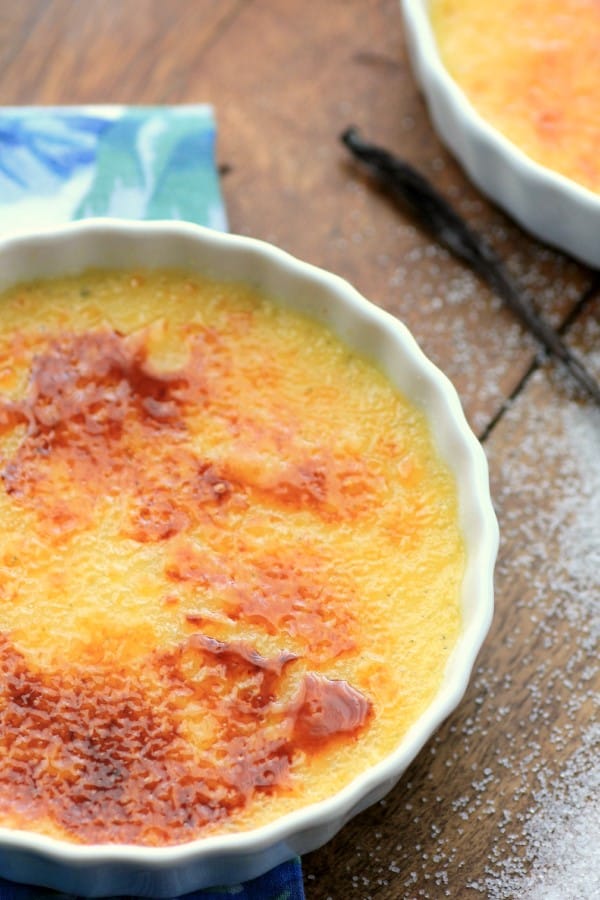 I love the pretty little flecks of vanilla bean in the deliciously creamy custard!!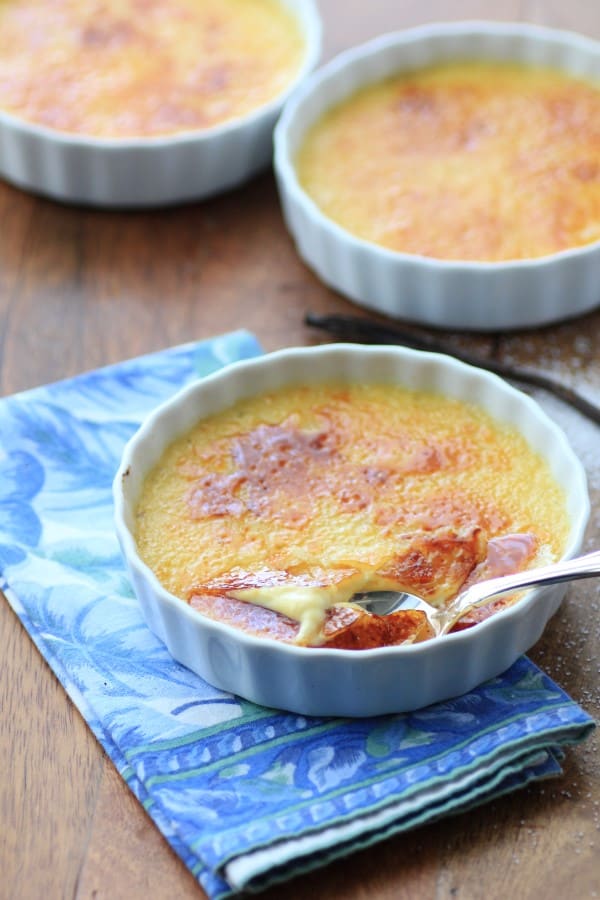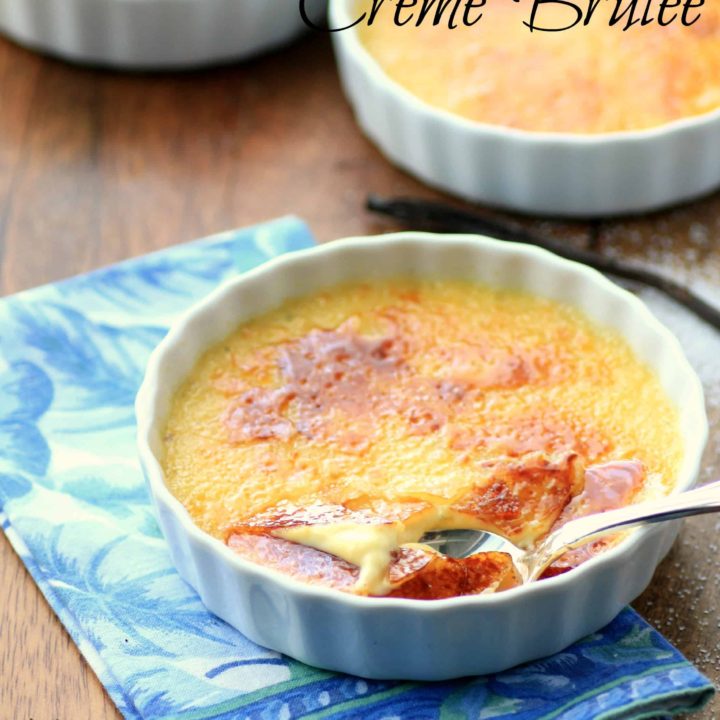 Vanilla Bean Creme Brulee #SundaySupper
Yield: 4 servings
Prep Time: 15 minutes
Cook Time: 1 hour
Total Time: 1 hour 15 minutes
A creamy delicious Creme Brulee infused with vanilla bean.
Ingredients
2 cup heavy cream
1 vanilla bean, split and scraped
1 tsp. vanilla extract
1/2 cup sugar, divided
3 large egg yolks
1 quart hot water
Instructions
Pour the cream into a small saucepan. Add the vanilla, vanilla bean and seeds and bring to a boil over medium heat. Remove from heat and let sit for 15 min. to cool and infuse. Remove the vanilla bean and discard.
Preheat oven to 325 F. In a medium bowl, whisk together the eggs and 1/4 cup of sugar. Continue to whisk until eggs are light in color. Add the cream a little at a time, stirring now with a wooden spoon continuously. Pour the liquid into four shallow ramekins and place on a rimmed cookie sheet. Pour 1 quart or more of hot water into the pan and allow it to come up to half way up the ramekin. Bake for 40 to 45 min. or until the creme brulee is set, it should still be wobbly in the center. Remove the ramekins and let cool. Refrigerate until ready to serve, 2 hours or up to 3 days.
When ready to serve, remove ramekins from refrigerator 30 min. prior. Cover the tops of the brulee with the remaining 1/4 cup of sugar. Light a torch, with the flame not too close melt the sugar to form a hard crust on top. Let cool for 5 min. before serving.
Recipe adapted from Alton Brown.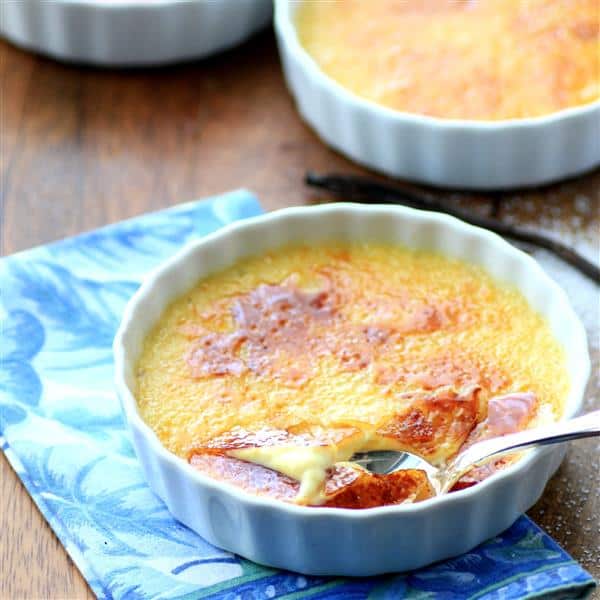 Now onto some serious bean dishes!! I can't wait to see them all!
Beantastic Beginners:
Bean-a-rific Soups and Stews:
Bean-a-licious Sides:
Incredi-bean Main Meals:
Amaze-beans Sweet Endings: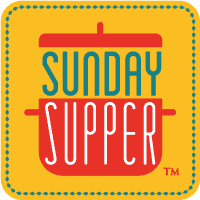 Join the #SundaySupper conversation on twitter on Sunday! We tweet throughout the day and share recipes from all over the world. Our weekly chat starts at 7:00 pm ET. Follow the #SundaySupper hashtag and remember to include it in your tweets to join in the chat. To get more great Sunday Supper Recipes, visit our website or check out our Pinterest board.Would you like to join the Sunday Supper Movement? It's easy. You can sign up by clicking here: Sunday Supper Movement.