I have Susie here today from Simply Sated. Susie does some really amazing recipes and photography. I am just loving her work!! I know Susie from Enjoying Yummy Recipes and love to share her stuff. Today she has brought us a gorgeous Breakfast Parfaits that I have to make very soon. They are stunning, don't you agree!!
Breakfast Parfaits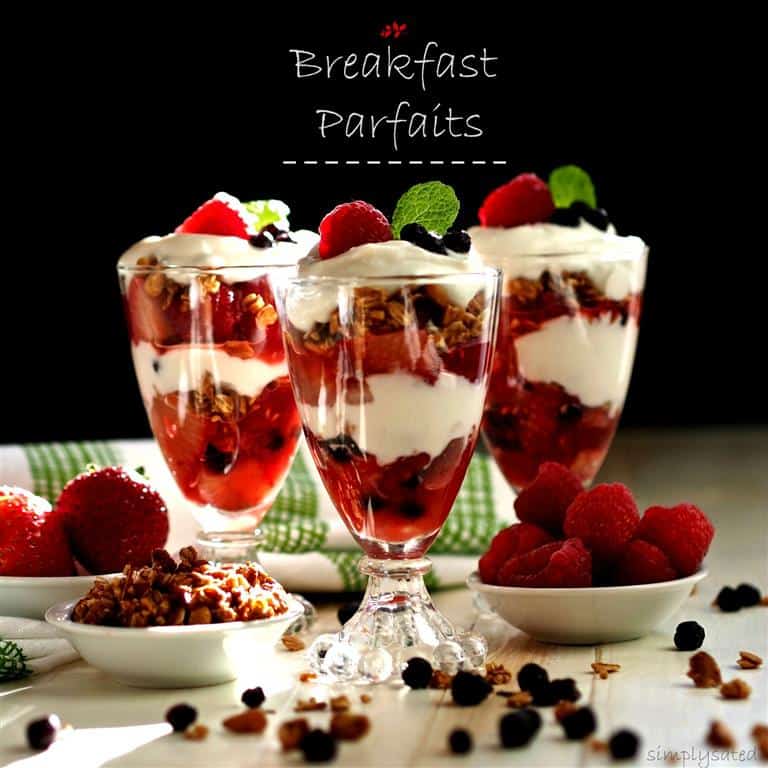 Hello! I'm so happy Tara asked me to do a guest post for Noshing With the Noland's and am thrilled to bring you one of my favorite recipes today. Thankfully, with our tummies full (and extended) this dish has arrived at the right time to help reverse some of our holiday indulgences.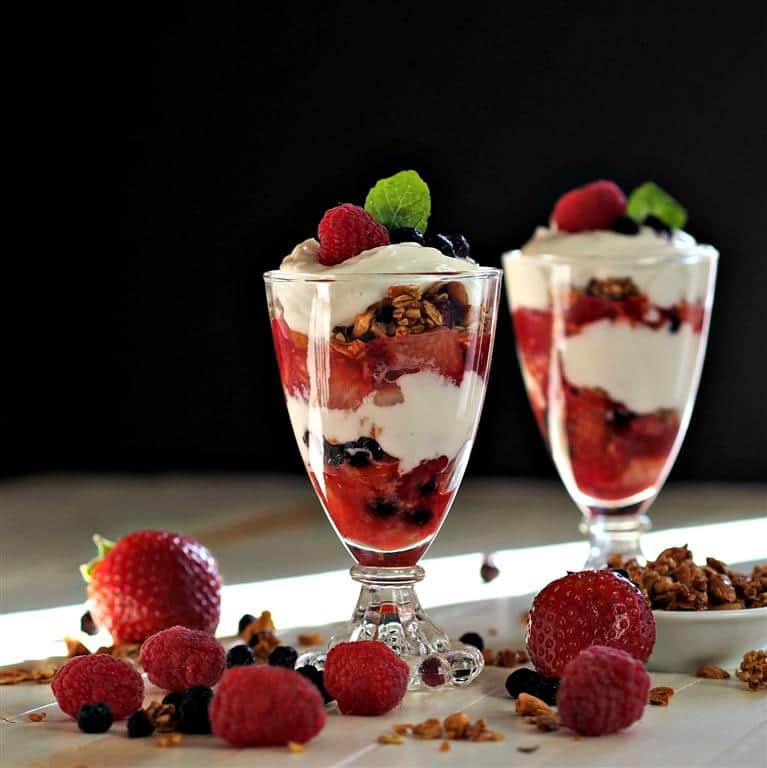 Why didn't someone let me know? Why didn't someone shout from it from the rooftops? Breakfast Parfaits are phenomenally good!
I hate arriving late to the breakfast parfait party, but that is exactly what I've done. Since no one in my life told me how good Breakfast Parfaits are, I could blame them, but that just wouldn't be right. I take total responsibility. Honestly, I didn't think yogurt, strawberries and granola for breakfast could satisfy my breakfast needs, but I'm telling you now; I was wrong!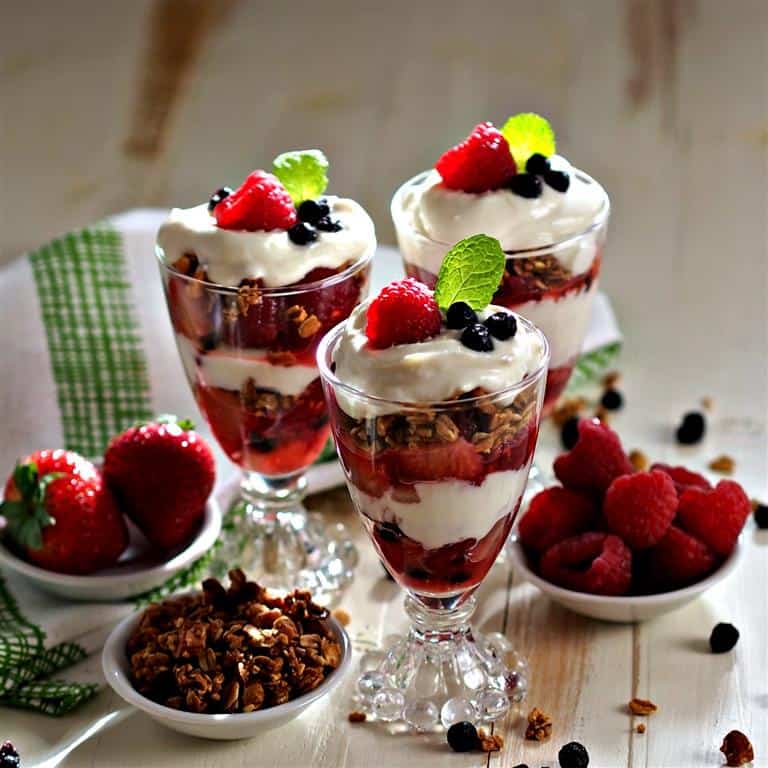 Although I am just now experiencing my Breakfast Parfaits epiphany, the timing could not be better. The New Year brings with it time for reflection, but sadly, it also sheds light on the extra poundage I need to shed and eating a breakfast parfait for one of my daily meals just might help.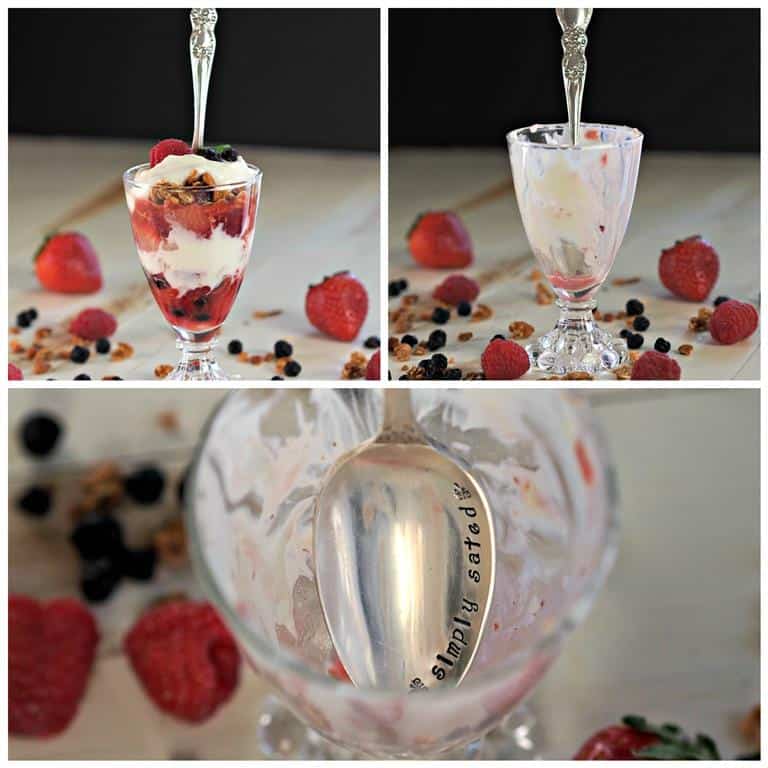 Let's deconstruct these beauties.
First layer: strawberries, raspberries & organic dried blueberries mixed with lemon juice & agave syrup.
Second layer: rolled oats, steel-cut oats, chopped roasted almond, pine nuts, maple syrup & a pinch of coarse salt.
Third layer: Greek Yogurt
Repeat the layers then top it off with a fresh raspberry, dried blueberries and a tiny mint leaf.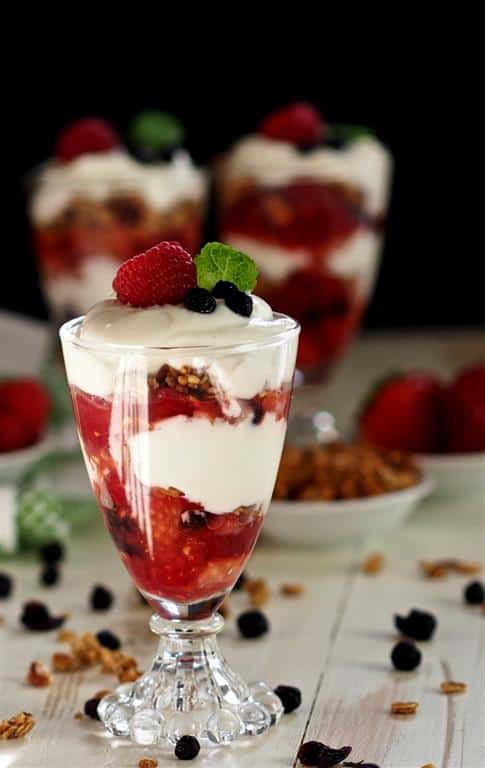 That's is all as far as ingredients, but that is not all as far as taste. It is creamy, sweet, tart, crunchy and minty all in one bite. It is Breakfast Parfait and it is superb!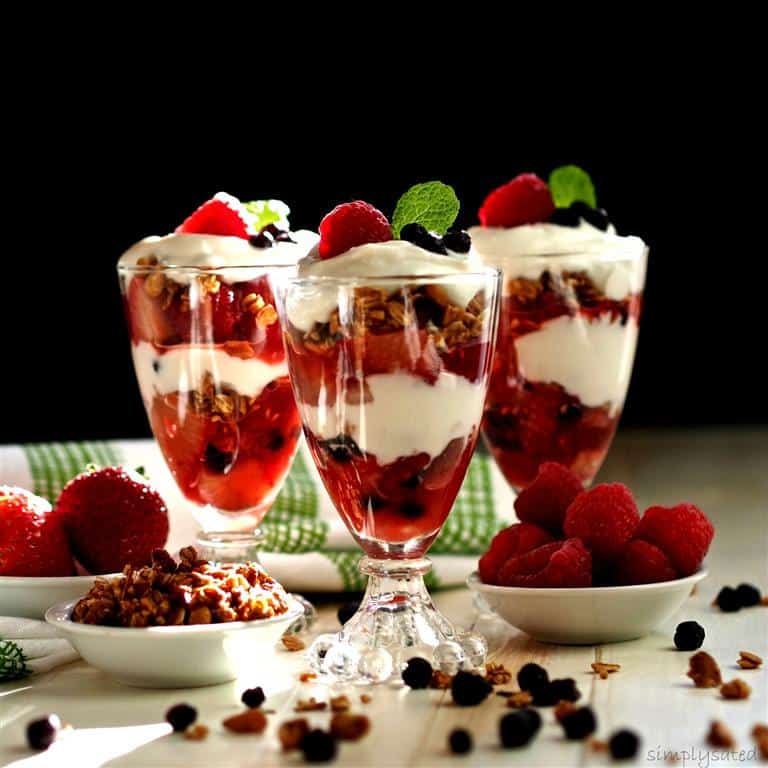 I don't want you to be left out of any party, so today I'm telling you as loudly as I can,
"BREAKFAST PARFAITS TASTE PHENOMENALLY GOOD!"
Make yours today and enjoy!
Recipe:
4 servings
cook time: 15 minutes
total time: 30 minutes
Ingredients
For the Granola:
¼ cup steel-cut oats (oatmeal)
Almonds, roasted & chopped (I used Blue Diamond Oven Roasted Almonds)
¼ pine nuts – your favorite small nut or seed can be substituted
¼ cup regular rolled oats (oatmeal)
½ cup 100% real maple syrup or Agave Nectar
1/8-1/4 teaspoon coarse salt
——————-
For the Fruit:
1-cup fresh strawberries, washed & patted dry, stems removed & halved or quartered
½ cup fresh raspberries, washed & patted dry
½ cup dried blueberries. I prefer Trader Joe's Organic Freeze-Dried Blueberries
1-tablespoon fresh lemon juice
¼ cup powdered sugar or 2 tablespoons Agave Nectar
Vanilla Greek yogurt – I used Chobani Greek Yogurt. (Regular yogurt can be substituted.
Garnish: Mint leaves
Directions:
For the Granola:
Preheat oven to 350F (double check this)
Mix together all granola ingredients except salt. Pour onto the prepared baking sheet then sprinkle with coarse salt.
Bake 12-15 minutes or until golden and crispy.
Remove from the oven and let cool.
———————
For the Fruit:
Mix together prepared fruit, agave syrup & lemon juice. Add powdered sugar, if using. Stir gently and set aside.
———————-
To Assemble Parfaits:
Place fruit mixture in the bottom of small glass bowl or drink glass.
Sprinkle granola over fruit.
Spoon Greek Yogurt over the granola.
Repeat a second time and top with 1 raspberry, blueberries & a mint leaf.
Serve immediately or refrigerate until ready to serve (not more than 10 minutes).
Adapted from: https://www.donnahay.com.au/recipes/breakfast-and-lunch//berry-and-maple-crunch-breakfast-jars
Follow Susie on Facebook, Twitter, Pinterest, Google+ and Instagram.