Today we have the cutest cookies for you and with the information, I pass along you can make these easily too! Bunny Bum Cookies were an inspiration of mine but completely executed by Amber. She loves making sugar cookies and decorating them.
She has been doing a lot of baking recently with her gorgeous Valentine's Day Sugar Cookies, Shamrock Cookies, and Happy Birthday Cupcakes!! Amber is very talented in the kitchen!
Want more Easter recipes to try, then try our 25 Best Easter Desserts to make your holiday the most fun ever!!
The recipe I have for you makes a lot, beware! You might want to cut it in half or make cookies for other occasions and freeze them undecorated and leave that for another day.
These are the best sugar cookies ever though. If you have extra hands in decorating it is a great family bonding day for kids, moms, and even dads!!
Helpful Items for This Recipe
This post contains affiliate links.
Donut Cutter with Removable Center
Wilton 46-Piece Deluxe Cake Decorating Set
A few tricks will help you execute these fun cookies. We used a donut cutter with a removable center. Here let me show you a picture.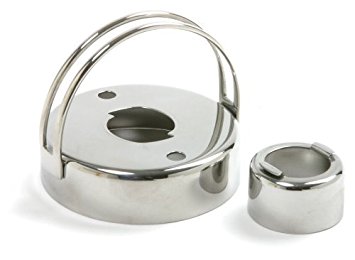 Cute huh? Amber then shaped the little round middles into ovals for the feet. Once baked she iced and then glued them into place.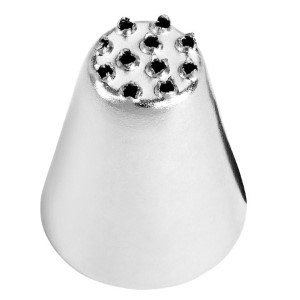 Amber flooded the cookies with a slightly thicker icing and didn't use a border or outline on these. She used a small tip like a Wilton 3 to add the dots for the feet and a Wilton 233 (as shown) for a fluffy tail with just a slightly thicker frosting. This tip can also make great grass for cupcakes and many other uses.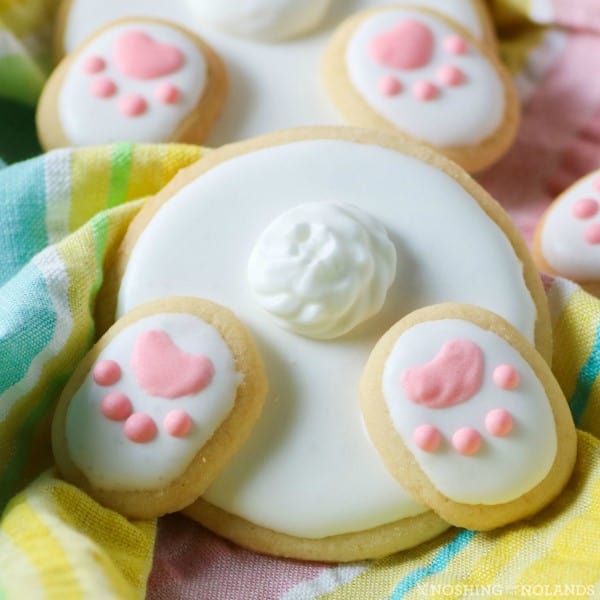 These cookies were fun to make for her and even more fun to eat!! The cookies freeze well either plain or decorated once dried. Enjoy thinking of spring now as it is coming quickly. Let the sun shine and the warm breezes begin!!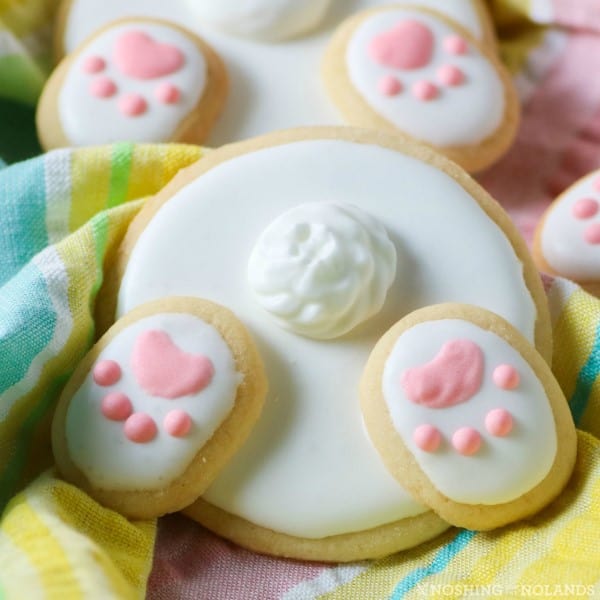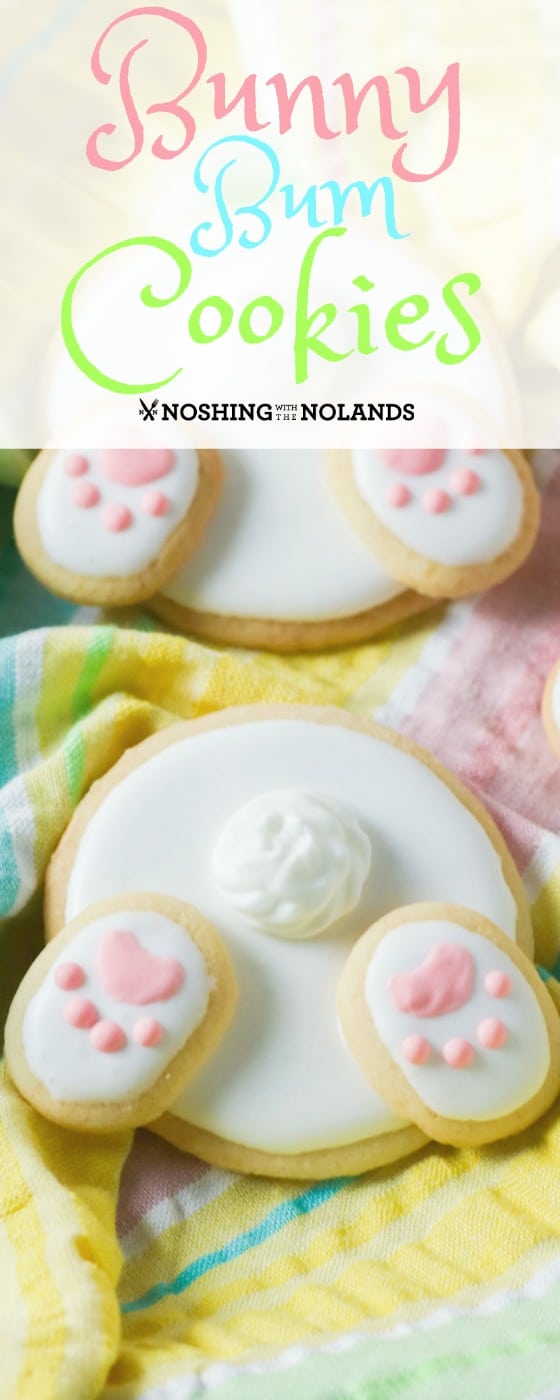 Bunny Bum Cookie Recipe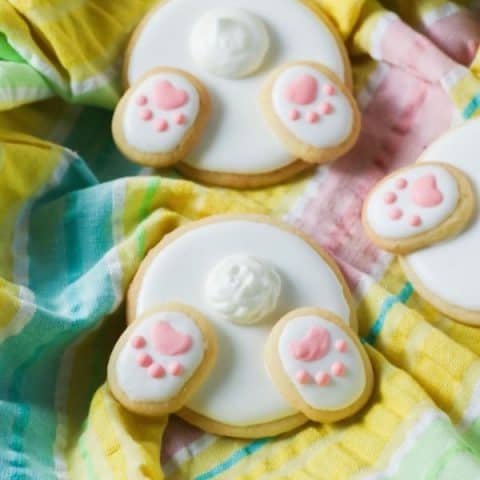 Bunny Bum Cookies
Cook Time: 10 minutes
Total Time: 10 minutes
Cute little Bunny Bum Cookies will make anyone smile. Make up a big batch and have them at the ready in the freezer now for Easter.
Ingredients
Sugar Cookies
½ cup brown sugar
½ cup white sugar
1 cup butter, softened
2 eggs
1 tsp. vanilla
½ cup white corn syrup
pinch of salt
2 tsp. baking powder
3¼ cups flour
Icing
4 cups confectioners' sugar
3 Tbsp. meringue powder
5-6 Tbsp. water, plus more to thin
Food colouring, liquid or gel
Instructions
For the sugar cookies, in a stand up mixer cream butter and sugars together and then beat in eggs until well mixed. Add vanilla and syrup and mix well. Whisk together dry ingredients and add slowly, mixing well until all is incorporated. Chill the dough well, best if done overnight. Roll out dough onto a well floured surface and cut using a donut cutter with the middle removed. Bake at 325F for 8-10 min. on a lightly greased cookie sheet. Let cool 5 min. on the tray and then remove to further cool on a cooling rack.
For the icing, add the ingredients to a standup mixer with a paddle attachment and mix for 5-7 min. until soft and glossy, if too thick add more water. Add additional water to thin to a toothpaste consistency. Take out about ½ cup for piping the tails. Thin the rest of the icing sugar to a corn syrup consistency, continuing to beat. Colour about 1/2 cup pink with food colouring. Place in piping bags with number 2 tip for the pink, number 233 for the thicker icing for the tails and a number 7 to ice the cookies themselves. Cover any remaining icing with a damp towel. Once the cookies are dry to the touch attach the decorated feet with a small amount of icing.
Let cookies dry for 1-2 days before storing.
Cookies freeze well and also last in a sealed container for a couple of weeks.
Tip: This recipe makes a lot, you can make other shapes for different holidays and have them ready in the freezer to ice for later if desired.