Irish Pot Pie
Cookbook review day here and I have a gorgeous one from Newfoundland for you. Storm The Kettle by Elaine Feore and Joanne Goudie is a stunning array of recipes that celebrates not only Newfoundland today but from the past also and infuses the collection with recipes from around the globe.
Newfoundlanders take great pleasure in sharing food and this book shows that passion. From this cookbook I selected to show you this scrumptious Irish Pot Pie, one of the best we have ever made. Could it be the added ham with the chicken? The perfect selection of herbs? Or the kale/pea combination? The crispy puff pastry on top was for sure a winner too!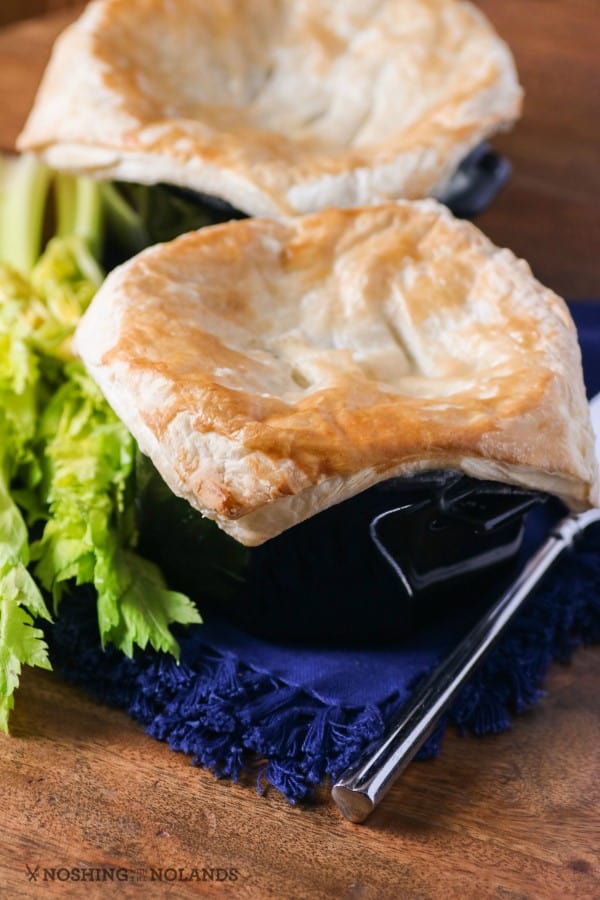 This Irish Pot Pie is easy to pull together especially with a puff pastry top that is found in any freezer section at the grocery store. No St. Patrick's Day would be complete without a gorgeous recipe like this to indulge in. After baking I popped two of these into the freezer and they re-warmed from frozen beautifully in a 35oF oven.
Storm The Kettle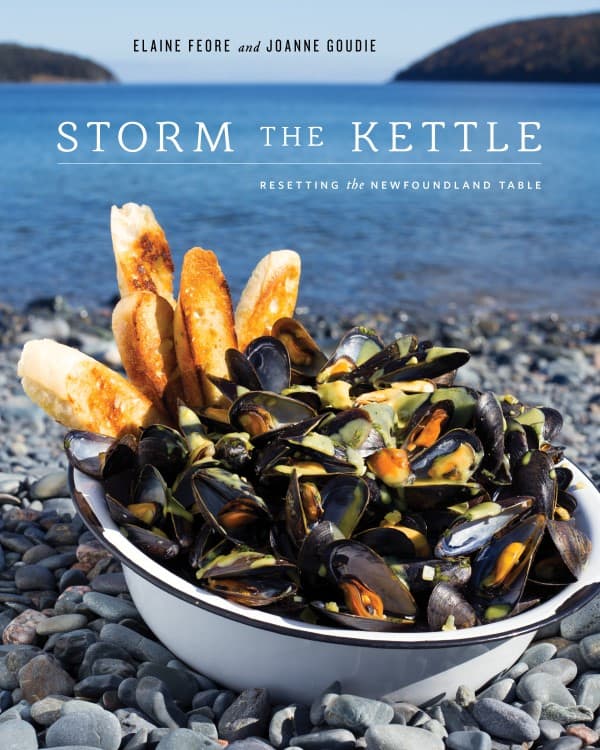 The cookbook has many magnificent pictures of not only delectable dishes but the rugged shores of this island and the breathtaking and wonderful landscape that makes Newfoundland so unique. The cover shot captured me! Mussels are one of my favorite and when it comes to living by the sea you just can't get any more delectable than that!
As mentioned recipes have a global influence too like Thai Beef Skewers, Greek Phyllo Chicken (with Lemon Bechamel Sauce) and Fattoush. These accompany the traditional stew and seafood dishes that make up Newfoundland's unique culinary scene. But don't think that Feore and Goudie have swam to far from home, there are lots of cod dishes too, like Cod Soup, Cod Tacos and Poached Cod with Mixed Vegetables.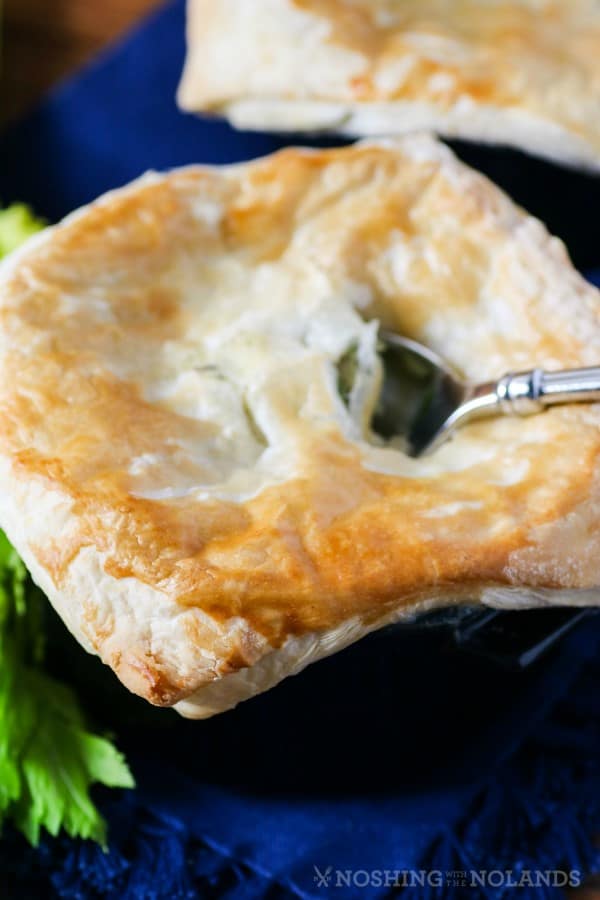 Elaine Feore is a self-taught cook who not only ran a catering business in Windsor Ontario but also opened up her own restaurant, Elaine's Fine Foods. After the restaurant was sold she moved back to Newfoundland and met Joanne Goudie. The collaboration that brought them together is The Blue Fish Bistro and from there they wrote their first cookbook. Joanne and her husband still live in central Newfoundland while Elaine and her husband share time now between St. John's and Cape Broyle.
The Recipe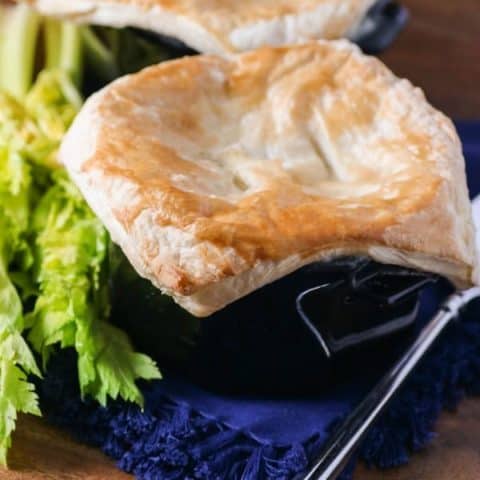 Irish Pot Pie
Yield: 4 pot pies
Prep Time: 30 minutes
Cook Time: 20 minutes
Total Time: 50 minutes
My husband is Irish, born and raised on another beautiful island, and he laments at many family Sunday dinners that chicken and ham are not served alongside each other here in Newfoundland. Many trips to Ireland and Irish pubs in New York had me rethinking his family tradition. This pie is comfort food for us.
Ingredients
3 Tbsp (45 mL) Herbed Butter, divided (see p. 23) or plain butter
2 large leeks, white and light green parts only, thinly sliced
3 celery stalks, diced small
¼ cup (60 mL) all-purpose flour
2 cups (500 mL) salt-free chicken broth
2 tsp (10 mL) chopped fresh thyme
1 tsp (5 mL) chopped fresh basil
1 tsp (5 mL) Dijon mustard
½ cup (125 mL) whipping cream
2½ cups (625 mL) medium diced, cooked chicken
1 cup (250 mL) medium diced, cooked ham
1½ cups (375 mL) chopped baby kale
1 cup (250 mL) frozen peas
½ tsp (2 mL) salt
½ tsp (2 mL) freshly ground pepper
1 sheet puff pastry
Instructions
Preheat the oven to 400°F (200°C). Using 1 Tbsp (15 mL) Herbed Butter, lightly grease 4 individual ovenproof bowls. (I use onion soup bowls.)
Melt remaining butter in a large saucepan over medium heat. Add the leeks and celery and stir into the butter, coating the vegetables. Heat until leeks and celery are cooked, stirring once or twice. Sprinkle flour over vegetables. Add chicken broth and stir or whisk to remove lumps. Add thyme, basil and mustard. Whisk in cream and bring to a gentle boil. Add chicken, ham, kale, peas, salt and pepper. Spoon into prepared dishes.
On a lightly floured board, roll puff pastry into a 12-inch (30 cm) square. Cut into quarters and lay on top of prepared dishes. Make a slit in the centre of each piece of pastry.
Bake for 15–20 minutes or until pastry is golden brown.