Today we have Laureen with Easter Cupcakes by Art and The Kitchen here to entertain you. Laureen is a fellow Albertan with the most beautiful of blogs. I have seen Laureen around for awhile but we just recently hooked up and actually spoke on the phone, lovely chatting with her!! I know you will want to follow Art and The Kitchen and you can on Facebook, Twitter and Pinterest. She has the most gorgeous of cupcakes to share with you. I just love these, so amazingly creative!! Now I give the floor to Laureen.
I was thrilled when Tara from Noshing with the Nolands asked me to do a guest post on her blog. I have been enjoying Tara's amazing recipes and exceptional food photography since she started blogging. So with the theme to be something Easter or springtime I thought of beautiful springtime colors; thus an assortment of colors in my Homemade Marshmallow Fondant.
Tasty Frosting!
Usually, people love the beautiful look of fondant on cakes or cupcakes but dislike the taste. This recipe is easy to prepare and tastes terrific. My cupcakes consist of Vanilla Bean Cupcakes, Vanilla Bean Buttercream Frosting, topped with Homemade Marshmallow Fondant.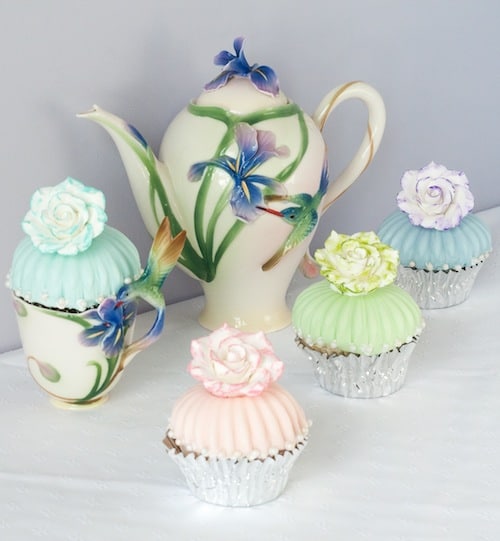 Vanilla Bean Cupcakes
Ingredients:
2/3 cup butter, softened
¾ cup sugar
3 eggs
1 vanilla bean scraped
1 ½ cups flour
Directions:
1. Preheat oven to 350 degrees. Line muffin tin (12) with paper baking cups.
2. With electric mixer cream butter and sugar until light and fluffy, about 5 minutes. Mix in eggs one at a time. Mix in vanilla bean. Stir in flour just until combined.
3. Spoon batter into the baking cups, dividing evenly.
4. Bake approximately 18-20 minutes. Cool on wire rack.
Vanilla Bean Frosting
Ingredients:
1 cup butter
1 vanilla bean
4 cups icing sugar
4-5 tablespoons cream
Directions:
1. With electric mixer, whip butter until fluffy.
2. Add the icing sugar, beat until well mixed.
3. Add cream and continue to mix until fluffy.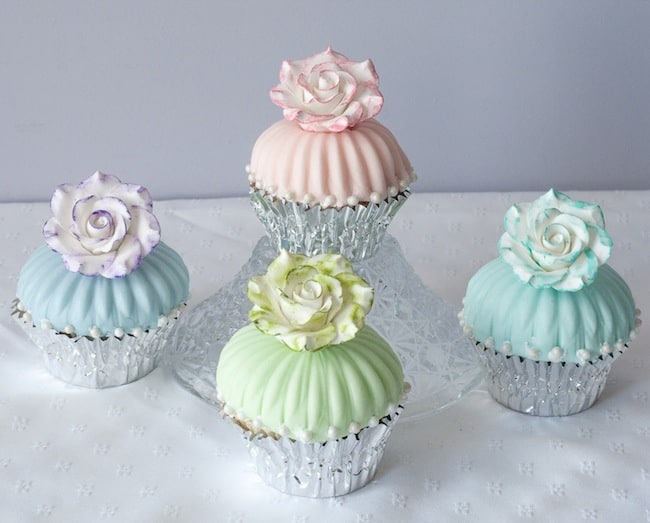 Homemade Marshmallow Fondant
Ingredients:
16 ounces white marshmallows (use a good quality brand)
4 tablespoons water
16 ounces icing sugar
¼ – ½ cup Crisco shortening
gel food coloring
Directions:
1. Melt marshmallows and 4 tablespoons of water in a microwave for 30 seconds to 1 minute.
2. Stir 3/4 of powdered sugar into the melted marshmallow mix.
3. Spread the remaining powdered sugar on a working surface, then dump the bowl of marshmallow mixture in the middle.
4. Grease your hands GENEROUSLY with Crisco
5. Start kneading like you would bread dough. It usually takes about 8 minutes to get a firm smooth elastic ball so that it will stretch without tearing.
6. Add the gel food coloring of your choice and continue to knead until the color is well blended.
7. Roll fondant to 1/4 inch thickness and press into greased mold, carefully lift out, and place on iced cupcake.
8. Fondant can be stored by coating it with a layer of Crisco shortening, wrapping it in plastic wrap, and then put in a Ziploc bag. Store in refrigerator.