Cheesecake Stuffed Strawberries are the perfect poppable party snack! In this dessert recipe, hollowed-out fresh strawberries are stuffed with a no-bake cheesecake mixture and garnished with some graham cracker crumbles to create a fun spin on a classic New York-style cheesecake. These treats are perfect for Valentine's Day, Canada Day, Christmas, or if you sprinkle in blueberries, then the 4th of July too!!
Want more luscious strawberry recipes? Then try our Baked Strawberry Donuts, Easy Strawberry Mousse, or amazing Strawberry Shortcake Cupcakes.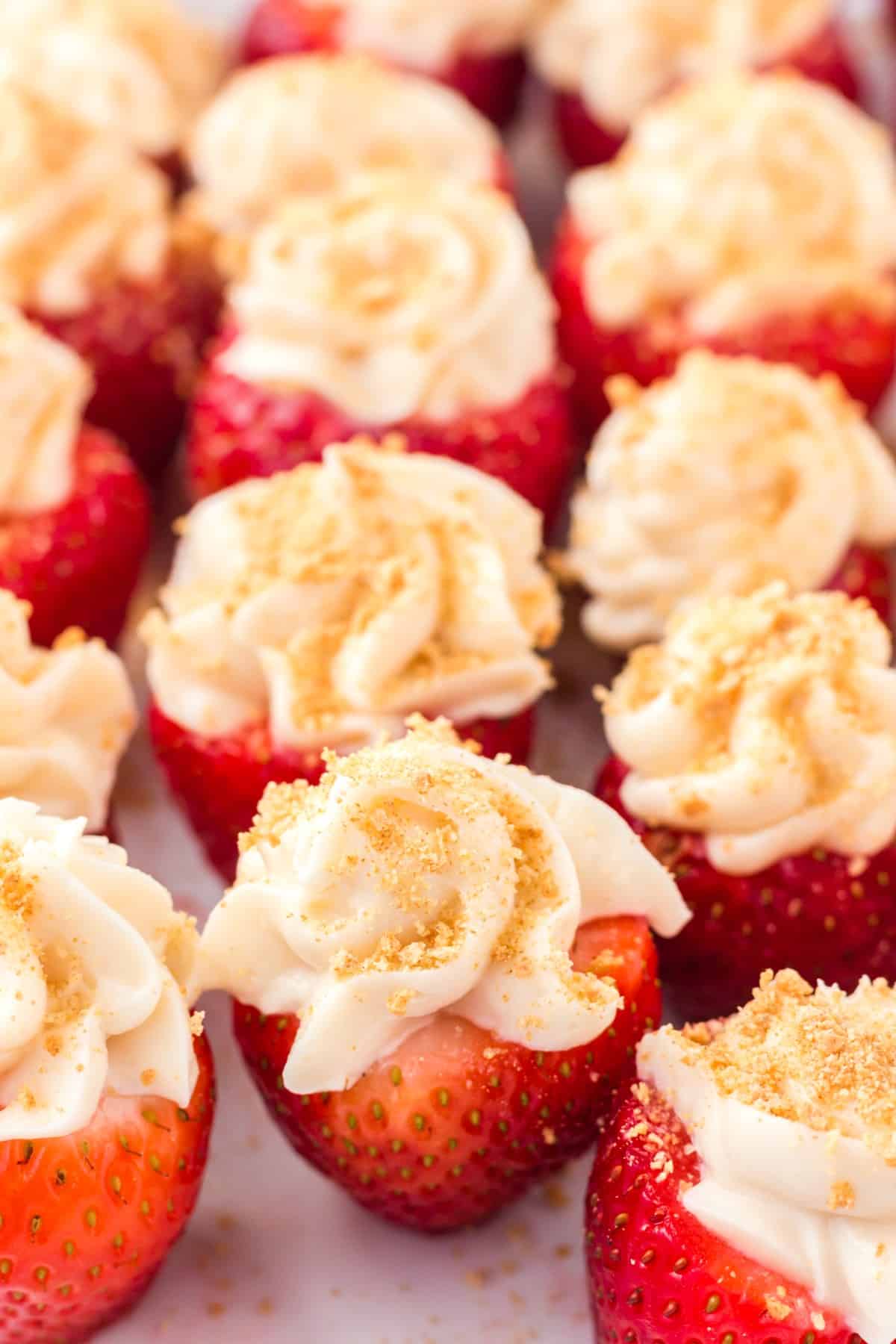 Looking for easy finger food to bring to your next potluck, barbecue, or shower? These cheesecake-stuffed strawberries are the perfect treat to share with a crowd. Unlike regular cheesecake, there's no need to mess with plates, knives, forks, or even toothpicks. Each cheesecake stuffed strawberry is a stand-alone bite of creamy, sweet, and tangy goodness. It's a unique and unexpected dessert that's a fun alternative to chocolate-covered strawberries.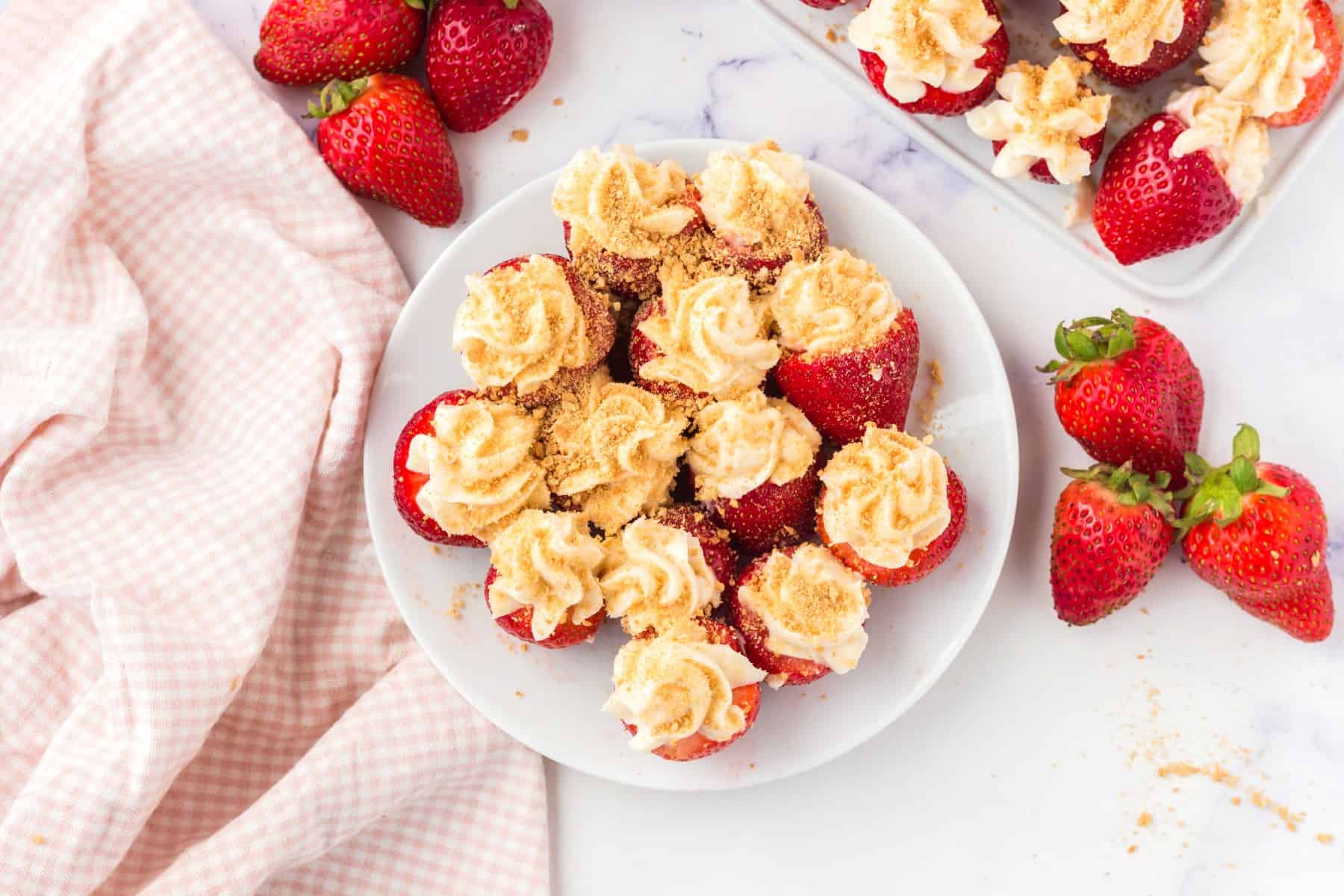 Helpful Items For This Recipe
This post contains affiliate links. As an Amazon Associate, I earn a small portion from qualifying purchases at no extra charge to you.
12" Rectangle Serving Platter, Set of 4
What are the Ingredients for Cheesecake Stuffed Strawberries?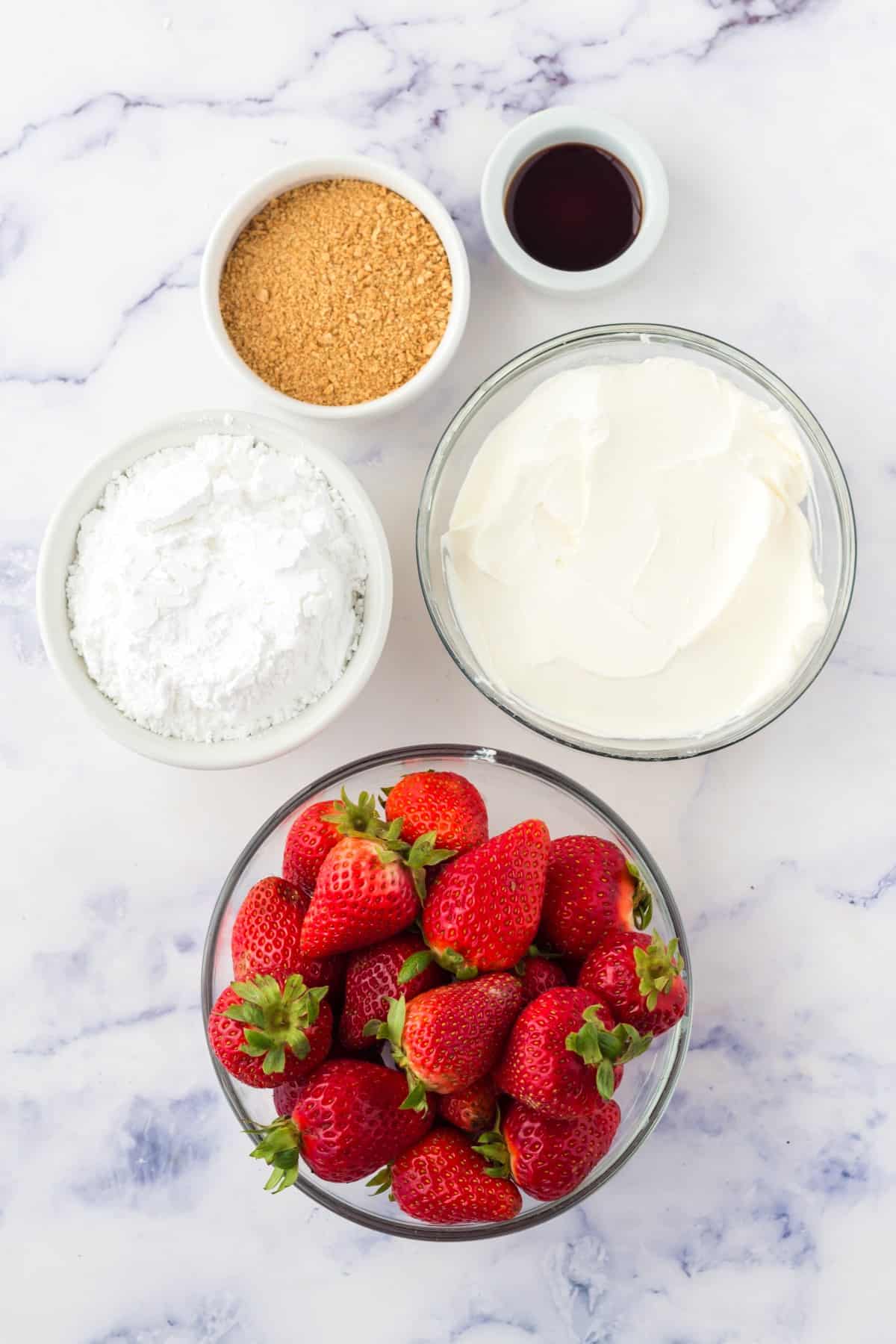 Because it's almost always easy to find strawberries at the grocery store, these cheesecake-filled strawberries are an amazing home dessert that can be enjoyed year-round. Plus, this simple 5-ingredient recipe can easily be tweaked to make these strawberry cheesecake bites gluten-free, vegan, or keto-friendly. This is one shareable dessert that everyone is sure to be able to enjoy and love!
Ingredients
Strawberries—Rinsed thoroughly and hollowed out.
Cream Cheese—Or make it vegan with cashew, chickpea, or other dairy-free cream cheese.
Powdered Sugar—Keeps the cheesecake mixture from getting grainy.
Vanilla Extract—Just a splash will give these little cheesecake bites a ton of flavor.
Graham Crackers—Adds just a sprinkle of crunchy, cinnamony goodness.
We Love This Recipe Because It's…
A quick, 5-ingredient treat or snack
Healthier than normal cheesecake
Easy to make gluten-free, vegan, or keto-friendly
A fun alternative to chocolate-covered strawberries
How to Make Cheesecake Stuffed Strawberries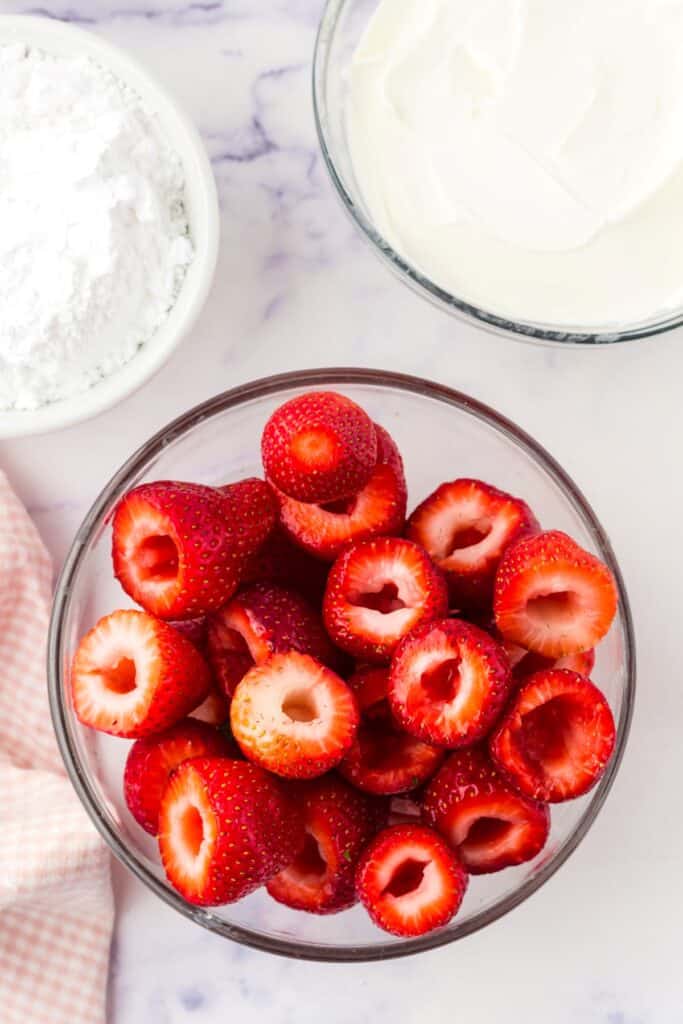 Hull your strawberries with a paring knife or a hulling instrument (see above Amazon links).
Use an electric mixer to whip the cream cheese until fluffy and smooth.
Add the powdered sugar and vanilla and mix again until well combined.
Transfer the cheesecake mixture to a piping bag or Ziploc bag and fill each strawberry with a generous amount.
Top with crushed graham crackers on top of the strawberry cheesecake bites. Serve and enjoy!
Frequently Asked Questions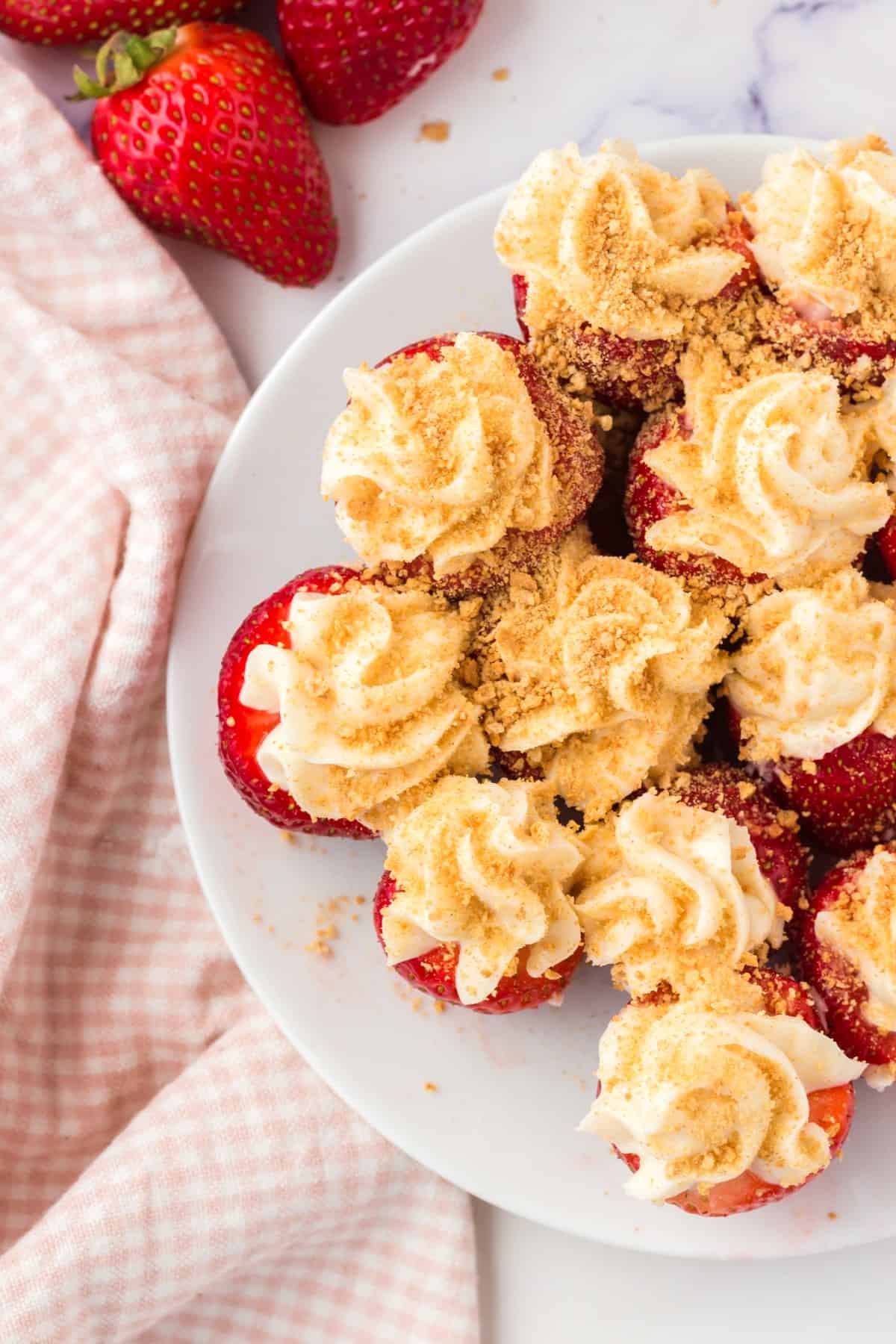 How do you hollow out strawberries?
There are special kitchen tools you can buy to hollow out strawberries. But unless this is a recipe you're planning on making a lot, I recommend just using a paring knife or a spoon.
Can you make these cream cheese-stuffed strawberries ahead of time?
Yes! Just be sure to store your filling and the berries separately until you're ready to serve them. Try not to make these cheesecake-filled strawberries more than a day or two in advance to preserve the freshness.
Are these cheesecake-stuffed strawberries keto-friendly?
Not as the recipe is written. However, these easy cheesecake-stuffed strawberries can be made keto-friendly by swapping out the powdered sugar for powdered monk fruit or confectioners' swerve. Also, you'll probably want to skip the graham cracker crumbs.
How to Store Leftover Cheesecake Filled Strawberries
These cheesecake-stuffed strawberries can be saved in an airtight container and will stay good in the fridge for up to 3 days. I like these strawberry cheesecake bites best when they're cold, but you can also enjoy them at room temperature.
Recipe Variations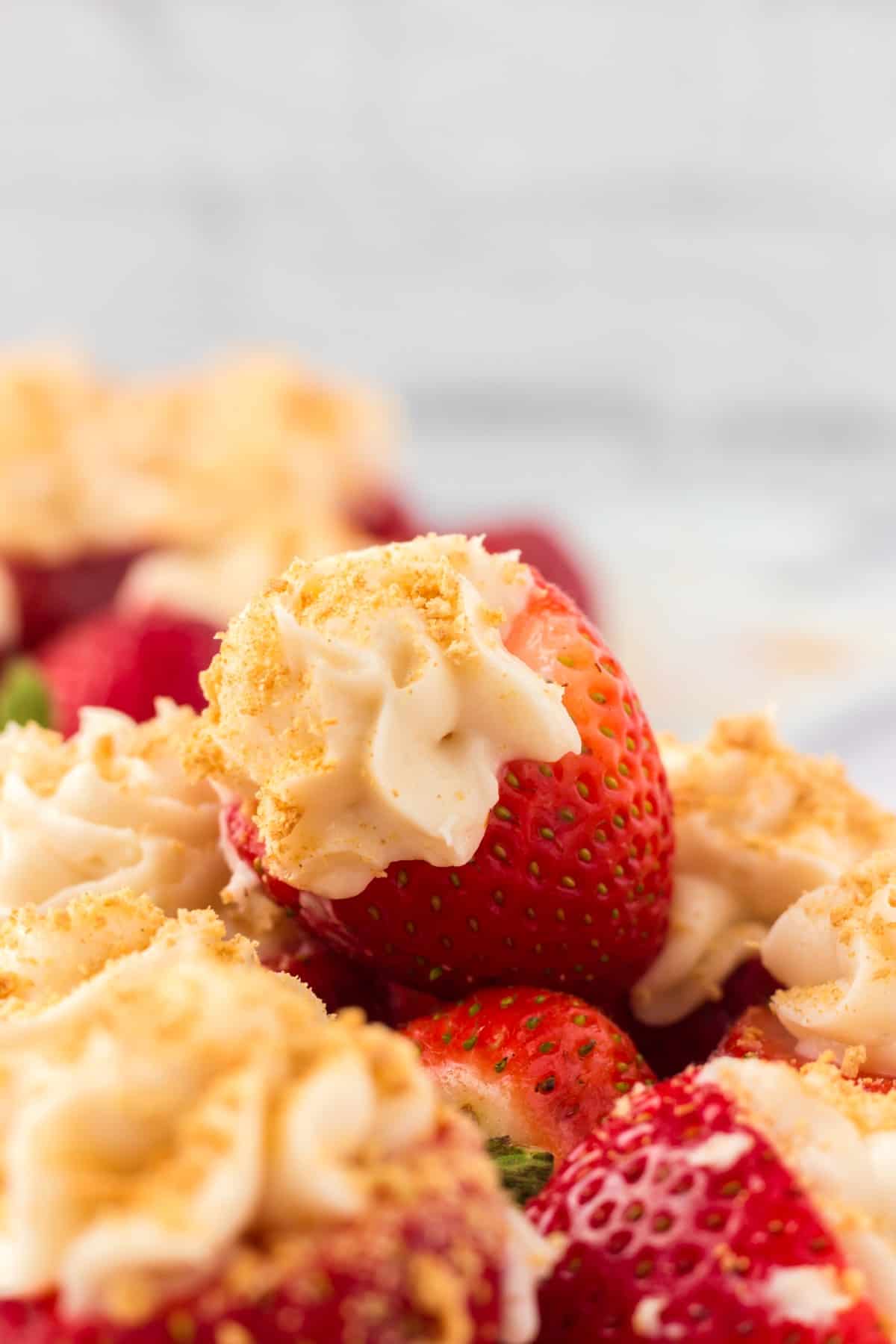 Don't get me wrong, these no-bake cheesecake stuffed strawberries are delicious as-is. But if you're looking to get a little creative in the kitchen, this simple recipe is a good place to start! Swap out the filling flavor, garnish, or even fruit base to make this recipe uniquely yours. Below are a few ideas to get you started.
Fun Filling Flavors
Try adding any of these ingredients to your no-bake cheesecake filling to amp up the flavor!
Chocolate sauce
Melted white Chocolate Chips
Strawberry, blueberry, blackberry, or raspberry jam
Lemon or lime juice and zest
Peanut or other nut butter
Festive and Fancy Garnishes
Maybe graham crackers aren't your thing. Try topping your bite-sized cheesecakes with one of these garnishes instead.
Caramel sauce
Sprinkles
Whipped cream
Fresh mint
Try Stuffing Different Fruits
Strawberries aren't the only fruit that pairs well with cheesecake! Try piping your no-bake cheesecake filling into or on any of these different fruits. Or add some of these fruits to your platter too. As I said, adding blueberries to your platter makes a perfect red, white and blue 4th of July treat.
Raspberries
Blackberries
Kiwis
Bananas
Mangos
Peaches
Expert Tips and Tricks
If you're having a hard time getting these cheesecake-stuffed strawberries to stand up on their own, try slicing the very tip off of each berry. This should give them a flat surface to balance on.
Piping the cream cheese mixture into the berries will look the prettiest, but you could also simply use a spoon or butter knife to stuff the strawberries.
Unfortunately, this recipe doesn't work with frozen strawberries—they will eventually turn very mushy. Stick to fresh strawberries!
Want to make this dessert feel a little more gourmet? Try dipping your cheesecake-stuffed strawberries in a little bit of melted chocolate. The results will blow your mind!
**This recipe has been updated from its original with a new recipe and photos.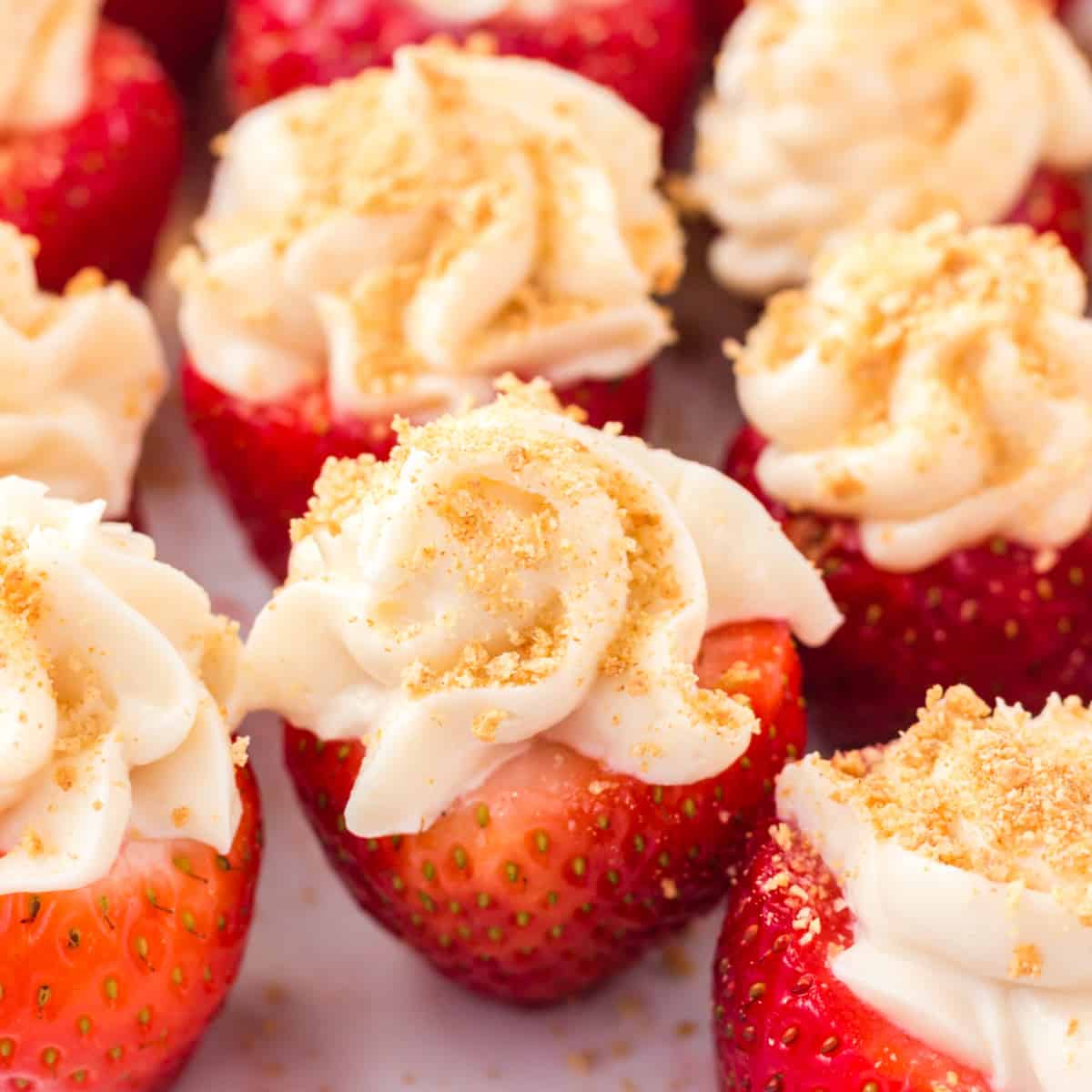 Pin it HERE!!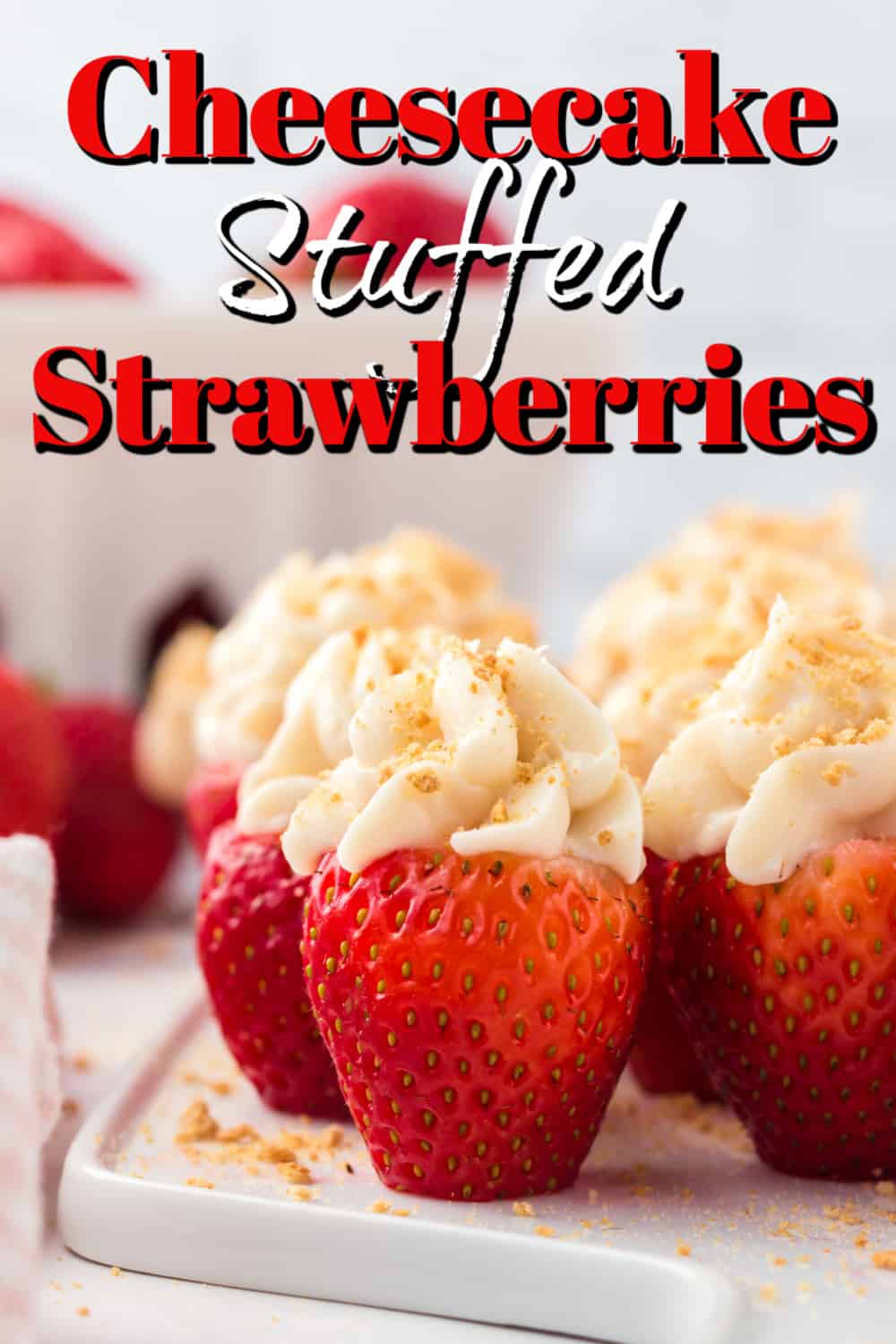 Pin it HERE!!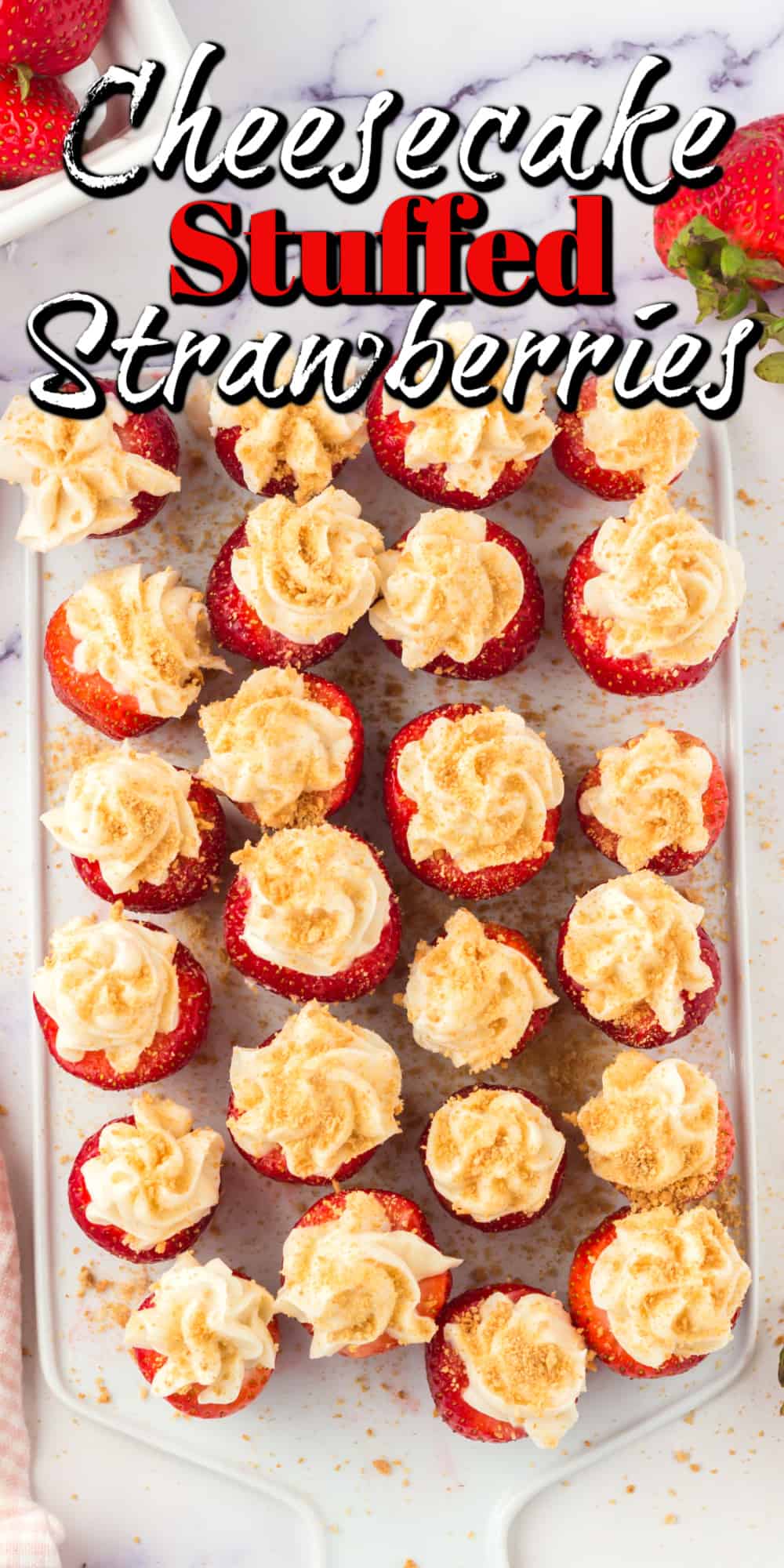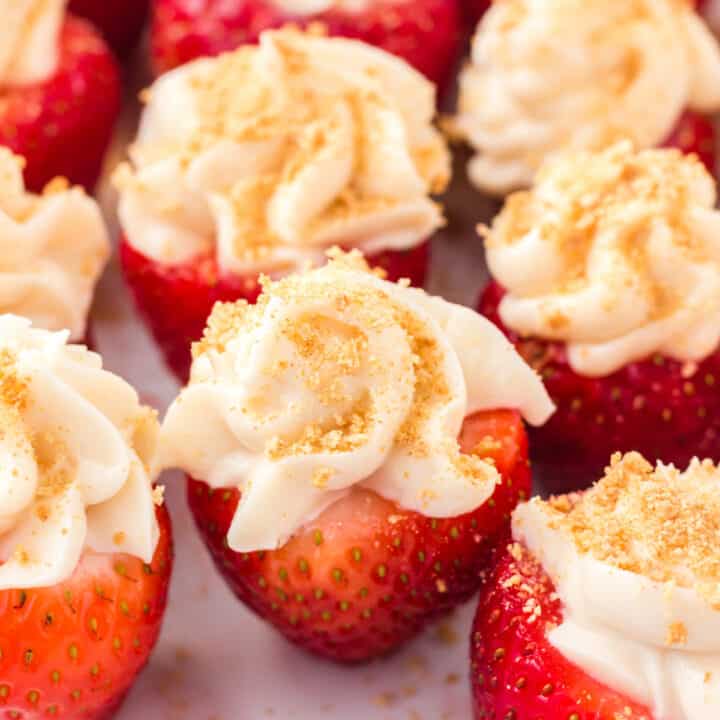 Cheesecake Stuffed Strawberries
Yield: 8 servings
Prep Time: 10 minutes
Total Time: 10 minutes
These Cheesecake Stuffed Strawberries are a favorite of ours to serve for special occasions like Valentine's Day, Mother's Day, Father's Day, Canada Day, and Christmas, and are perfect for a bridal or baby shower too.
Ingredients
2 pounds fresh strawberries
1 - 8 oz block cream cheese, room temperature
1- 2 cups powdered sugar
1 tsp vanilla extract
¼ cup crushed graham crackers
Instructions
Cut the tip and stem off each strawberry and use a knife or a small spoon to hollow out the inside of each strawberry.
In a medium-sized mixing bowl, whip the cream cheese using an electric hand mixer. Once the cream cheese is smooth, add the powdered sugar and vanilla until desired consistency. Continue to mix until the mixture is smooth and homogenous.
Use a piping bag or Ziploc bag with a corner cut-off to fill each strawberry with cheesecake batter.
Sprinkle the graham crackers over the top of the strawberries, serve, and enjoy!
Recommended Products
As an Amazon Associate and member of other affiliate programs, I earn from qualifying purchases.
Nutrition Information:
Yield: 8
Serving Size: 1
Amount Per Serving:
Calories: 203
Total Fat: 10g
Saturated Fat: 6g
Trans Fat: 0g
Unsaturated Fat: 3g
Cholesterol: 29mg
Sodium: 103mg
Carbohydrates: 26g
Fiber: 2g
Sugar: 21g
Protein: 3g
Recipe calculation was provided by Nutritionix and is an estimation only. If you need nutritional calculations for medical reasons, please use a source that you trust.