Chili Lime Roasted Chickpeas
I have seen these roasted chickpeas around for a while and they have intrigued me to make them for a healthy snack. I landed on the right flavor combination with these Chili Lime Roasted Chickpeas. A little bit salty, a little bit spicy, and then the fresh lime zest peaks through. This is the perfect mix of spices for me, I could not stop eating these. I like them as much as I like the recipe for Parmesan Kale Chips that I have made many times.
When I was doing my research on roasting chickpeas I had seen a few recipes mention that peeling them is the best. Okay, I am into trying that. I painstakingly peeled each chickpea! Well, it wasn't that bad really and quite relaxing. The end outcome was consistently perfectly crunchy chickpeas. Okay, that worked well but what if you don't want to do that, will they still turn out as good?
Want another great healthy appetizer, try our Warm Rustic Black Bean dip, it is a feast for game day. Or try our Coconut Chickpea Curry for another great chickpea recipe.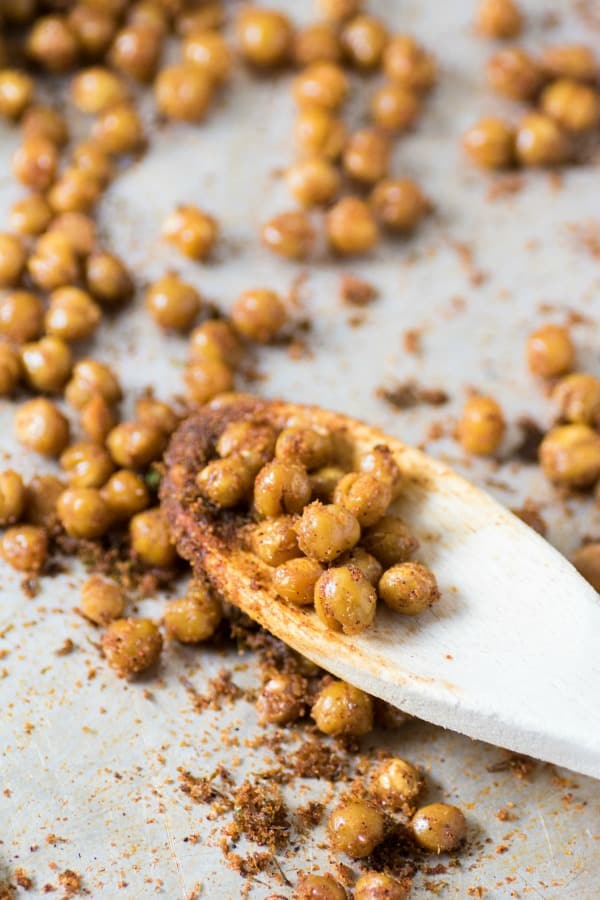 So, I made another batch and just simply rinsed them, patted them dry like I did the first time. I then picked through to remove any loose skins and plunked them on the cookie sheet. That was infinity easier. The end outcome was good too but some of them weren't as crunchy as when you remove the skins but still delicious and munchable! So I leave it up to you which way you would like to take this. See what works for you and what you enjoy in the end!!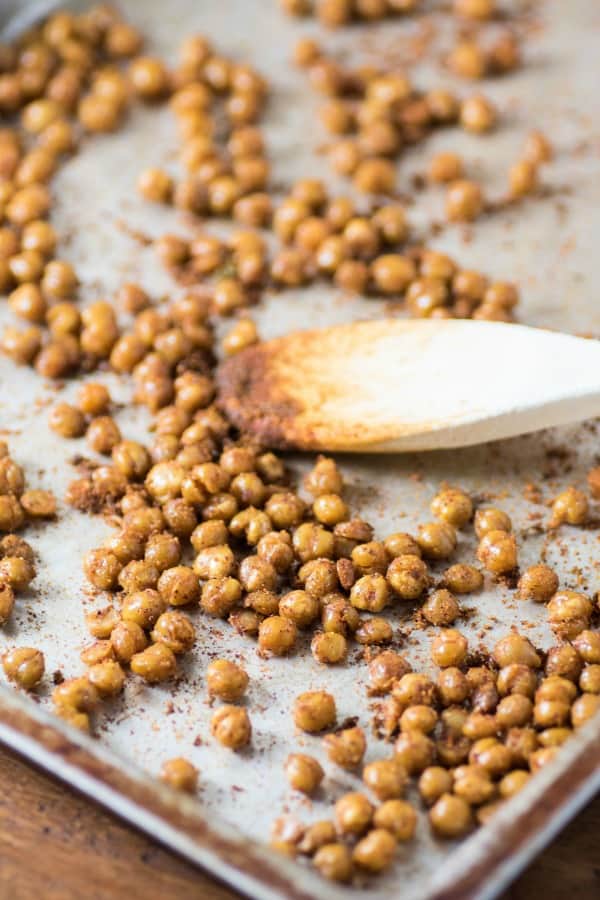 With the skins on they take longer to bake by about 10 min. The chickpeas stay nice and crunchy for days with the skins off. If you keep the skins on or off I would recommend eating them while they are still warm out of the oven and finishing them up. It is not a hardship, they are very delicious. I will be making these scrumptious little morsels again very soon and serving them to friends also!
The Recipe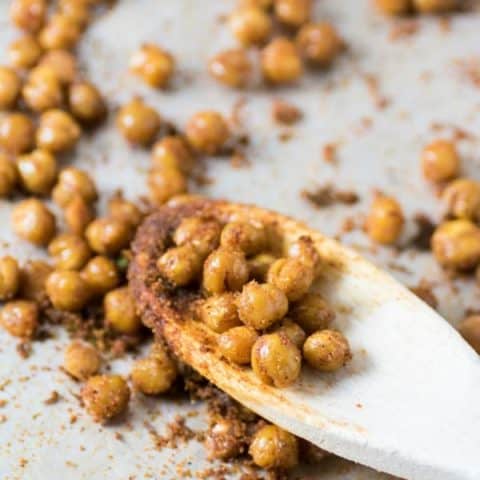 Chili Lime Roasted Chickpeas
Prep Time: 15 minutes
Cook Time: 45 minutes
Total Time: 1 hour
Ingredients
1 - (19 oz.) can chickpeas, rinsed, drained and dried in paper towels
2 Tbsp. olive oil
1 tsp. chili powder
1/2 tsp. cumin
1 lime zested
1/4 tsp. garlic powder
1/4 tsp. salt
Instructions
Peel chickpeas if desired for extra crunchiness or just remove any loose skins.
Preheat oven to 400F.
Place the chickpeas on a rimmed baking sheet in a single layer. Drizzle beans with olive oil. Stir with a wooden spoon. Bake for 30 min. with no skins or 40-45 min. with skins on. Remove from oven.
Mix the rest of the ingredients together and sprinkle over the chickpeas. Serve warm or store in an airtight container. Skinned chickpeas will stay crunchy longer, up to 3 days.