This is my last post for St. Patrick's Day. I hope you all have a great and safe evening!! Hope you enjoy the recipe. They are really good!!! These are for the adults with a sweet tooth.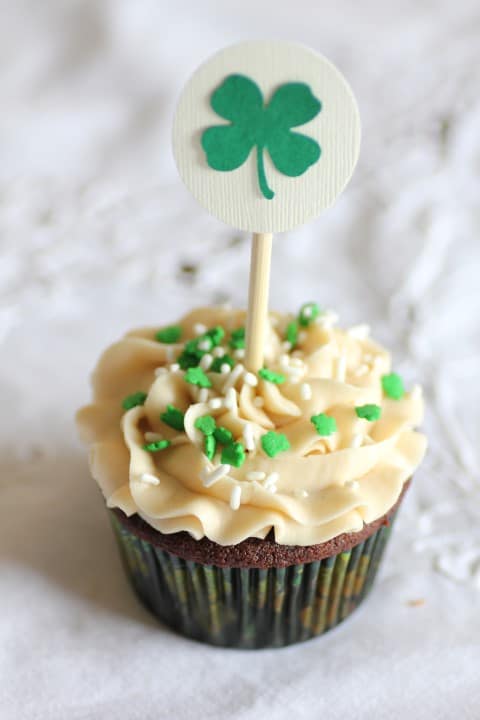 Makes 24 cupcakes.
Cupcake
3/4 cup plus 2 Tbsp. cocoa powder
1/2 cup boiling water
1 cup buttermilk
1 3/4 cups all purpose flour
1 1/4 tsp. baking soda
1/4 tsp. baking powder
1/4 tsp. salt
3/4 cup unsalted butter, softened
1 1/2 cups sugar
2 large eggs
1 tsp. vanilla
Icing
1 cup butter, softened
3 cups icing sugar
4 Tbsp. Bailey's Irish Cream
2 tsp. vanilla extract
Preheat oven to 350F. Line 24 muffin cups with paper liners. Stir boiling water and cocoa together. Whisk in buttermilk until smooth. In a medium bowl whisk together flour, soda, baking powder and salt. In a large bowl of a electric mixer cream butter and sugar together until fluffy. Beat in eggs, one at a time. Add vanilla and mix in. Alternatively mix in flour and cocoa mixture in 3 batches of each mixing well after each addition. Spoon batter into cupcake liners dividing evenly amongst the 24. Bake for 20-25 min. on the lower third of the oven until the cupcake springs back when lightly touched. Let cupcakes cool slightly and then remove and let fully cool on a wire rack.
For the icing, cream the butter in a large bowl. Carefully incorporate the rest of the ingredients alternating the icing sugar with the Bailey's and the vanilla and continue beating until light and fluffy. Place icing in a piping bag with a desired tip, I used a Wilton 2D tip. Starting at the ouside of the cupcake and pressing consistently, squeeze icing out moving around towards the center. Add your your favourite sprinkles. Enjoy!!