I love being part of our little group for Creative Cookie Exchange. It gets my butt in gear to bake some cookies and try some new ones. This month I needed some for a bake sale at the church. They had to be stowed away quickly as these Chocolate Walnut Caramel Stuffed Cookies were disappearing in front of my eyes. This month's theme was caramel so I used little mini Rolo chocoaltes to stuff inside the cookies, giving you that little surprise of added goodness. You could try stuffing two in there but then you run the risk of them leaking out. I found that one little one worked fabulously!! A big thank you to Laura at The Spiced Life for the great theme and for hosting.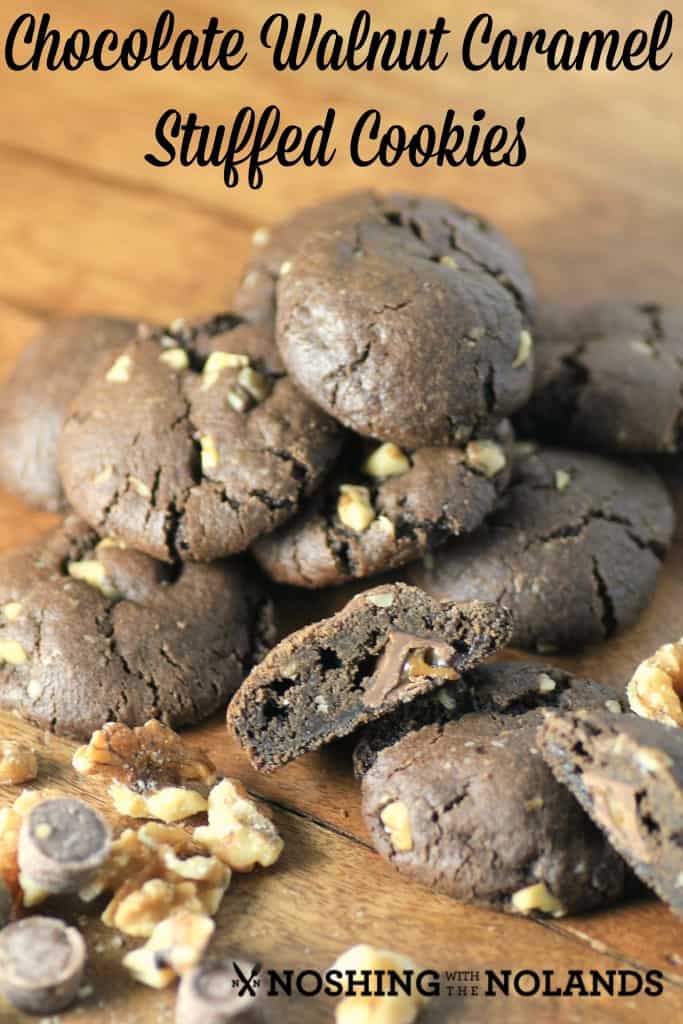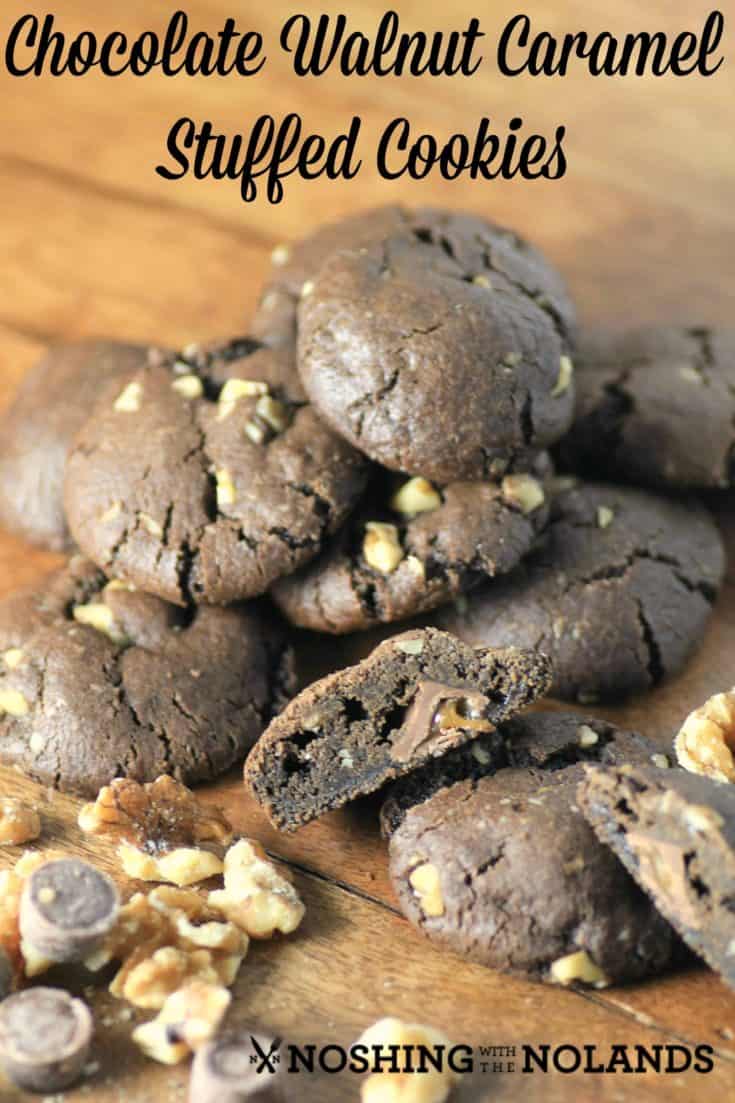 These cookies have it all, chocolate, nuts, and then a fun surprise inside with more chocolate and caramel.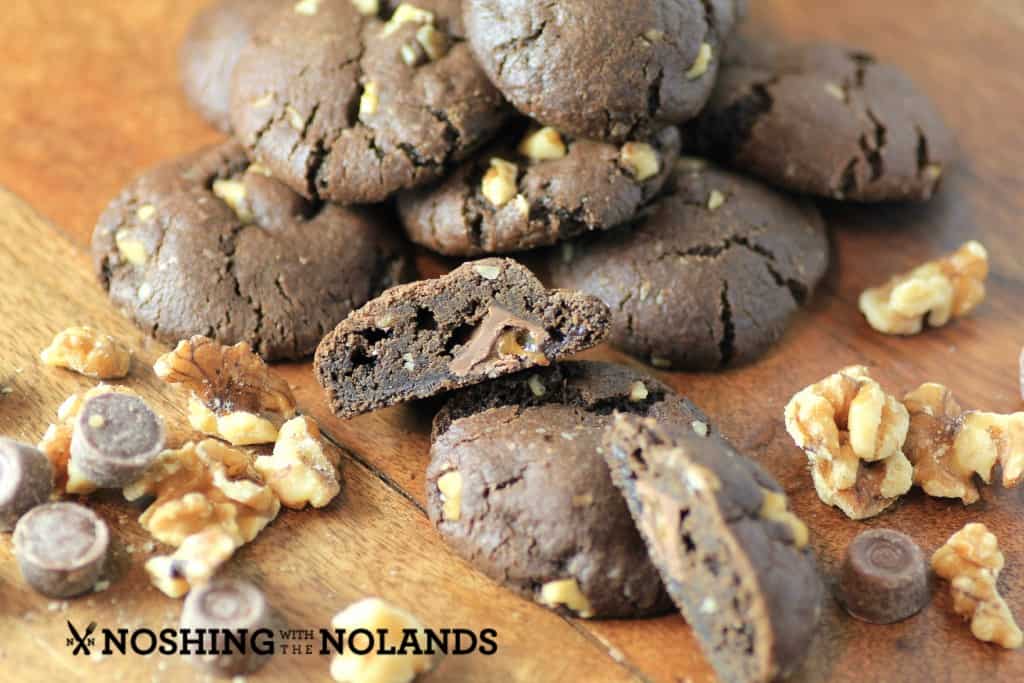 Are you craving more caramel, just drizzle a little bit on and up it with a sprinkling of salt. I just used store bought caramel sauce but you can make your own too!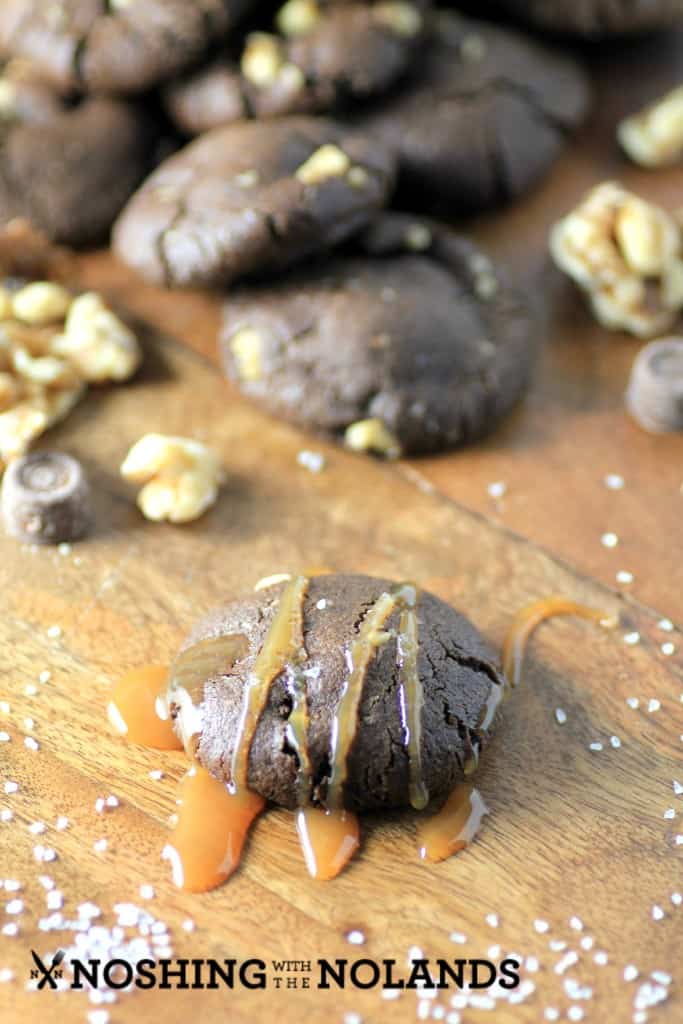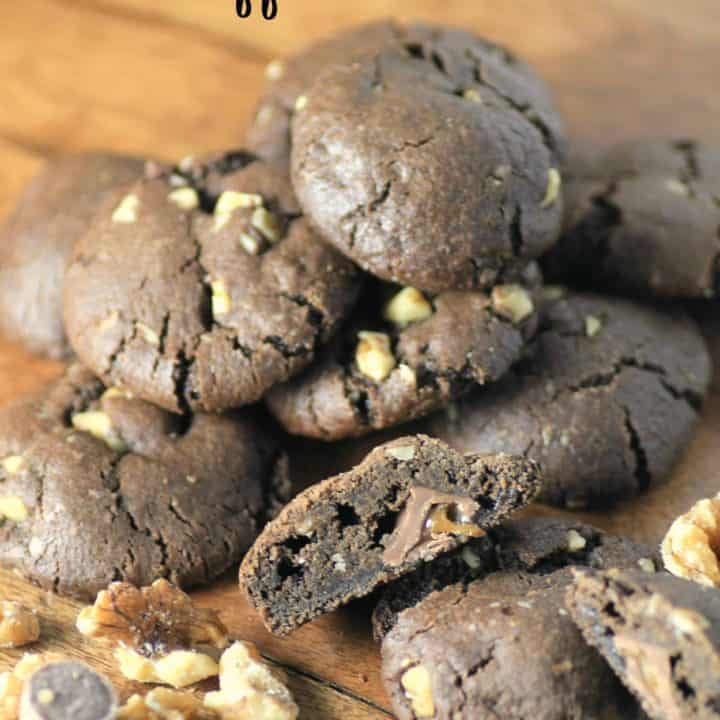 Chocolate Walnut Caramel Stuffed Cookies
Yield: 48 cookies
Prep Time: 20 minutes
Cook Time: 10 minutes
Total Time: 30 minutes
A nutty chocolate cookie with a little surprise of caramel inside.
Ingredients
2 1/2 cups flour
3/4 cup cocoa
1 tsp. baking soda
1 cup sugar
1 cup firmly packed brown sugar
1 cup butter
2 tsp. vanilla
2 eggs
1 cup walnuts, chopped
Mini caramel filled chocolates like Rolo
Extra caramel sauce and salt, optional
Instructions
Preheat oven to 375F. Mix the flour, cocoa, and baking soda together in a medium bowl and set aside.
In a large bowl of a stand up mixer with a paddle attachment, cream the butter and sugars together until fluffly. Add the eggs and vanilla and mix well. Add the flour mixture and mix well. Stir in the walnuts by hand with a wooden spoon. Taking 1 Tbsp. of dough wrap it around a mini caramel filled chocolate and roll into a ball, making sure the chocolate is covered completely. Place 2" apart on an ungreased cookie sheet. Bake for 7-10 min. or until cookie is set and slightly cracked. Cool for 2 min. on the cookie sheets and then remove to a cooling rack to cool completely.
Optional: Before serving drizzle with caramel sauce and top with a pinch of salt.
Recipe adapted from Pillsbury Caramel-Filled Chocolate Cookies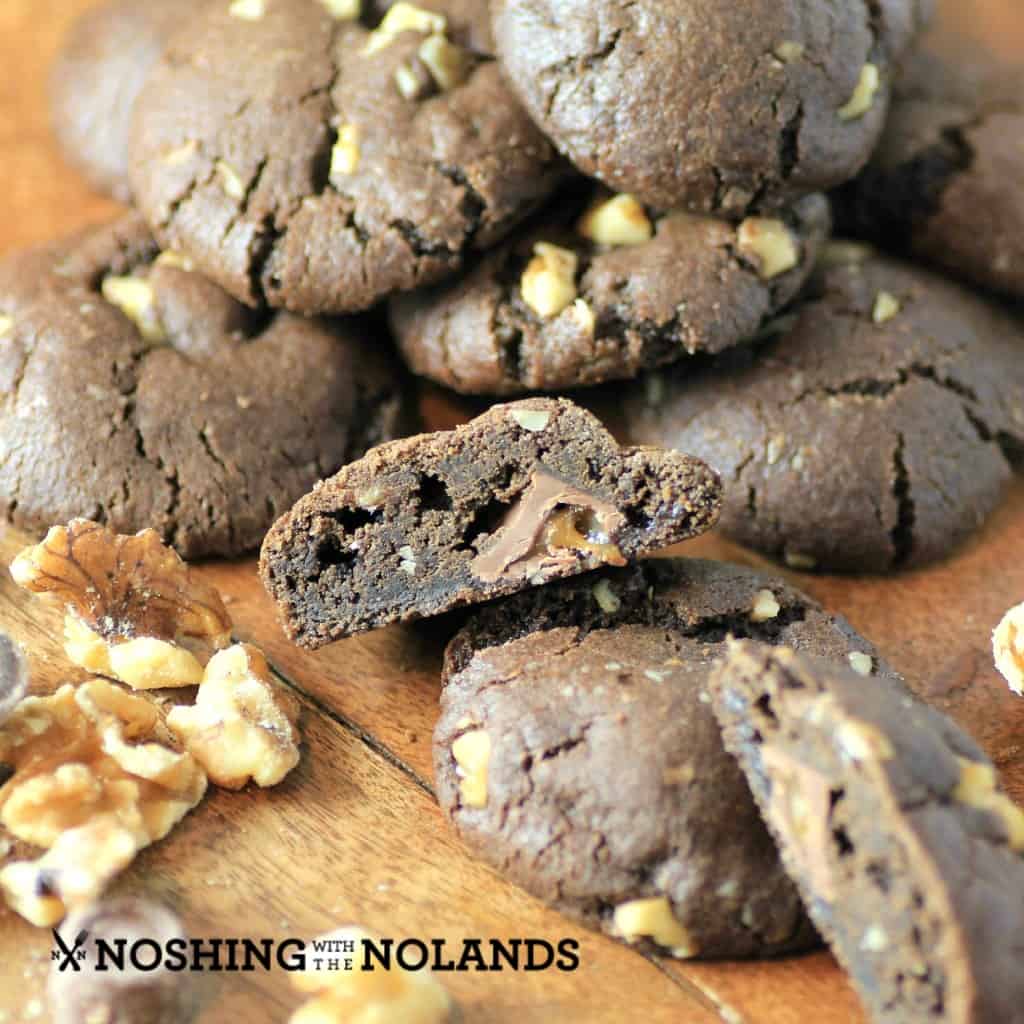 The theme this month is Caramel–any kind of caramel in any kind of cookie! If you are a blogger and want to join in the fun, contact Laura at thespicedlife AT gmail DOT com and she will get you added to our Facebook group, where we discuss our cookies and share links. Please be patient though, as this month Laura is off to Italy and will not be checking email quite as often!
You can also just use us as a great resource for cookie recipes–be sure to check out our Pinterest Board and our monthly posts (you can find all of them at The Spiced Life). You will be able to find them the first Tuesday after the 15th of each month! Also, if you are looking for inspiration to get in the kitchen and start baking, check out what all of the hosting bloggers have made: