I have an awesome cookbook for you today!! A real treat!! The Fondue Bible, an entire fondue cookbook, from cheese to chocolate and everything in between. Fondue is a party onto itself, I love the sharing, gabbing, dipping, cooking my way through a meal. It is a relaxed and enjoyable meal even for the hostess.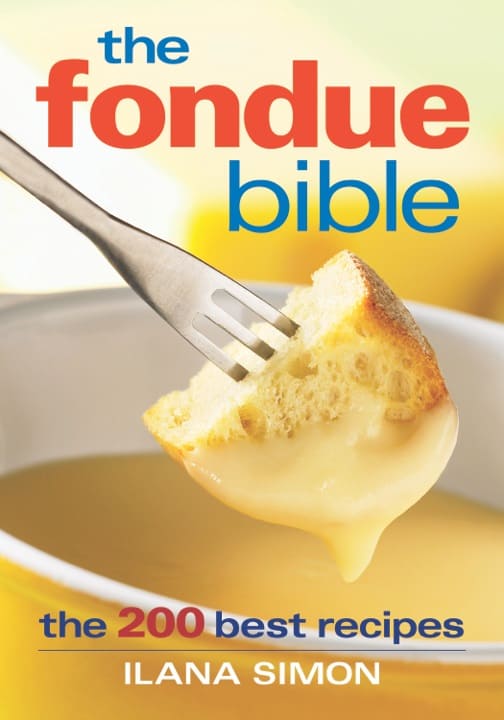 We actually have made this recipe twice it was so good!! Emmentaler and Gruyere cheese together with roasted garlic, it is a sure win of a fondue. It has all the flavors of a classic cheese fondue with the added wonderful flavor of roasted garlic. This fondue is my favorite!!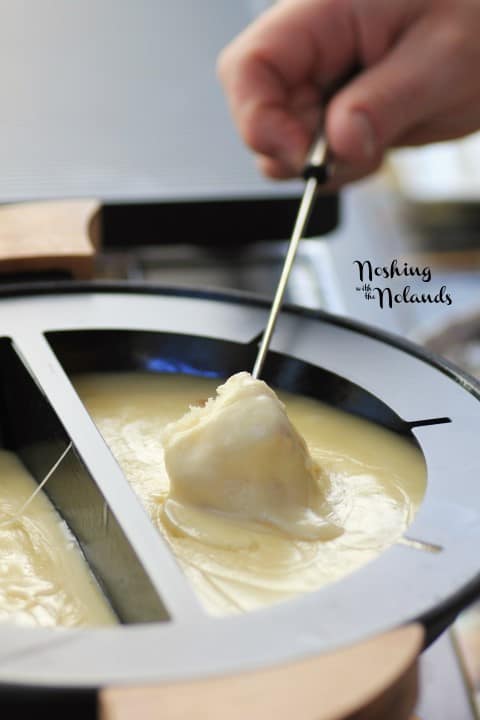 The cookbook has 200 best recipes!! Ones like Morocan Meatball Fondue, Curry Chicken Broth, Teriyaki Beef Fondue or Lemon Honey Dill Scallops Fondue. Then you move into desserts like Black and White Chocolate, Carmel or Raspberry Fondue.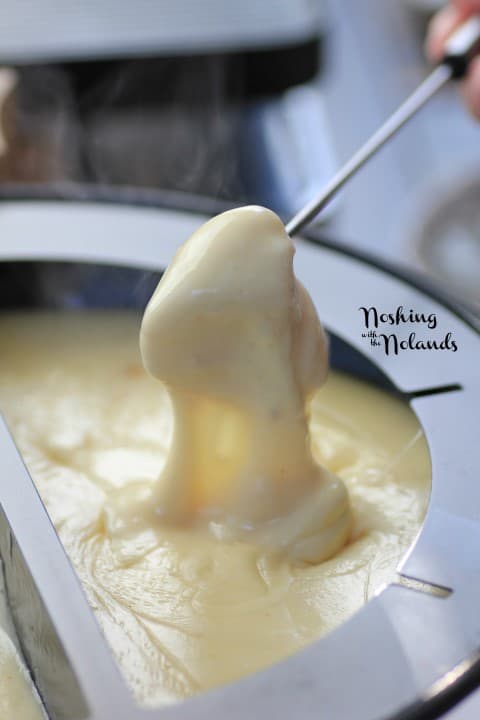 ILANA SIMON is the author and a respected and accomplished food writer and editor. She is also the author of 125 Best Fondue Recipes. 125 Best indoor Grill Recipes and 125 Best Ground Meat Recipes. Ilana lives in Winnipeg, Manitoba. She loves to host fondue parties all year long!!!
The one recommendation I have for this recipe is to double it. You will want lots of this yummy fondue to share with family or friends. Doubling it serves four in my opinion, also served with another dish or raclette.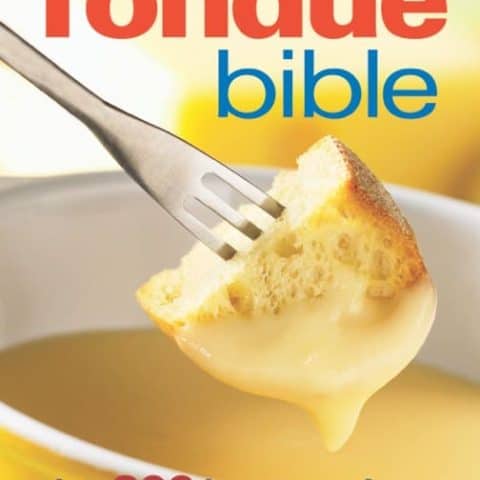 Emmentaler-Gruyere Fondue with Roasted Garlic
A classic fondue with the added flavor of roasted garlic!!
Ingredients
6 oz Emmentaler cheese, grated 175 g
6 oz Gruyère cheese, grated 175 g
2 tbsp kirsch (dry cherry schnapps) 25 mL
1 tbsp cornstarch 15 mL
1 cup dry white wine, divided 250 mL
1⁄2 tsp ground nutmeg 2 mL
2 roasted garlic cloves, minced
Instructions
In a bowl, combine Emmentaler and Gruyère. Set aside.
In a small bowl, whisk together kirsch and cornstarch until dissolved. Set aside.
In a large saucepan over medium heat, bring 3⁄4 cup
(175 mL) of the wine to a simmer. Reduce heat to medium-low. Add cheese mixture by handfuls to saucepan, whisking constantly after each addition in a figure-eight motion until cheese is almost all melted. Add nutmeg
and kirsch mixture; stir until blended and cheese is completely melted.
Stir in as much of the remaining wine as necessary to
give the mixture a creamy consistency. Transfer to fondue pot and stir in roasted garlic. Serve immediately.
Tip
To roast garlic: Divide 1 head of garlic into cloves. Place unpeeled cloves (as many as desired) onto baking sheet sprayed with olive oil cooking spray. Bake in 375°F (190°C) oven for about
minutes, turning once after 15 minutes. Garlic cloves should be tender. Remove from oven, cool slightly, peel and mince. Set aside. If garlic is too tender, just squeeze out roasted garlic cloves from skins and use as required.
Make ahead
Grate Emmentaler and Gruyère and combine in a bowl; refrigerate until needed.
Roast garlic as directed (see tip, above).
Serve with…
Cubes of French bread, steamed new potatoes, rye bread chunks, breadsticks (for dipping).
Excerpted from The Fondue Bible by Ilana Simon © 2013 Robert Rose Inc. www.robertrose.ca Reprinted with publisher permission.