French Onion Soup Bites
This French Onion Soup Bites appetizer is crazy good. We have done so many recipes from Fine Cooking, The Best of Party Food. My magazine is completely tattered.
Every single one we have tried has been fantastic!!
This one sure lived up to it!! Ken had this in the making for a few days but there are still lots of them in the freezer, so lucky us!!!
It is a lot of work, they are finicky but they turned out to be so delicious. I am speaking for him saying that it was all worth it. Here comes the adventure!!
Recipe
For the soup
1/2 cup unsalted butter
1 cup thinly sliced yellow or red onion or a combination
1/2 cup thinly sliced shallots
1 cup dry red wine
1 cup each lower-salt chicken & beef broth
2 Tbsp. chopped fresh thyme
1 Tbsp. aged balsamic vinegar
Kosher salt and freshly ground pepper
For the croutons
1/2 lb. dense chewy bread, crust removed, cut into 3/4 inch cubes
2 Tbsp. extra virgin olive oil
1/2 tsp. minced garlic
1/2 tsp. chopped fresh thyme
Kosher salt and freshly ground pepper
For the dumplings
40 square wonton wrappers
1 large egg, lightly beaten
3 cups vegetable oil
1 3/4 cup grated Gruyere
Kosher salt and freshly ground pepper
Soup
In a 12″ skillet, melt the butter over medium-low heat. Add the onions and shallots, cook stirring frequently, until they are a deep caramel color, 25- 35 min. Raise the heat to medium, add the wine and cook until it has completely evaporated 5-9 min.
Add the beef and chicken broths and cook until reduced by about half 5-7 min. Add the thyme and vinegar, season to taste with salt and pepper and cook another 1 min.
Remove from heat and let cool. Line a 4 1/2″ x 8 1/2″ loaf pan with foil and pour the soup mixture into the pan. Freeze until solid, at least 4 hours preferably overnight.
Croutons
Position a rack in the center of the oven and heat the oven to 400F. In a large bowl, toss the bread with the olive oil, garlic, thyme 1/4 tsp. salt and 1/8 tsp. pepper.
Spread the croutons on a baking sheet and bake stirring occasionally, until golden brown, about 15 min. Let cool and then skewer 40 of the best-looking croutons with long toothpicks.
Dumplings
Working with about 10 wonton wrappers at a time, arrange them on a flat surface and brush the edges with egg. Unmold the soup mixture from the loaf pan. Using a chef's knife cut the frozen soup into 4 long even strips, then cut each strip crosswise into 10 pieces, to make 40 in total.
Put one square in the center of each wrapper and fold up the edges, pressing to create a purse like a dumpling. Repeat to make 40 dumplings.
Put the dumplings on a tray and freeze again for at least 4 hours or overnight before they are ready to fry. You can transfer them into a Ziploc bag once frozen.
Serving
Heat the vegetable oil in a 4-quart saucepan over medium-high heat until the temp reaches 365F. Line a tray or plate with a paper towel.
Add as many dumplings into the pan without crowding and fry until golden brown 2-4 min. With a slotted spoon transfer the dumplings to the paper towel. Continue to fry the rest of the dumplings.
Position a rack in the center of the oven and heat to 450F. Position the dumplings among 8-10 small, shallow ovenproof gratin dishes and top with Gruyere.
Bake until the cheese is melted 5-6 min. Stick a crouton skewer into each dumpling. Season with salt and pepper if you like.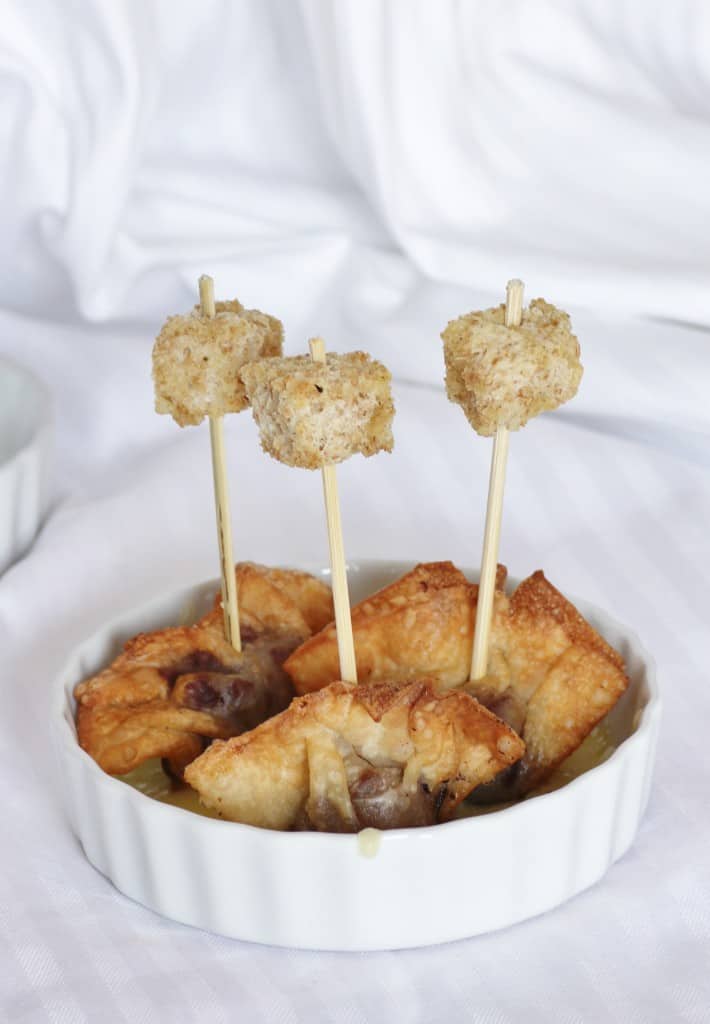 Recipe from Fine Cooking The Best of Party Food Magazine