Udi's Gluten Free Savory Bread Pudding
Today we are talking about Udi's Gluten-Free Products. I was sent a huge variety of their wonderful products to try and to cook with. I wanted to make for you this Udi's Gluten Free Savory Bread Pudding too! You can also be as lucky as me, as I have a giveaway for you too!!
It used to be so difficult to be completely gluten-free, it meant making all of your bread products and so many of them don't turn out, they are too dry or tasteless.
Udi's is changing that for so many that are Celiac or gluten intolerant or just want to reduce the amount of gluten they are consuming. 8 in 10 Canadians who reduce or cut gluten claim they feel healthier, happier, and more energetic.
About Udi's
Udi's Healthy Foods LLC (Udi's) is a leader in the fast-growing market for gluten-free foods in North America. They market a diversified and growing range of gluten-free products under the well-recognized Udi's Gluten-Free Foods brand in the retail market, and since mid-2011, foodservice channels. Udi's Gluten-Free Foods is a leading brand in gluten-free bread and bakery products. In addition, Udi's markets other gluten-free products in the frozen pizza and granola categories.
They have a wide range of products from muffins (my fav) to cinnamon buns, bread, hot dog buns, hamburger buns, tortillas, and more. I had to try to think up a recipe.
Right away my brain went to a savory bread pudding. Something you could serve at Thanksgiving with the traditional trimmings or with roast beef and all the fixings. I was concerned that the bread would turn out mushy without the gluten but it was absolutely fabulous.
I used Udi's hamburger buns for this recipe and they were perfect. The pudding was crunchy, crispy, and delicious on the top with a smoother, savory under the crust. The mix of veggies and cheese grouped so lovely together enhancing the entire dish.
The dish is cheerful-looking on any Thanksgiving, Christmas, or holiday table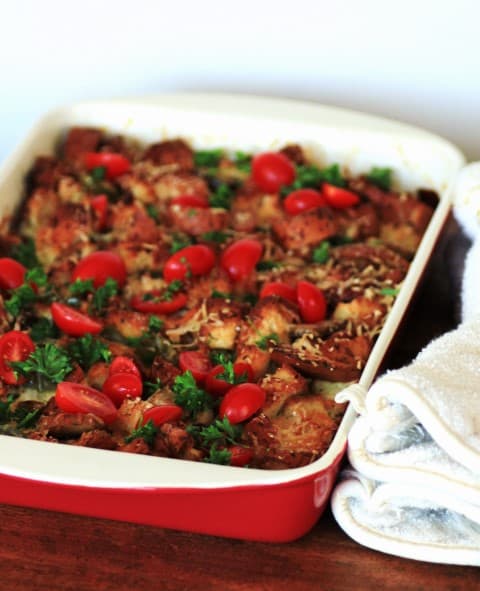 I love placing fresh tomatoes on top of a casserole, not only is it delicious but also so pretty.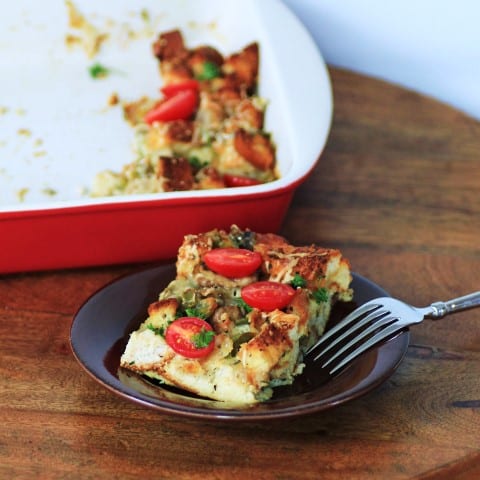 As you can see this bread pudding was devoured!!! You would never even know this dish is gluten-free!!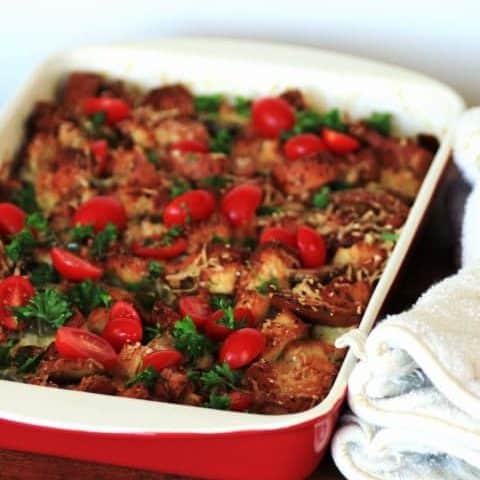 Udi's Gluten Free Savory Bread Pudding and a Giveaway
Yield: 12 Servings
Prep Time: 25 minutes
Cook Time: 50 minutes
Total Time: 1 hour 15 minutes
A delicious gluten free bread pudding!!
Ingredients
4 Udi's hamburger buns, cubed
Cooking spray
2 Tbsp. olive oil
4 oz. cremini mushrooms, thickly sliced
1/2 onion, diced
2 garlic cloves, minced
1/2 green pepper, diced
1/2 tsp. each oregano, basil, and thyme
Salt and pepper to taste
1 cup provolone, small cubes
6 eggs, beaten
1 cup milk
1/2 cup Parmesan, grated
Parsley for garnish
12 grape tomatoes, halved
Instructions
Preheat oven to 375F. Place cubed hamburger buns on a rimmed baking sheet and toast lightly in the oven for 8-10 min., watch carefully. Remove to a large bowl.
Spray a 9 x 13" baking dish with cooking spray and set aside.
In a large skillet heat oil over medium-high heat. Saute onion, garlic, green pepper, and mushrooms for 1 min.
Add in oregano, basil, thyme, salt, and pepper to taste. Continue to saute until the veggies are tender.
Toss the veggies with the bread and add the provolone. Adjust seasoning with salt and pepper.
In a small bowl whisk the eggs with the milk. Pour over the bread mixture and fold to incorporate. Pour into the prepared dish.
Sprinkle the top with Parmesan and bake for 35-45 min. or until browned on top and the pudding has set. You may need to foil in the last 10 min. if it is browning too quickly.
Remove from oven and let sit for a minute or two to cool slightly. Top with tomatoes and parsley. Cut into squares to serve.
Nutrition Information:
Yield: 12
Serving Size: 1
Amount Per Serving:
Calories: 170
Total Fat: 10g
Saturated Fat: 4g
Trans Fat: 0g
Unsaturated Fat: 5g
Cholesterol: 105mg
Sodium: 313mg
Carbohydrates: 11g
Fiber: 1g
Sugar: 2g
Protein: 10g
Recipe calculation was provided by Nutritionix and is estimation only. If you need nutritional calculations for medical reasons, please use a source that you trust.
Now for the fun part, our giveaway!! The winner will receive a $150 Gluten-Free Prize Pack from Udi's!! You will love it, just like I did!! Sorry, the contest is only open to Canada.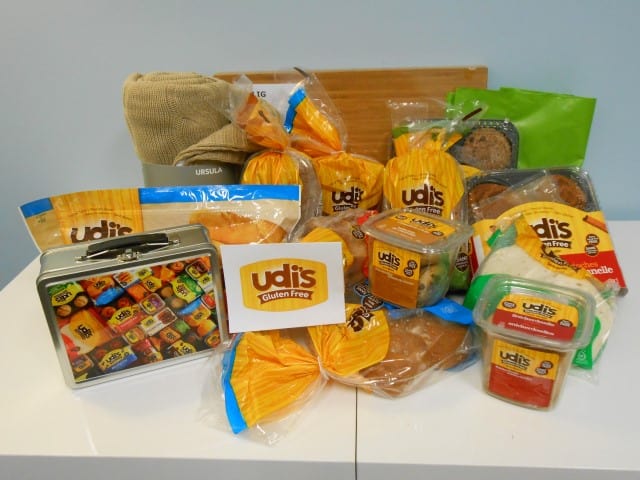 It is easy, all you have to do is leave a comment on why you have or would like to reduce the gluten in your diet. That's it, that easy!!
The contest is open until October 29th, when I will have a second recipe with more of Udi's wonderful product. ENJOY!!