How to Host a Dinner Party on a Budget
Learning How to Host a Dinner Party on a Budget will help with all your party needs. Hosting a dinner party can be such an exciting experience, but also a costly one.
The good news is that throwing a beautiful and classy dinner party doesn't have to break the bank. In fact, there are many low cost ways to host a dinner party at your house without flattening your pocketbook.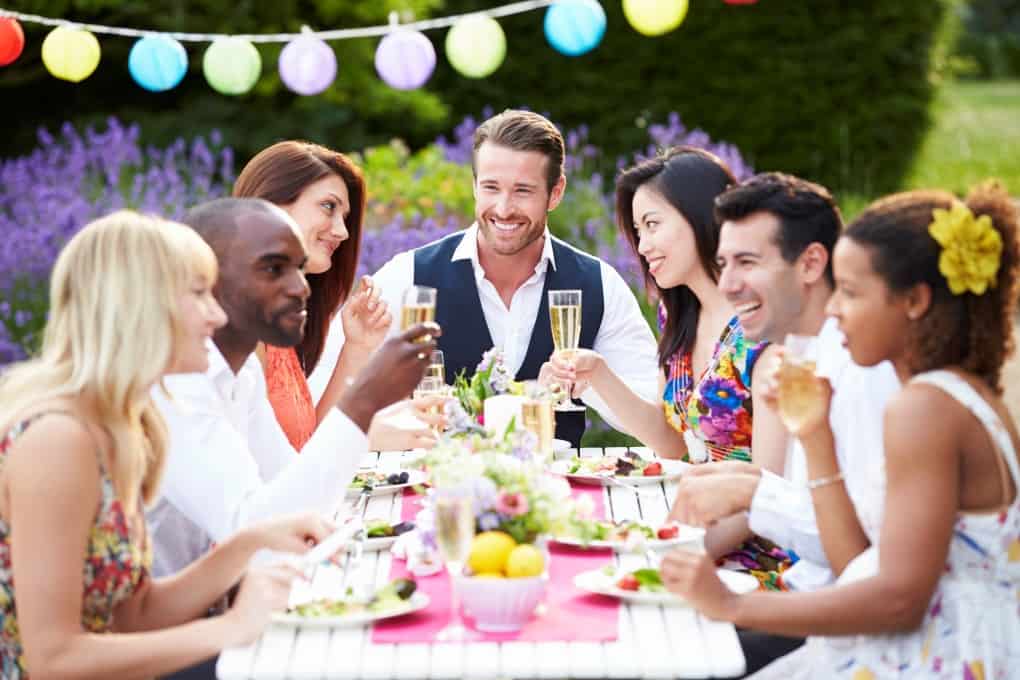 Whether is it be a backyard soiree or a winter holiday sit down dinner, keeping it in budget will be easy with these tips.
Start Planning Early
One of the cheapest tools you can possess while preparing for a dinner party is time. If you have enough time to spend, you can stock up on beverages, source out the best deals on food items and even find a way to borrow any extras like stemware and serving pieces.
Rushing through the preparation steps of a dinner party will only be to your detriment, so the best thing you can do is start planning right away.
Make Lists
With so many details to consider when planning a dinner party, you will want to start making lists.
Lists can help to keep you on the ball and help to avoid any mistakes or mishaps that could take place. Make a list of to-do's, a list of guests, and even a checklist of menu items.
Lists can also help you to avoid going overboard with your spending and planning.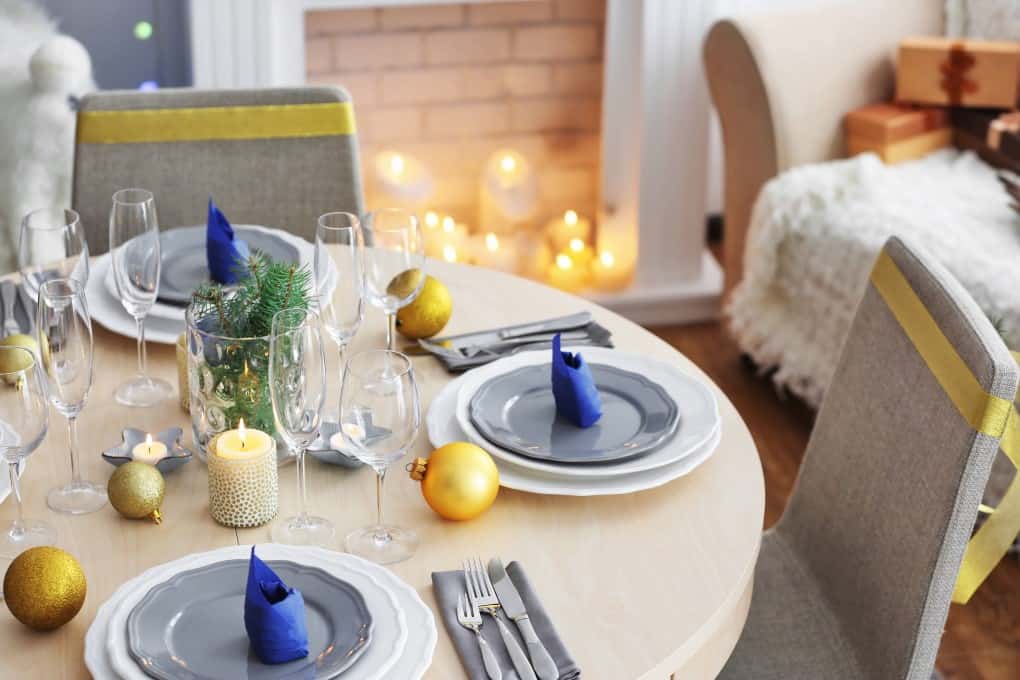 Focus on the Table
There are many ways to make a beautiful and dazzling table without breaking the bank. Think candles, fresh flowers and a beautiful table cloth but do these on a budget and be creative. Use small glasses for vases, a pretty teapot, antique tin, mason jars, small bucket, vintage colander with a bowl inside, all work well too.
Find items in your home you already have. Use cut flowers or leaves from the garden.
Doing a long line of greenery down the center of the table with a few roses stuck in with water pics on the end would also be stunning and inexpensive.
Cluster tea lights together and also grab some items from around your home like pretty tea towels overlapping for a runner. Name cards are cheap and make a table instantly special. Also, I type out menus which is very inexpensive and a lovely touch. Mix and matching items if done correctly can look stunning too!
Use eye popping colors for the table with paper napkins that you can get from a party store or dollar store. Do a few little pretty candies on a plate to add color and excitement or place some on everyone's individual plate maybe wrapped up in a small paper napkin or some mesh.
Keeping the table décor simple, yet eye-catching should be your goal. Remember, people also eat with their eyes so setting a gorgeous table is an important element to a dinner party.
Make a Playlist
Create a nice playlist of music to have playing in the background of your dinner party. Mood music can really set the tone of a party and is an inexpensive way to create ambiance.
Music is also a good way to let people know when the party is over, simply turn off the music for a tasteful way of hinting to your guests that the party has come to a close.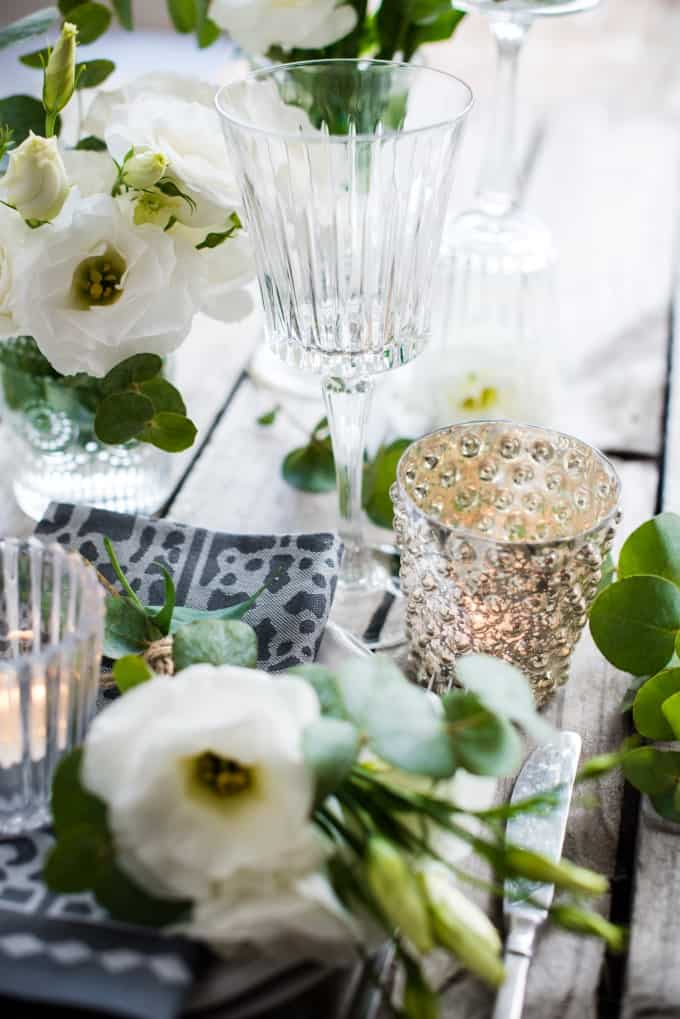 Make it a Potluck
A potluck is an amazing way to host a dinner party without worrying too much about having enough food, or enough money. Have every attendee bring their favourite dish.
Make sure to keep an ongoing tally of what people will be bringing to ensure an appropriate balance of menu items and sides. Use a site like Perfect Potluck to keep you organized.
If it's going to be a large party, you are going to want to make sure that everyone has somewhere to sit, so perhaps request your guests bring chairs if you don't have enough seating for everyone.
It is also a good idea to request that your guests bring their own alcoholic beverages. You can offer things such as juice, pop and so on, but alcohol can get expensive.
Have fun
There are many fantastic ways to host a dinner party on a budget and still have a fantastic time. You don't have to break the bank to have fun and there is no shame in requesting people bring their own alcohol, or a favourite appetizer.
Just go with the flow and you will be throwing a beautiful dinner party in no time.