Late Summer Sausage Pasta
I love fresh tomato pasta, and this Late Summer Sausage Pasta really hits the spot! Add a little bit of spice and lots of veggies and I am very happy. You now start to feel like some hotter more wholesome meals with fall coming and this is one of those recipes that fit in. It is also a quick and easy one-bowl meal which is easy on the budget. Enjoy!!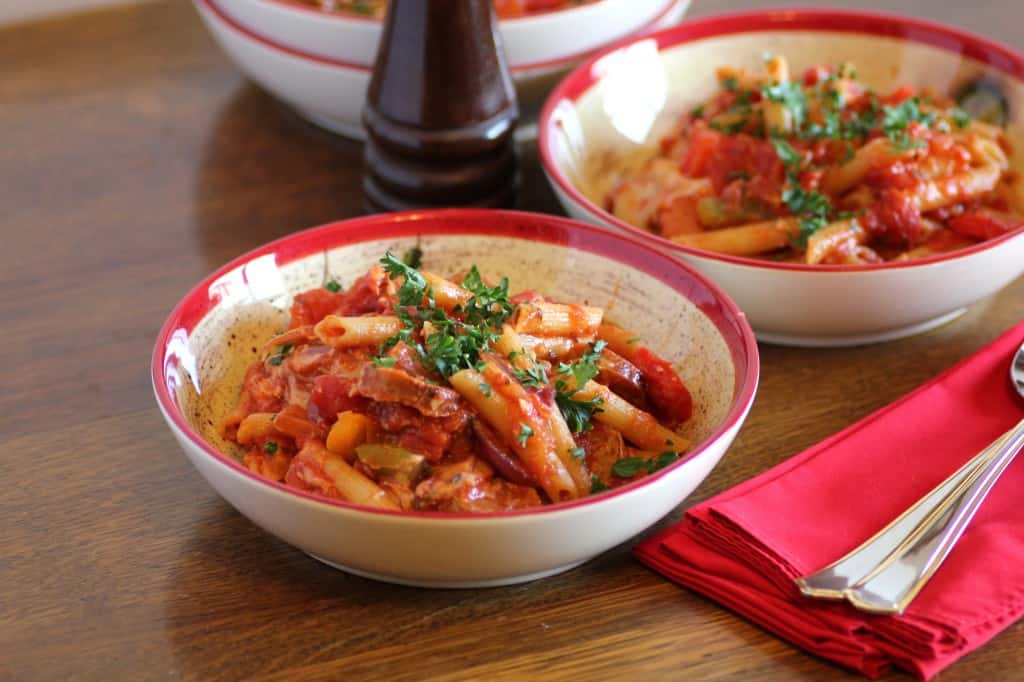 Recipe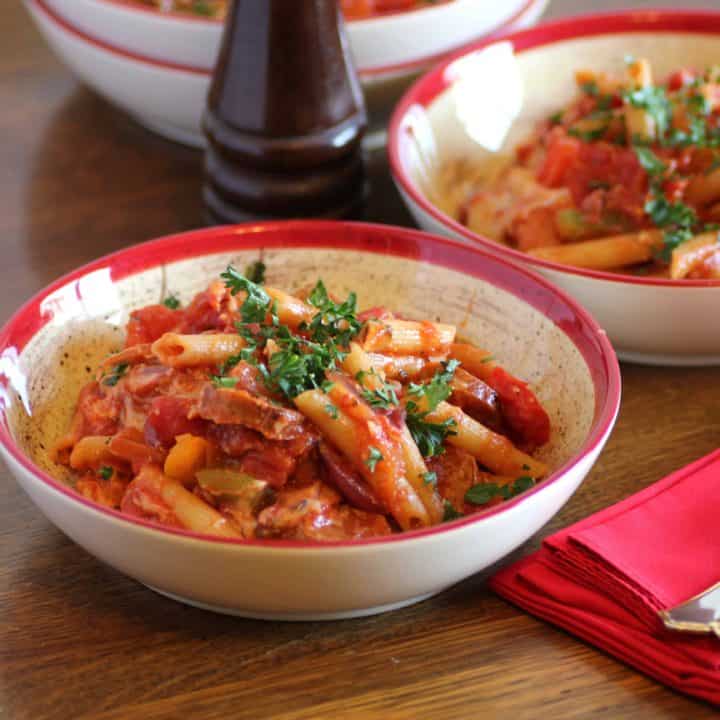 Late Summer Sausage Pasta
A wonderful pasta choked full of veggies and sausage!
Ingredients
1 Tbsp. olive oil
3 cloves garlic, minced
1/2 red onion, chopped
1/2 red pepper, chopped
1/2 green pepper, chopped
1/2 yellow pepper, chopped
3 medium tomatoes, chopped
3 Spicy sausage, grilled or sauteed and then sliced
1-28 oz. can of diced tomatoes
1/4 cup chopped fresh basil
2 fresh sprigs of oregano, chopped
1 fresh sprig of thyme, chopped
Red pepper flakes to taste
1 Tbsp. tomato paste
Salt and pepper to taste
450 gms penne pasta
1/2 cup mozzarella, grated
Parsley for garnish
Instructions
In a large saute pan add the olive oil and saute the garlic, onion and peppers until tender. Remove from the pan and set aside.
Place the canned tomatoes in the saute pan with the herbs, red pepper flakes, salt and pepper and cook to reduce for 10 min. on medium high heat. Add the tomato paste and stir to combine and let simmer for 5 min. more.
Meanwhile cook the penne pasta in a large pot of boiling salted water until al dente.
Add the fresh tomatoes, peppers and sausage to the tomatoes. Toss to combine and heat through. Add the penne pasta and the mozzarella. Toss to combine. Serve immediately sprinkled with the parsley.