Oven-Roasted Latin Foods Queso Fresco Cheese and Apples
I was asked to test out this recipe for Oven-Roasted Latin Foods Queso Fresco Cheese and Apples, so I was more than happy to oblige.
The package arrived at the most opportune of times. I was baking with my girlfriend Colleen and hadn't planned lunch as she had an appointment at lunchtime.
The appointment was canceled due to inclement weather so we were chatting and baking and not paying attention to the time.
The doorbell rang and a lovely lady was standing there in the freezing temperatures, having endured some terrible road conditions, holding two bags.
She asked if I was Tara and I said yes. She handed me the bags and off she went, I had no idea what was in them.
To my delighted surprise it was this amazing recipe with all the fixings, even measured out to the exact amounts.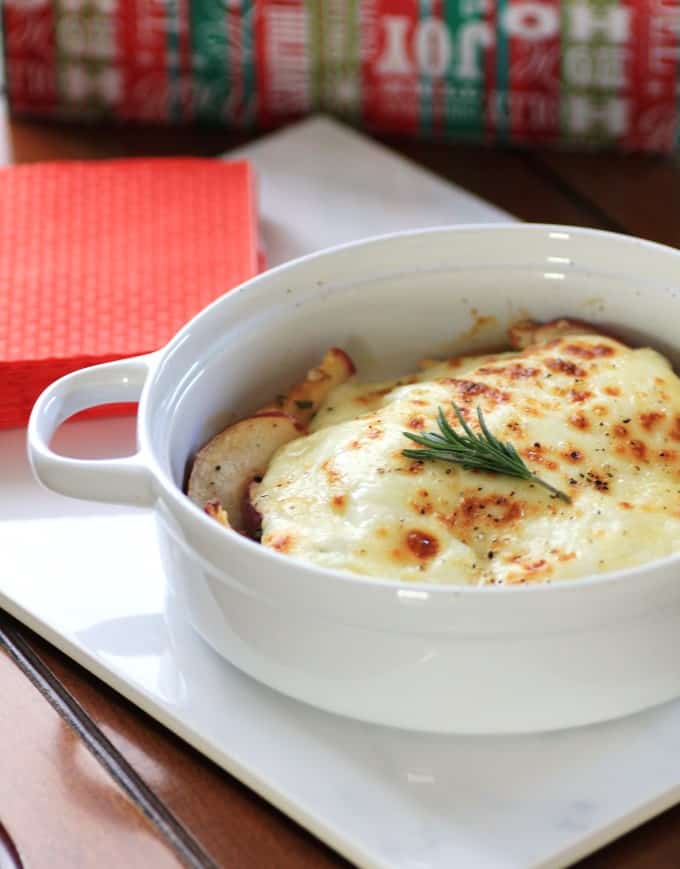 I Was Thrilled
we had lunch, the timing could not have been more perfect. I also adore cheese and even better when it is baked and even better when it is paired with apples.
This is the easiest of appetizers and perfect for the holidays!!!
This cheese won the 2013 Canadian Cheese Grand Prix for this recipe and I totally see why. It was so amazing, I love first how easy it was and second how everything married so perfectly together. I will for sure be making this recipe again and again.
Think of giving the gift of cheese for this holiday season, it is always appreciated!! You can make up a delightful basket of cheese for a hostess gift or for someone special.
Think of a unique container like a vintage basket, a metal tin, or a colorful box and line it with tissue paper.
Purchase some award-winning cheeses like Le Mamirolle (Quebec), Black River 5-Year-Old Cheddar (Ontario), Grizzly Gouda (Alberta), Applewood Smoked 2-Year-Old Cheddar (PEI).
Next, you can go that added step by unwrapping the cheese and getting rid of the pricing, etc.
Rewrap in parchment paper and then Christmas wrap. Label each with their name and a description which is available at AllYouNeedIsCheese.ca/GrandPrix.
Get even more creative with a wine pairing, preserves, nuts, or dried fruits.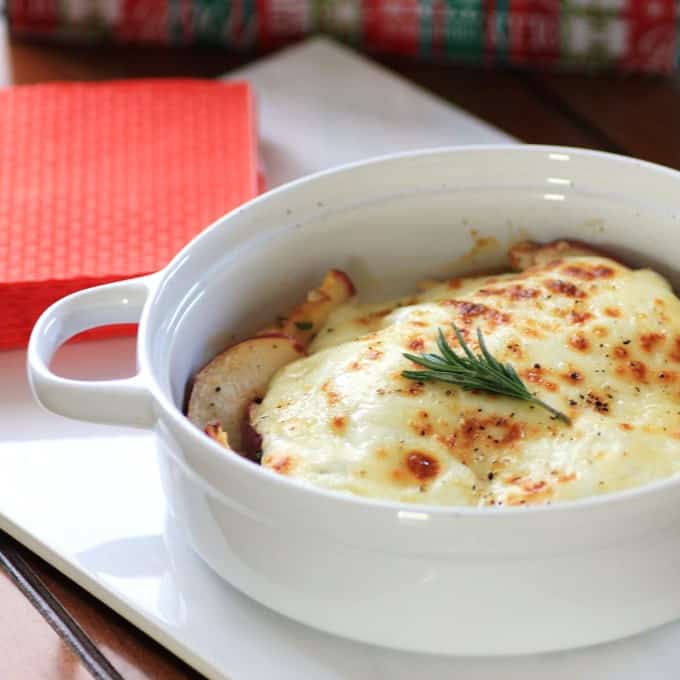 Enjoy cheese this holiday season, I know I sure will be!!! Happy Holidays!!
The Recipe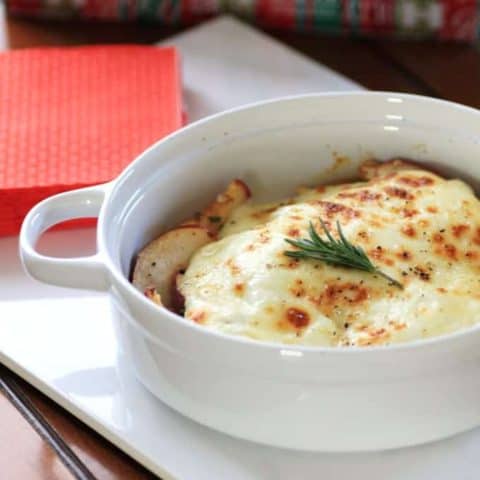 Oven-Roasted Latin Foods Queso Fresco Cheese and Apples #CDNCheese
Yield: 4 Servings
Prep Time: 5 minutes
Cook Time: 20 minutes
Total Time: 25 minutes
A delightful mix of cheese and apples is perfect in this delicious appetizer.
Ingredients
2 apples, sliced or cut into small wedges
1 Tbsp butter, melted
1 Tbsp. honey
1 tsp. fresh rosemary leaves
1/2 cup nuts, your choice (pistachios, walnuts, almonds, pecans, etc.)
8 oz. Latin Foods Queso Fresco Cheese
Freshly ground pepper
Instructions
Preheat oven to 450F.
In an oven-safe medium baking dish, mix apples, butter, honey, rosemary, and nuts if using.
Place cheese over apples, season to taste with pepper.
Bake for 15 to 20 min. or until hot and golden brown.
Place the dish on the table and enjoy while the cheese is hot.