Peanut Butter Blondies
Do you like to make Halloween treats but don't want to make anything that is intricate or time consuming? Well these Peanut Butter Blondies will be a sure fire hit then. Reese's peanut butter cups are a true Halloween treat and one that my family loves. So adding in the little Reese's mini pieces I knew would be a winner. I have made these blondies a few times now and they are fantastic. Can you believe I have never made blondies before this? Neither can I really.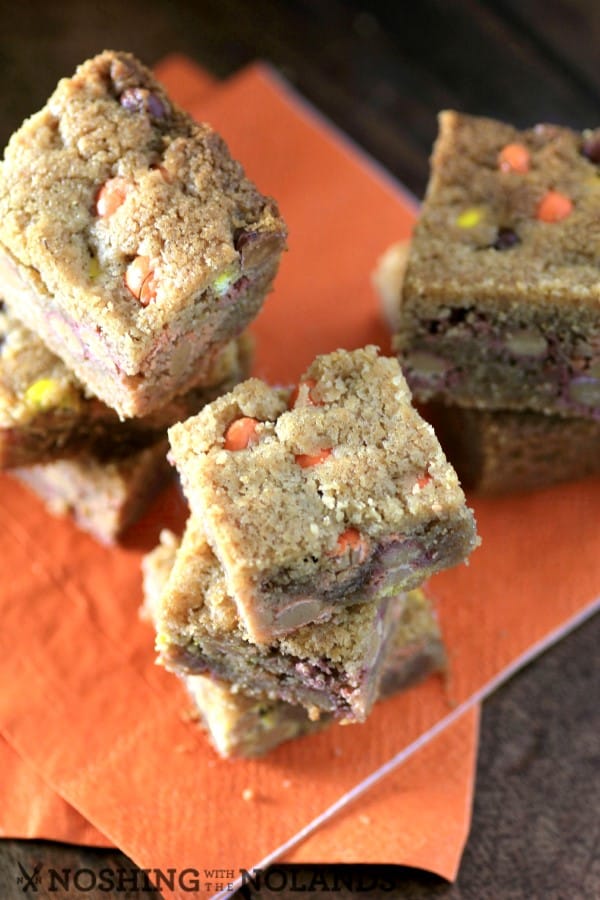 Blondies are very adaptable and show off the little peanut butter chocolate pieces perfectly. This recipe can carry you into other seasons to though, try red and green smarties for Christmas or for everyday, chocolate chips and nuts. The recipe makes a very moist and delicious blondie that stores well also in the freezer or fridge.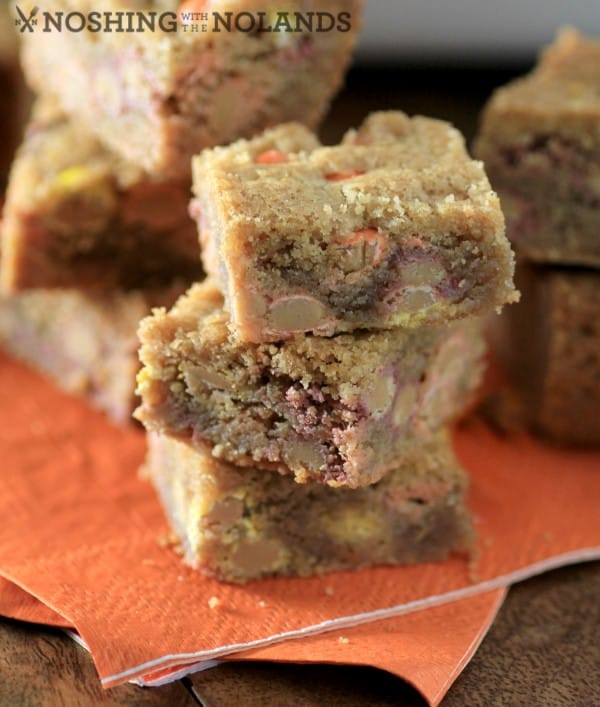 See how moist they stay, don't over cook them or they will get too hard. This is a very easy recipe for a great treat at anytime but for Halloween they are the best!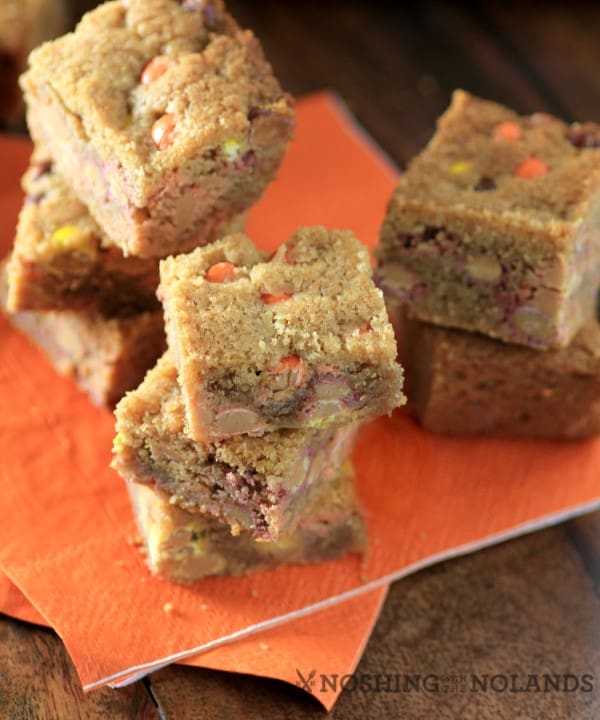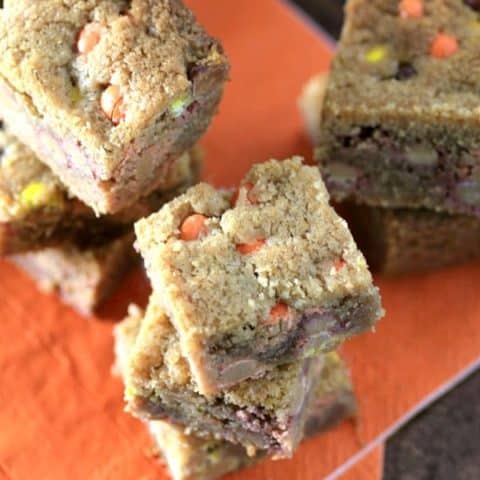 Peanut Butter Blondies
Yield: 24
Prep Time: 10 minutes
Cook Time: 35 minutes
Total Time: 45 minutes
Soft and moist Blondies are made perfect for Halloween with Reese' mini pieces.
Ingredients
1 cup brown sugar
1/2 cup white sugar
1/2 cup softened butter
1 cup creamy peanut butter
2 tsp. vanilla
2 eggs
1 1/2 cups flour
1 tsp. baking powder
1 bag (283 gm.) Reese's mini pieces
Instructions
Heat oven to 350F. Grease a 9x13" pan and line with parchement for easy removal. I cut a long strip that only goes up the ends of the dish. Set aside.
In a large bowl of a standup mixer beat butter with both sugars on medium speed until fluffy. Beat in peanut butter, eggs and vanilla. Turn the mixer to low and add the flour and baking powder slowly. Stir in the Reese's mini pieces.
Spread the dough into the prepared pan and bake for 30-35 min. or until set and golden brown. Cool completely in pan on a cooling rack for about 1 hour. Cut down the edges of the long side of the pan. Using the parchment paper carefully pull the blondies out. Place onto a cutting board. Cut the long side into 6 slices and then each slice into four pieces. Store in an airtight container. Freezes well also.
Recipe adapted from Betty Crocker
Chocolate-Peanut Butter Blondies