I had Pork Carnitas for my first time not that long ago in Old Town in San Diego. After the first bite I was in love!! What is not to love, perfectly cooked and seasoned pork that is crisped up before serving with all the wonderful Mexican flavors of guacamole, pico de gallo and cole slaw. For me this is absolute heaven. I love my Mexican foods!!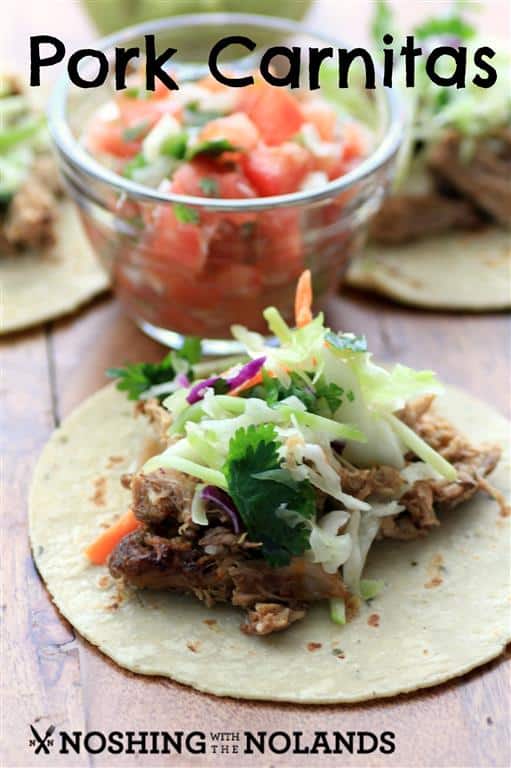 The pork is easily made in the slow cooker and can be made even the day ahead. Then it is laid out on a baking sheet and broiled just before serving to crisp it up. Great way to serve for a large crowd. We served this at a Super Bowl party we hosted. Fried up the tortillas while the pork was heating and everyone was eating in no time. The tortillas that I got were really good authentic green chili tortillas. Worth the few extra cents that is for sure.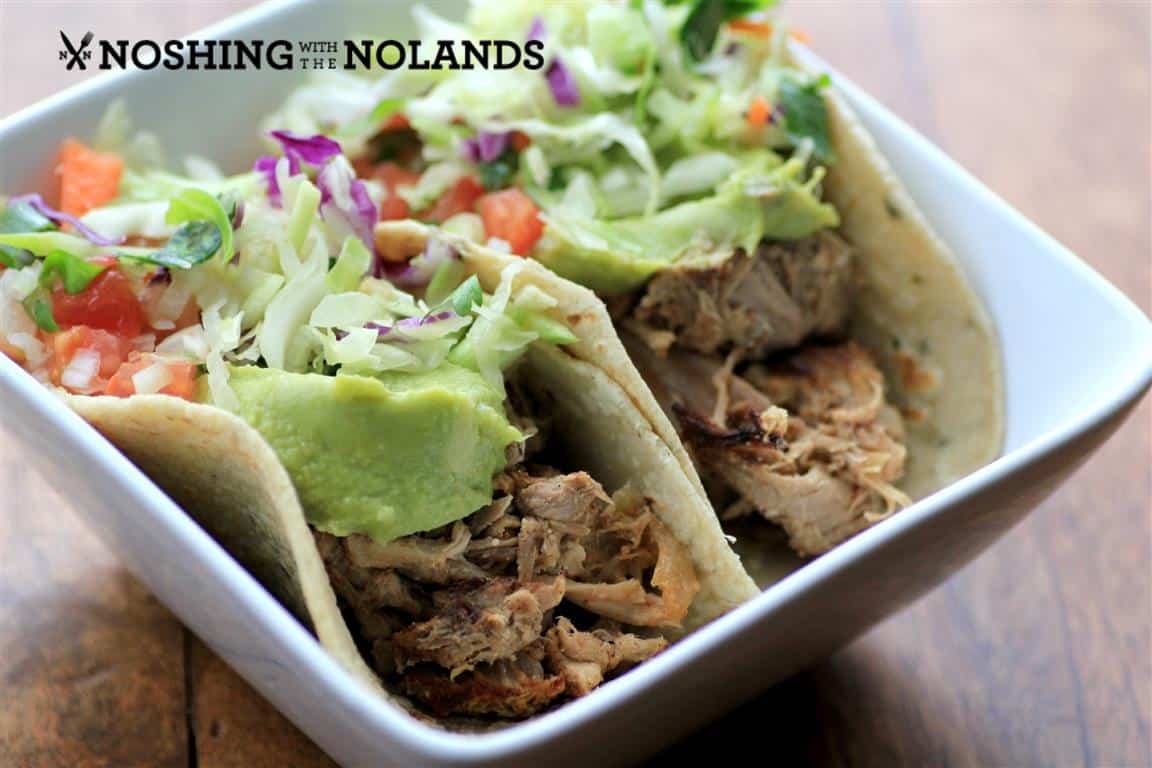 Do you like yours with or without guacamole? You can decide!!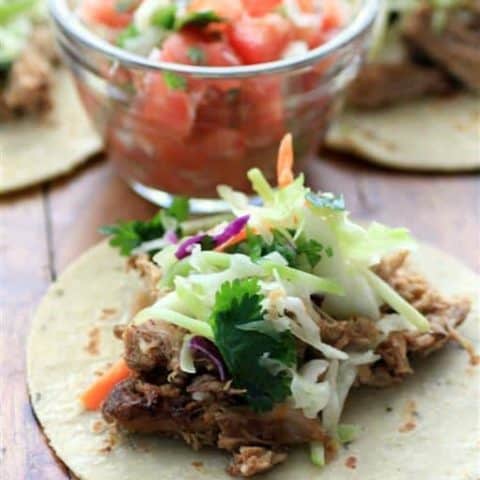 Pork Carnitas
Prep Time: 10 minutes
Cook Time: 8 hours
Total Time: 8 hours 10 minutes
An easy slow cooker pork carnita.
Ingredients
1 Tbsp. chili powder
1 Tbsp. Ancho chili powder
2 tsp. cumin
2 tsp. Kosher salt or to taste
1 tsp. black pepper
2 tsp. liquid smoke
4 lb. pork shoulder, excess fat trimmed
2 onions, roughly chopped
6 cloves garlic, smashed and roughly chopped
1 cup fresh squeezed mandarin or navel orange juice
1 lime, juiced
Corn or flour tortilla, 6"
Optional toppings
Guacamole
Cole slaw
Pico de gallo
Instructions
Mix together the chili powders, cumin, salt and pepper. Stir in the liquid smoke. Rub this mixture all over the pork and place it a large slow cooker. If there is excess spices save and toss on the onion and garlic. Place in onion, garlic and pour in orange and lime juice. Cover and cook for 8 hours on low or 4-5 hours on high.
If making ahead, shred pork with two large forks, cool, cover and refrigerate. When ready to serve place the shredded pork on a rimmed baking sheet. Broil until crispy and heated through.
Serve on a heated tortialla with your favorite toppings of cole slaw, guacamole and pico de gallo or salsa.