It is Oscar time again, have you seen the movies? I have to say I haven't but that never stops me from watching and of course munching on something divine. For this #SundaySupper Red Carpet Party hosted by Katie from Ruffles and Truffles, I made Oysters Rockefeller. A classic appetizer that originated in New Orleans, in 1899 by chef Jules Alciatore, the son of restaurateur Antoine Alciatore and founder of Antoine's. The dish was named after John D. Rockeller, the richest American at the time. It was named this because of it's intense rich sauce.
The original recipe is top secret and has a mystery surrounding it. There are two different renditions of what has happened to the original. Some say it was handed down through generations in the tight lipped family but it is also said that Jules took the recipe to his grave. Anyone making the recipe today is only making a version of the original. It is said that the initial recipe didn't even have spinach but "other" green vegetables. Well, that is all fine, we can all create our own version. I went for an Oysters Rockefeller recipe from Epicurious and adapted it to call my own. And yes, it has spinach but I didn't want a load of spinach on top, I wanted a lighter version, one that is basically an easy mouthful where you are not struggling to get a larger quantity down. I think I got it right. Here goes!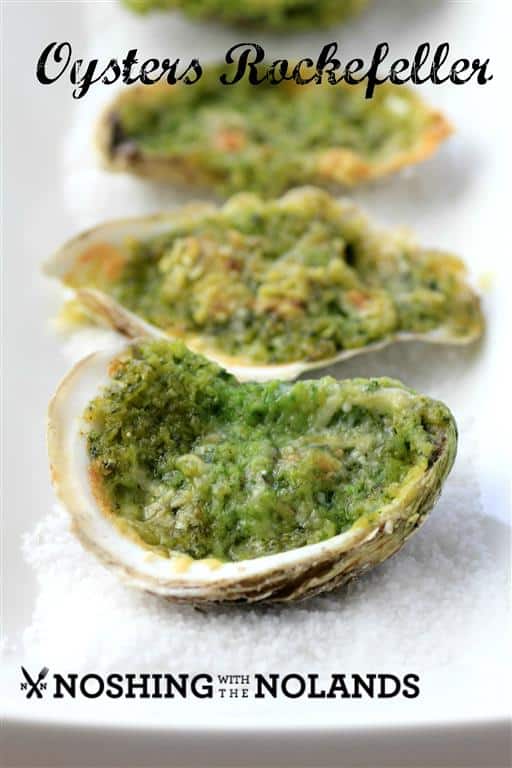 These sophisticated appetizers are perfect to celebrate a night at the Oscars. They are fun and delicious.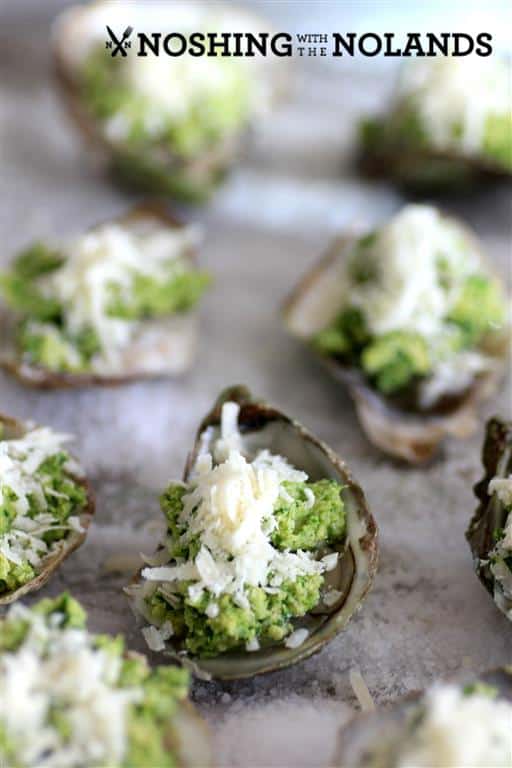 Ken and I first started eating them and thought they were very good, by the second one we thought they were fantastic, by the finish we both longed for more. They grew on us like a story to a climax in a good movie. Then we wished they had never ended!! I hope some of the Oscar award winning movies are like that, always leaving you wanting more!!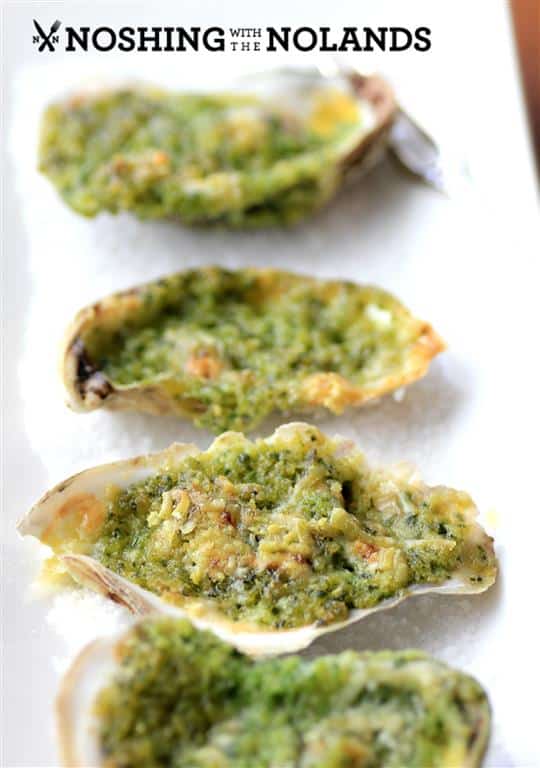 Oysters Rockefeller #SundaySupper
A classic traditional appetizer that has been adapted over the years. Initially said to be absent of spinach but has become the favorite to be included in this recipe.
Ingredients
1 garlic clove, chopped
1 cup loosely packed spinach
¼ cup green onion, chopped
⅓ cup butter, softened
¼ cup panko crumbs
1 Tbsp. Ouzo
1 tsp. hot sauce
Kosher salt
24 fresh oysters
¼ cup Parmesan cheese, grated
Instructions
Add spinach, garlic and green onion to a food processor. Pulse until it is fine chopped. Move the mixture to a medium bowl.
Mix together the butter, panko, Ouzo and hot sauce and process in the food processor until well mixed. Add the spinach mixture back in and pulse, until just blended. Season with salt and pepper. Can be made 8 hours ahead of time and refrigerated.
When ready to bake, heat the oven to 450F with a rack set at the top level. Shuck the oysters and discard some of the liquor from the shell. Place the oysters on a salted baking sheet. Adding as much salt as necessary to aid in the shells to standup properly. Top each oyster with one heaping tsp. of the spinach mixture. Sprinkle with cheese. Bake until the oysters are lightly browned about 8 min.
Recipe adapted from Epicurious.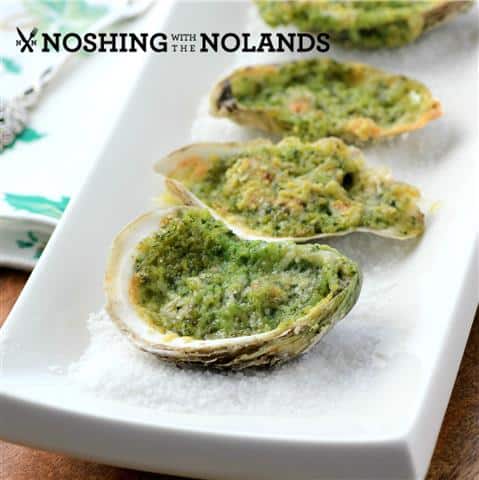 Here is a whole collection of wonderful recipes for the big night! ENJOY!!
Nominees for Best Supporting Appetizers:
Nominees for Best Course in a Leading Role:
Nominees for Best Supporting Sips:
Nominees for Best Delectable Desserts:
Nominees for Best Dressed Table:
DIY Glitter Vases by Sunday Supper Movement
Join the #SundaySupper conversation on twitter on Sunday! We tweet throughout the day and share recipes from all over the world. Our weekly chat starts at 7:00 pm ET. Follow the #SundaySupper hashtag and remember to include it in your tweets to join in the chat. To get more great Sunday Supper Recipes, visit our website or check out our Pinterest board.
Would you like to join the Sunday Supper Movement? It's easy. You can sign up by clicking here: Sunday Supper Movement.