I found this Banana Split Pie recipe using Coconut Milk from #TKeveryday Recipe Challenge and made it myself. The recipe involved using coconut milk in a dessert, something that I had never done before. I was up to the challenge. The recipe was for Banana Split Pie, that sounded really good!! I thought about this one and decided since it was a no bake dessert, except for the crust which still could forgo baking, I would make them in little glasses and change the recipe just slightly. The end result was amazing. A scrumptious dessert that is not only easy to make but can be made ahead of time and received rave reviews from my family.
The original recipe was by Tenille LaFontaine from Feisty Frugal and Fabulous.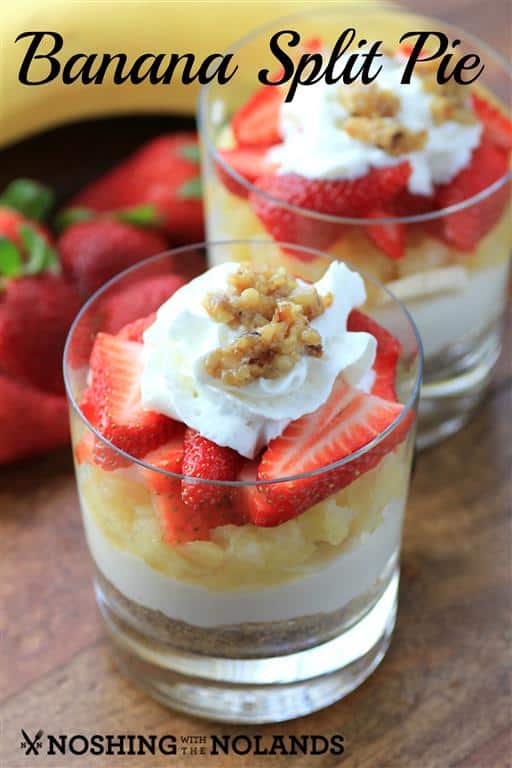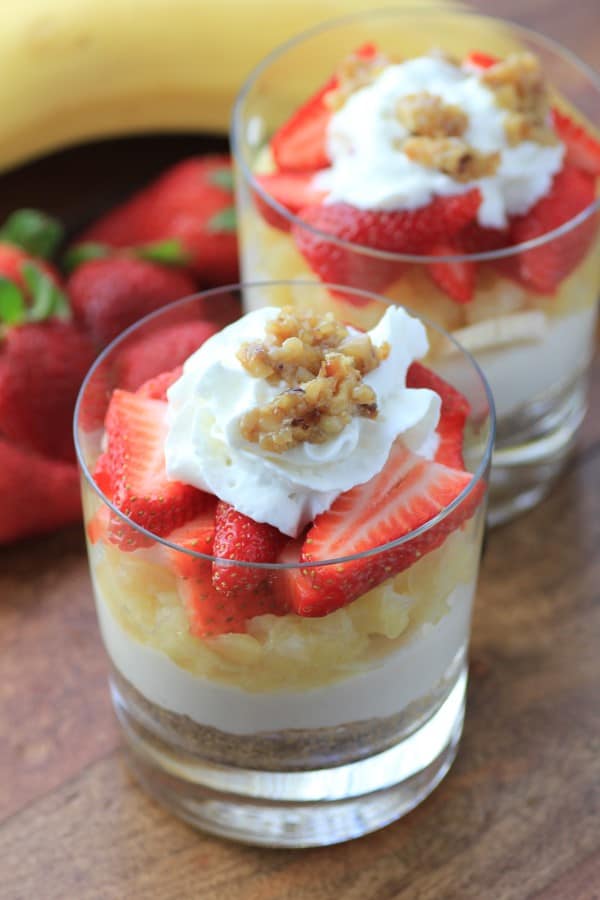 This dessert has all the wonderful fruit of a banana split plus a creamy cheesecake like filling in the center and then finished off with a graham cracker crust. The nuts on top just sent it over the edge. I have to admit I was very leery about roasting the nuts in Thai Kitchen Spicy Thai Mango Dipping Sauce but it was the highlight of the dessert for myself and my family. Even our daughter adored them.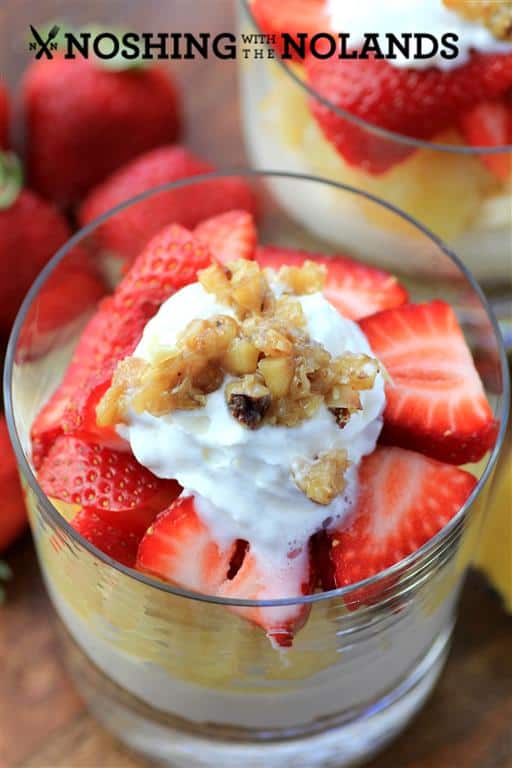 I will pass you a spoon and you can dive right in!! You will be asking for more nuts, I just know it!!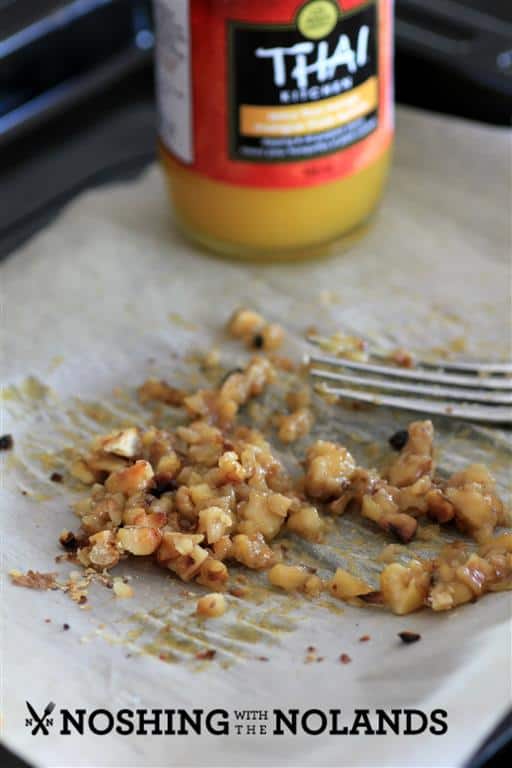 The nuts took all of 5 min. in the toaster oven but were fantastic with the Thai Kitchen Spicy Thai Mango Dipping Sauce.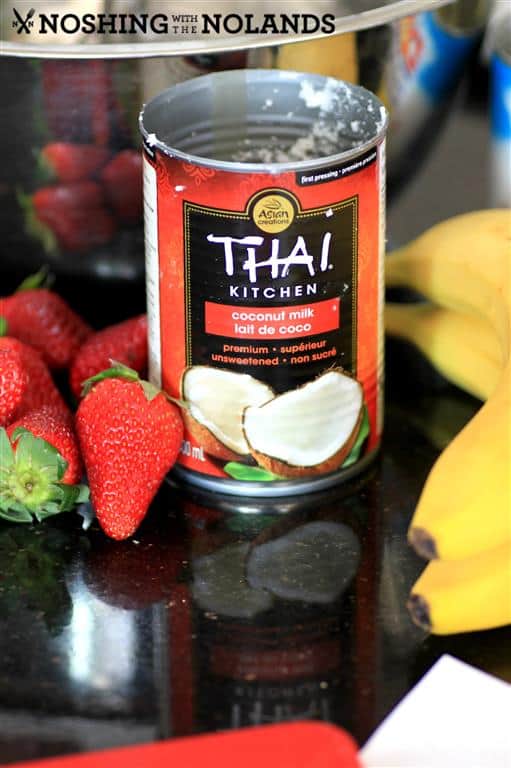 There is just a little trick to have your coconut milk ready for whipping. Place the can of coconut milk in the fridge overnight and a bowl and beaters in the freezer, just like you would for whipping cream. Everything has to be cold. The original recipe had the whipped coconut milk separate but I folded it into the cream cheese mixture to give it more volume and just added a little dollop of fresh whipped cream on the top like a banana split would have. The final crowning glory was the nuts, have I mentioned how much I loved those nuts!!!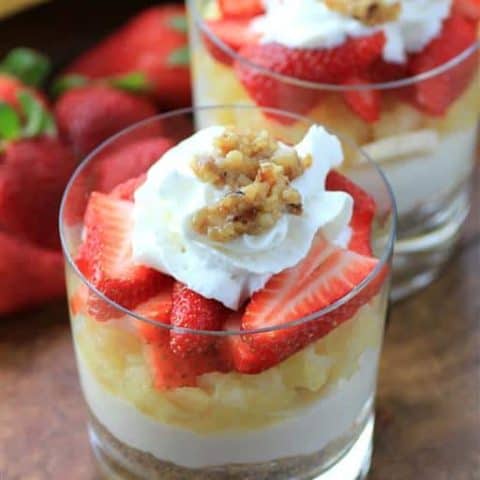 Banana Split Pie #TKEveryday
Yield: 4
Prep Time: 30 minutes
Cook Time: 5 minutes
Total Time: 35 minutes
A no bake Banana Split Pie whipped up with coconut milk and served in a glass.
Ingredients
3/4 cups graham cracker crumbs
3 1/2 Tbsp. butter, melted
3 Tbsp. walnuts, crushed
2 Tbsp. Thai Kitchen Spicy Thai Mango Dipping Sauce
4 oz. package of cream cheese, room temperature
1/2 cup icing sugar
1/4 cup butter, softened
1 banana, sliced
1/2 - 3/4 can of crushed pineapple, drained
1-400 ml. can Thai Kitchen Premium Coconut Milk, liquid removed, can placed in refrigerator overnight, it is important that this is chilled properly before using.
12 strawberries, sliced
Whipped cream
Instructions
Place a medium sized glass or stainless steel bowl in the freezer along with beaters until ready to use.
Mix graham cracker crumbs and melted butter together and press into 4 glasses.
In a toaster oven or conventional oven heat to broil. Line a small baking sheet lined with parchment paper. Drizzle 2 Tbsp. of Thai Kitchen Spicy Thai Mango Dipping Sauce on the walnuts and broil for 3-5 min. stirring once. Remove from oven and set aside.
Beat the softened cream cheese, butter and icing sugar together in a medium sized bowl.
In the bowl from the freezer and the beaters whip the coconut milk until fluffy. Fold into the cream cheese mixture. Dollop carefully into the glasses.
Peel and thinly slice the bananas, place on top of the coconut milk mixture. Place the crushed pineapple on top. Place on the sliced strawberries.
Top with a dollop of whipped cream and the spiced nuts. Serve immediately or place in refrigerator for 2 hours.
Would you like more delicious recipes!! I know I sure do, so I am heading over to
Thai Kitchen Contest Recipes
for more!!