Have I told you how much I love Buca Di Beppo? Oh ya, I have in this review. I will say it again, too, that I adore Buca Di Beppo. It is a fantastic family fun restaurant in the US. Since I am in Canada and can't get there all the time, I have created some recipes to enjoy at home. I did Copycat Buca Di Beppo Veal Saltimbocca on AllFreeCopyCatRecipes, and today I am showing you Copycat Buca Di Beppo Chicken Saltimbocca.
Now with a more recent recipe, we have for you Copycat Buca di Beppo Salmon Sorrento, a lively melt-in-your-mouth entree perfect with Linguine Alfredo or Instant Pot Rice Pilaf with Orzo.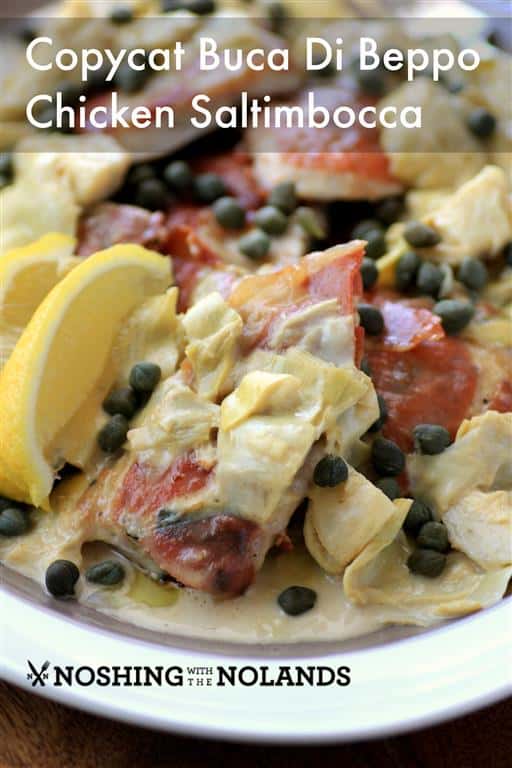 I loved the lemony, creamy, tender chicken with the salty, crispy prosciutto when it is done this way. The added pop from the capers is fantastic, too, and the artichokes just finish it off for me. This recipe will be made again and again. We just loved it!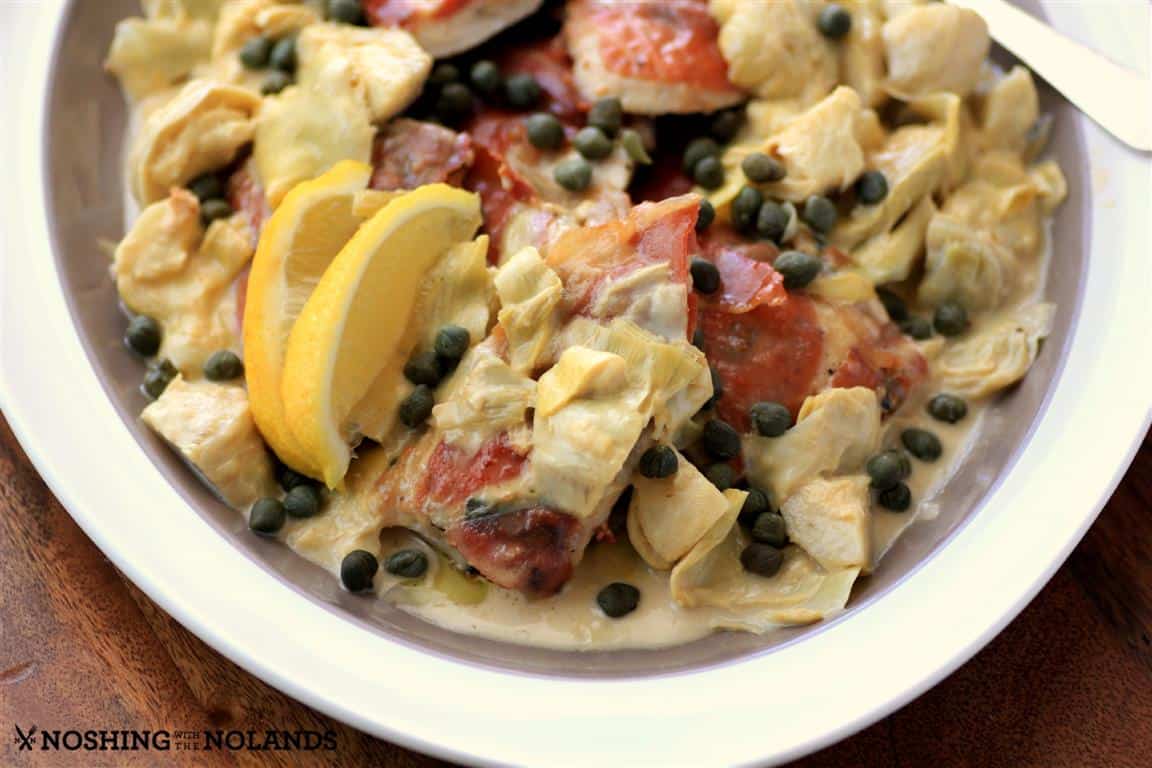 I will pass you a knife and fork if you would like to dive in!!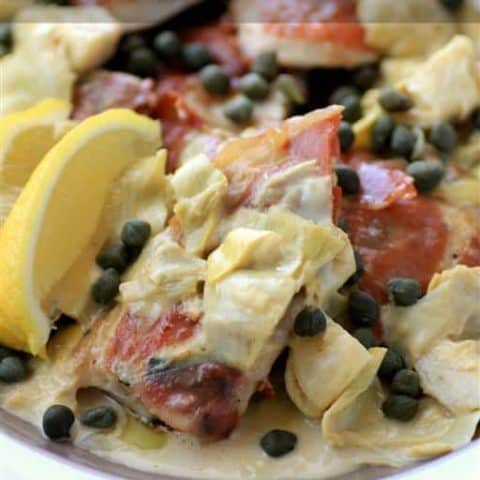 Copycat Buca Di Beppo Chicken Saltimbocca
Yield: 4-6
Prep Time: 25 minutes
Cook Time: 20 minutes
Total Time: 45 minutes
A lemony, creamy, tender chicken served with crispy prosciutto and the perfect pop from capers and artichokes.
Ingredients
4 large boneless, skinless chicken breasts
6 slices prosciutto or enough to cover one side of the chicken
1 Tbsp. fresh sage, finely chopped
2 Tbsp. olive oil
flour for dusting
398 ml. can water packed artichoke hearts, drained and quartered
2 Tbsp. capers
1/3 cup white wine
2 Tbsp. lemon juice
1/3 cup heavy cream
1 Tbsp. butter
Salt to taste
Instructions
Place the chicken between wax paper and pound flat, not too thin and cut into 4 pieces each. Lightly salt and season with the sage and flour one side. Place the prosciutto on the unfloured side and pound slightly to have the prosciutto adhere to the chicken. The chicken should be about 1/2" thick.
Place oil in a large fry pan over medium heat. Place chicken prosciutto side down and brown. Turn over and brown the other side until cooked through. Continue cooking the chicken in this fashion until all is cooked, adding more oil if necessary. Keep cooked chicken warm.
Drain excess oil and add white wine to deglaze, cook and reduce the wine by half. Add the artichokes, lemon juice, cream and butter, and cook until sauce is thickened.
Place the chicken on a large platter and top with the sauce, and sprinkle with the capers. Serve immediately.