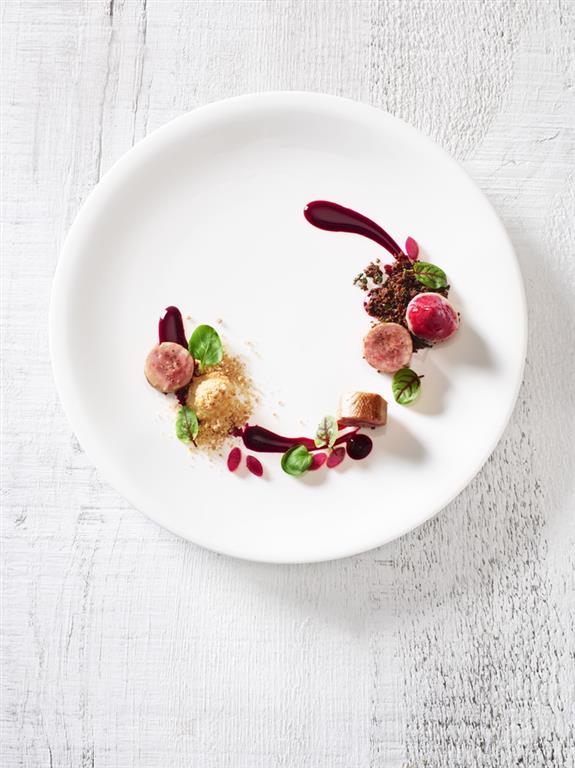 Doesn't that sound and look amazing, I mean really amazing!! Quail Roulade with Beets and Smoked Apple for S Pellegrino Young Chef 2015 is not a recipe for the faint of heart. It is a chef created recipe by the very talented Cara Davis. Cara is among the semi-finalists in another awesome S. Pellegrino competition. This time it is to find the best young chefs from around the world. Cara has been selected as one of the semi-finalist out of 10 in Canada and out of 200 worldwide in this amazing search for the best chef under age 30.
The 10 Canadian semi-finalists who will compete to become this country's representative at the S. Pellegrino Young Chef 2015 competition in Milan on June 25th-27th are:
Randell Brandon, Epicurean Fine Dining (Niagara-on-the-Lake, Ontario) Rabbit in an Autumn Field
Jean-Philippe Cloutier, Le Cellier (Gatineau, Québec), Brome Lake Duck Two Ways
Cara Davis, George (Toronto, Ontario), Quail Roulade with Beets and Smoked Apple
Nicol François-Emmanuel, Fonds de Bourse Cassandre Paquette (Montréal, Québec), Roasted Bison Sirloin, Goose Foie Gras Cromesquie, Chrome-footed Bolete Ravioli
Subir Ghosh, Sheraton Hotel Red Deer (Red Deer, Alberta), Crispy Meringue, Raspberry Sorbet, Rose Foam, Raspberry Vodka Jelly and Mascarpone
Hayden Johnston, Richmond Station (Toronto, Ontario), Duo of Duck – Salt Baked Breast & Braised and Glazed Leg
Paul Moran, CMH-K2 Lodge (Nakusp, BC), Blood Pigeon Smoked and Roasted, Beet Jus and Charcoal Oil, Polenta and Salsify
Adam Oliveira, The Spoke Club (Toronto, Ontario), Lake Erie Pickerel with Broth of Leek & Seaweed
Dominique Roy, Fairmont Le Château Montebello (Montebello, Québec), Duck, Foie Gras and Maple
Justin Tse, Social Restaurant (Ottawa, Ontario), Strawberries and Cream
Cara's bio reads like an accomplished chef of many years, not of a young and upcoming chef.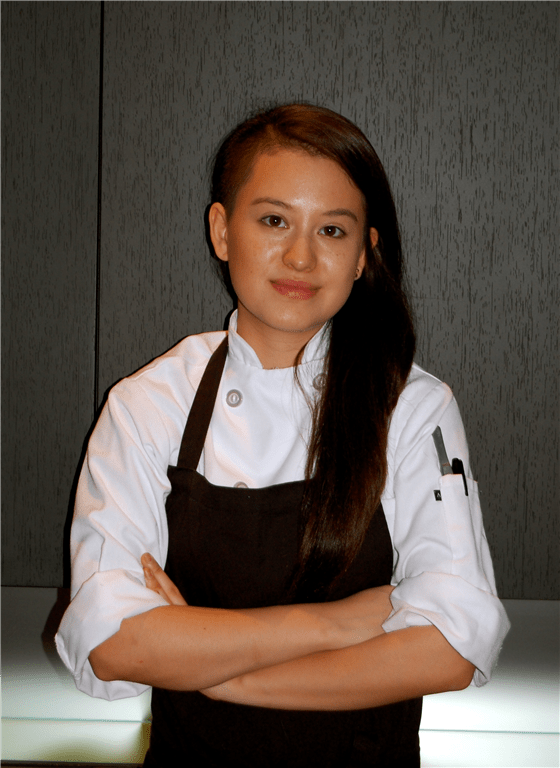 Cara Davis is a cook at George Restaurant in Toronto. She started her professional culinary journey at the age of 15 at Kultura Restaurant. She then went to work for Chef Ted Corrado at C5 at the Royal Ontario Museum. In 2010, during her last year of high school, she won the gold medal at Skills Canada. Because of this, she received a scholarship to the Culinary Institute of America in New York. While at the CIA, she earned a four month internship at Alinea under Chef Grant Achatz. After graduation, Cara worked her way up to an entremetier at Eleven Madison Park in New York, under Chef Daniel Humm. Despite sponsorship efforts, her work visa to the U.S. was not renewed so she went to the French Culinary Institute in New York for the pastry program in order to round out her skills. After graduating with distinction and in the Dean's List, it was back to work. This time, it was off to Arzak in San Sebastian for a two month stage. Upon her return from Spain, Cara decided that it was time to work in a kitchen where she would be given the opportunity to learn more of the management side. She chose to work at George Restaurant under Chef Lorenzo Loseto, 2014 winner of the Gold Medal Plates, because he has mentored many of the best chefs in the city.
I had the pleasure to interveiw Cara Davis and ask her a few questions.
1. What inspired you at such a young age to become a chef?
At fifteen, I got a part time job at Kultura Restaurant. It was a very busy kitchen but Chef Ryan Kowalyk trusted me and even gave me my own station. He made cooking fun. It was here that I decided I wanted to become a chef.
2. Who do you admire now in the culinary world?
I admire those who have mentored me such as Chef Achatz as working at Alinea showed me how far I can push myself, and Chef Humm and Mr. Guidara of Eleven Madison Park for showing me that the best restaurants in the world can be strict and demanding, yet nurturing and run like a family. But who I really admire right now are friends I have trained with in the past that are starting to open restaurants and make a mark in the culinary world.
3. Have you set forth long term goals to where you would like to see your career headed?
Right now, I am trying to round out my skills so that hopefully in two years, I will be ready to open a restaurant of my own.
Last fall, more than 3000 young chefs from around the globe submitted their application and signature dish recipes to Fine Dining Lovers, a fine dining online magazine by S. Pellegrino and Acqua Panna. From these entries S. Pellegrino then divided them into 20 regions. The complete list was given to ALMA, the world's leading international educational training center for Italian Cuisine. They then had the arduous task to come up with 10 semi-finalist based on ingredients, skills, genius, beauty, and message.
The competition is today February 9th, 2015 to determine the finalist from each region. To make this even more exciting, Vogue Italia will select 20 emerging stylists from each participating country to work with the finalists and create a fashion piece inspired by the chefs' signature dishes. Now that is pretty cool!! This will take place from March 1-31st.
The finalist will all compete in Milan, Italy from June 25-27th at the Milan Expo where S. Pellegrino is the official water. Follow the hashtag #SPYoungChef to stay up-to-date on the event.
Quail Roulade with Beets and Smoked Apple for S Pellegrino Young Chef 2015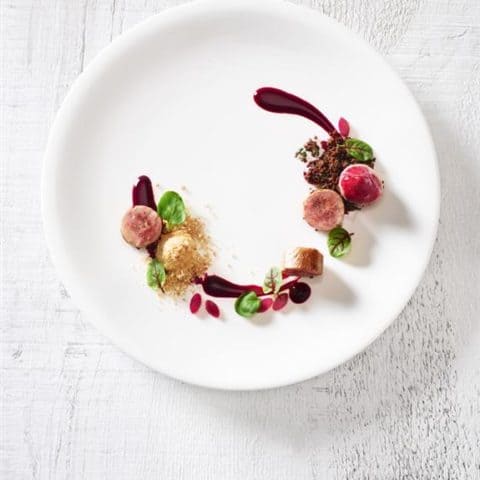 Quail Roulade with Beets and Smoked Apple for S Pellegrino Young Chef 2015
Yield: 4
Prep Time: 2 hours
Cook Time: 1 hour
Total Time: 3 hours
Ingredients
For the Rye Crumb
Rye bread, cubed (1 inch) 250g
Butter, cubed (1 inch) 400g
Rosemary sprigs 3
Caraway seeds 30g
Thyme leaves 20g
Canola oil 500g
Salt to taste
For the Beet and Balsamic Fluid Gel
Beet juice 400g
Balsamic vinegar 100g
Agar agar 5g
Salt 5g
For the Smoked Apple Puree
Granny smith apples, peeled and cored 650g
White wine 100g
Butter 30g
Apple wood smoked salt to taste
Apple wood 15g
For the Pickled Onions
Red onion, peeled 1ea
Grape seed oil 15g
Red wine vinegar 50g
Sugar 15g
Salt 5g
For the Pickled Mustard Seeds
White balsamic vinegar 300g
Water100g
Maple syrup 100g
Whole yellow mustard seeds 200g
For the Sunchoke Crumb
Sunchokes, peeled and diced (1/2 inch) 1000g
Canola oil 3000g
salt to taste
For the Roasted Baby Beets
Baby beets 4(50g each)
Olive oil 30g
Salt 10g
Sugar 25g
Red wine vinegar 250g
For the Quail
Quails, deboned 4 (120g ea)
Activia 2g
Salt
Butter 50g
Thyme Sprigs 4
Garlic 6 cloves
For the Honey Mustard Dressing
Lemons, juice and zested 3(175g ea)
Maple mustard 30g
Thyme, picked leaves 30g
Honey 30g
Grape seed oil 300g
Pickled mustard seeds 50g
Salt 10g
For the Sunchoke Foam…makes 2 cups
sunchokes, peeled and diced (1/2 inch) 250g
Heavy cream 250g
salt to taste
Instructions
Preparation
To Prepare the Rye Crumb
Toast the caraway seeds in a pan until aromatic. Grind caraway in a spice grinder and set aside.
In a food processor, place the cubed rye bread and pulse until you have a course crumb. Combine the finished rye crumb and cubed butter in a large pot over medium heat. Stir continuously until butter smells nutty and the rye is toasted. Pour into a colander to drain off the excess butter and lay on a tray lined with paper towels. While crumb is still hot, sprinkle with caraway and season crumb with salt.
Heat canola oil in a small pot to 300*F. Fry thyme leaves until crispy and mix in with the rye crumb.
To Prepare the Rye Crumb
Combines beet juice and balsamic vinegar into a small pot. Sprinkle in agar agar slowly while whisking. Let the mixture boil for 90 seconds. Set up an ice bath and let the liquid cool until it is firm like a piece of rubber. Once the gel is set, place it in the blender on medium speed until smooth and silky in texture. Pass gel through a fine chinois and store in fridge.
To Prepare the Smoked Apple Puree
Thinly slice the apples on a mandolin. Places the slices in a hot sauce pan and pour in the white wine to avoid the apples from getting any color. Cover apples with a cartouche and cook on medium heat until apples are soft and liquid is evaporated. Puree in a blender with the butter until completely smooth and season with smoked salt. Pass through a fine chinois. Smoke puree with apple wood.
To Prepare the Pickled Onions
Cut onion into desired uniform shape or slice into even thin strips. Get a medium pan hot and coat the bottom with grape seed oil. Toss onions into the pan and immediately add in the remainder of the ingredients. Once liquid has evaporated, ice down onions and store.
To Prepare the Pickled Mustard Seeds
Place mustard seeds in a pot and cover with cold water. Bring to a boil and strain of water. Repeat this step 3 times. Bring remaining ingredients to a boil in a small pot and pour over mustard seeds and allow to cool to room temperature before cooling and storing. Let mustard seeds brine over night or longer if possible for better flavour.
To Prepare the Sunchoke Crumb
Place the sunchokes in a blender and fill to the top with cold water. Blend on high until the mixture looks like wet corse salt. Strain mixture through a fine chinois and rinse under cold water until water runs clear. Wring out excess water with a kitchen towel.
Heat the oil in a pot with high sides to 225"F. Add the sunchokes in slowly to the oil while whisking to prevent it from clumping and cooks evenly. When golden brown strain through fine chinois and lay out the crumb on a tray lined with paper towels. While the crumb is still hot, sprinkle some salt to season. Let crumb cool before serving.
To Prepare the Roasted Beets
Preheat oven to 375*F. Clean beets with cold water and trim off the tops. Coat the beets in olive oil salt and sugar. Place seasoned beets in a roasting pan and pour over the vinegar. Cover pan with foil and roast for 45 min or until tender. Peel beets while warm and cool down cooking liquid. Store the beets in the cooking liquid until they are ready to use.
To Prepare the Quail
Make a roulade with the two breasts of the quail. Place the two breasts skin side facing out, sandwich the two breasts and dust activia in the center (flesh side) to ensure that they don't separate during the cooking process. Roll the quail with plastic wrap into a tight roulade. Cook the quail in a 68-degree water bath for 20 min. Finish the quail off in a hot pan to get color on the skin. Baste the roulade with butter thyme and garlic.
To Prepare the Honey Mustard Dressing
Blend lemon juice, zest, maple mustard, and thyme and honey until homogenous. Drizzle in grape seed oil while blending on medium speed until thick. Mix in mustard seeds by hand and season with salt to taste.
To Prepare the Sunchoke Foam
Place sunchokes and cream in a medium pot and bring to a simmer and cook until sunchokes are tender. Blend mixture on high until smooth and strain through a fine chinois. Season liquid with salt to taste. Place into an isi whipper and charge with two to three chargers. Keep hot by placing the whipper in a 65*C water bath.
Presentation
Everything that is served at room temperature should be plated first. This includes the rye crumb, roasted baby beet, pickled onions, and the beet gel. While the quail roulade is resting, plate the hot smoked apple puree and the sunchoke foam on the plate. Top the sunchoke foam with the sunchoke crumb. Lastly, cut the roulade into three medallions and place on plate. Garnish with Sorrel and watercress and serve immediately.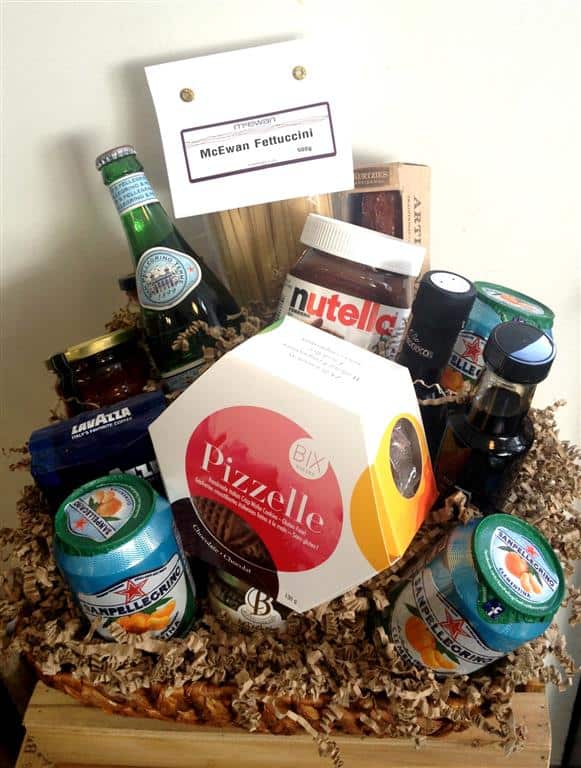 Now we also have something for you! This wonderful S Pellegrino Basket filled with divine products is up for grabs in our giveaway. Included for a retail value of $100 is:
S. Pellegrino 500 ml Carbonated Natural Mineral Water
S. Pellegrino Clementina x 3 cans
Bix Pizzelle Handmade Italian Crisp Cookies
Brickstone Fine Foods Artichoke spread
Lavazza Crema e Gusto ground coffee
McEwan Balsamic Vinegar
Quattrociocchi Jesse tree Organic Oregano Olive Oil
FerreroNutella
Alessia La Bomba Hot Antipasto Spread
Medditeranean Garden All Natural Roasted Garlic Pasta Sauce
McEwan Fettuccine
Kurtzie's Artisanal Handmade Salami
This giveaway is open to Canadian residents only and runs from 12 am. Feb. 9th until Feb. 20th, when a random contestant will be selected. At that time the winner will have 24 hours to respond to an email or a new winner will be chosen. Good luck everyone!!
About S. Pellegrino and Acqua Panna
S. Pellegrino, Acqua Panna and Sanpellegrino Sparkling Fruit Beverages are international trademarks of Sanpellegrino S.p.A. which is based in Milan, Italy. Distributed in over 130 countries through branches and distributors in all five continents, these products represent quality excellence by virtue of their origins and perfectly interpret Italian style worldwide as a synthesis of pleasure, health and well-being.
Founded in 1899, Sanpellegrino S.p.A. is the leading company in the beverage sector in Italy with its range of mineral waters, non-alcoholic aperitifs, drinks and iced teas. As a major Italian producer of mineral water, it has always been committed to enhancing this primary good for the planet and works responsibly and passionately to ensure that this resource has a secure future.