I don't do many posts for lunch. To be honest most of my lunches are leftover dinner or one of my favs is a plate of cheese, crackers, turkey pepperoni and a pickle or fruit. Something fast and easy and I eat that at my desk while working (I know I work too much!). Any who, my girlfriend Marie pointed me into this direction for this fabulous idea, she found on Pinterest by The Londoner. Ramen To Go is what I call this Asian noodle bowl, ant it is easy to make ahead of time for lunch the next day. Well, I could literally eat this everyday!! It just takes some forward thinking and bam, you have an amazing lunch. This can be easily made vegetarian or add some leftover shrimp, pork, chicken or beef. The ones that I have made so far have been just veggies.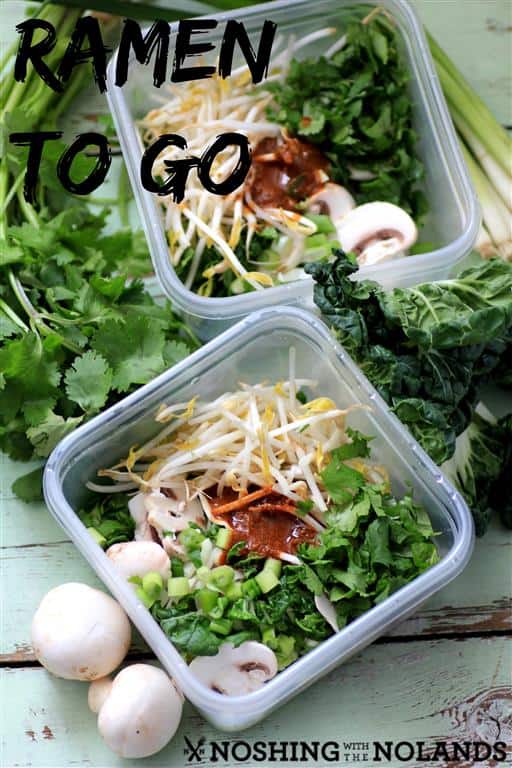 Hubby has been wanting to take lunch to work more and has thoroughly enjoyed these little bowls of Ramen To Go for lunch also. If you are making one, it is definitely easy to make two, three or four. They last perfectly overnight and then the only thing they require is some hot water the next day for lunch. It couldn't be easier and they are so nutritous and even more so delicious!!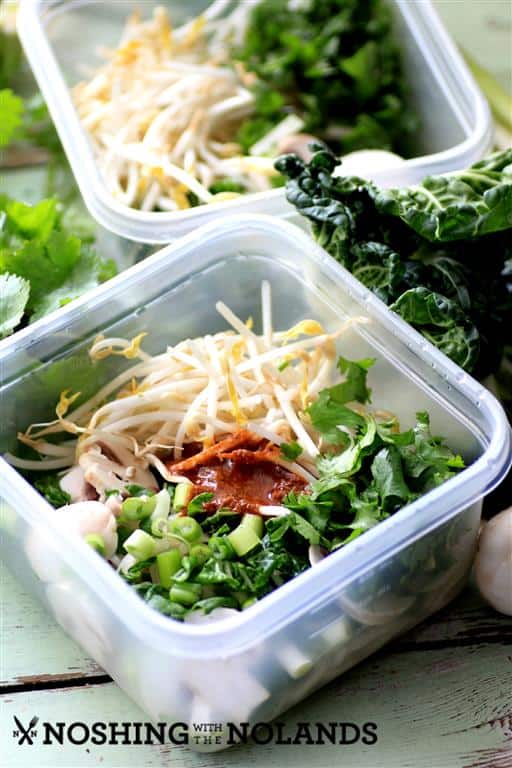 At the bottom of this dish is the noodles. I found ones at the grocery store that are divided into portion sizes and you just cook one of those per serving, perfection!! Then top with your favorite Asian veggies, create a little tasty soup based paste and you have lunch for the next day. The one ingredient that we couldn't find is miso paste. It would add that wonderful umami flavor!! I kept the paste very low in sodium. The one thing about some Asian soups is that they are high in sodium and some have added MSG. The fact that you know exactly what you are putting in this dish is so satisfying.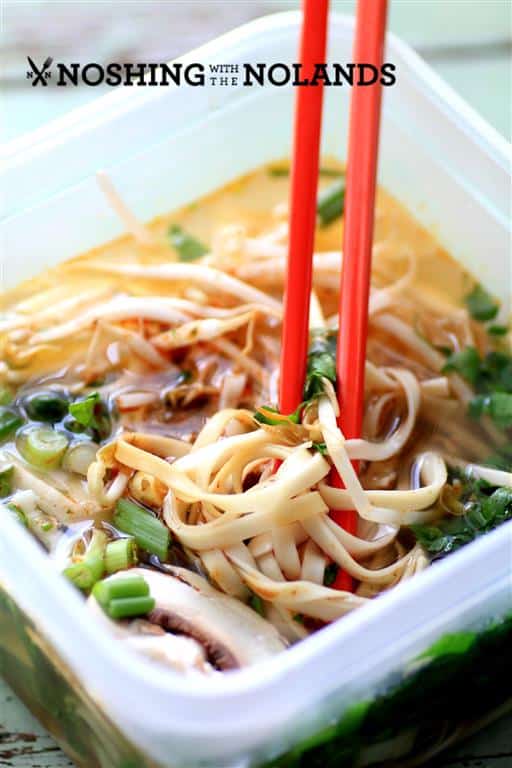 Warm, healthy and inviting. You will want to eat your lunch early!! Be creative with this recipe, add in what you have at home.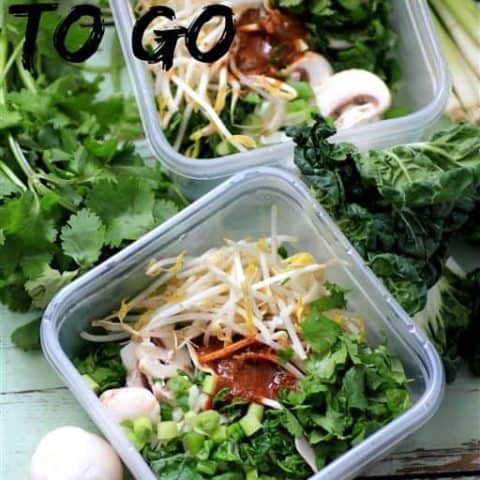 Ramen To Go
Yield: 1
Prep Time: 15 minutes
Total Time: 15 minutes
Ramen To Go makes the perfect lunch for the office.
Ingredients
1 round of dried Asian Style Noodles
1 baby bok choy, sliced
1 large mushroom, sliced
1 spring onion, diced
Handful of bean sprouts
2 Tbsp. fresh corriander
1 Tbsp. chopped peanuts, optional
Soup Base
1 tsp. Sriacha
1 tsp. fish sauce (optional), omit if making vegetarian
6 drops of sesame oil
1 tsp. low sodium vegetable or chicken dried stock powder or bouillon
1 tsp. Tom Yum paste
1 Tbsp. low sodium soy sauce
Instructions
Boil nooodles according to package and drain and set aside to cool. Make the soup base paste by combining the ingredients and mix into a paste. Set aside.
In a container that is safe for hot food and BPA free, lay the noodles in the bottom. Top with the veggies and nuts. Place the paste in the center. When ready to eat fill with hot boiling water to desired level, stir and enjoy!!
Recipe adapted from
The Londoner