Ricotta Roasted Red Pepper Crostini
We are doing a great little appetizer for you today, Ricotta Roasted Red Pepper Crostini from a fabulous cookbook, Per La Famiglia by Emily Richards. I have been chomping at the bit to get this recipe and cookbook out to you. Feverishly waiting for the right time for a New Year's Eve post. This cookbook is a collection of "Memories and Recipes from Southern Italian Home Cooking".
I thought today's recipe would be a perfect little appetizer for New Year's Eve, it would work well for Christmas too with it's festive colours and would even carry into Valentine's as a great sexy nibble to share!! The cookbook is specifically designed for celebrations, Per La Famiglia means "For the Family". Come let me tell you more about this recipe and this wonderful cookbook.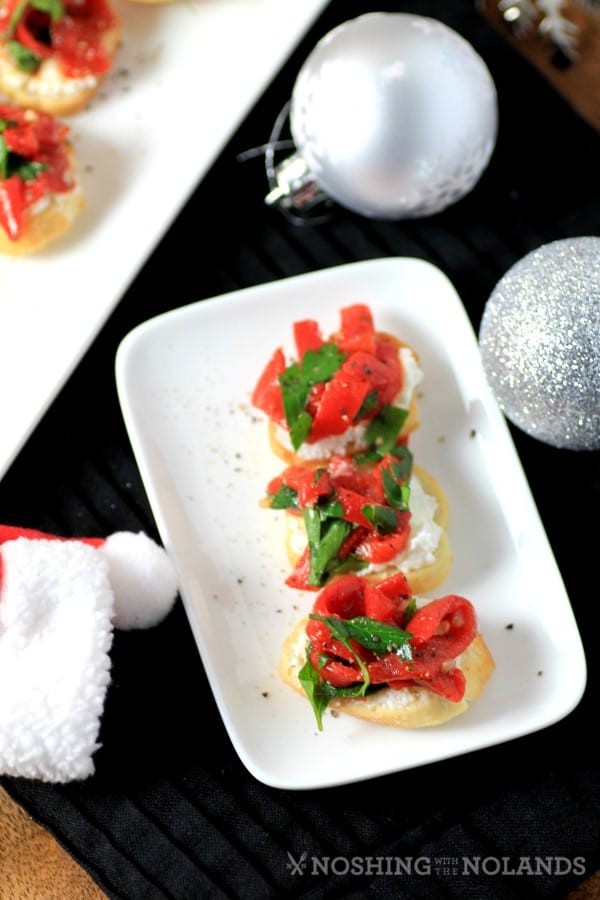 When making this recipe, I took a couple little liberties, well, it is a busy time of year. I also wanted to make them smaller for a little bite sized appy. So I used little store bought crostini crackers and used jarred roasted red peppers. The result was amazing, loved these little pretty morsels and you will too!!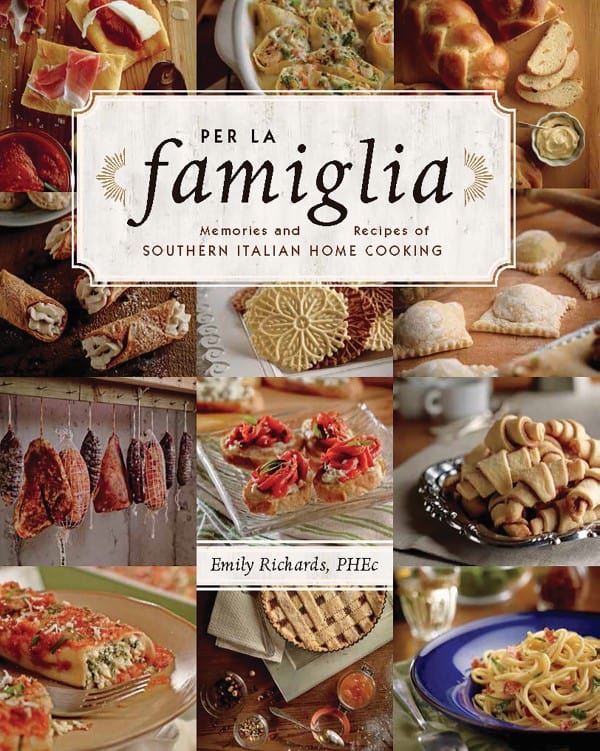 Per La Famiglia has very approachable recipes, that have been passed down through family kitchens. These recipes can't be found anywhere else, they have been family traditions. The cookbook is loaded with wonderful pictures that entice you to try recipe after recipe. There are 130 recipes with 70 color photographs.
Emily Richard's family imigrated from the Calabria region of Italy and settled in Ontario, Canada. With them they brought a rich tradition of cooking, recipes that have been passed from mother to daughter and now to the page!! Recipes like Easy Gorgonzola Cheese Sauce, Ricotta Ball Soup, Seafood Stuffed Shells, Olive and Rosemary Bread, Red Pepper and Prosciutto Stuffed Pork Roast, Celebration Custard Cake and more!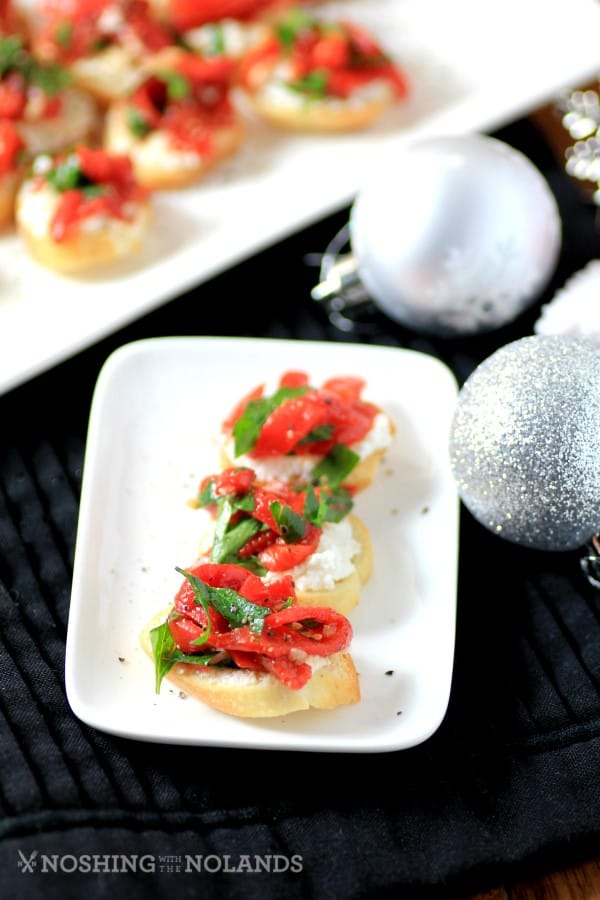 Emily Richards has a long culinary career from restaurants and hotel kitchens to the test kitchen at Canadian Living. With being from a large Italian family she gained the love of food and celebration, which has inspired her own passion for the kitchen. Emily resides in Guelph, Ontario.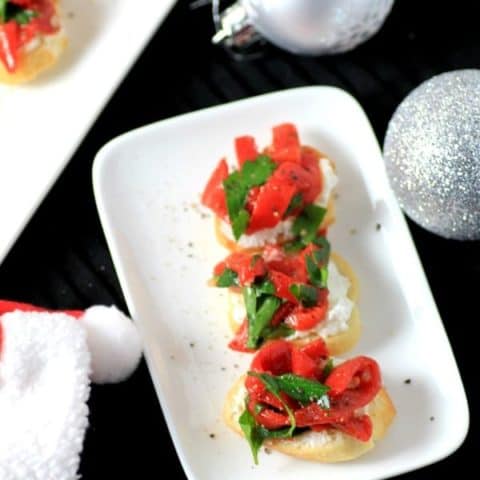 Ricotta Roasted Red Pepper Crostini
Yield: 20 large 40 small
Prep Time: 15 minutes
Cook Time: 5 minutes
Total Time: 20 minutes
This is an easy appetizer that I've made for years. Creamy ricotta cheese provides the background for sweet roasted red peppers. Add some peppery arugula for a different flavour and a salute to the Italian flag—highlighting red, white and green. The toppings work beautifully with traditional crostini or with pan-fried polenta (see note below) for gluten-intolerant friends and family.
Ingredients
1 batch Crostini, still warm (see recipe below)
1 clove garlic, cut in half lengthwise
1½ cups (375 mL) thinly sliced Roasted Red Peppers (see recipe below)
1 small clove garlic, minced
2 Tbsp (30 mL) chopped fresh Italian parsley
2 Tbsp (30 mL) extra virgin olive oil
1 Tbsp (15 mL) red wine vinegar
¼ tsp (1 mL) salt
¼ tsp (1 mL) fresh ground pepper
1 cup (250 mL) ricotta cheese
Fresh small basil leaves (optional)
Instructions
WHILE CROSTINI ARE STILL WARM, rub garlic over baguette slices. Set aside. In a bowl, combine peppers, garlic, parsley, oil, vinegar, salt and pepper. Spread ricotta over toasted crostini. Top with peppers and garnish with basil, if using.
Gluten Free Option: I served this recipe on polenta circles at a friend's gathering who is gluten-free. They loved it! Use a tube of store-bought polenta, slice and panfry in oil; top with the ricotta and peppers. So easy.
MAKES 20 PIECES.
__________________________________________________________________________________
Roasted Red Peppers
Peperoni Rossi Arrostiti
Each summer the abundance of Ontario's farmed red peppers is wonderful to take advantage of. It's worth picking up a bushel and taking them home to roast or turn into a sauce. Long Sheppard peppers are great as they have fewer seeds in them and a meaty flesh that is full of flavour.
sweet red bell or Sheppard peppers (approx. 11 lb / 5 kg), washed ALLOW PEPPERS TO DRY. Preheat your grill or barbecue to medium-high heat. Fill the grill with peppers and close lid. Grill for 15 to 25 minutes, turning often, until skins are blistered and charred. Remove to a large bowl or baking sheet and repeat with remaining peppers.
Let cool until peppers are easy enough to handle and remove skins and seeds (don't worry if there are some seeds sticking). Place peppers into small resealable bags, about 3 or 4 per bag and press out the air. Lay flat and freeze for up to 1 year. When you want to use them, simply let them come to room temperature or let thaw in the refrigerator overnight.
Roasted Red Pepper Sauce: Puree roasted red peppers in a blender or food processor until smooth and freeze in airtight containers or resealable bags for up to 1 year.
MAKES 10 PACKAGES.
_____________________________________________________________________________________
Crostini
Crostini are very versatile. There are seemingly infinite different toppings you can put on them. I like to cook these until they are lightly golden and still a bit soft in the centre; makes it easier to bite into it and not have it shatter. It's never a good thing to have your food all over the front of your shirt. My Zias would surely ask me to take my messy shirt off to wash it for me!
Half a baguette, sliced into about ½-inch
(1 cm) thick slices
Tbsp (30 mL) extra virgin olive oil
¼ tsp (1 mL) salt
¼ tsp (1 mL) fresh ground pepper
PREHEAT OVEN TO 400°F (200°C). Brush baguette slices with oil and place on baking sheet. Bake for about 5 minutes or until they are light golden. Sprinkle with salt and pepper.
MAKES ABOUT 20 CROSTINI.