Saskatoon Berry Tart
Saskatoon Berry Tart – Huh? Saskatoon berries??? Never heard of them. Well unless you are from this neck of the woods you are probably right but here they are everywhere. The berries are usually made into pies or jams.
They have a "wild" berry flavor with a hint of tobacco or nutty taste. They are a bit smaller than a blueberry but are the same color. We have some growing wild in our back yard and we aren't the only ones that love them.
Black bears love them too and we used to have some visitors when we first moved in. Amber and her friends have been out picking them mainly at our neighbors patch, thank you Kari and Greg. Sorry that you were away for these delicious tarts!!!

So I came up with an idea for these tarts. I wanted a rich and creamy custard to fill the tarts so off I went exploring recipes and found exactly what I wanted in Julia Child's Mastering The Art of French Cooking.
I have had her channeled through me for the last 15 weeks anyway with JC100. I adapted it to what my vision was. Adding in a little almond extract to the custard I thought went nicely with the flavor of the berry. You can sub in some vanilla extract and if you can't get Saskatoon berries you can use blueberries. Enjoy!!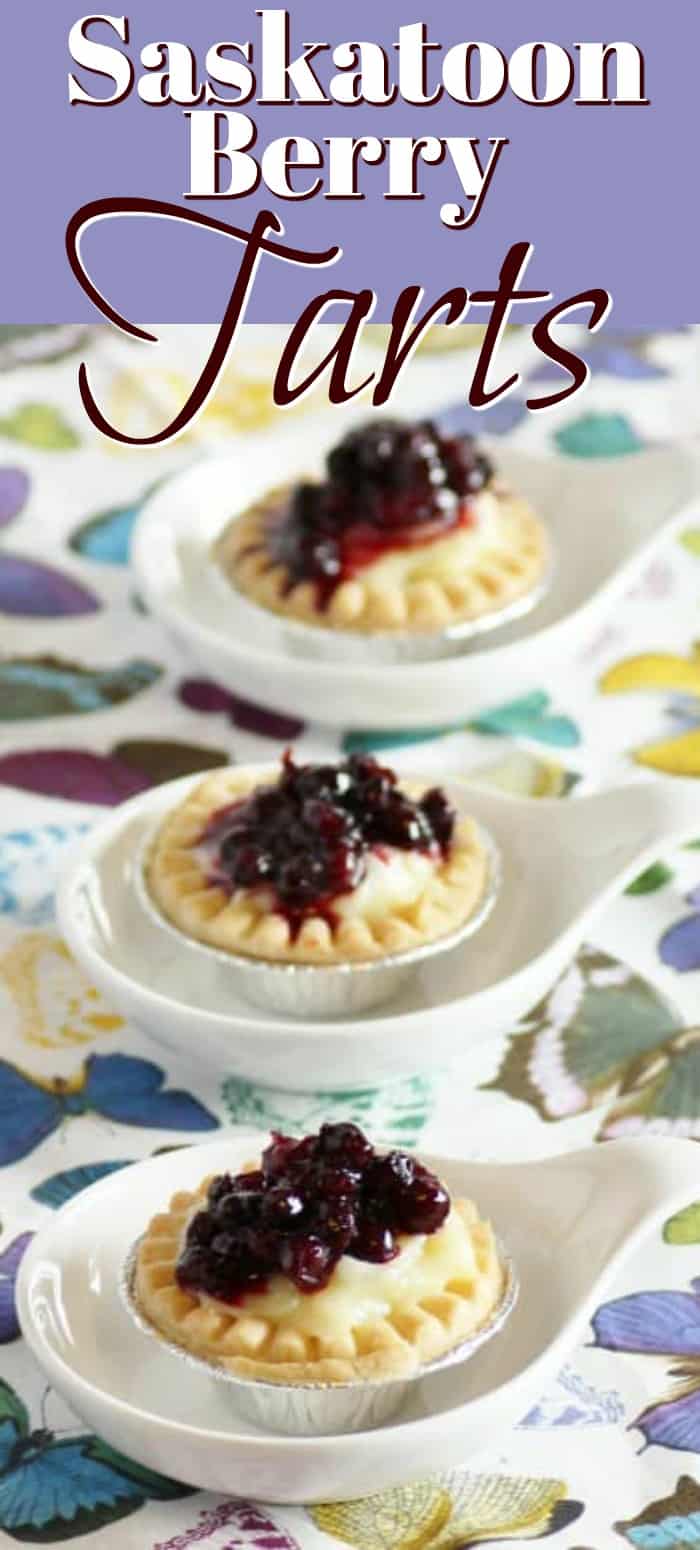 Saskatoon Berry Tart Recipe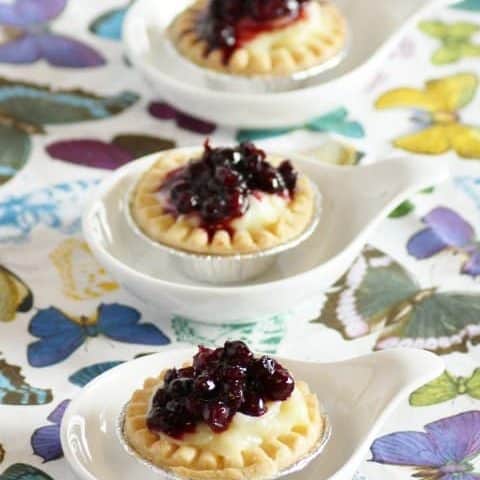 Saskatoon Berry Tart
A wonderful summer tart!!
Ingredients
Berries
1 1/2 cups Saskatoon berries
1/3 cup sugar
1/3 cup water
1 tsp. lemon zest
Juice of 1/2 lemon
Custard
3 egg yolks
1/2 cup sugar
1/4 cup flour
1 cup boiling milk
1 Tbsp. butter
2 tsp. almond extract
18 mini frozen tart shells, baked
Instructions
For the berries, mix water and sugar together and add the rest of the ingredients. Bring mixture to a boil and reduce to a thickened syrup.
For the custard, beat the sugar and egg yolks together with a whisk for 2-3 min. until the mixture is pale yellow. Beat in the flour. Continue beating and slowly add the boiling milk a dribble at a time in the beginning. Pour into a saucepan and over medium heat stir with a whisk. Bring sauce to a boil, if it gets lumpy just continue to whisk and it will smooth out. Bring the heat down now to medium low and cook whisking for 2-3 min. Make sure you reach all the sides of the pan and don't let the custard scorch.
Remove from the heat and whisk in the butter and almond extract. If the custard is not used immediately dot the top with butter. This will prevent it from forming a skin.
Fill the tart shells with a dollop of the custard and top with the berries just before serving. Refrigerate the custard tarts and berry topping separately.
Nutrition Information:
Yield: 18
Serving Size: 1
Amount Per Serving:
Calories: 514
Total Fat: 20g
Saturated Fat: 12g
Trans Fat: 1g
Unsaturated Fat: 6g
Cholesterol: 83mg
Sodium: 168mg
Carbohydrates: 81g
Fiber: 3g
Sugar: 51g
Protein: 5g
Custard recipe adapted from Mastering The Art of French Cooking by Julia Child