I adore using the slow cooker in the winter months, well, actually all year long but in the winter I can make an easy and hearty meal that my family will love. Today I give you a Slow Cooker Mushroom Chicken Cordon Bleu. A delicious masterpiece of a weekday meal. It is actually very easy, just a little forward thinking is all it takes.
I love a meal that is made in the slow cooker that has it's own delicious gravy. So easy to make and so easy to serve. This meal would go so nicely on egg noodles or even rice.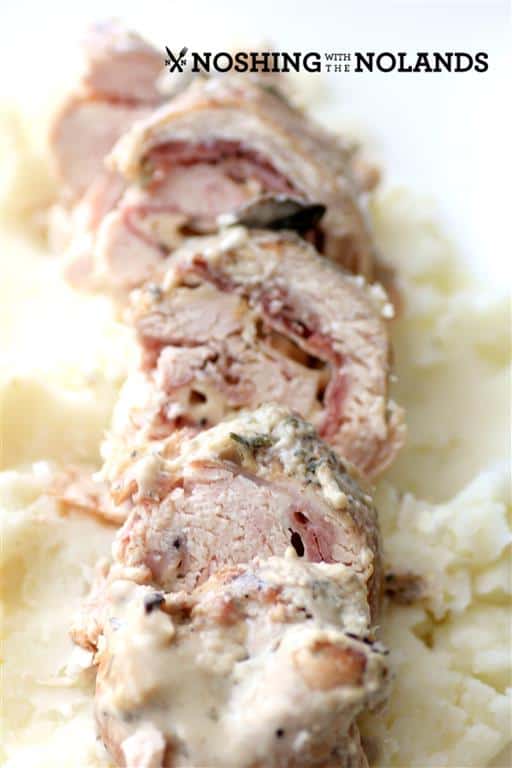 The chicken gets nice and tender when it is slowly cooked and the delicious black forest ham and swiss cheese in the center adds so much flavor.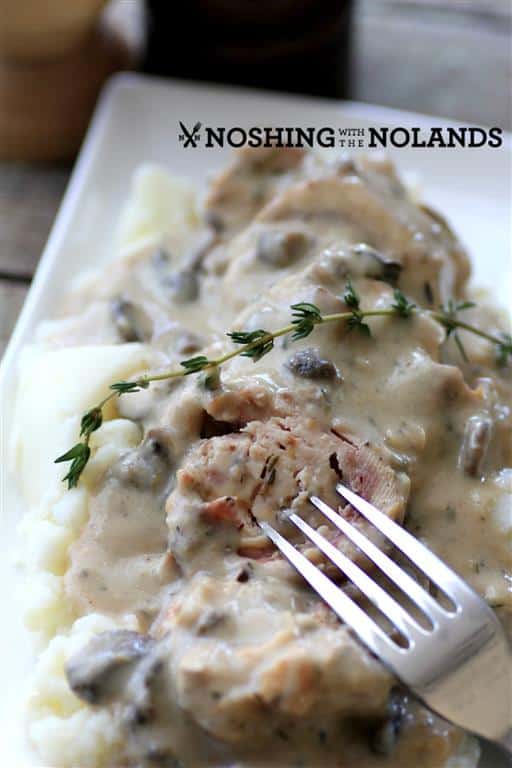 All of this is smothered in a beautiful mushroom gravy and all made so simple in your slow cooker.
The Recipe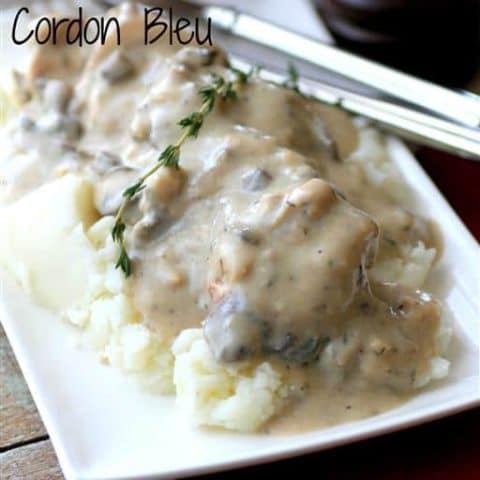 Slow Cooker Mushroom Chicken Cordon Bleu
Yield: 4
Prep Time: 20 minutes
Cook Time: 5 hours
Total Time: 5 hours 20 minutes
A delicious and easy chicken cordon bleu with a mouth watering mushroom gravy.
Ingredients
4 skinless, boneless chicken breasts, pounded out flat
4 slices black forest ham
4 slices swiss cheese
Salt and pepper
1 Tbsp. butter
1 Tbsp. canola oil
1/2 tsp. each dried thyme and tarragon
1/4 tsp. pepper and 1 tsp. salt
1-10 oz. cream of mushroom soup
1/2 cup half and half cream
1/2 cup sliced mushrooms
Toothpicks
Mashed potatoes
Instructions
Lay the pounded out chicken flat. Place one slice of ham and one slice of swiss cheese towards the top of the chicken and start to roll there, tucking in the sides if you can and securing with toothpicks. Generously salt and pepper the chicken on all side.
Heat the oil and butter in a large skillet over medium heat and brown the chicken on all sides. Place the chicken in a slow cooker.
Meanwhile whisk together the mushroom soup with the cream, adding in the thyme, tarragon, salt and pepper. Pour over the chicken and top with the mushrooms.
Cook on low for 4-5 hours. Transfer chicken to a cutting board and remove the toothpicks and slice in 3/4" slices. Serve over the mashed potatoes with the mushroom gravy.