Tex-Mex Little Potato Bake
It is a new year and with that we need some lightened up dishes that still have the warmth and flavor of a fabulously comforting dish, so today I bring you Tex-Mex Little Potato Bake. I lightened this up with chicken and very little oil to give you a healthy alternative that is still has loads of flavor. You won't be missing a thing with this magnificent meal that the whole family will be digging into.
Little potatoes are very healthy, they have only 20 calories each and are naturally fat-free, sodium-free, cholesterol-free, and gluten-free! Little Potato Company's Creamer potatoes are truly a perfect part of your family's healthy, balanced diet. We all want lightened up recipes for this time of year after all of our over indulging for the holidays, so today I have a fantastic meal for you!!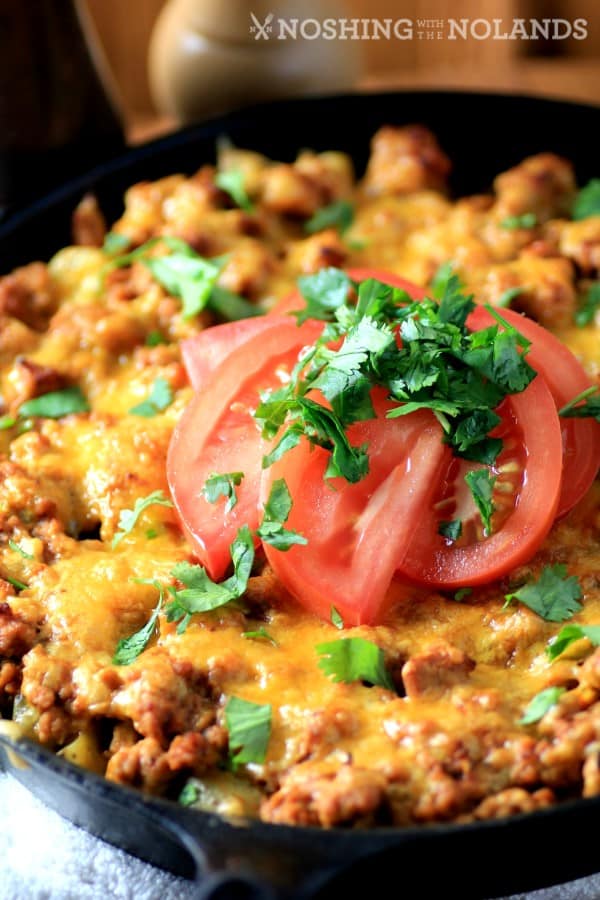 This wonderfully layered, easy, one pan meal is a delight to make and will have the family asking for it again and again. Mine gave it rave reviews!!
Do you know the story behind the Little Potato Company? I have a great video for you to see that will explain it all. Creamer potatoes are unique to only Little Potato Company, they are not new potatoes but fully grown potatoes.
They have many new varietals with unique tastes and seasonal crops as well. The
recipes
you can make with the little potatoes are endless and many are kid friendly, so friendly they will be in the kitchen making them!!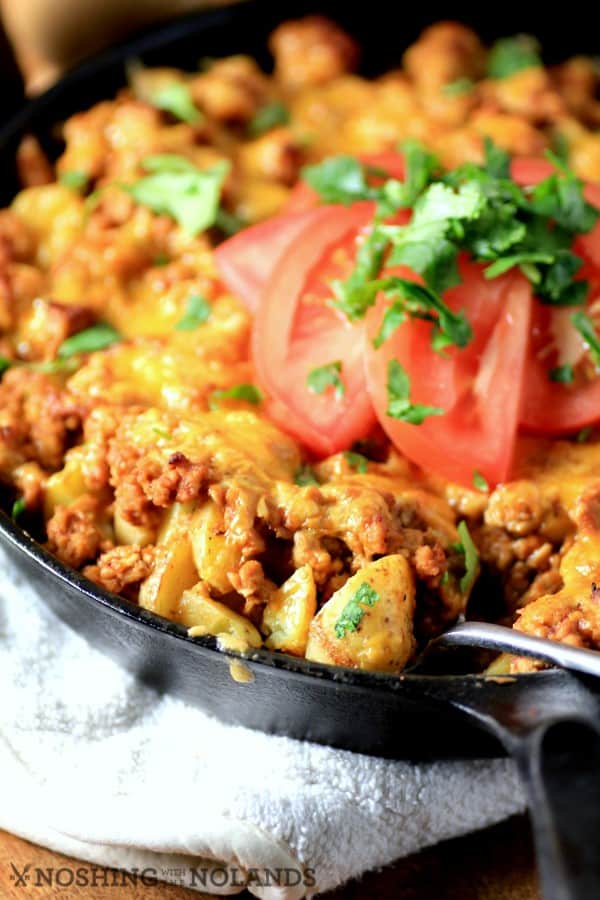 The chicken and taco seasoning is cooked first in the pan until browned, then removed and potatoes and onions are added to brown and cook. The chicken is mixed with taco sauce and then added back on top of the potatoes. All is topped with cheese and quickly baked in a hot oven. Served on top is a sliced tomato and cilantro, it is that easy!
Enjoy this dish with Creamer potatoes, your family will thank you for it!!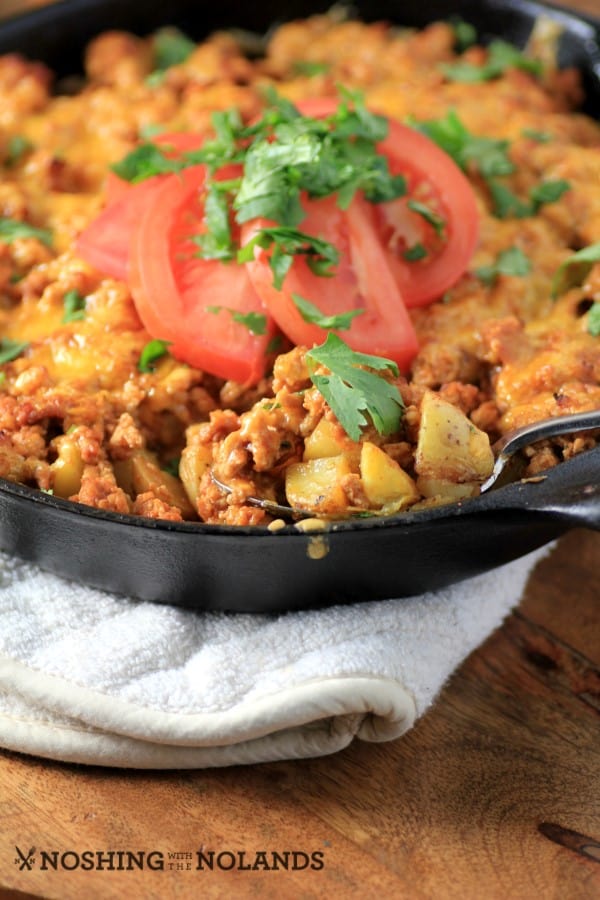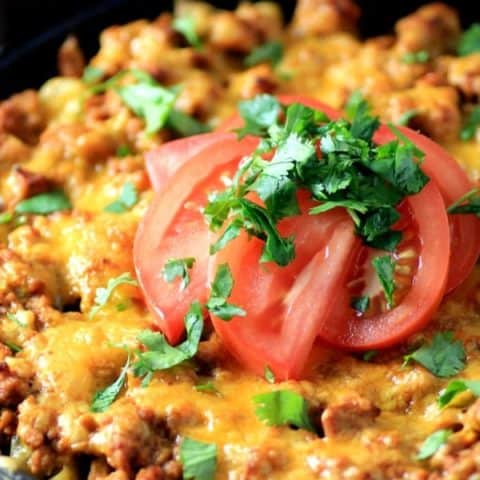 Tex-Mex Little Potato Bake
Yield: 6 servings
Prep Time: 20 minutes
Cook Time: 55 minutes
Total Time: 1 hour 15 minutes
An easy and delicious lightened up meal that still has all the flavor and comfort one is looking for, Tex-Mex Little Potato Bake.
Ingredients
4 tsp. canola oil, divided
1 lb. ground chicken
3 cloves garlic, minced
3 tsp. taco seasoning, low sodium, or to taste
1/2 cup water
1 cup taco sauce
1/2 medium white onion chopped
Salt and pepper to taste
1 1/2 lbs. Little Potato Co. potatoes of choice, chopped into 6 or 8 pieces each
1 cup shredded sharp cheddar
1 tomato, sliced
1/4 fresh cilantro, chopped
Instructions
Heat a 10" cast-iron fry pan with 1 tsp. of canola oil. Brown the chicken. Add the garlic and cook for 1 min. Add the 3 tsp. of taco seasoning or to taste. Stir to coat and then add 1/2 cup water. Stir and cook until water is evaporated. Remove chicken from the pan into a bowl and add the taco sauce and season with salt and pepper. Set aside. Preheat oven to 450F.
In the same pan, over medium heat, add the remaining 3 tsp. oil. Add the little potatoes and season with salt and pepper. Place the onions on top, don't stir in initially. Season with salt and pepper. Cook covered for 15-20 min. stirring often until potatoes are tender and onion are cooked. Remove the lid and top with the chicken and then the cheese. Place into the oven and bake for 20-25 min. until the cheese is melted and it is all heated through.
Top with sliced tomatoes and cilantro and serve.